NFC Tap to Pay is coming to Windows 10 Mobile with Microsoft Wallet 2.0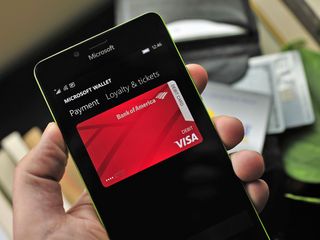 In what will be a surprise new feature presumably for the Windows 10 Mobile Anniversary Update aka 'Redstone 1' this summer, Microsoft will unveil their new Wallet 2.0 app along with NFC Tap to Pay.
I managed to get my hands on an internal build of the updated Wallet app, which has not seen much attention since its release, and with it, I was able to enable Tap to Pay successfully on a Bank of America debit card.
Here is how the process works on a Lumia 950 including all the info you need to know.
The new Wallet 2.0 app is broken into two areas:
Credit or debit card
Loyalty or membership card
When first launched Wallet will check your Microsoft Account for any credit cards already linked (e.g. for the Store) and import those for Tap to Pay. All of this is optional, of course, and interestingly my Lumia 950 even utilized Windows Hello for my account authentication, which was a nice touch.
Unfortunately, my Bank of America Business MasterCard and American Express Corporate Platinum were not eligible for Tap to Pay. Those cards also don't work with Apple Pay either, so this is not too surprising. Banks need to set it up on their end including the associated security.
However, my personal Bank of America debit card did work, and you can see the associated screenshots of the enrollment process. Users can manually add the card or use the camera to scan them into the app.
Once entered, the information is verified by the bank through the app with a verification SMS code to complete the process. Bank of America then emailed me to tell me that my card was "added to Microsoft Wallet on the device (Lumia-950)."
Diving into my phone's NFC settings and Tap to Pay was apparently enabled and my new card was associated with the function. I could have multiple cards available with Tap to Pay and set one as the default card.
Loyalty and customer cards
Regarding the loyalty card area, users can pick from a list of companies and either scan the card or enter it manually. A barcode is then generated for easy scanning and users can pin those individual cards to their Start screen for quick access.
If a business is not listed, users can create their own barcode by entering in the information for the card.
Currently, these are the available merchants.
AAA
AARP
Ace Hardware
AMC Theater
American Eagle Outfitters
Barnes & Nobile
Best Buy
BevMo!
Big Lots
Bloomingdales
Cabela's
Champ Sports
Chico's
Craftsman
CVS Pharmacy
DSW
Eddie Bauer
Finish Line
Fred Meyer
GameStop
GNC
IKE
iPic Theaters
JCPenney
Lowes
Office Depot
O'Reilly Auto Parts
Panera Bread
Petco
Petsmart
Pro Sports Club
QFC
Red Robin
Regal Cinemas
REI
Rite Aid
Safeway
Sports Authority
Staples
Stop and Shop
The Body Shop
Toys (& Babies) R Us
Ulta
Walgreens
YMCA
I expect this list to grow and since Wallet 2.0 is just an app Microsoft can make easy additions and fixes whenever they want.
Does it work?
So, the million dollar question is does it work?
As a sacrifice, or rather, experiment I went to my local McDonald's who are known to use Tap to Pay. I ordered up a Double Quarter Pounder with cheese to celebrate because I have not eaten at McDonald's in about a decade. At the moment of truth, I tapped my phone to the NFC reader and sure enough…
…it worked! My payment went right through.
Just as the directions say I did not have to have my display on, although the phone did wake once initiated. I also used Windows Hello to login although I am not sure if that is because Wallet requires it for security or if my phone had just enabled it for the Lock screen. Clearly, more testing is needed so I'll be eating fast food all weekend for science.
Microsoft has announced that their mobile payments will utilize Host Card Emulation (HCE), making this a non-proprietary solution and one that piggybacks off current NFC payment systems already in place. As a result, Tap to Pay on Windows 10 Mobile should find ubiquitous access to NFC payment systems already installed. What that means in English is this should work at almost all places that currently accept NFC payments and it will not require a special Microsoft-Vendor-Bank deal.
Immediately following the transaction, I received a push notification confirming the purchase, which was a nice touch.
Overall, the experience was flawless, and even I was surprised that not only it worked at this early stage, but it was flawless too.
Only the US at launch?
Microsoft has not publicly commented about its Tap to Pay and Wallet plans, but my guess is that it will roll out starting in the United States first. The US-focused store listings for the loyalty cards implies this as a US feature and once we finally enabled it on a localized UK phone, there were no banking or credit card options.
However, we should heed caution until Microsoft announces this service for Windows 10 Mobile. They could very well launch it in numerous markets either initially, or in waves. For now, we will just have to wait and see.
Finally, since Microsoft has not announced this service we also do not have a timeframe for a launch. Seeing as the service is already working on Windows 10 Mobile Redstone builds (Insider Fast Ring), there is a good chance it will be time with the Anniversary Update, which is expected at the end of July.
Thanks to Zac Bowden, who assisted in testing for this article.
Daniel Rubino is the Executive Editor of Windows Central, head reviewer, podcast co-host, and analyst. He has been covering Microsoft here since 2007, back when this site was called WMExperts (and later Windows Phone Central). His interests include Windows, Microsoft Surface, laptops, next-gen computing, and arguing with people on the internet.
Well that does it... Back to Bank of America. Thanks foe being there Wells Fargo, but I can't pass this up.

It may very well work with Wells Fargo too. You might want to wait until the full details are available.

Would love it if it can choose which card to use based on store.

So no switching from USAA yet? I may have to write them to let them k ow that this is coming. :)

I think it would take a lot more than nfc payment support to switch back from usaa to a crappy bank. Posted via the Windows Central App for Android

Absolutely. I will never be so lazy that I'd switch from USAA because I have to take my card out of my wallet.

Pardon my ignorance, but what's so great about USAA?

USAA is for veterans and military service members and it has the best rates, best customer service, and offers everything from auto and house loans to even coupons and discounts at major stores and restaurants just for being a member. Obviously I have usaa

Got it, thanks. You guys deserve it.

USAA may be a good corporation in terms of the services it offers, but your assertion that it's "for veterans" is a scam foisted on us vets. They have absolutely no DOD endorsement or association. Simply put, they exploit the patriotism of us vets, and I resent that deeply.

I may finally be able to use Tap to Pay on my Lumia 920. Better late than never? LOL. #soon

MS CLEARLY DOESN'T LISTEN TO IT'S USERS!

...People wanted this feature, they got it. Microsoft is a company, not a government, they can effectively make whatever choices they wish but they value input from users.

That's why they are failing.

I see what you did there. Others missed it...obviously. ;)

Yea I thought/s wasn't necessary there. Apparently I was wrong =p

Yeah it was pretty obvious, smh at some people

Heh, wasn't aware of that concept. Thank you ☺

The apostrophe definitely wasn't needed.

At least 9 missed to be exact. XD Sent from Turing Machine

Down voting sarcasm....wow! Sent from my super awesome 29.99 Lumia 640

Hoshit! Messaging Everywhere and wallet 2.0?! Those are the major things I wanted on Windows 10m! I can't wait

YAAAAAAAAAAAAAAAAAAAAAAAAAAAASSS

Yeah, but what I really want to know is, after a decade of never having one, what'd Daniel think of his Double Quarter Pounder?

A quarter pounder question! Sent from Turing Machine

Well, he wrote this after eating...so he survived to some degree...stuck in the bathroom but alive

Wow! A double quarter pounder, in the uk I have only seen a solo quarter pounder. Double!!! I/2 pound of meat! With option to go large on fries and soda. I am lost for words..

Yes the double quarter pounder is... Interesting. I've had those and it doesn't end well This post was written from Windows Central, the app for Windows 10

Fantastic news! About time! Looking forward to this very much!

I want this so bad! My local grocery store just install NFC Payment Methods so it would be great to test this out!

Still waiting for Cortana in NZ so not holding my breath for this anytime soon.

I bet it will work everywhere where cellphone bill pay was enabled for 8.1 wallet.

You'll get that in the anniversary update (or now if you're an Insider).

Cortana is a cluster fk here in Australia also, if you live outside the US, MS clearly does not give a ****

Yeah the features seem slower to come out here in AU but as a insider I am always on the US setup so I never see that.

just use the US ... or otherwise if you dont have the outpost version yet you could use the AU version ;). (just dont tell family and freinds)

Yeah i do but it's a pain when you want to buy something from the store and need to switch back to local.

It's a start, at least. Only seen Apple Pay in the UK though, never NFC. Edit: Really guys, what's up with the dislikes? It's a simple fact, pay points in my area just say Apple Pay. Anyone would assume that you can only use an iPhone with them. How does this make me the bad guy here o_O

Huh, news to me. I thought Apple didn't like NFC.

Apple rebrands everything, including existing standards, in order to appear more inovative than they actually are. In fairness though, NFC is only the hardware side of Apple Pay. It is a standard like WiFi or Bluetooth, but targeted at different use cases. It is not directly related to payment processing and is used in everything from passports, keyless entry systems, inventory control, and lots of other stuff. The software side of payment processing is where things get murky. NFC gets you from the mobile device to the retailer's credit card terminal, but the transaction still has to go from the retailer to the credit card processor (Visa, MC, Amex, etc) and then to your bank. That part of the infrastructure is very proprietary on the Apple Pay solution. Android was originally proprietary as well, but I think they mostly use Host Card Emulation now. HCE is the closest thing to a standard in the tap-n-pay world and it does not rely on the retailer or the banks to do anything special. It's handled entirely by the credit card processors just like a normal credit card swipe..except it starts with NFC instead.

That's good to know, thanks for bringing me up to speed =)

So if I'm understanding you, anywhere that accepts android pay, should work with MS wallet 2.0, assuming your bank has everything good to go on their end?

Yes, that is how it appears.

Apple Pay uses NFC so the hardware is the same.

Question is will this work everywhere apple pay works? If it takes any effort from businesses to support it then I don't see it taking hold in the UK :(

"Question is will this work everywhere apple pay works? "

This seems to be the case. I'll be doing more testing this weekend. I

really

doubt Microsoft and McDonald's had something setup for this at this stage; instead, it likely piggybacks off of the tap to pay consortium.

Hey Daniel you should test the NFC Tap To Pay at RiteAid and Family Dollar if family dollar has NFC Card Readers i know RiteAid has NFC Card Readers.

Send me the app and I'll test in the UK ;-)

Probably yes if they use the common method of tap to pay that's used in a lot of the world

Atleast not for another 2 years.

Couldn't handle the BigMac eh?.... Lol

It should work anywhere android pay works because it uses host card emulation. It may not work everywhere apple pay works though because that uses a slightly different technology, still NFC though.

I'm pretty sure it will work too. The downside I see is here in the UK most retailers brand it with the Apple logo and some users will be confused about that i.e. "we have Apple Pay", oh I have Windows Mobile here's my card..." Hopefully it does become more of a standard here and the Apple logos disappear but for me at least it won't put me off tapping my phone everywhere I can. Posted from my Lumia 950

This is exactly what was confusing me, I just see Apple Pay and wouldn't think for a second I can use anything but an Apple product with it.

Yet you would pull out a tap and pay card and use that?

Anywhere with Contactless readers should in theory work.

Contactless payment is very widespread in the UK. This solution, like Android Pay, just piggy-backs off the contacltess payment system. The contactless terminal will see your phone as a contactless credit or debit card. It's Apple Pay that is proprietary and has to be enabled specifically by the retailer. If they accept contactless, and if your bank allows its cards to be emulated by the Microsoft Wallet, it'll work.

If its going to work where it "only" supports Apple Pay, then this is a very good news. Which means that Microsoft Pay can work on similar merchants as the Apple Pay (and maybe also Android Pay) on day one, no catching up. The only left is to market Microsoft Pay and let the public know about it. If it doesn't work on same merchants (or not all) then Microsoft still needs their own effort to still market Microsoft Pay and encourage merchants to support it. But this one will be a very tough one. Sent from Turing Machine

Apple Pay is fairly proprietary. I think a better questions is whether it will work everywhere that Android Pay or Host Card Emulation works.

I've used both Apple Pay and Android Pay, and I've found that if a business has Tap to Pay capabilities, both will usually work. The vendor needs NFC terminals, not necessarily needing to adopt Apple Pay or Android Pay. At least that is what it appears from the outside.

This is also what I'm thinking, since it uses the host card emulation which is a standard also used by Android Pay and Apple Pay I think. So for the most part, Microsoft simply needs to publicized Microsoft Pay that it will work in any stores support NFC payment systems and let people know that there is such thing called Microsoft Pay. Sent from Turing Machine

And they also need to let you know that its called Microsoft Wallet. JK.

Lol, oh yeah! Just let it slide. :p

NFC is a form of communication, Apple Pay (and Samsung pay and Android Pay) all use NFC, to my knowledge.

This. Samsung Pay also uses what they call MST (basically emulating a magnetic strip from a card) that allows them to pull of the "use anywhere business" but it pulls double duty in using NFC where applicable.

Wow. So much for acknowledging a tech/service, Apple really knows how to get ppl into buying their products without giving them a choice/knowledge - give it a fancy name so that ppl may know it's cool.

Which kinda a bit sad too, NFC payment system isn't new at all, its already around a decade old tech as far as I know. I remember that Japan use similar payment systems even with their feature phones for ages. Heck, the time iPhone being released in Japan, its been modified to have NFC which makes it little bit thicker if I remember correctly, because not having mobile payment system in Japan can be really inconvenient and sounds outdated. Sent from Turing Machine

Yup, Japan had NFC embedded in phones aeons ago. They are light years beyond the curve when it comes to tech.

Welcome to windows central, where real life observations or constructive criticism is greeted by shick shick boom

Ha! Daniel Rubino probably had to hand over whatever he ordered to Zac Bowden because he gave him the app.

Eating fast food for science... Great line!

Spoken like a true redditor.

We need a shirt for that! Sent from Turing Machine

GREAT news! Can't wait to get hold of this (UK). Surely will make it onto band 3?!

My guess would be yes for Band 3. They need to add a PIN feature like the Apple Watch before that Imo. I don't have an apple watch but a friend showed me how the pin works and it's very good

First time I saw some one input a pin on the Apple watch, I laughed out so hard!

Well it secures the payment is the thing. Once you enter it once you don't have to enter it again unless you take it off I believe.

If Chase doesn't have an app by the time this rolls out, I'll definitely be jumping banks.

I have Chase for my CC and while they may not have an app they definitely support virtual credit cards, I used to use them back on WP8 before Google bought and killed SoftCard.

I think the question is more whether you'll need an app from the bank your card is from our whether just having a back that supports NFC payments will be enough (I'm really hoping it's the latter because all of my banks support it, just Chase doesn't have an app on Windows anymore) Posted from Windows Central for Windows 10

A bank having an app has nothing to do with this, the Wallet app doesn't have to tie to other apps. It's going to work just like SoftCard did back in the day.

That's great to hear. I'm still a credit card man until more businesses adopt tap-to-pay. I'd rather not do the dance where I use my card here and my phone there. Still, it's great that Microsoft is bringing this feature to W10 while tap-to-pay is somewhat still in its infancy in the US.

Me too. I'll bring my wallet just in case This post was written from Windows Central, the app for Windows 10

Great feature, and much needed

It will be interesting to see if people with phones without windows hello and or a fingerprint reader will be able to use it.

I see no reason why you couldn't just use a PIN.

Oh I see. I haven't used apple or android pay so I assumed you needed biometrics to use it. Posted from Windows Central for Windows 10

Applepay requires biometric but there are no iphones that have NFC chips but not fingerprint scanners so it doesn't matter. I think because android pay is mostly a rebraded softcard it can use a pin but I could be wrong. I don't think samsung made theirs available on anything lower than an S5 so I believe all devices with it have a fingerprint scanner.

I see, thanks for the info.

The Android Pay app itself doesn't require a PIN or fingerprint for use. It is only needed for initial setup. However, it does require that the device is using security, meaning not having simply swipe to unlock. With a Nexus 5X or 6P, from screen off you can put your fingerprint on the reader and tap the terminal. Boom you're done! If you don't have a fingerprint reader you'll need your PIN, pattern, or whatever security you use to unlock the device. Apple Pay works much like Android Pay. Although, I always used the fingerprint security so I do not know if you can do it with the PIN. I believe you can though, but don't know for sure.

With Android Pay, some stores like 711 require a PIN for every purchase, so it depends on the store really.

A person I know used a pin for apple pay This post was written from Windows Central, the app for Windows 10

I imagine a simple PIN would do. And if you don't have one your phone will likely prompt you to add one. Windows Central for Windows 10-Nokia Lumia 830

I hope so, I will use this if it's available on my 930 late this year.

I've used tap to pay for more than a year now. It works with 920, 640 and 950XL so I don't see why it wouldn't with other phones with NFC. I can choose between screen off/on or phone unlocked for it to work. I doubt they're going to make it more complicated than that

How have you used it? I have lumia 950 abd when I try to enable tap to pay I do not see any card and I don't know how to add one.

Now that I think about it. It's probably not through wallet app. It's a service from my mobile device provider. But after the initial setup the app doesn't need to be active and windows NFC payment options apply.

Who do you have , this interests me greatly.

Elisa/Saunalahti, Finnish operator

I was using an Android phone when Google Wallet NFC payments first came out. The only place where it actually had been impemented was CVS. That was a number of years ago. I hope it has become widely available in the intervening years. I always had a receipt on my phone before the yard-long CVS receipt finished printing.

You hadn't eaten at McD's in a decade, so you bomb your gut with a Double Quarter Pounder for this experiment? Now that's science!

lol, it was a long week and I didn't have breakfast ;)

I'm healthy like Dan. I haven't eaten McDonald's in ten days Posted via the Windows Central App for Android... I'm sorry

Ten years, ten days, practically the same Posted from Windows Central for Windows 10 Mobile

Been meaning to try the create your own burger

Should have went early for the McGriddle. -- Lumia 640 (Windows 10)

They have breakfast all day at the McD near me. Posted from Windows Central for Windows 10

They have breakfast all day everywhere now, but it's a limited breakfast after normal hours, and McGriddle is not on the all day menu.

Lol yeah. Talk about ripping off the band-aid(tm)! Daniel goes big or he goes home

The biggest question for me amd most important is, will it work everywhere that takes either apple pay or contactless payment in general

It should work. He said it was HCE and it doesn't have to go through bank approval Posted via the Windows Central App for Android... I'm sorry

Sounds great if it easy for merchants to integrate, right now I feel like we need an app for every shop/merchant. Here in Norway I can pay with Lumia 950 with tap and pay in Rema1000 grocery. Works pretty nice with NFC. If I want to pay with my phone in other stores, I have to have another app for that.

Here in Finland it works everywhere "normal" NFC debit/credit cards work

Really? I noticed a few places where they accept NFC Visa/Mastercard, so if I got this app; that is about the same thing? Sounds great then.

Microsoft previously stated (many months ago) that they were going to use Host Card Emulation for their Windows 10 tap and pay solution. Do we know if that is what is being used here for the backend processing? If so, that would be great because it's supported directly by the credit card processors instead of the current proprietary solutions that require lots of involvment from stores, banks, processors, etc.

That would be my guess. I really doubt due to Microsoft's low market share they would bet on a proprietary system for this to work.

The fact that it already works at McD's prior to being announced would certainly seem to back that up. I'm guessing it already works in nearly every retailer with an NFC enabled terminal. It will be interesting to see what the rest of your testing reveals. *hint* *hint* ;)

We couldn't do it since WP8.0? My 720 has NFC...

You could with softcard app. But you also needed a special sim card. Remember though, that Google bought softcard and used it in Google wallet. Anything for Google means nothing for Windows. Posted via the Windows Central App for Android... I'm sorry

Could this be the "Interesting things" Dona mentioned for early next week?

I doubt it, since it would appear that this has been here since the Wallet update. Windows Central for Windows 10-Nokia Lumia 830

What Wallet update? In the first sentence of the article it says "new Wallet 2.0 app".

This app is already available on any RS1 device. I can use it now on my Lumia 640.

I have a 950XL on the most recent build and all I have is the old Wallet app that just takes me to the store to add new loyalty cards.

Contactless/NFC payments are not in the current version of Wallet. You also do not have this app. You have the older version, which is kind of useless (just loyalty cards).

Wallet app has been useless for years. It is the only wallet app that is 100% secure because you can't put anything into it. Four years ago, when Microsoft announced mobile payments in 2012, this would have been cutting edge leading the pack. Today, with Microsoft focused on business, launching a consumer payments option seems 180 degrees away from their stated strategy. Unless they get bank support, apps, and make the service global then then for a 0.7% market share in the US this will just be a curiousity. Obviously welcome for Bank of America customers but for me (in the UK) my bank doesn't even support Windowsphone so I dont expect to see this feature soon.

what better way to guarentee the user has money, make sure they have a job, what better way to know they have a job, they're using a "work" phone, boom instant customer base for this app except where Daniel said his business cards don't work with this or Apple maybe?

Only thing missing is tim card which @ this time is only on bbos for NFC support

Contactless payments were in Windows Phone back in 2012. They didn't see widespread adoption as HCE didn't exist back then, so payments relied on a SIM with a secure element and only Orange Germany had them.

It would be absolutely wonderful

Bring it to the uk MS. Brilliant news, is it me or does (apart from amazon) the news just keep getting better?

Yep I'm with you there !!! *** On the PC

Agreed, this is the only thing keeping me from using my Lumia 930 full time.

when i contacted vodaphone to buy my lumia 930 they clearly told me that the lumia 930 had to past tests with visa and maser card, thats what vodaphone customer services said, they went on to confirm that it will happen and when it does my phone the lumia 930 will recieve a secure sim. A secure sim that they already had but needed visa and mastercard confirmation first with that phone. I bought the phone and 2 monthsd later i rang up again asking for it, instead of telling me anything relivent to the secure sim they tried to sell me on their own vodaphnoe antena which was a nfc antena that i could stick to the haback of my phone and use their own wireless pay system. I told them i didnt wana stick an antena on my phone from them as it already had built in nfc but i still wanted to know what info they had on visa and mastercard checks and when like they said it would, would i be geting this secure sim. Again all they wanted to do was sell me their product. Incidently vodaphonere also told me there was a windows phone app and for my lumia 930 but there never was and we never got a clear answer, thats when all the others o2, ee g3 all had apps. Strangely vodaphone did do a blackberry app even though the blackberry market share had fallen a far distance from windows phones. Vodaphone did lie to me directly and i cqant wait to leave them, even if i have to pay more for a contract im gone, i think most resonable people would be if they experienced this too. But glad to here its coming im very exited for it and again i dont blame microsoft for my wireless pay issue i do blame vodaphone in my situation, thats vodaphone uk. they do have a app for vodaphone egypt thouh lol. I know im geting dislikes for this but its the complete no exageration truth and i phoneed vodaphone many times over the 1.5 years and also joined forums where 21 thousand people were fobed off too about the app. So im not alone.

they told me 2 years ago i could hfc wireless pay for things on a lumia 930 and like vodaphone it was acomplete lie. I hope it works this time but it doesnt really mater as i am moving to android till microsoft sort out a proper flagship phone, the 950 simply isnt good enough. Lets hope it works this time, 2 years later. windows os on mobile especially live tiles is awsome but lack of wireless pay and even the state of the app store where the quality is ignored or apps like gestures beta satill exist and advertised as windows 10 but dont work on windows 10 lol. Hamburger menu takes me out of what was the perfect os for mobile in 8.1, to me but still thers alot of good in windows mobile 10. I only hope microsoft can do it correctly this time, problem is could it already be too late, i hope not, i dont wana use android for more than the minimun.

I might switch back to windows 10 mobile!!!

This is fantastic! I've been sporting my OnePlus One because of Android Pay. Now I can leave it at home. This is a wonderful addition to the Anniversary Update.

It is really up to the card processing networks. From a banks perspective it works exactly like apple pay/ android pay.

OMFG YESSSSSSSSS! ABOUT ****** TIME.

Ummm..so how was the burger? You cracked me up with "sacrifice" and "experiment... then you said it was a celebration". So how was the burger that you paid with MS Wallet ,:) Posted via the Windows Central App for Android

Pretty good. Presentation was top notch, not smooshed. Could have been a big more juicy.

I hope they removed any bugs before releasing it to you :D Posted from Windows Central for Windows 10 Mobile

He lives in America, not Europe.

Removed bugs from the burger?? I hope so too! Though that would add some crunch.

They recognized you and presented their best effort. That's the power of being the media. ;)

Thanks Daniel for this post! From reading WinBeta often, I know Zac=lots of to-be-released insider info so not surprised he assisted here.

I hope this involves Windows Hello in some way.

For verifying it's you, more as an alternative to using a PIN number.

I think it will be only in a few markets and the U.S. I don't expect a big adoption in Europe. Or tiles ate to complicated, I'm seeing payments with credit only, which will be out of reach for many people as in Europe most use banking cards.

You're Dutch? Remember that ING currently uses HCE as well for their mobile payments in their proprietary app on Android. It would be a small step for them to enable it on Windows 10 Mobile I think. Or like Daniel showed you could use it straight away if the bank supports HCE. I'm not sure about the other banks though.

who knows. ING recently pulled the desktop banking app, saying adoption was poor and added little value over the browser version. The app cost-benefit was apparently too low. If they're that critical for not supporting UWP I'm not sure if they'll support HCE on phone when they have only "just recently" adopted NFC on the mobile banking cards. I use it regularly where available for small payments, but adoption in retail and small business is not great now.

Actually, the ING app is still a Windows 8 app and not an UWP app. That also explains why it would cost them extra to maintain the desktop app. Sure their Windows (Phone) support hasn't been that great but it seems to me that HCE is something they just need to enable. They don't need to make a separate app. I wonder that if a bank supports HCE for Android Pay it would also automatically work in Microsoft Wallet?

Overall, kind of taken aback by how impressed I am that they haven't had any leaks until today and that it was able to work so flawlessly for you, Daniel. Down to BofA having proper "Microsoft™ Wallet" branding in the email notification. Totally impressed.

Yeah, makes you wonder about all that Microsoft-BoA love lately, lol. Clearly "deals were made".

I can't wait.... used softward for the 3 months Windows Phone had access and it was awesome.... stupid google ruined that.... but lets be honest, there is very little windows nfc can actually do, so this is REALLY needed.

The company died, and Google didn't ruin anything, you need to stop believing everything you read here.

Google bought the company and killed off softcard less than a month later. That was Google's choice, so yeah, they did. That wasn't just reported here.... they emailed ALL their customers, myself included, to let us know that was happening. So yeah, google ruined it.

no? but google have used their monoploy like microsoft used to to stop top and most needed apps people wanted like you tube. That one app not officially suported on a windows phone is part of the reason windows mobile 7,8,8.1 didnt hit off so yeh just as micropsoft did some not so nice things in the past, we can clearly see google doing the same thing here. Yeh googles protectuing its investments but then agian we could have said that in the past with microsoft. At the end of the day they should all think aobut the customers first and honestly i think micosoft, though they have done some stupid mistakes, are at least trying to be a more open company, a fairer company, google doesnt seem to be doing that. Lets be quite frank here, if google hadnt stoped softcard, if google had released the apps on windows android phones would have been hit harder by a growing windows mobile but they didnt and windows didnt grow. Makes sence whichever way you look at it.

Really cool! I'm going to have to check and see if any of my cards support this. Really looking forward to the anniversary update!

Can't wait to use it at Arco because I hate using my credit card to pay machine. Although I usually go inside to pay, but still, it's nice to be able to play outside sometimes.

4 years after it was announced for win8... But much better late than never. Been fairly happy with the latest android builds, but if ms checks enough boxes I would love to go back. This would be a pretty major check box!

Yet WP8 had support for mobile payments by using a SIM with a secure element not HCE so, technically, Microsoft were first with mobile payments. The problem was that only Orange Germany had the required SIMs if I remember correctly.

Woop! I hope my bank supports this :)

Good experimental article, Dan.

I will absolutely be using this!

I'll be eating. fast food all weekend. For science. Lol

If only ATT could step up their coverage...lots of action picking up with W10 and no end to the Verizon Microsoft little big man syndrome... Posted via the Windows Central App for Android

Yeah, Verizon is adept at pushing this coverage thing. I get AT&T coverage everywhere that any of my Verizon friends do.

Well, we have coverage of sorts...call it "Smoke Break" coverage. You have to be outside to get any ATT signal. Posted via the Windows Central App for Android

Verizon has coverage like that in some areas. Also depending on the building as well.

Finally, I really hope it works in the UK

So... is there anywhere we can get this to sideload ??

Not yet. My guess is it will be available soon, maybe even to Insiders.

It was worth a try :D *** On the PC

I also hope this will encourage other banks to come back to Windows Phone.

Yay! About time this is something sadly missing from W10 mobile.

Anyone have the link for the APPX?

I think still better is MasterCard paypass or Visa pay wave. It's very popular and common. In Poland I can pay by NFC since 2007 or so.

This appears to be based on the Host Card Emulation standard, which is part of both MasterCard paypass and Visa pay wave. Therefore, this basically is using the most recent standards behind those brand names.

Very good new feature ,Anyone know if this required a data connection on your phone when payment is done?

I don't know, maybe since there is a push notification that the purchase went through. Posted via the Windows Central App for Android... I'm sorry

I would guess the important data connection would be between the merchant's card reader and the credit card processor.

If this is anything like Android Pay then I would say yes it will require a data connection. However with Android Pay a limited number of transactions can be done without a data connection.

This is extraordinary timing. NFC was built into every single Nokia at back when they went for Windowsphone. This gave Microsoft a huge lead in mobile payments. They announced mobile payments in 2012 at their developer conference. Nothing happened. Apple then launched Apple Pay. Google have Android Pay. Microsoft have brought out a succession of budget devices without NFC and, by careful announcements, have said they are only interested in the business phone market going forward. At this moment, with tiny consumer market share, years after a lead in the market, with no new product planned in 2016, with their competitors way ahead, with their strongest selling budget products unable to use NFC, they prepare NFC payments. Of course it needs bank support and there are very few banks with apps in the Windows Store. The sensible thing to do would be to launch in a market where Windowsphone had a little traction - like in Europe or South America. This is Microsoft so the launch will be US only in a market with 0.7% penetration. By the time this service gets launched I suspect Windowsphone usage will be almost at the level of unmeasurable in the US market. Of course I wish them luck. Sadly they are a years too late to make a difference now. If this had been done properly in 2012 they would have been leaders!

Google buying SoftCard was a blow too I believe. Posted via the Windows Central App for Android (V10 or 5x)

Google didn't buy SoftCard, Softcard died because nobody was using it, and Google bought their technology to incorporate into Android Pay.

To clarify, this doesn't appear to be another one of the many proprietary solutions that have come and gone for contactless payments. Those all required every combination of retailer, processor, and bank to support each specific mobile platform. Apple Pay still opperates that way (and can afford to due to market share), but everyone else has moved on to Host Card Emulation. This appears to be using that standard so this should work without specific support from banks and retailers.

Welcome to the world of microsoft. Check out this awesome technology.....nah, we are not going to use it.......fast foward 4-5 years....remember that technology we developed 5 years ago? well, every phone has had that for a few months so we are going to take a shot at it. Ahhhhhh to be rid of waiting and constant "coming soon" mantra MS has is very refreshing. I dont care if apple steals every tech in the iphone...At least they put it out quickly, and it works!

At least Windows Mobile has it now, and even if Microsoft focuses on business phones, tap to pay will be absolutely needed.

Remember Visa, Its coming soon.....WM does not actually have it. Daniel got a pre production app! ha ha.

Which is coming in the anniversary update!!

Believe it when I see it neo. There are so many things MS has announced would be happening only to cut them....So, to keep your hopes up.

i agree they have left it late, i do think ifs a huge battle now to win over customers particually as the 950 didnt exactly influence windows mobile users to stay, well that and the catastrophy that was removal of one drive storage and that was 2-3 weeks prior to the 950 launch. It was inevitable by both these issues microst would loose alot of its mobile customere. Iits a huge shame cause windows mobile is my favorite os on a phone for sure. I wish they had released a premium 950 more like the 930 with its fantastic premium tapered screen or its metalic body, even a choice in back covers was apealing to me. Maybe if they had done that and not mentioned the one drive situation theysd still have a share be it small but at least a share of the last loyal windows mobile customers.

lol "for science" :P after 6 years our nfc chips will finally do something useful, now all our fallen soldiers(900 920 930) can rest in peace knowing they helped pave the way for the 950 today!

Dan, regarding the loyalty card(s), are we tried also to download the merchant's app and do they all populate and shower up on our apps list? Always hated that about wallet 1.0.

You do not need to download an app, no, but they are there for deeper integration. Even Apple does this with Dunkin Donuts.

Imagine if they actually disable it, given Microsoft's latest antics.

I'm throwing away my Android phone and coming home! Posted via the Windows Central App for Android... I'm sorry

Welcome home. You are forgiven.

Thank you Posted via the Windows Central App for Android... I'm sorry

Welcome home from me too! Posted from my Surface 3 running W10

Soonface Phone might get FM Radio!

I see windows mobile coming together, just one thing, ms should get into the smartwatch wagon and VR for mobile phones, and expand there scope, for crying out loud, MS you don't have users alone im the US you have in other parts of the world too

Well, that is a step in the right direction but when are we going to get merchants who actually accept tap to pay. I don't know any here.

Well, it does make sense (UK user here) - the US is their home turf, they're familiar with it all, it's the most immediate region for 'small-scale' testing before a global push, if they're gonna phase it then it makes total sense for it to be there. Not brilliant for those of us outside of the US, no, but it's just what happens.

Apple Pay doesn't use nfc, as the coil takes up precious battery space :') only the iPhone SE is the first to have it. It might explain why apple pay fails on my friends iPhone 6 often. I'm guessing it uses bluetooth... A bit like nfc does to communicate once initialised...

Apple Pay use NFC. You don't need wire coil as it uses the metal shell and clever internal design to achieve the same thing as antennas and coils for Bluetooth, WiFi, cellular and NFC.

Apple pay uses nfc, not bluetooth. Posted via the Windows Central App for Android

/sigh I don't know how many more incorrect comments on Apple Pay I can take. I knew Apple would confuse people, but did not realize it was this bad. Apple Pay == NFC. Seriously, educate yourself, Apple is not some special super advanced company, they just repackage stuff and rebrand it. And then herald it like it was invented by them.

....days are coming where no need to carry cash or credit cards.... in future there won't be any need to carry a physical driver's license or even the passport!

You will need to carry a battery so the iPhone can be on when you try to make a payment. Hopefully the telephone network is not down...

Best news of the day! F.I.N.A.L.L.Y!

AWESOME! I'll go ahead with the obligatory "This is what should have been done from the beginning"....

"I went to my local McDonald's who are known to use Tap to Pay" so you can't pay by tap to pay in every places? LOL :-D

no, not everywhere is tap to pay ready.... even worse, idiot retailers (walmart) rather use a barcode method.

I saw that, that is dumb Posted via the Windows Central App for Android... I'm sorry

That may be true in the US, where they are only just starting to use chip and pin, but in the rest of the world contactless payments are pretty much everywhere.

No, you really can't. Walgreens is one of the few other places that have it in all of their stores.

Oh my gaaawd. About time! Cant wait to get my hands on this app, and get rid of cards I don't need

This will make a lot of people happy who prefer to pay this way.

GREAT, and they say windows mobile is dead... hope it comes to UK soon.

This is a great start but I wish they could take this farther and provide a way to make payments to web services like amazon through the app instead of keeping my payment info on Amazon and such. Also I would like to see some form of digital reciept that could be linked to finacial services like mint.

though not sure if I would really use it as daily payment ( love using cash nowadays ), but it sounds great. and definitely will try once available to canada and my small local credit union.

For the first time I saw this feature work at walmart I thought it was so cool and I was jealous

Really? Walmart? They have QR codes to my knowledge. Unless of course you saw someone use a Samsung phone which emulates a CC magnetic strip. I use Apple Pay(NFC Payment) and that isn't an option for them ATM.

Depends what country as here in the UK I believe ASDA Walmart accept contactless payments.

Probably part of those "exciting new features" for insiders due next week.

Probably part of those "exciting new features" for insiders due next week.

Hope so! Hopefully the new wallet will be on production build as well....so I can test it on my L925. Posted via the Windows Central App for Windows 10
Using the Alcatel OneTouch Fierce XL for Windows 10 (Redstone)

ξερει κανείς από Ελλάδα ποιες τράπεζες έχουν εφαρμογή στο store?

Years late, as usual. But looks nice. But, this being Microsoft, you can be sure that this will be US-only for several ​​years, if not forever. I hate this American arrogance!

As I replied to someone else, this isn't arrogance, this is a 'small-scale' test before a wider rollout. A mass rollout brings risk of headaches down the line. The US is the perfect region for Microsoft as it's their home turf, immediate, and everything's familiar. If they're going to pick one, why would they pick anyone else? I'm in the UK, and I get it. If it was a UK company, I'd expect them to do the same with this country.

That was almost too logically sound for comments here. Thank you.

Do seriously think MS doesn't want this world wide? Your comment is the only thing arrogant

It's hard not to be arrogant when we're the worlds superpower. #1

Im with you on that think of it this way ya there going to do it and in 5 months after everyone buys a windows phone nope sorry its canceled now were not going to do it. dont belive it untill a person can go to a store and tap there phone.

Yep. It's be useless for the rest of the world, like what Cortana is.

Hey...
I think I should tell you that there is dead CSS that's visible on the windows phone 8 app!

Would be very useful to me. Here in The Netherlands, tap to pay is already mainstream (about 98% of stores, pubs etc. has it) and I hate having to search for my bankcard in my wallet while my hands are full in stores or in low light conditions in clubs.

Looking forward to this hopefully hitting the UK, a lot of retailers are starting to use this tech.

Well this is excellent. It was there on WP8, but required a secure sim because MS had to bend over backward for carriers. Glad they just cut them out of the loop and went this route. Really happy about this. Wonder if it will work for the previous Lumias or is there some hardware needed?

Should work on any Windows Phone that has the Windows 10 Mobile Redstone update and NFC

Hey Daniel, would you try it with your Lumia Icon?

My Icon is on Production and I need it there for a reason. I'd have to push it to RS1 and I'd rather not no that for testing purposes.

Do you have a Lumia 930 that you could test it on then, the Icon and 930 are practically the same hardware anyway?

He didn't want the battery to die in the middle of a transaction.

I would like for Alipay support in China. That would be the pinnacle of it here.

Now I just need to guess the area code and first 3 digits and Boom I can call Daniel!

Then you'll get a surprise visit. With handcuffs. And a restraining order. Posted via the Windows Central App for Android... I'm sorry

Omg. It is a dream. Please wakeup me

"I went to McDonald's after a decade"
Wow!!!!!!
I can't even resist McD for 10 days, how could you for 10 years!!!! Posted via the Windows Central App for Android

I know someone who has never had a cheeseburger there. I was shocked Posted via the Windows Central App for Android... I'm sorry

Is this the big news they teased? Would make sense...

This needs to come to Australia now, especially seeing as contactless card readers are literally at every EFTPOS terminal here. I'm not holding my breath that we get the feature on release though.

Yey super exciting! Love MS Posted via the Windows Central App for Android

I could just tape my debit card to my phone... Well any phone.. Even a stick of wood... Cuz I have tap to pay in Canada, thus making tap to pay on my phone worthless here.. At least for me. Posted via the Windows Central App for Android

That's not really the point I can swipe my card and not use my phone now. I think the point is that you are most likely to have your phone already in your hand and use that instead of taking out your wallet, digging out your card, tapping it, entering your pin, then fitting it back in your wallet

I know, now all I need is a wallet case for ID and some money and then my pockets won't be crowded Posted via the Windows Central App for Android... I'm sorry

That's actually a clever idea. I am going to put my card in my phone case so I always have tap to pay.

There's a level of added security when you use your phone as it can require authentication every time you spend (most convenient on phones with fingerprint so you aren't entering a PIN) where as in the UK at least, you can use contactless tap to pay multiple times before being forced to enter your PIN for the card again

Also in the UK contactless cards have a £30 payment limit, paying via your phone doesn't have this limit as you can authenticate the transation with your phone PIN or fingerprint.

Lol been tempted to get a rogers branded classic just for this(& to sideload jb supported apps) seeing as ms screwed the pooch here in Canada now no device will work here being that were a pro se country

Guessing bestbuy support is for only those who are cardholders of their store line-of-credit/ chase credit card. & Gamestops in US

Sweet, one step closer to catching up!

What about PayPal? Can you add it to wallet to work with NFC?

Yes, that's what I'm waiting for

Ive used Tap to Pay on Windows 8.1 phone and it worked for the San Francisco parking meters. Took a few taps but it did work.

Now do a review on the Double Quarter Pounder burger ;D

Hope they make it available in Sweden at the launch. Also add support for adding any NFC capable card so that the phone actually can replace the cards like NFC bus cards and such.

Some of the stuff Google are doing with Android Pay is looking pretty good. That includes being able to use it to "Tap In and Tap Out" on the Underground and pay for all your travel at the end of the day. Not only that but it will even detect if you forgot to Tap Out at a station and allow you to complete your journey.

You didn't cover up the last four digits of your number on the two factor authentication screen btw

Got to get more grocers on board with this...

So who's got this installer and is gunna share it with me?

I was thinking the same thing Posted via the Windows Central App for Windows 10
Using the Alcatel OneTouch Fierce XL for Windows 10 (Redstone)

The real test will be whether it works at Chick-Fil-A! ;-)

Yes so they can raise more money for certian bashing activities.....

The only bashing I have ever seen is from the "tolerant" left against anyone who dares to disagree. The folks at CFA are polite to everyone.
Posted from Windows Central for Windows 10

sorry, Chick fil a publically stated they are not in support of LGBT communties....thats ok, their food sucks **** anyways. One less place for me to visit...

Great news! Thanks for the insight.

What I said about the Starbucks app last week applies here. I'll believe it when I see it running on my phone. I hope to be pleasantly surprised.

Never understood why people care about Starbucks. If I wanted my coffee to taste burnt, I would just add some ash to every cup. Not to mention half their drinks have enough sugar to make frosted flakes seem like a health cereal probably too mask the crappy coffee taste. Posted via the Windows Central App for Android

That gay semen is a bit harder to come by though ;)

Can't wait! They really should be rolling these things out asap.

Okay, I'll say it. Wen in India?

to late. this should have launched during windows phone 8. ugg. well not in canada. so aka #WhenInCanada

As I stated before WP8 had support for contactless payments but required a SIM with a secure element to work.

Samsung pay works with almost everything, plus you have an opportunity to earn gift cards just for using it. Why is Microsoft always last to the party? At least something will be available if I ever come back. Posted via the Windows Central App for Android

If you don't have NFC, don't be dejected in life. Just go out and Pay to Tap. ;)

great but ill wait and see before i believe it as i bought a lumia 930 it has nfc and was told the wallet would work with a secure sim and that alowed for wire less pay, that was from vodaphone uk. Unfortunatly that was a lie and my lumia 930 still doesnt work with the wallet or nfc wireless pay and there still is no sercure sim in sight after 2 years. I hope this time it means my phone will work at wireless paying venders. But i wont hold my breath.

This uses Host Card Emulation (HCE) so it doesn't require a secure SIM, Vodafone UK didn't lie they just didn't have the SIMs necessary to enable contactless payments.

Of course it will be US only at launch. Why launch it in the UK where nearly every card payment machine accepts tap to pay when you can do so in a country where it's still in its infancy?

Here we go again, only release in US at first. Like Cortana, after 2 years since release tap to pay will not be released in atleast 2 years on the other side of the Atlantic. I dont take this seriously at all but great again for the few people still running WP phones in the US..

I wonder if this will be just for phones running Redstone 1 or for phones running the development branch as well. If it's for both, I'll have to break out my old Lumia 925 and give it a try. My Fierce XL does not have nfc...not a necessity for me. Excited more about built in Rewards/club cards support so I don't have to use a third party app.

Redstone and Development branch are the same...

Sorry I'm tired....just worked 11 hours on top of being sick. Production branch and development branch? Is that right?

In France with my bank i already have a mobile paiement solution on my lumia 950 :)

No fancy name aka Apple pay, Android pay?

Windows Pay? No, needs to starts with the letter "A". . . Aperture Pay!

Hopefully as the UK are big adopters of contact less payments this will happen. That said nearly everyone uses the card for payments even if say the apple pay is more secure. Certainly is a good back up to my contact less card especially when it struggles in certain brand receivers.

As for name I would use "contact less" seeing as the stores struggle to let people know it's one in the same and seems pointless to introduce more confusion. Also if you say it can be used wherever contact less payments are accepted it will be easier to get acceptance.

You have to bang your phone against a POS device, how is it contact less?

You don't have to "bang your phone against a POS device", all you do is put it in close proximity to the POS device so that makes it contactless!!!

But not all devices are POS. Some work really well. ;-)

Not fair! MacDonald's in US do all day breakfast!

Best part: > Tap to Pay on Windows 10 Mobile should find ubiquitous access to NFC payment systems already installed. What that means is this should work at almost all places that currently accept NFC payments and it will not require a special Microsoft-Vendor-Bank deal. Do Apple and Google/Samsung require those deals?

That's incorrect, banks have to get involved in order to authenticate the card for use on your phone and that is regardless of whether it is Apple, Google or Microsoft.

Which they likely already did for apple long ago so we are set.

Daniel could you test if paying with the new Microsoft Wallet requires an internet connection? In some stores (at least here in the UK) there's terrible reception inside. Can you also install this app on the desktop to see your transactions?

How is this too late, by that line of thinking Google was too late with Android Pay and so was Apple with Apple Pay as Microsoft had contactless payment support in 2012 with WP8!!!

This is really good news. I use apple pay and also Siri. I consider Cortana better than Siri and maybe having both a pay option as well as a terrific assistant may make me come back to windows phone. I also enjoy the live tiles of windows. This is very exciting news. Hopefully we're able to add barcodes to the wallet as well. That should help with my Cartwheel app.

I am guessing this will never be relevant in Thailand. When will Starbucks be added to that list of supported US vendors?

Tap to pay is still in infancy in Thailand TBH. I would be extremely happy if I can keep all my 100 royalty cards at home now though. This thing is too mature in Thailand ;) Posted from my Surface 3 running W10

This is very very good news!

Heres hoping that MS Band 3 integrates NFC payments without having to pull out your phone...hope it works on iOS and Android in addion to Windows!

See here to understand why this won't get anywhere outside the US's antiquated payments market. Everyone else has a wallet full of cards that have been doing this for years. Why bother registering your card on a system, let alone multiple systems to get it to do what it already does anyway. http://www.reuters.com/article/us-apple-pay-idUSKCN0YN61U

Huh, what the hell are you talking about. Both Apple Pay and Android Pay made it outside America and not everyone has contactless cards in their wallets!!! Oh and you do realise this is for contactless payments and the US is lagging behind the rest of the world on this, hell they are only just starting to use chip and pin.

Read the article I linked to, Mr Angry

So phone settings to US, add card, revert to local country and run with it? :)

Not going to work as it will only work with US banks at the moment so how would it know about HSBC, Santander or Nationwide?

Will this work with banks that dont have windows phone apps? My bank said they wont be supporting windows phone anymore. So wil this work?

This is separate from your banks own app, all they have to do is authorise the card for use with Microsoft Wallet.

Looks like they are getting it together. I find the latest versions of the windows phone 10 great and a solid OS.

Just release it to the world this time please! The whole world is waiting for this.. Not just the US!

Microsoft: World? What is this.... world?

Hopefully when I return back to Windows Phone this fall or next year, my institution may be on board as well!

NFC is the 'handshake' between device and payment terminal, speaker etc. When the two devices in question are brought together the host tells the phone what to do via data sent in NFC. All NFC does is initiate an action.

WOW, never saw this coming. I might actuall move back from Android back to my ICON again. The 2 big things I was waiting for Was Band Of America and Tap to pay. So, when can we get this ? Can we get a beta version now ?

Would be nice to be able to pay with phone credit also. Why isn't anyone pushing for this to be a thing again?

That's up to your carrier to enable it.

I thought something seemed strange when I saw the Tap-to-pay on-off switch in my Lumia 950 and 640 NFC settings. I have been waiting for this ever since Soft Card was stolen from us.

Yes, and the American Express Serve card was the only financial service I could use at the time, and I still had a small balance on it when the Soft Card app was shut down by ::: cough::: Do-No-Evil-Google ::: cough :::. Surprised to see that "non-usage fees" eventually depleted the remaining balance.

When will 2.0 app available for Insiders?

And the pieces are slowly but surely coming back together for W10M. After the collapse of WP (in terms of market share, hardware shipment, and MS's interest) things are beginning to pick up again. The new mobile OS is shaping up nicely, more apps are coming back or returning, and hopefully new hardware will arrive within a year

Finally! Always wanted to use the tap to pay feature on my Lumia 735. I hope it comes to the UK soon, and is supported on my device, since the option is there under NFC. My debit card is already tap to pay, but it would be much more convenient.

It has to come to the US first celliott1997.....Please....don't hold your breath waiting. You will pass out...

We have all been here before, when Wallet was supposed to support all this. Never came to pass, certainly not in the UK. Another Microsoft None event.

does it support pkpass format ? (same as apple wallet), and what about ibeacon support ?

The wallet app in WP8.1 did support the pkpass format. I'm not sure if that's still the case.

There is an app called MyPasses, which allows you to open .pkpass files and add them to the Wallet app in Windows 10 Mobile.

3rd party is irrelevant really, for a company wanting to support wp they wont tell their consumers to downlaod a 3rd party app

Way to take a double quarter pounder hit for the team!!! Great news, Daniel. Thanks for the sneak preview.

Should have gotten the mcdouble like a mac.....AWESOME burger.

at least MS version of this tech has an original name

ha ha....is that all you can come up with..ha ha.

My reaction can only be summed up as: https://youtu.be/AuUi-CFrdvA This is absolutely FANTASTIC news, I've been waiting for this for so long! I'm so pumped right now, this is awesome! I cannot wait, I'm glad they're finally going to add this feature! Wa-hoo!

It's about F'n time...Only 5 years after Microsoft said it was coming.... Leave it to MS to NOT listen to their customers who has been asking for this for YEARS now. Sigh, wish I could get it today... Of course like the rest of Microsoft.... It's comming soon

Because MS's solution is based on host card emulation, it appears that a card loaded into the Wallet 2.0 app can be used at any NFC payment terminal (or at least any terminal supporting HCE systems like Android Pay). My question is about the other end: will it take a special arrangement between an issuing bank (like Bank of America) and Microsoft to enable adding a card into the Wallet 2.0 app? So will it only work with cards issued by banks that have done an arrangement with Microsoft? Or will it work with any bank that "supports" HCE (and hence any bank that supports Android Pay)?

Is there an ETA on when this will be available for Fast Ring Insiders to test?

And it will takes years, if ever, before Microsoft realized there is the rest of the world.

Well that is very interesting news. I hope Microsoft doesn't decide in 6 months from now to remove these features. Glad I will soon be able to use these feature. Now one question does nfc works with internet. Like for example I travel abroad and in the country there is no internet access but I can access the nfc. Anyone I am new to this thank u

Million-dollar question? Does it work with a Chase Debit card?

You said the same thing last year… And it's been a big promise since the early days of Windows Phone 7… No, I refuse to believe Microsoft has any intention of actually making this a reality until I see it working in my own hands! On a related not, Windows 10 Mobile has been a HUGE disappointment with too many bugs going ignored and lots of features from Windows Phone 8 gone missing. My Lumia 950 is nothing but a $600 waste of money. Sorry, but Microsoft doesn't actually care about their phones any more and I'm getting a cheap Android when it's time to upgrade.

Always the catch up game...

This is great news! Standing by...like two years now... standing by... maybe other banks will develop windows mobile apps... standing by... I've been standing by for a long time now... Sitting by... sitting by...

Hopefully comes to Canada at release or soon after release. NFC payment is pretty ubiquitous here, but it's still pretty rare to find phone support for it, even on Android. Apple Pay started out with just American Express, which is close to useless here... not even Costco accepts it anymore. Now they have support for most of the banks in Canada, but if Microsoft can pick up on it quickly, that would be great.

I am a strong advocate for #ALLYbank. I am sure they will not be far behind...

Apple Pay launched in Australia just recently, hopefully this will come to Australia when the update hits.

Finally!!!! This feature was the breaking point for me about deciding whether or not to switch to Android. I have all the apps I need, and tap to pay, which used to work until Google bought the SoftPay app and discontinued Windows Mobile support, was the missing component. I'm so excited that we will have this feature back!

Is it helpful for poor people

Which countries and models are supported?

How did you get this on your phone? I've updated to Fast Ring and there was no update from the store for the new Wallet App? I really want to start using this :D

Clearly Daniel would've explained how, IF he was allowed to... Internal build, not for public release, he's been given insider access, so can't say how to get it for now.

Where can we download wallet 2.0?

Shiawain, its "coming soon".....just like everything else in microsofts mobile agenda. Right now you can download it using your iphone and its called apple pay, it works great....

This is going to work only on Lumia 950, 950 XL and 650. No Lumia 640, or its brother. :( I have lumia 640 with fast ring, and only supports loyalty cards. No word about whether its going to work for 640s or not in later updates.

It's about damn time. I'm glad to hear that the technology is just piggy-backing off of existing technologies too.
Windows Central Newsletter
Get the best of Windows Central in in your inbox, every day!
Thank you for signing up to Windows Central. You will receive a verification email shortly.
There was a problem. Please refresh the page and try again.