Nike+ releases extended ad with Kinect and Windows Phone app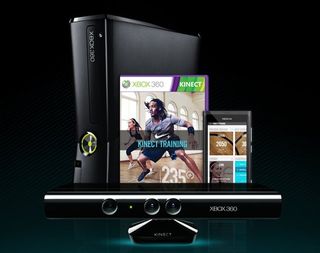 A little bit of a hubbub is making the rounds this morning of Nike+ supposedly "announcing" a companion app for Windows Phone for the new Kinect game coming this holiday October 30th.
But of course we knew about this way back in June during E3 when Nike released the first trailer and literally showed a huge Nokia Lumia with the Nike+ app flowing through the pivot screens.
So why the excitement? Blame it on the internet's short-term memory and a slightly revised ad coming out last week.
Nike+ Kinect Training with a Lumia back in June
Around July 30th, Nike put out an "extended" version of the ad with a new voiceover that states "and with the companion app we can send challenge reminders, track sessions and keep you connected to your friends" (It's at the 1:41 mark if you want to fast forward).
Otherwise it's the exact same ad with some more game footage.
We should note too that we saw Ice Age 4 this weekend (and it was awesome). Before the preview started, Regal cinemas played this whole ad during it's "pre-show countdown entertainment". No doubt it was kind of fun to see Windows Phone so huge on a screen and not an iPhone or Android in sight. That version of the ad has "AT&T" emblazoned on the phone noting that's it's a Lumia 900 with "Windows Phone" on the movie screen.
Nike+ Kinect Training is coming "this holiday" October 30th but it at least should make some fun times in front of the screen. Having a companion app is also certainly welcome.
The Nike+ app for the Xbox 360 game was shown back at E3
Although if you were really serious about exercise, you would already be using Ubisoft's Fitness Evolved series which is a fantastic Xbox 360-Kinect exercise system. It has had a companion app for Windows Phone since last year—but you already knew that, right?
Besides a Nike+ app for this Kinect game, we're still waiting on getting a companion app for their Fuelband. Currently iOS has that app which can sync with your daily stats for the tiny wristband and Android is slated to get it soon too. Windows Phone? No word on that front which is a shame. We're rocking that gizmo which is a sophisticated accelerometer that measures "activity" (and estimates caloric burn and number of steps walked). Hopefully Nike+ will get around to that one soon or this new companion app can also tie into your Nike+ account for even more bio-statistics.
Source: YouTube; Thanks, Plaffo.com, for the tip
Daniel Rubino is the Executive Editor of Windows Central, head reviewer, podcast co-host, and analyst. He has been covering Microsoft here since 2007, back when this site was called WMExperts (and later Windows Phone Central). His interests include Windows, Microsoft Surface, laptops, next-gen computing, and arguing with people on the internet.
Thats a lumia 800, not a 900 :)

In the video trailer being shown here in the States, it's a Lumia 900 as it shows AT&T on the phone.

If you are really serious about exercise you wouldn't be at home in front of your TV! I think stuff like this is for those that know they need more exercise, want to do it, but in the end are just too lazy. There are millions of us that fit into that category! This will be a huge money-maker. It should be released on New Years Day to coincide with all of those resolutions. :)

I dunno, Fitness Evolved can kick my butt pretty hard. I get quite the cardio workout using their new 2012 system. It helped me stay in shape when I was working two full-time jobs (now that I only have one, surprise, I go to a physical gym). Of course like all exercising programs (either in gyms or at home) it depends completely on you having discipline to do it on regular basis. I am a huge fan though of integrating technology into exercise routines. Nike+ Fuelband does that and Nike+ Kinect Training also extends that notion. It helps motivate nerds in addition to actually recording valuable data.

I agree with your second paragraph. I work out a good amount and if friends or aquaintences ask what "routine" I use or recommend, I usually tell them to use whatever routine or program will get them in the gym. What I do works for me, but may not work for you. If using a video game to get you to work out works for, then do it. If going running or to the gym works for you, then do it. If biking, climbing, taking the stairs at work, whatever, work you for you, then do it.

Oridnary excercise is just dumb and boring. Whilst playing YourShape, Kinect Sports and Dance Central is fun and social. There is nothing wrong with excercising at home and having fun while improving your shape and coordination. It's actually healthier than mindlessly pushing some weights at a smelly gim, which tends to make men look like troglodytes.

No need to swing to the other extreme and knock gyms or people who use them. One of the largest growing franchises right now is Planet Fitness, of which I'm a member. They fight hard against the stereotypes you throw around and they're a good deal too. Don't discourage people from exercising with sweeping generalizations. It's about choice and whatever works for you.

While you think ordinary exercise is boring and dumb, I personally think that the type and the level of sport you can do at home is minimal. Also, a nice thing of sport at gym or at nature is you can breath fresh air and you are really social. Also, while doing exercise and sport is very important to have objectives and goals because doing exercise for nothing its not motivational at all.

I don't really see what types of activites can only be done in a gym and not in a house. In both cases you are doing "sports" indoors. Also, I have fresh air in my house and don't have to smell other people's sweat. And while there are objectives and goals in Xbox games, I've never heard of any achievements or rankings systems in gyms.

I believe you're little confused as to what Kinect is. People don't participate in Kinect fitness programs from their sofas so your "in front of the TV" platitude doesn't apply. Their workouts can be as grueling as you want them to be, just like in the gym.


@lippidp...Lol! I totally disagree with you! My fitness regime completely incorporates variety - DVD's, working out at the gym, and on occasion, outdoor activities.

I am staunch to limit my exposure to sun when working out, so when I don't get to the gym/fitness center, fitness DVD's are an excellent alternative. If I had a XBox, this Nike + would definitely be in my collection.

In the image within the article and in video linked in the article, it seems to be the 800

I adjusted the article sometime ago to reflect that...takes time to refresh in our app's feed. Either way, it's really beside the point ;-)

I found fitness evolved to be a useless kinect game, what happens is its really picky on certain lunge exercises as you progress about 3 weeks into the program. The game doesnt let you pass this exercise if you get a low % as it misses your feet location regularly so says you arent doing the exercise right. This means you have to endlessly loop over and over trying to do the same lunge exercises and can never get past it. I gave up on this game.
I went over to ea sports active 2 and the game is much better, it is less picky about form and style but encourages you to do the exercises. Believe it or not I was able to lose around 50 pounds in 5 months with the help of this kinect game and of course eating better.
I'll pick up this nike game as it looks like it could be a really nice workout game.

You are awesome! 50 pounds in 5 months is an amazing achievement. You should contact EA to get paid to be their spokesman! Like that Jared dude and Subway. :)

lol Daniel I can always know when it's you who wrote the article. I love your snarkiness and knowledge of windows phone past and present. Gives this site quite a kick when it could otherwise be run-of-the-mill :)

I would love to see a nike fuel app released. Im on the fence w one and I think if they released their ios app for wp I'd buy one right now. That thing is damn sexy

I had thought they announced the release date as October 30th almost a month or so ago.
Link from Major Nelson's site.
http://majornelson.com/2012/07/24/nike-kinect-training-kinect-sesame-str...

True although who know's if the app will be live at that point...you know how they are with these things.

This sounds cool, I usually go to the gym or do P90x, and I lost 20 pounds in a month with it (just p90x). But this thing sounds really cool :)

Well if you like the idea you don't have to wait till october to try it out. Fitness has been around since the release of Kinect. And as Daniel alread said this http://marketplace.xbox.com/en-us/Product/Your-Shape-Fitness-Evolved-2012/66acd000-77fe-1000-9115-d80255530886 is a really good game.

Good I have been looking for a replacement for EA Fit on the PS3 which was great but some of the gadgets were temperamental. I was planning on buying a X Box and Kinect package and now I can add this to the list.
Windows Central Newsletter
Get the best of Windows Central in in your inbox, every day!
Thank you for signing up to Windows Central. You will receive a verification email shortly.
There was a problem. Please refresh the page and try again.