Nimbus for SoundCloud is an enticing app to discover new music right on your phone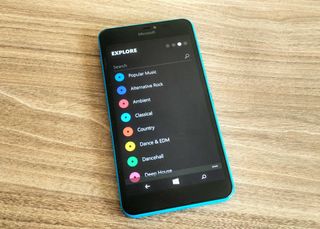 SoundCloud is a popular online audio distribution that enables its users to upload, record, promote, and share their originally-created sounds. According to the company's data, the service attracts more than 175 million unique monthly listeners while content creators upload about 12 hours worth of audio every minute.
While SoundCloud has an official app for iOS and Android since a while, a Windows app has been missing from their portfolio. But of course, like always, the Windows developer community has pitched in. Nimbus for SoundCloud is another client that attempts to offer a unique music experience.
The app allows you to explore and find new and trending music and audio feeds as well as collect tracks and playlists. You can follow your friends or your favorite artists, and create or listen to playlists. While a track is playing, you can see comments from different users and play, pause, or skip the tracks from the lockscreen. You can also repost, like, comment, and share a track.
Nimbus for SoundCloud is a pretty good SoundCloud app with a neat and modern design. The app offers two themes – light and dark – and supports anonymous listening so that you can download and play popular songs or audio streams without creating a SoundCloud account. Nimbus for SoundCloud was launched as a free app, but quickly graduated to a paid one. There's a trial available, so give it a whirl, and let us know how you like it.
Audiocloud is the standard.

It is the standard but this app looks more like W10. No notifications tho.

Audiocloud cant play an unlimited stream, though. Which in my opinion is essential to the sound cloud experience. I don't know if nimbus can do that but I mainly use soundrivin which handles this quite well. Though it is a bit sluggish when it comes to performance.

It was free for me.. In Canada?

I don't get why everyone is so mad about audiocloud. It's really ugly. This, on the other hand, is really neat.

I'll give this a try. Mix radio is down and i need something for music discovery.

I like it so far. Much better looking than AudioCloud

Not free for me in America. They want $1.99

Free for me in Cambodia, windows 10 Mobile

I'm in America and I got it free, on win10

It's probably free only for Windows 10 users

Free also for me.. On Win10M. But heck.. Some apps also which i have paid for already, now is appearing to be not free

It is a known bug. Hope they will rectifiy in new build or Store update.

sounds alot like nimbizz.. i wonder if they will sue... /grabs popcorn Posted via the Windows Central App for Android

why i love this app, its beauty and genres is way more expansive....it is better than audiocloud.

Unable to download. Showing some store error every time.

Noiz has to be the best looking app

And the worst performance.

If there was soundcloud official app in wp....
I'll download this app everytime.

Free in W10 Mobile
This app looks much better than Noiz according to me, very easy to use, polished UI, a must have for all Soundcloud active users like me!

CumuloNimbus......you get it..
I will gladly pay the $2, this app is Neat

This app obviously borrows design cues from Poki for Pocket app.

Noiz is the best Soundcloud app...

Is the an app that actually does upload to sound cloud?

As long soundcloud does not enable 3rd party software to download mixes that the artist themselves have set, I don't care really what I use to play music with. Audiocloud works fine for me. Looks clean, nothing flashy.

Actually you can download mixes and songs from sound cloud. Music cloud is you to go to app also free

Thank you everyone for appreciating Nimbus! :)
(P.S. I'm the developer of Nimbus for SoundCloud)

Are there plans for a xbox version as soon as the new dashboard is out? I'd really like to listen to soundcloud while playing a game and with the new dashboard that might finally be possible :D

I'm looking forward to rewriting it, as a universal app soon. But the Xbox version shall need more time, to be honest.

Any chances for uploading songs to sound cloud am a producer would love to upload my trax on the go.

Not yet! But hopefully we'd see it in a future update of the app :)

Nice! :D
And you've got me sold.

Regarding the issue of different pricing in different countries, the app had just moved from free to paid subscription. So, it was merely publishing time delay that the update was not visible in some regions.

Still free in US just download .

Enticing? Posted via the Windows Central App for Android

They pulled the app! I lost it when I reinstalled WP10, what a bummer, best Soundcloud app to date.
Windows Central Newsletter
Thank you for signing up to Windows Central. You will receive a verification email shortly.
There was a problem. Please refresh the page and try again.