Nimbuzz brings cheap international calls to Windows Phone 8 in latest update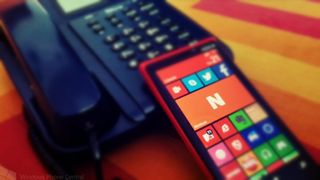 As part of their latest update, Nimbuzz (www.nimbuzz.com) has introduced VoIP calling to allow users to buy NimbuzzOut credits and make cheap international calls to mobile and landline over WiFi or 3G, using your Windows Phone 8 device.
The 1.1.5 update includes NimbuzzOut, a guided tour, some bug fixes, and overall performance improvements.
If you're not familiar with the brand, Nimbuzz is a popular smartphone messenger app available on all mobile platforms, as well as on Windows and Mac, that lets you send unlimited chat messages and share photos and videos. The Dutch company, now headquartered in India, claims to have over 150 million registered Nimbuzz users.
NimbuzzOut is their VoIP calling platform that allows Nimbuzz users to make international calls at prices far below conventional rates. You could pay as you go for the calls or subscribe to even cheaper minute packs. Just like other VoIP calling services, Nimbuzz-to-Nimbuzz calls are obviously free.
You can download Nimbuzz for free from the Windows Phone Store or point your mobile browser to get.nimbuzz.com. While Nimbuzz is available for both Windows Phone 7.x and Windows Phone 8, the VoIP calling is available for Windows Phone 8 devices only.
Windows Central Newsletter
Get the best of Windows Central in your inbox, every day!
words are spreading like fire about wp platform everyone is trying to capitalize on the growth.

I downloaded nimbuzz to use it as a gmail client. It sucked big time. I even mailed them my problems. The chat keeps jumping. Special characters not recognized. File cannot be sent - the list goes on. Very poorly built app, lacks quality.

I use MobileVoip for international calls, awesome app. They also have huge list of countries for free call. www.nonoh.net their website go ahead and check it out

How can i go to chat rooms in Nimbuzz as in Android.....???
Help Me out.

okay, so it seems like a great windows phone alternative to google voice on android for international calls. the only thing is, i tried to see the rates on their website and it did not populate a list. mad annoying. so how can i really compare the two? all that being said, i can make international "calls" using kakao talk on wp to other kakao users and use google voice at home. theres always skype.

Does it support 3rd party SIP providers?

OMG, since 2011 I used to use NimbuzzOut on my Nokia N8 to make calls, and was missing this feature on Windows Phone. 2 weeks ago I answered alone one of their tweets https://twitter.com/douglasbaiao/status/399864741394280449 asking them to make this feature available for WP. And now it is here!!! :D I'm awesome! hahahaha