No cable? Watch the NBA Playoffs on Sling TV for Xbox One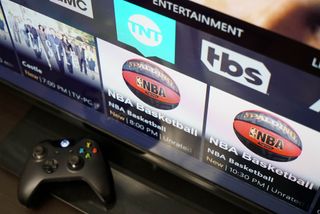 I cancelled my cable subscription a couple of months ago, and while I was able to cruise by with the Netflix, Amazon Video, and HBO Now apps on the Xbox One, I've started to miss live sports. Specifically, the NBA Playoffs are currently underway and my setup felt inadequate. Then I remembered the Xbox One had a Sling TV app. I learned the subscription service offers the channels I need to watch the Playoffs. If you don't have cable, this is a good way of watching the games on your Xbox One.
Sling TV lets you stream live shows and on-demand entertainment without the usual long-term contracts and hidden fees from cable companies. For $20 a month, you can watch over 20 channels including ESPN, AMC, CNN, HGTV, Cartoon Network, History, Disney, and more. More channel packs are available for $5 each.
The 2016 NBA Playoffs started on Saturday, April 16th and runs through a potential Game 7 of the NBA Finals on Sunday, June 19th. The games are shown on channels TNT, ESPN, and ABC. Just note that ABC has the exclusive rights to the NBA Finals. Both TNT and ESPN are available with the basic $20 plan on Sling TV, but ABC is part of the Broadcast Extra package which costs an additional $5 per month.
While a Sling TV subscription on the Xbox One sounds incredible, it isn't perfect. Even with a 100Mbps connection at home, I notice some occasional buffering. I can tolerate it though since I can finally watch live sports on my TV without a cable subscription.
Not sure if Sling TV is for you? You can try it for free for 7 days (opens in new tab).
Have you cut the cord on cable TV? Are you happy with the entertainment apps and channels provided by the Xbox One (opens in new tab)? Let us know in the comments!
And don't forget you can typically get ABC and other broadcast channels with the OTA antenna set-up on Xbox One

I assume this is US only?

I believe so. If you're outside North America and looking for NBA, though, you can get League Pass without any blackouts, including playoffs.

Never heard of it. Is it a streaming site or app or something? Are there any other options? I'd like a littler UK football and a little basketball. Oh, and some strongman events.

I canceled my subscription because it was always buffering for live sports.

Mines do that all the time too Sent using my awesome Microsoft Lumia 950! (AT&T)

Might be your ISP throttling it, they are notorious for it.

Nope. It's the app. I use Comcast Business Class, had Sling, constant buffering. Cancelled Sling, switched to Playstation Vue (a FAR SUPERIOR app) and have ZERO issues.

The workaround going around is login to ESPN app using your sling credentials

We're among the small group of people who bought an Xbox One more as a media centre than for gaming, although it did get me back into gaming. The three main pieces of our setup: - OTA antenna through the tuner. It's a small indoor antenna for an apartment building so only 5 channels, but 90% of what we would want OTA is on one of them anyway (CTV). - Netflix. Wish it was integrated to OneGuide, but otherwise a good app. - NBA with a League Pass subscription. Also not integrated to OneGuide and not as feature-heavy as watching on a browser, but pretty reliable now (it wasn't the first year). As a weird bonus, even though we only pay for the basic package that is supposed to mean you have to watch the home feed with no option for road, the Xbox One app allows us to watch either one. And then there's the usual collection of odds and ends for Internet content, with the big two we use often YouTube and Nerdist. I wish HBO Now was in Canada because we would consider subscribing, but otherwise I don't think we're particularly missing out on anything we want while paying about $25 a month.

CTVs sat feeds(west coast) are available free on filmon

I cut cable/etc for almost the 10 years I have been out here... I used services like vongo, to Netflix... I stopped Hulu because of the commercials... I only use slingtv and Netflix now. Watching your nba games is fine Unless they blackout your games like they do for me in the SF bay area... And where I currently live in Hercules... I can't get a single channel over the air. Posted via the Windows Central App for Android

Surprised more people haven't heard of SlingTV. It's becoming a little like cable, but it's still all internet based and way cheaper.

SlingTV is also great if you're into international sports. So excited that I can get Willow TV for a fraction of the cost of what the cable and dish providers are asking.

Now if they'd just get a wp app.

Had it. It is a terrible app, with buffering issues constantly. Made the switch to the Playstation Vue app and have never looked back. It's awesome in every way. From the guide, to the cloud dvr, SO MUCH BETTER than the shyte that is Sling.

I forgot about this service. I might need to try the seven day trial and see if the buffering is as bad as people in the comments claim.

Wish they would've been able to get oneguide to work

Sadly time Warner owns the rights to Lakers games so I can't watch it on Sling Posted via the Windows Central App for Android
Windows Central Newsletter
Get the best of Windows Central in in your inbox, every day!
Thank you for signing up to Windows Central. You will receive a verification email shortly.
There was a problem. Please refresh the page and try again.