No Escape – Lasers, a rather difficult endless runner for Windows Phone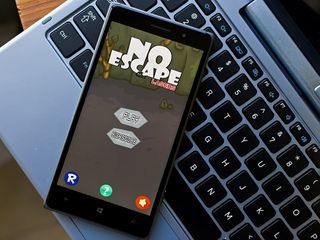 No Escape – Lasers is a relative new Windows Phone game that joins the ranks of a crowded field of endless runner games available in the Store. No Escape tries to set itself apart with a somewhat unique game style/orientation for this particular genre. No Escape is played in vertical orientation as opposed to the more traditional horizontal view.
After receiving a few tips on No Escape and how challenging game play can be, we decided to take it out for a test drive. No Escape – Lasers is available for low-memory Windows Phones and after playing the game for a few days, it comes across as a decent game to pick up from time to time. I think it may struggle as a go to game but don't be shocked if it takes you some time to see a double digit score.
There is not much to No Escape – Laser's main menu with buttons to jump into game play, view the online leaderboard and options to rate the game, view the help page and mute the sound.
No Escape is an endless runner styled game where you have to tap the screen to keep your gaming character (looks like a house fly) in mid-air while it travels down an endless corridor. The game tries to set itself apart from other endless runners by being played in vertical orientation. This does add to the game's challenge in that you have less elbow room between the dangers and for vertical maneuvering.
And those dangers include spikes that line the left and right side of the gaming screen, as well as the top and bottom of your path. The goal is to keep your character floating in the middle of the path and avoid not only the spikes but also two laser beams that are running along the top and bottom of your path.
The lasers won't destroy your character but instead either slow your character down or speed up its travel, pulling it closer to the spikes. Once you are in the laser's grasp, I found the reflex to over compensate (completely stop tapping or tap too much) takes hold, sending your character into the spikes.
The game can be a little frustrating (or maybe unforgiving) where the slightest mis-tap or allowing for your attention to wander ever so slightly resulting in disaster for your gaming character. Don't be shocked if your score stays in the single digits for some time.
Overall Impression
No Escape – Lasers is a Windows Phone game with a simple design and frustratingly challenging game play. While it isn't a terrible game to have on your Windows Phone, I just don't see it being an everyday title.
It is the type of game you like to pull up from time to time, when you need a quick gaming fix or a change of pace. Maybe even a pass and play type game between friends as you are waiting for a table at the restaurant. I think the appeal might increase if the orientation was horizontal (more elbow room) or the game had more features other than avoid the spikes and lasers. At last check, the game was unrated in the Windows Phone Store and we'd rate No Escape - Lasers in the 3.5 star range.
If you give No Escape a try, let us know what you think of the game in the comments below.
Download No Escape - Lasers for Windows Phone (Free)
George is the Reviews Editor at Windows Central, concentrating on Windows 10 PC and Mobile apps. He's been a supporter of the platform since the days of Windows CE and uses his current Windows 10 Mobile phone daily to keep up with life and enjoy a game during down time.
Because you ask this repeatedly on every one of comment sections we official deny India receiving any products from any country

So Much Peace everywhere.

Leave him be it's enough pain for him to live in India. Poor guy...

I'm gonna blow away India for F sake

The country that should be blown is US so that MS will be force to be global centric instead of being US centric.

You don't have time to play games in India.....get back to answering the phone for Dell tech support! Lol.....just a joke people!

and don't forget scamming people... man, I get called from some dodgy lying scammer almost every 2nd day. Claiming to be from Microsoft who have magically detected a problem on my PC, or from some government department wanting to give me a $7000 if I just pay the $100 tax on it :P

Change region to USA day and download.

India will NEVER EVER get this game......or anything to do with WP again. Go over to android please

I just want more car racing games ...

Step 2: Learn to drive Step 3: Spend all your money on body-kits, spoiler, bigger muffler, super-charger, nitrous system, racing tyres and brakes etc Step 4: Drag race in the streets with your friends Step 5: For a real adrenaline rush, catch the attention of the Police and try to escape .... Step 6: Profit?

Dude you really play games for any profit? lol

Great another endless runner game. Just what we need!

The sarcasm is strong with this one! (and I agree, I'm totally sick of even hearing about yet another endless runner)

And now you made an original endless runner game never come to the windows platform. So sad this is :(

Agreed, a solid racing, 2.5D rpg, an epic RTS, a 3D action/platformer would be nice. Something you can invest in but put down this game list is quickly getting stale.

We already have endless runners like 'wen in in India' and 'seems faster'. :D Do we need another one?

LOL
Endless runners
"when in India" :/

Wastage of time & space ...
Windows Central Newsletter
Thank you for signing up to Windows Central. You will receive a verification email shortly.
There was a problem. Please refresh the page and try again.