See audiophiles cry at today's Apple iPhone 7 announcement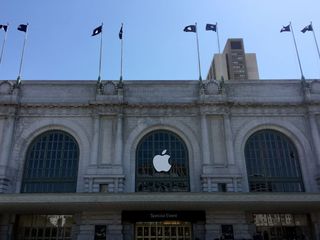 For the next two hours, or thereabouts, all of the tech industry will be concentrating its gaze at Apple's latest press event.
The company will be showing off new products at the Bill Graham Civic Auditorium in San Francisco. Apple is highly expected to reveal its next version of the iPhone, which may be called (shocker) the iPhone 7. Many rumors claim the phone will do away with the standard 3.5mm headphone jack, which could cause lots of audiophiles to get emotional.
The event may also show off the second version of its Apple Watch, and it could even have some "one more thing" surprises in store. Microsoft might even pop in to demo some software running on one of those new devices.
We don't expect to see much Microsoft news during the time of Apple's press conference. so feel free to head over to our sister site iMore, who are at the event and will be running a live blog with all the reveals. (Don't feel bad; we will be checking it out too). If you want to watch Apple's live stream on your Windows 10 PC or smartphone, you can go to Apple's site (opens in new tab) and check it out on the Microsoft Edge browser.
Windows Central Newsletter
Get the best of Windows Central in your inbox, every day!
Typical Apple. Removing ports. Stupid.

Stupid? It will be called revolutionary! ;-) expect tons of applause and ooohs...

True. Their fans are even more so stupid.

He said "their". Try paying attention to the language we've all agreed on.

and of course the special $35 usb to 3.5mm adaptor that will be on sale after the event

$35? You wish... Not even on sale.

It is on their website, for $9.00 not $35, I'm sure you'll complain about that too.

Nope, don't need one. I'll stick to my 3.5mm headset.

And it will be super handy!!

Next year's 7S will be 2mm thicker due to a revolutionary concealed port to hold the adapter when not in use.

Adapter comes free in the box. Nice touch by Apple.

Does it come with wireless headphones too? If it doesn't I guess stores might bundle them

Was a nice touch when Moto did it a couple of months ago as well lol. Posted via the Windows Central App for Android

As did Huawei Posted via the Windows Central App for Android

Cuz they know their idiot fans will lose it immediately and then have to buy a replacement. Over and over again.

@Jonnie, a nice unnecessary touch created by removing a necessary port.

You forgot their 129 $ headphones, lol :P

actually it comes with the phone.....No extra charge. Love all the new Microsoft windows phones. Awesome. Great work! The iphone is awesome. and using either the lightning port phones, or wireless versions gets you increased sound quality vs. 3.5mm as well. So Audiophiles like myself actually are rejoicing....

No. It doesn't get you increased sound quality. That's a lie. It's not how it works.

Hmm... An "audiophile" who knows nothing about sound... If only that was new. Posted via the Windows Central App for Android

Which recording studio is using wireless headphones for mixing again??.... Ya I thought not.

I'd rather have no Windows Phone at all than an iPhone. Posted via the Windows Central App for Android

It actually is already on their website. For $9.00 not $35.00, but I'm sure you'll complain about that too.

Nope I won't. Don't need one since I still have the regular plug on my phone :)

Not 35. 9 bucks from Apple

I'm sure the primary motiviation behind this is to provide Apple with the oppertunity to sell millions of highly overpriced headphones to their customers (all of whom already have headphones). On the other hand, combining two ports into one isn't the dumbest thing either, since it allows Apple to free up the volume of the 3.5mm headphone jack (which is quite large) and dedicate it to something else. If Apple decides to go with an OLED screen, which is thinner than LCD displays, they might instead go the other way and make the thinnest phone ever, without sacrificing utility. It's not as stupid as it initially sounds.

My Sendo m550 had a headphone jack that doubled as a charge port... pity Sendo went out of buisness they did have some neat ideas.

True it's one of those things we have to adapt to like type c cords.

Type C is the next evolution in USB ports. Apple is removing the headphone port all together.

USB-C supports the same sort of digital audio delivery. The Motorola Z editions have no 3.5mm jack either, and use the USB-C plug in much the same way Apple is using the lightning port.

The thinnest ever? They've got one that bends already, let alone a thinner one. ;-) Then you add in that their stuff is so fragile...... My iPad 3 retina screen cracked, and I only dropped it onto my pillow!! And yes, they were very unhelpful, uninterested and very good at trying to sell a repair, when it was comparable to a new device. Coincidence??

2.5mm could also be a nice standart. Nokia had it on some models years ago.

Phones are thin enough already; nobody needs or even wants a thinner phone. If they remove the headphone jack and use a thinner display, they should utilize the extra space for a larger battery. Battery life is a significant issue for iPhones.

I woudl not be surprised if next year the Surface phone comes out without the audio jack...

Because...reasons, right? Seriously you have no logical reason to think that.

Because Microsoft hasn't been chasing Apple for the last decade? I guess they have scaled it back a bit lately. Posted via the Windows Central App for Android

Care to provide examples?

What has Microsoft copied from Apple?

First party hardware, especially premium first party hardware. Physical stores, they even designed them like Apple. Multi-touch slab phones. Consumer only focus (Windows Phone). Posted via the Windows Central App for Android

IPad pro after surface pro becomes popular and it is meant as a direct competitor to it. "3d touch" way after McLaren concept used the general idea first (yes I know it's different, but same end result). And I'm sure they will eventually put in wireless charging and act as if they are special for it even though others have had it for years. And btw windows phone wasn't consumer only focus.

First party hardware has been a thing way before Apple. I'll certainly conceed on the physical stores, but that's hardly been for a decade. Multi-touch slab phones is certainly not Microsoft "chasing Apple". It's a change in an industry design that became the norm. As for Windows phone being a consumer only focus, Windows on a phone started around 2000, I think like 2003-4, but it was specifically aimed at business and enterprise. Even when they rebranded it as Windows Phone, it always had productivity apps preinstalled. You know, because consumers want productivity.

They saw Apple making billions off of premium first party hardware and they wanted to do the same. That is obvious. Windows Phone wasn't business driven at all. It didn't even have EAS or VPN support. Microsoft went full consumer with it even though business was where Windows Mobile excelled. Slab phones might have been the norm, but it was certainly Apple that innovated them. Posted via the Windows Central App for Android

They saw Apple making billions off of premium first party hardware and they wanted to do the same. That is obvious. No, that wasn't it. MS had no particular interest in making first party hardware. They were running their phone business just like their desktop business, build the OS and let others put it on their hardware. All the hardware builders were bailing or going under. MS had no choice but to buy Nokias phone business to have products in the market that ran their OS. That was a stopgap option, not a desire to build phones. They in fact proceeded to divest the majority of the ability to build phones. Their Surface approach was to build a 'reference' device to goad OEMs into getting their act together, not to start a PC business. You can't sell a touch OS without decent touch capable hardware. It worked. Better than expected. This has not in the phone space.

You do know that touch screen tablets running Windows xp and Windows 7 were out before way before Apple and Andriod brought this hole "new" tablet idea to market right? It was already done before. So I don't think they are really chasing anyone, they are trying to find that spot in the race at this time sure, but it seems how they are handling it they are looking to the future not the present, at least let's hope, cause they aren't doing well in the present at least with phones, but one could argue they have the best tablet on the market. Posted via the Windows Central App for Android

Yeah, but they were terrible.

No 3.5mm jack would actually be a dealbreaker for me...

The suface phone is also being released without a chasis, screen, battery or processor either....since....its NOT being released!

You bring a new definition to the word stupid. Posted via the Windows Central App for Android

Really? Do you have a surface phone? NO. Waiting and praising up a vaporware phone is quite stupid if you ask me..

Actually, Apple called it courageous. And as I remarked on another site: Rosa Parks refusing to sit in the back of the bus. Courage. Fire Fighters rushing into the WTC on 9/11 to try and rescue people and save their lives. Courage. Apple removing the headphone jack. Courage. Congrats Apple on your courageous move. You deserve to have your name up there with others who have risked and sacrificed so much.

Yup, just forget about those $300 Beats that they sold you a few months ago.

That will still work with the included adaptor.

That you still have to carry around with your everywhere you go. It's nice they included it in the box but it still is that extra thing you need... Also can get lost.

Nah, you leave it connected to the $300 Beats. If you also have $500 Sennheisers, and $350 Bose, you can afford a $9 adapter for each. Don't take this as endorsing the loss, I just think there are other reasons this is a bad idea. The fact that it is proprietary. If I buy a $300 set of lightning headphones, I can't use them on anything but Apple products. I can't charge and listen without yet another adapter, and this one isn't $9. I can't imagine the DAC that is in the $9 adapter is as good as the one that was in the phone before. (has to be one. digital going into the phone end, analog coming out of the jack end). Anything that plugs in here really needs to be licensed by Apple, increasing the price, and reducing the likely variety. There is nothing wonderful that could not have been done with the lightning port, without removing the headphone jack. The market could have determined if the lightning options were so compelling, the headphone jack became superflous and could be removed.

Yes, none cried everyone rejoiced.

They know that if they call whatever the new thing is "magical", their users won't care and will wait in line to pay top dollar for it. Apple is smart and basically printing money. It's the "no matter what" buyers that are stupid. Watch these "audiophiles" cry, but still line up because...must have new iPhone...no matter what.

I was right by the apple store in Portland this Friday and it was packed before even the iPhone came out then I went to the Microsoft store to get a Lumia 950 xl and it was empty. I asked one of the Microsoft employees that was helping me out and she said that they sell only about one or two Lumia 950 or Xl a day! That's like nothing.

I'd also say that in PDX, I'd expect Apple to do even better there than other places. When I've visited, even the Macs seem to outnumber Windows machines and that's not the norm.

Re: dalydose,
PDX = Portland International Airport and Portland State University. It is also software for pharmacies.

Yet, you knew what I was referring to. I've heard that nickname commonly used along with Bridgetown, Rip City, Stumptown and even the City of Roses, which makes me think of Pasadena, CA.

I go to my local mall where there is an Apple store and a Microsoft store. I have seen days where the Microsoft store is packed while the Apple store is empty, and days where the Microsoft store is empty while the Apple store is packed. These "Microsoft stores never have customers" is just a fallacy. We know that Microsoft and their partners sell more computers quarterly than Apple sells all their devices combined. Besides, perhaps the Apple store was packed because they were waiting for support help.

So he was helping you out. Did you have trouble finding the entrance/exit then? Posted via the Windows Central App for Android

The Lumias are cheaper now, but you do need to pay full price, or stick it on a credit card. At the Apple store you can walk out of there with a well built, well reviewed, generally desireable, device for $30-$40 (per month) at no interest. You can get a similar deal at AT&T for a 950, but they'll try to change your mind.

Well :D look at this pic https://s10.postimg.io/a1ktmuy93/Magical.jpg

Just like Microsoft removes useful features like FM Radio, Rooms, Apps Corner, an intuitive UI.....

FM Radio is not removed. You can do most of the Rooms-stuff in GroupMe. Apps Corner is not removed.

Kids corner, I meant to say. And its widely known that Rooms is unmatched by any other combo of clunky apps. But I get it, we must defend MS at any cost.....

FM radio is not removed? What is it?

Depends on what you mean. The FM Radio hardware is of course not gone, and you can find third party apps to access it. The MS native FM Radio app has been removed with the AU. That causes some concern. MS needs to continue to support the FM Radio APIs for third parties to access the radio hardware. Will they do this? The FM Radio was a basic spec requirement for WP. Will it continue to be?

I loved having the FM radio and Rooms, but I probably only used FM the times since the 920 launch and barely used Rooms because everyone else I know don't have WP to fully leverage its features. Not surprised they're gone.

Except FM radio is not gone.

The MS radio app is gone, there are free radio apps in the store...

As the Apple fan that you are, you constantly like to point out how few WP users there are to iPhone users. Apple's action will impact more users. This is equivalent to Microsoft completely removing the start menu (in Win8 it was not removed, just changed) vs. Apple removing the Apple menu. Nobody would notice the Apple menu going away since OSX users are a rounding error compared to the number of Windows users.

Actually Microsoft removed the operating system with windows 10. ha ha. I love all the venom and jealousy being spewed here....

Way to think Stevie. Posted via the Windows Central App for Android

It will be a proprietary 3.4mm jack, so your forced to use their headphones, which will only cost $60 and will break every 3-6 months...

WHAT? I will jam a little piece of paper to make up for that .1mm instead! lol.

meanwhile Doom (DENUVO) was cracked

Dont tell me that was sarcasm or I will hate you !

Unfortunately, they have the market share to affect the rest of us.

On the other Hand so do Samsung and they specifically pointed out that their phones have headphone jacks recently.

Since Apple tech isn't available for the rest of the world I don't see them effecting change in the plug choice, but rather the availability of earbuds at the airport. I hate going to a store in the airport and the only accessories are for the iPhone. At least for now you could get ear buds because the iPhone uses the same, but I'm thinking after 2 years of this new phone jack, the 3.5 may become a scarcer item.

Some android device already removed 3.5mm headphone jack though.

HTC tried this years ago, I hated it!

I'll give them credit this year for actually including the adapter for regular headphones in the box. They're trying this year. Usually they would just tell you about the adapter and charge you $49.99 for it. Posted via the Windows Central App for Android

my first live stream was of samsung galaxy S3 i ended up buying it then i saw L950XL i ended up buying it now for the first time i'm watching apple event i hate apple but some how i ended up watching their event maybe because of MS concentrating more on APPLE..

My coworkers were surprised I could watch it on Edge.

My coworkers never heard of Edge, or windows phones for that matter

Do you work in a quarry because clearly your coworkers live under a rock! :)

Not really......Most people have never heard of windows phone...or windows mobile.....Or 10 for that matter.....most of the windows 10 users live under rocks....afraid to come out and purchase real devices.. Cannot wait until mario is released and all the windows phone users here ***** because they cannot get it on their awesome devices.

You're just too funny... So you say my Surface Pro 3 and 950XL no real hardware? They are both awesome tech running Windows 10 running the same uwp apps, making me productive wherever I go. You can keep using your Apple stuff with a different os for your laptop, phone/tablet and watch. Oh, and you can stick Mario where the sun doesn't shine.

Stevie does your mother know you're on the Internet when it's way past your bedtime? Posted via the Windows Central App for Android

I think Edge is the only browser on Windows you can watch it on.

That is the clear proof of Microsoft working for other platforms. LOL Edge is designed to see what other platform/OS do better that Microsoft themselves. Now I'm waiting for downvotes.

It's not even just audiophiles; the difference is apparent in many usage cases. Plus, FLACC and other high quality codecs cannot be transferred over Bluetooth, so it needs and adapter. It's just an typical Apple move so you buy their proprietary adapters and headphones. Posted via my BlackBerry PRIV

Of course FLAC can be 'transferred' over bluetooth. Just google 'flac bluetooth' rather than believing what idiot audiophiles claim. You know, the same twits who buy BOSE...

It has to do with the method used to send the file to the Bluetooth device, which not every device supports. Every time I want to play FLAC on my UE Roll, it doesn't work. Posted via my BlackBerry PRIV

What do you have against Bose? Yes it's overpriced, but buy the old model that's still new in box for 1/5 the price and you have some good sounding headphones for a reasonable price.

Erm, audiophiles don't buy Bose... ​Apple fans like Bose though because they're expensive, sound good and well marketed.

Not all Apple fans. I for one would never buy Bose headphones (or any other Bose products). Sennheiser all the way.

zybch, you know what BOSE stands for right....Buy Other Sound Equipment! ha ha. My smallest set of psb speakers destroys the best bose have to offer! For much less I might add. Now my my PSB stratus GOLDs are AMAZING and are better than most speakers 4 times their price.

Stevie you are so funny. You should really think about doing it professionally when you grow up. Posted via the Windows Central App for Android

Apple has been screwing their fans for 7 generations and the isheep keep bending over

That's how I've felt Microsoft has done it's fanboys too. I used to be one, but have seen the light lol. I still enjoy Windows devices but Microsoft does the same to it's loyal customers too.

I have to disagree with that. MS isn't screwing their fanboys, their new releases are always upgrades to the previous, but Apple keeps releasing the same phone every year and actually making it worse. Apple is in a position to make awesome releases but their visionary Steve Jobs is gone. I am a Windows fan, but if I ever left. It would be Android which is superior to IOS

I'm probably an oddball here, but for everything except tablets, I use Windows. For tab stuff, its always Apple. I don't like the OS on a phone though! Go figure........ I used to use iMacs when DJing, but when they went wrong, it was basically throw it away. And that was just the logic board. The one Steve Jobs sales pitch I remember was when the first phone arrived. You don't need to buy a pointer for this, we've used one that's been in development for millions of years. At which point he displayed his index finger.

The stupid in this post hurts my head.

@modwheel You must be new to MS products or seriously sucking down the kool-aid. Go find out what happened to WP7 users. And WP8/8.1 users. Or Surface RT users. Don't be surprised if a year from now the Apple Trojan horse that is Nadella shutters mobile.

Modwheel.....POT KETTLE BLACK! Microsoft has repeatedly screwed over their customers...remember windows phone 7? how about windows 8? no? what about windows 10 Mobile? What about all the stuff that they stripped from the almighty 10?

Strategic changes aren't screwing people. It's only screwing people when its intentionally done. MS was trying to figure this out. Rewriting Windows 8 on the NT Kernel initially was a solid plan then unifying the the OS with 10 now. Apple intentionally releases the same **** every year.

And Microsoft intentionally releases a new thing every year (exaggeration, before you freak) forcing people to either spend more money or be left behind. See, I can make baseless claims too.

Spending money every year? You mean like lightning cables a few years ago? Like new headphones this year? What a joke. Don't go there with forcing people to spend more money every year, you are describing Apple to a T

Are you taking tablets for you MS hatred? Posted via the Windows Central App for Android

Why would audiophiles cry? Audiophiles usually don't play their music through iPhones.

My friend does. Through $1000 custom earbuds and a custom music app that supports high quality files.
He also has a huge external DAC for his PC, but he needs something when he's out and about. Posted via the Windows Central App for Android

There are always exceptions, but most morons hook up to POS iHomes.

What do you have against iHomes?!

They're cheap and functional, but they are very lacking in the audio department. Good for morning alarms tho.

They make portable DACs too and if he's spent that much on earphones he's probably already got one or two.

The live blog on iMore and their reaction right now is hilarious.

Are they circle jerking? Haha

NO more than you are because microsoft is releasing a stable OS sometime soon™

My favorite Apple innovation was the greeting cards thing they did. I couldn't flippin believe how lame that was.

Wen Fake Mario Run on Windows mobile?

It's Real Mario Run as far as I can tell I'm sure you'd complain about the clunky controls if an actual Mario game was released for mobile.

Give it a rest. I can't believe you spend that much energy trolling the comment section here for a platform you don't like.

Am watching it live right now...Tim Cook is terrible! Apple need someone with charisma, personality and a younger person who can connect with the younger generation, Apple could do sooo much better.

They should get Nutella! Win-Win.

they dont want to loose 90% of their market share in one year VHYR!

Did Bill Gates kick sand in your face on the beach? Is that why hate Microsoft so much? Posted via the Windows Central App for Android

Actaully I LOVE bill gates...he was visonary, Not like the butmunch lineup thats there now, ruining everything Bill created!

Then people will get the phone and discover that because they need to use the Lightning cable to plug their headphones, as the connector doesn't allow the plug to turn on itself like headphones plugs can, the cable will be either be super thick and be annoying, or break easilly due to strain applied from the wire turning on itself with repeat put in and out of pockets. If you pay close attention to your headphone plug on your smartphone or old MP3 player, you can see how it tend to turn on itself, and you can see how it can be an issue. The headphone connector was smartly designed.

They can make Pokemon Go for that stupid watch....

to be fair, there's already an effort to catch Pokemon on the MS Band as well https://github.com/ST-Apps/PoGo-UWP/pull/1159

Why why god why developers love Apple...now because of Pokémon go ppl may buy that stupid watch

Apple paid for the new Super Mario game exclusivity. Just like MS & Sony do.

Because there are actual users there. Unlike the what like 50 windows mobile users left in the world.

Does anyone use apple watch???

My wife and I yes....we do. and its Much better than my band was.

Most people I know who had an apple watch sold them for the Samsung Gear. The second gen of that is pretty awesome.

At least there is a UI. Unlike windows 10 mobile in aobut 3 months!

For true audiophiles, this might actually be a good thing. The built in dac is in most cases quite bad..

Agreed. Cable + Chord Mojo ftw. Or rather...anything-but-Apple + Mojo, ftw.

What a joke, if you still have windows seven neither chrome or ie work... Posted via the Windows Central App for Android.. But waiting for the HP Elite so I can get rid of this junkie Galaxy S5...

Nice new watch bands, too bad the middle part looks like a POS.

I like the Nike band, but it's not like I'll ever run with the Watch. That's what my Band 2 is for.

Yes, because the goiter on the Band strap is SUPER ATTRACTIVE.

I didn't realise how something looks was an indication of how good it is.

No but the other person said it looked like a pos...and i just made mention of the massive goiter on the strap of the band....which was terrible and uncomfortable when I had mine.

Wow what a bunch of butt hurt people in here. Obviously you guys care about what Apple has to announce. Whether the iphone is the same or not it will still have more features than windows phone.

I use an iPhone for work and hate it. I avoid using it at all costs.

and yet here you are on a Windows site checking what people are saying about your next annual phone

And yet here I am on a Windows site for PC news, but see an article about the iPhone on a Windows site.

I'm sure you and all the other delicate little Apple sheep would be the first to complain if there was no mention of the Apple event. You whine if they do and whine if they don't

It's funny that you come here. I don't even go to iMore when I was using the iP6 daily and still don't now that I'm back to WM. What's up with you other platform guys wasting your time here and wasting our's?

I come here for the PC. Not the phone. Plus it's always amusing reading all the comments from people bashing the iPhone and Android when windows phone is not even half as great. Heck windows phone is not even a consumer phone by Microsoft's definition.

How so, not a consumer phone? That is their stated intent going forward, but starting with WP7 it was most certainly consumer focused. How is WP not even half as great? It has been shown the OS runs better than Android on the exact same hardware. Lumia cameras of three years ago are just now being approached on Android and iPhone hardware. They have had wireless charging, screens you can use with gloves, FM radios, NFC, for years. The OS is easy to use, and the Start Screen is actually useful (my opinion). My 950XL has an 8 core liquid cooled processor. Now I can even attach a second screen to my phone and run independent apps in a desktop like environment. The hardware and OS are competitive with the iOS and Android high end devices of the similar era. The drawback is the app situation, and that is significant, and hard to change. It's a catch 22, no apps mean low sales, which means no developer interest. That's unfortunate. I think many would enjoy the Windows OS, if the apps they need/want were available. It also runs on essentially the same hardware Android runs on, so OEMs would have a choice of running 'free' Android or 'free' Win 10, if they supported the same apps, and people had a real choice.

After being a Windows Mobile/Windows Phone user since 2008 I am finally about to reach the end of the rope. I am tired of having no apps or having ones that are usually lagging behind iOS/Android. Since I hate Google's business model that leaves me an iPhone as the only choice... This kind of caught my attention but if they still have no wireless charging and if they remove the headphone jack I am just not sure I will go that route. I have expensive headphones that I don't want to replace and I don't want to be carrying adapters.

Just buy android and install all microsoft apps. Simple. There are more MS apps on android than on W10 mobile.Don't end up buying an Overpriced iPhone

I've always intended to stcik around WM, but picked up an iPhone to play around with and access some apps that aren't available. It'll be nice for a while, but that UI just sucks. Then you have to deal with all the proprietary crap - don't worry, you'll need to get that headphone jack adapter because Apple said so. Trying to transfer music or photos is a pain in the ass versus just plugging in your WM. You'll always have to buy extra charging cables too since it's not everywhere like micro USB or USB-C which is beginning to appear everywhere and that iPhone loves to drain its battery. You should just get an iPhone and live with it for a couple years like I did. I'm back to WM now with the 950XL and despite being back to growing pains, I'm really digging the direction and Continuum. Good luck!

Who transfers music or photos? What is this 2006? Posted via the Windows Central App for Android

Tons of people, even more so with photos

Yeah, Microsoft doesn't have a good photos experience. The other platforms don't have that issue. You don't have to do anything but sign in and your photos are there. Posted via the Windows Central App for Android

As much as I say I am ready to jump off the Windows Mobile train (hence my post) you are wrong there. SkyDrive/OneDrive has been a flawless solution for photos for over 6 years for me. Some people do like to do their manual transfers though. I guess that would be one of my problems if I went with an iPhone... Everything is so their way or the highway.

Onedrive isn't a true photos solution. It might work, but that isn't exactly what it was designed or marketed as. They need a real photos solution. Posted via the Windows Central App for Android

So what is a true photo solution? As it stands right now, I take a pic and it uploads to my Onedrive. I can now see it on my Surface. I can also download it to the Surface for editing.

You can do the same with Google Drive, but it isn't Google Photos. The experience is much better on Google Photos. Posted via the Windows Central App for Android

What's wrong with it? I saw it marketed as a way to store just about anything including photos. It works great, even across platforms. I think you're trolling, but I thought I would respond in case you truly aren't joking.

On iPhone, you can get the same experience when you use iCloud. 5GB for free, then pay up buddy. I use OneDrive on iPhone as well, but definitely not the same experience. You need to have the app running. Apple doesn't make it easy if you go off their reservation.

I use my 950XL for work and snap around 30-60 photos that will end up in a document later. Sometimes I'll just drop them right into a PowerPoint presentation on my phone and sometimes I'll just do it at my desktop later. We're talking about 50-150mb to transfer to the cloud and then download again at the desktop. The easiest solution and one that won't use up all my bandwidth or battery power is to just connect by wire which is faster. Since it's just work related photos, I'm not keeping them around afterwards, so it doesn't have to be removed from the cloud either. Also, photos can be automatically uploaded just like Android, but I turned that function off to only upload on WiFi. Anyways, that's the long answer to your stupid comment that didn't deserve a reply.

Weird, niche use case. Certainly not anywhere near mainstream. I actually have a similar use and have no issues using cloud storage. The photos are there quickly and automatically, I don't have to deal with wires or transferring at all. I do have an unlimited data plan though. Posted via the Windows Central App for Android

Unlimited data plan itself can be considered niche. We all find solutions that best works for our own use case. My Conitnuum dock is connected to my desktop, so a quick plug in from the cable that is in front of me already is all I need. The other use case is that I will prepare a set of photos in a folder that I optimized for display on my phone via Photoshop actions. Rather than upload to the cloud then pull it back down, I'll just plug in since it's most direct.

Ditch the rest of your MS crap and all photos, videos everything automatically transfer between devices!

I remember people on here mention a few times that if apps are important to you, than Windows Mobile is not for you. It's gotten better over the years and I can see how things should improve with Universal apps but it'll take time.

wait wait, r they really making their phone look like a lumia?!?!

Microsoft has officially allowed everyone else to catch up in camera tech

That's part of the retrenching strategy. I don't know what the next phase of that is though because pretty much everything that was unique about wm10 with regards to features and camera tech has been caught up and surpassed by everyone else. But there should be some wicked sick stuff coming from the next phase of retrenchment! Have faith for the next phase (whenever that comes) and continuum (until that find it's way to ios/android somehow).

Nah. Apple doesn't have a fast enough lens. So they did the next best thing.

You're kidding right? Even the iPhone 5 is faster than the 950.

Microsoft has offically **** canned their entire imaging division. Don't worry, there is not a super camera coming in any MS device anymore. LG V20 has an insane camera too now.

Only two cameras on the back? Surface phone will have 3 and will be water and smug resistant, for times your at Starbucks surrounded by the glowing fruit cult. Don't want to catch Touch disease, ick. It's actually a very nice looking phone.

I don't care, eye, ear wide open for what next by Ms.

I thought that an Microsoft chief has tweeted on twitter that we can expect something today?? Is it true?

ys they are going to sell iphone 7 pro and phone plus pro on their MS sites which come with preinstalled MS apps...satya will be brand ambassdor for pro models...dont worry we windows fans still have support from MS its just this yr they are not going to concentrate on small inch devices..

Again the iPhone 7 is setting the standard. Some nice technology.

***** all you want, they still put on the best show every year.

show was not best compare to last yr surface that said Iphone jet black looks great plus dual camera bokesh awsome...it feels like phones have nothing to improve just add more ram more cpu evey yr......windows have continuum it also have unenthuastic MS behind..

theyve had better keynotes, the watch was nice because of the different customizations but the phone was jus catching up to what everyone else has plus no headphone jack so poof more money out the door to getting an adapter to use ur own headphones...

The phone comes with an adapter.

Audiophiles should be smart enough not to buy Apple products.

Bet they dont even know what FLAC is

Won't FLAC sound better over a lightening port compared to a headphone jack? Posted via the Windows Central App for Android

It'll sound exactly the same, and that's the point. Besides if someone were a true audiophile they would use an external DAC anyway.

Actually if someone was a TRUE audiophile, they would be using vinyl. The ONLY true way to listen to music.

Only that's not "true" at all. While Vinyl is truly lossless, there are so many imperfections in the sound and the method of delivery. Vinyl is cool, but it is by no means the best representation of music.

Vinyl is also the format that literally degrades every single time you listen to it

Same as using tube amplifiers, yeah, they have imperfections etc, but they are SOOO MUCH BETTER than solid state amplifiers.

http://i.imgur.com/BQbb0Oa.gif

Goodbye Windows Phone. I hope you can reborn in the future.

The best part of the evening was Sia and the performance :)

Oh joy, how do I tell the kids she is banned from the house??? I had to post that as most have me down for a fan boy, but they are slightly deluded. I use WM10 because it works, and I don't need stupid apps to chase imaginary characters, Italian plumbers etc..

Yes because those are the only 2 apps in existence that are not on WM10, no big deal- my god you people are embarrassing.

really. They think that its only snapchat and pokemon missing. ha ha. Thats not even the dust off the tip of the iceberg of the apps that are missing on windohs and windows mobile.

Don't you get tired of being a troll. Go take a break and come back fresh. LOL.

nah, It's just to funny the amount of butthurt thats in here.

Catched the whole event recently!! Awesome iP7+

How about the current iPhone users who don't upgrade to the iPhone7? will Apple sell a 3.5mm cap/plug to cover up thier audio jack so they can upgrade thier current phone ?

As a matter of fact... http://appleplugs.com/

another thought; iPhone covers have ALWAYS had an extra hole in them that was useless except to show off the bitten apple... what are they gonna do NOW ? sell caps/plugs that have the bitten apple on it so you can cover your current 3.5 mm jack that matches your current cover??

Richard Indy, and I remember LOTS of ******* and moaning about mozo covers and back NOT HAVING THE WINDOWS LOGO EITHER....POT....KETTLE.....BLACK!

Head over to AC and read their article. Title and content hilarious.

Nah, I have better things to do

I remember when Samsung removed the floppy disk drive from there laptop. Every customers complained about it. Old technology are meant to die one day or another.

It comes with the lightning to audio 3.5 jack. That's good enough for me. As long as I wouldn't have to buy another adapter searately.

Apple and the endless pursuit to sell you overpriced accessories. Yes it'll come with an adapter, but they are betting on you losing it. Courageous? Please. They just dont know what to do anymore to be innovative.

Just found out that the dictionary on the iPhone 7, doesn't have the word "Gullible" in it.........

However the dictionary in windows has the work sucker in it, and it says as a definition "see our users".....

Next year apple will release a revolutionary idea of live tiles (called live squares), iris scanner for better security, here maps for better gps, and Microsoft will give them apps that will support Xbox gs. IPhone 10 will be ultra visionary because it will be compatible with mac

I like MIcrosost, but man these comments are just ridiculous. You all need to take the beer goggles off. These comments are embarassing.

If Microsoft had decided to remove the headphone jack from the 950/XL or Surface devices. I can guarantee that you'll see alot of people bashing them on here. Some of the comments might even be from Microsoft fans.

Thing is, when you sell Millions of units worldwide, you can always bend a market to your desire. Apple CAN do just that. "Want an iPhone7? Here, and this is an adapter you'll need til you up your game and get our newest offering".

Intrresting... compare the specs of the 950 XL and the iPhone 7....

Specs mean nothing...The iphone 6 melted the 950xl in speed tests....the 7 would absolutely destroy it..

It's nice that Apple was kind enough to include the headphone adapter. But how are you supposed to charge the phone while using headphones???? Surely this has come up.

You don't have to. Their battery is atomic. Self contained, never needs charged.

You're supposed to not mention it because apple can't go wrong.....jk it's pretty stupid

That is a really good point. I feel the trend will be moving to wireless headphones though. I mean just about everything else is wireless now anyways.

That adapter costs extra.

Not the first one. Kinda like crack ;)

Come on Microsoft wake up introduce an Surfacephone with other store an you're back. I was hope on launch at IFA16 even else the Microsoft Band3 :(

At the end of the day, I thought it was a good launch (minus Tim cook and the entertainment). But one thought in my mind was the finish on the phones. Wasn't it a similar process used on the 2010 Nokia N8? In reality though, it will sell by the bucket loads regardless of the so called 'innovations'. It always amazes me though how soon from launch to availability Apple do. Just one thing I wish MS could get right.

I'll be honest, at first I thought this idea is the stupidest thing ever when I first heard the rumours but now, I don't even use the headphone jack on my phone except to test amps and headphones at work. When I'm out and about I use Bluetooth headphones, which I see a lot of people on the street in the same boat. (as an side it's really ******* annoying that W10M doesn't automatically capitalise "I")

Umm, not sure too many "audiophiles" used an iPhone, or any smartphone for that matter, as a source device. If they did, they probably had an external DAC. This is one area where MS could really take the lead if the Grove Leadership took command.
1. Buy Tidal's source library of high def audio files. 2. Offer HD playback on Grove and all Win Devices 3. Incorporate High Quality DAC's in Surface and Phones. MS could take the Audio high ground back from Apple. Think about it. Apple was born out of music playback and the iPod, now MS could take that away from Apple and gain the very vocal and loyal audiophile community in the process. And they could do it all for a lot less than most of their recent aquisitions. Hell, if I was an MS Product Manager, I would be all over it.

People. Get real. Iphone 7 is perfectly and amazingly executed piece of hardware. Don't bother even dreaming of surface phone coming even close to it, let alone beating it at any of the existing functionality or selling points. I was watching the apple show on my xb1 (which feels like looser after I tried a playstation VR earlier today and Sony announced the ps4pro) while holding my 950 xl and I just knew that I am holding a relic of what could have been... Made by a company who had no idea or interest how to cater to it's dying enthusiast community. Microsoft is simply loosing in most of the consumer facing fronts. Amd how little do I care about them ruling the corporate and opening data center's all over, when they just cant design cool stuff, do it with a yearly refresh and stop embarrassing the few remaining fans they have

The best thing about this whole article is that in 1 hr, apple will sell more iphone 7s, that MS mobile has users!

Strategy shifts are not screwing people. Making a crappy phone intentionally is.

And they'll still sell more than iPhone 6. Keep removing things. Keep raising sales lmfao

I think most true audiophiles would already be using a USB DAC and won't miss the headphone jack at all. This is going to hurt the general consumer more.

It really is'nt going to "hurt" anyone. Most people are moving to wireless anyways.

Audiophile's won't be upset at all. A headphone jack on a phone and mp3s have nothing to do with audiophile music. Might pi ss off a few wannabees but no real audiophile is going to be upset.

Everyone should expect all phone manufactures to eventually embrace this change.
I'm sure there is going to be a need to improve usability in the future but the fact is that we play our music on digital devices.
Analog headphone jacks are going to disappear on all devices eventually because lightning/USB C/Bluetooth5 do improve audio quality.
All phones/digital Devices with 3.5 jacks need digital to analog signal conversion hardware and being that not all hardware is equal, as an audiophile, you cant just rely on the purchase of a great pare of headphones to give you a pure audio experience.
Manufacturers of even high end devices can be guilty of using sub par, mediocre, or even skew the signal in attempts to ramp up the bass or what have you, to give a not always desired custom sound.
My point is, when you take out the analog port you take out the potential for poor digital to analog hardware. This gives you pure digital signal. Now its the headphones that need to convert the signal, a device that can be built with the sole purpose of providing the purest audio in its price range.
At this point all you have to do is go and buy your Lighting/USB C headphones that provide the quality you desire.
Audiophiles should be very happy. Also, I'm sure that the headphones will be lightning and USB C compatible.
Sent from my Windows 10 phone

I'm an iPhone user (I say user and not fan because I'm not a 'fan' of any mobile phone company) but foremost, I'm someone who love technology without being an expert. I enjoy tech sites because the articles (mostly) and comments (sometimes) are very insightful in terms of news and general knowledge etc. I am happy with my iPhone as a general device and appreciate aspects of it whilst acknowledging it's shortfalls in some areas too. I personally find that it would be hard for me to move on from the iPhone based purely on the fact that I've been entrenched in the iOS ecosystem for many years (my first smartphone was the iPhone 3GS). However I find it utterly baffling how much hate there is between the phone brands and ecosystems within forums and so on. The vast majority of people who use apple, honestly do NOT have feelings of superiority (it's just a phone for goodness sake lol) neither do most iPhone users always claim that Apple is first - it's something that Internet warriors, no doubt fuelled by partisan feelings and siege mentality against an overwhelmingly majority of comments against them. Without doubt there are also arrogant and wretched commenters within the iPhone fan comments. But it's the chicken or the egg situation. It's come to the point where phone fans pre-emptively strike against each other anticipating attacks on themselves. For example, the massive number of Samsung fans attacking Apple after the Note 7 explosion-gate purely in anticipation of Apple fans attacking them. You get the picture. Well, personally I have felt the windows phone community to be the least vitriolic and realistic in terms of actually and honestly making comments on other phones and also their own. I started by saying that I'm an iPhone user and my reasons for staying within its ecosystem. I'll finish by saying that in 10 years time, who knows what big paradigm shift would have occurred and who will helm that generation? I hope that I'll be using the phone or device that best meets my needs and makes me satisfied be it whoever. Have a nice day

Their camera is supposed to be kickass. Remember when Nokia was the Camera King?

Not changed. When Lumia 950 released it was, still is the best. So when Surface Phone is announced soon, all will return to normal. Especially as it will be full OS.

I do remember....Then Microsoft happend!

Using the charging/data port for audio? No thanks, I like to be able to listen to music while charging my phone.

Apple forces people to spend more money and stay running in place. At least Microsoft releases are real upgrades

With less features, go figure.

I find this article non professional. You can notice the hateful view of the author.

"audiophiles" would definitely not care about the 3.5 mm jack being removed... in fact if you really did want the best audio quality you wouldnt ever touch any built in audio jack, unless it came from a device with a decently built internal DAC and amp, which im positive less than 0.01% of devices actually have. Posted via the Windows Central App for Android