'NoDo' update starting today; full list of changes published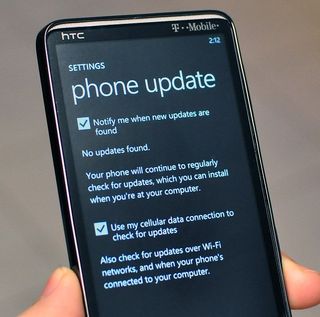 WinRumors reports that the NoDo update should be coming today for some phones--namely unbranded ones. No source is given, just that they heard users should be getting an update notification sometime soon. We just checked our AT&T and T-Mo Windows Phones and no dice there, so we'll have to wait and see about when the carriers unleash NoDo--our bet is it could be a few days.
Adding legitimacy though to the claim is the fact that Microsoft just updated their support page (opens in new tab) to list the full changelog of NoDo. While we knew copy/paste, faster performance and better Marketplace search were on board, we noticed a few other changes unmentioned (e.g. the Marketplace update process). Now, Microsoft has given all the details, published after the break and they may be small, but are still important. Thanks to everyone who sent this in...
Update: Reader Morten Romslo confirms on his non-branded HTC Trophy: "...just conected my HTC Tropy to Zune, and the NoDo update was ready for install. No carrier phone europe"
See the full changelog for 'NoDo' after the break...it's pretty lengthy!...
Copy & paste. You asked for it—now it's here. Just tap a word and drag the arrows to copy and paste it on your phone. You can copy text from emails, text messages, web pages, and Office Mobile documents, and paste it anywhere you can type. To learn more, see Copy & paste.
Faster apps and games. Nobody likes to wait. That's why we've whittled down the time it takes for apps and games to start up and resume. It's all part of our focus on getting you to the things you love, easier and faster.
Better Marketplace search. We've streamlined Marketplace search to make it easier to find specific apps, games, or music. Press the Search button in the Apps or Games section of Marketplace and you'll see only apps or games in the results. Press Search in the Music section of Marketplace to search just the music catalog.
Other Marketplace improvements. We've improved the stability of Marketplace while you download apps. We've also improved the experience of downloading apps larger than 20 megabytes, upgrading from trial apps to paid apps, using a credit card with an address outside the United States, sharing links to apps via email, sorting Xbox LIVE games by release date, and creating an Xbox LIVE account from within the Games Hub.
Wi-Fi improvements. We now display your phone's Media Access Control (MAC) address in Settings. (You might need this info if you try to connect to a Wi-Fi network that uses MAC address filtering. To learn more, see Connect to a Wi-Fi network.) We've also removed the limit on the number of Wi-Fi profiles that you can store and reduced the time it takes to start your phone if you've stored lots of Wi-Fi profiles.
Outlook improvements. We've improved the experience of viewing iPhone photo attachments you receive from a non-Exchange-based email account (such as a Google Mail, Hotmail, or Yahoo! Mail account), using the Global Address List (GAL) when connecting to Exchange Server 2003 using Exchange ActiveSync, and working with email display names that contain brackets (for example, "David Alexander [Contoso]").
Messaging improvements. We've improved the experience of receiving Multimedia Messaging Service (MMS) messages if your phone uses a PIN-locked SIM.
Facebook integration. We've improved the experience of syncing Facebook accounts.
Camera improvements. We've improved the stability of switching between camera and video modes.
Audio improvements. We've improved the experience of using a Bluetooth headset to make calls when you're playing music or videos.
Other performance improvements. This month's update also includes software from several phone manufacturers that improves the performance of specific models. Naturally, if you don't have one of the affected models, we won't install this portion of the update on your phone.
Windows Central Newsletter
Get the best of Windows Central in in your inbox, every day!
Daniel Rubino is the Editor-in-chief of Windows Central, head reviewer, podcast co-host, and analyst. He has been covering Microsoft since 2007 when this site was called WMExperts (and later Windows Phone Central). His interests include Windows, laptops, next-gen computing, and for some reason, watches. Before all this tech stuff, he worked on a Ph.D. in linguistics, watched people sleep (for medical purposes!), and ran the projectors at movie theaters because it was fun.
I've been hitting check for updates every 10 minutes. Nothing yet. [AT&T Alabama]

You'll drive yourself crazy doing that!I'm starting to think that the last bullet point is what's held this back, I wonder how many of the devices needed a firmware update considering the majority were launch devices and their respective manufacturer's first foray into the WP7 world?

That last bullet should have ended with "WE'RE TALKING ABOUT YOU SAMSUNG!"

Before you go all out on Samsung, there's plenty of other manufacturer's with issues, HTC may have even sorted out their pink camera tint with a firmware update

HTC actually did fix the pink camera issue. I can't post links but the leaked update at XDA being used by some people there are reportedly having no more pink issue. Given that this build is even newer than the leaked builds, it should have fixes by all OEM's. However yes blame Samsung for the holdup.

Ya, exactly, I think the OEMs or Carrier specific updates to hardware or software have held this back. I blame Samsung first!

Hey 1JaxState1 - Where in AL are you? I'm in Huntsvegas.

1jaxstate1- I knew I recognized your name. Haha, your pretty good at alphajax.(theMainBoard)And crossing my fingers that this update fixes the random rebooting of my Focus, I refuse to remove my memory card.

Haw, you beat me by almost 200 points! For some reason I don't get notifications when it's my turn anymore. I'm waiting for the "backup" feature so I can finally add a 16G memory card.

Great! Let the posting of user location and whether or not the update was available begin!

Woohoo! Thank you Microsoft, this is all I wanted! Just got my first update on Telus Canada, using an HTC surround. Update went smooth with no problems here.

I'm using a unlock HD7 from T-mobile in Canada, still no update...I hope that the fact that I use a unlock device will not delay my update... I like to use my stereo Bluetooth without glich...

Thank you WPCENTRAL for this news. I have checked everyday for the last 2 weeks & once I read your article plugged in my HTC Surround & sure enough I had an update waiting. Thanks again!!

Please state your carrier when you say that your phone was updated.

Updating now. :)HTC 7 Trophy unlocked, Norway.

Nothing as yet for me on my Omnia 7 (3 UK)

Have not yet received the pre-emptive update (unlocked Samsung Omnia 7), so I don't expect NoDo anytime shortly...

yes you well get the update it well be bundled with the NODO update

Telus HTC Surround 7 (Canada)After reading this post I checked for the update - and guess what? The FEB 2011 PRE-Nodo update just got posted today.Hooray.

Uh oh....not good!!! That means that the carriers might only deliver the pre-update and **** us all on the actual NoDo update since they can delay the latest release. This was a fear of many on the forums here.

No I hear they can delay the 1st, just not the second.

According to several forum members, they are only forced to release the version prior to the latest. The pre-update was the 1st update, so they could effectively skip that one. However now since there is a 2nd update they are only forced to release the 1st one. So, if these guys are right, they can wait until Mango before being forced to release NoDo. The fact that this guy got the pre-update NOT bundled with NoDo is very concerning.

I see...That is very concerning if true. And you know how American carriers like to hold off on releasing updates (my experience with Blackberry; same thing happened with Android). I really do hope this isn't the case.

Oh good...Telus just said they will be releasing the update in the coming weeks...whew.

"Other performance improvements. This month's update also includes software from several phone manufacturers that improves the performance of specific models. Naturally, if you don't have one of the affected models, we won't install this portion of the update on your phone."What I really want is a list of changes that the company I bought my phone from (Samsung) will make. I much prefer when the company who made the product fixes it, not relies on someone else to do it. Hopefully in this case Samsung did provide a fix while allowing MS to take credit (assuming there's any fixes at all)

Still no update here on my Omnia 7 (T-Mobile UK) **** is going on with this?Don't get me wrong i am loving the WP7 OS, but for christ sake this whole update thing is getting to be a joke!

Dell Venue Pro T-Mobile, just checked via Zune software and no update yet.

no update for samsung focus (At&T) yet

same here no update yet for samsung focus (ATT)

Same, nothing for my moms Focus on AT&T yet.

Seems they are releasing it elsewhere before allowing U.S. carriers to have it should there be any bricked devices.Just think - If any device got bricked in AMERICA, then it would be ALL over the web in 10 minutes. At the moment (until Nokia starts creating WP7 phones en masse), U.S.A. is their most important territory to win over. I have no problem with their strategy. I actually am not even that excited for the no-do update. I just want the carrier updates. I want my Dell Venue Pro to be pristine! Hopefully they fixed this damn camera!

good luck with your updates guys, what is the latest version my arrive has OS 7.0.7389.0

That version, the original phones are now going through an update to get the same OS version as the Arrive ships with

Just installed the update on my HTC Mozart, unbrandedTele2, Sweden

Did anyone get the first update on an HTC Surround from ATT in Colorado?? I have never received even the pre-nodo update...

Dude, come on man. MS does not read these forums you are just spamming us now. We got your point...what happened to you is utterly ridiculous and should not happen to anyone who buys a high-end piece of technology.

Dude, come on man. MS does not read these forums you are just spamming us now. We got your point...what happened to you is utterly ridiculous and should not happen to anyone who buys a high-end piece of technology.

HTC HD7 T mo USA, nothing

Still no NoDo update for the Samsung Focus on Rogers.

No update here yet... Focus in PA

Using Samsung Focus unlocked in Brazil. Still waiting zune notification.

Hmmm….I just got my HTC Arrive 2 days ago and its version is on 7.0.7389.0 and the microsoft Changelog page:http://www.microsoft.com/windowsphone/en-us/howto/wp7/basics/update-hist...says that the update version is 7.0.7390.0. Does this mean I am already out of date after only 2 days or does it mean that I can expect an update with everyone else this week?

That's interesting, as it's only a single build increment I would say you're still very much up to date, the last build is likely fixes for another handset that won't affect you in the slightest, but let us know if you do get an update prompt

I have an HD7 from T-Mobile (US), am using it with Dutch Vodafone, living in Germany. So I am roaming as well. Two weeks ago I installed the leaked NoDo ROM for the HD7 and this morning I received the update. And it updated without hick-ups (thank god).So, yes, everybody will get the update.

No update for me as yet. Rogers network.Toronto-Canada

Samsung Focus previously on ATT now unlocked - no update for me - have tMobile SIM in the phone and working great but ZUNE and OTA show NO update FYI so it's not ONLY unlocked phones that worked, the Samsung Focus has no update - I'll notify when I get it.

I have unbranded HD7 on O2 Czech Republic. No update, yet :(((

Haven't got any notification yet on my phone. Strange. Mine is unlocked. Hopefully when I got back home and plug it, the update waits for me.- LG Optimus 7 unlocked Hong Kong

Samsung Focus AT&T...NODO nogo here! :(

Did Microsoft really write "Nobody likes to wait." in the Faster Apps & Games section? Good call Microsoft, but you do realize that while we are reading about the great update....we are all WAITING!

I am living in IRAN and unfortunately there is nothing happening for my hd7, NO UPdate for me

All of these updates are useless, from my opinion. Why do I need copy paste if there is no file explorer? File Explorer exists but it seems to be disabled. The same for bluetooth OBEX. I can't believe they have taken out this! And again the new stupid way of installing apps only by marketplace is the most idiot thing ever. I have spent almost 450 euros on a new WP7 device and I don't even have the possibility to full use the device's HW caps. No GPS turn by turn such as IGO or Navigon, no obex, no file manager, no flash support, no alternative good browser no nothig.I cannot believe Microsoft is calling this **** a revolution in smartphone world.If you want to throw to garbage almost 500 euros buy this piece of **** Don't buy this phone, choose something else more customizable such as an android phone or iphone.Cheers
Windows Central Newsletter
Thank you for signing up to Windows Central. You will receive a verification email shortly.
There was a problem. Please refresh the page and try again.