The Nokia 1020 now available from Advance Telecom in Pakistan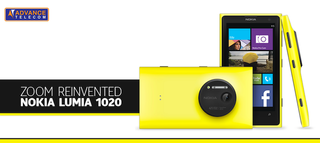 It's been a steady global roll out for the Nokia Lumia 1020 over the past few months and the Windows Phone with the 'super camera' has now hit Pakistan. Local carrier Advance Telecom has announced via their Facebook (opens in new tab) page that they now has the device for sale for Rs. 82,500.
The Lumia 1020 with its 41MP camera sensor has been a huge success worldwide and even though we are now seeing new Windows Phones from Nokia become available the 1020 is still a favorite with users who need the best camera on their smartphone as possible.
Are you in Pakistan and itching to pick up the 1020? Sound off in the comments? Also, how's that price? Competitive with other operating systems in the country?
Source: Advance Telecom (opens in new tab) (Facebook); Thanks to Ammar for the tip.
Windows Central Newsletter
Get the best of Windows Central in in your inbox, every day!
Says the one with a ridiculous name

and Raghav sounds like shit as well.

Raghav...i assume you're indian like rambutt. thus the hate on a pakistan related post

HAHAHA true. Rambhat sounds like shit

rambhat in sindhi language means whining or crying or shouting, like that

are you guys fucking kiddinng me?? we belong to the new generation..I really though that our generation would really get over Indo - Pak fight which has been running since so freaking long because of idiot politicians.. get over it guys..

i m so sorry , i didn`t mean to hurt any one`s feeling , and i don`t believe in that pak- india fight thing , i don`t india or indian ppl , i just told the meaning of that word in sindhi. well sorry again

These kind of posts and especially the people who post such should be banned from comments here. Daniel hence I would request you to not post such posts in the future (because of the still prevailling poor thoughts and behaviour of some people). The level of immaturity of some people is the most remarkable thing about them.

Couldnt agree more with regard to the petty feud. It's embarrasing enough and we have more pressing issues :) About the cell, its pretty expensive. As good as the specs sound. Rs.50,000-60,000 seems like a decent price range. I'm sure the 1320 would be a huge hit though. If it comes in at the price range of 30-35k.

1320 will be of Iphone 5c`s price coz they are competing with apple :D

Idiot if u don't care don't read or comment. Regards WP user from Bombay

Aafa the a**hole ...acts too much...
Just said so cuz it was desserted

I might say wp is semi alive only cuz of India and us

That's because the Pakistan Rupee is of a lesser value than the Indian Rupee.

Finally, the wait is over! I can't wait to have the Lumia 1020. However the price seems a bit high, but then again, its a 41 MP Camera with exceptional Imaging Capabilties. People are really adapting the Lumia Series here in Pakistan, the Lumia 520 is still a great hit in market and people feel pride in having any of Nokia Smart Devices!

bhai na kro aisay plz :p maine to aaj tak kisi k paas lumia nahin dekha :p

bhai mere pass Lumia 520 hai !!
Or meri class mein 3 lumia hain, or mere kai friends k pass bhi lumia hai,
I dont know ap apne apko kis kamre mein band rkhte ho !

sach main maine aaj tak kisi k haath main windows phone nhn dekha yahan hyderabad main :)

Keep it English please !! This is an international forum.

what if i say , I can`t speak English ?

Same here. I'm yet to see a Lumia WP8 phone out in the open. However I saw someone using a Lumia 610 during PTI jalsa in Islamabad.

hey man dont worry mou wat windows phone aahe.. from Matli :D lots of people have windows phone here.. Log tang aagae hai about android iphone local hogae hai ab.

ha bha harn ta aon b WP jo e pyo sochaan per ihya b hik gaalh ahay , munje kenh b dost ya tavhaan khaan ilawa kenh mait watt windows phone konhe , aon 1520 jo intzar pyo karyan , tavhaan watt kehro ahay ? ain munjo b taluka ta matli e ahay :p

po soch na wathi wath haha muhjo phone bs na poch purane aahe jab new aya tha wp. HTC Mozart aahe wp 7. old par sutho aahe :D hall po ta vip gaal ahe. po ta mait ahyo haha..

Ada tawhan hyd ji galh tha kayo, hitay tando adam main windows phone ahay jani.

ha ada , hyd main bhi kho saran marhun watt hoondo per munji nazar main konhe ayo ahay , sajji duniya android j poyaan payal ahay ain moonkhe harn android konhe pasasnd , windows phone safa smooth run kando ahay ain lag free ahay , battery b zabardast . aon b jald e wathandas :)

yr hm logo ko khud spread krna hoga. I have made a dozen fellows to buy Lumia

mujhay to khud Lumia main ab interest huwa hai , L 1520 dekhne k baad :$ pata nhn kab aiga :(

Not in Pakistan but that is way too high a price....

Tooo expensive , and Advance Telecom is not a carrier here , they just sell nokia cellphones here , like brand distributor . i don`t know why nokia is so slow , they just roll out amber update and whole world is getting on to GDR3 black update, they will launch 1520 in 2015 :D sorry for my poor english.

Its because Nokia is adding some new features through an update called Nokia Black alongside GDR3 whereas the others are not.

Yes sarang bro , i know about those feature but they rolling that in other parts of world but in Pakistan we just recently got amber update.

My God!! ₹82000!! Here in India we were shocked at the price of ₹ 50000. Although now with a trade in you can get almost ₹14000 off the price depending on your old phone.

India ₹ has higher value than that of Pakistan rupee. It is a difference because of exchange rates.

Ya. You are right. Thanks

How much l520 cost in Pakistan ?

L520 costs about 19000 in Pakistan

not yet launched , today they launch year old 1020 so may be in 2015 or later :D

Year old?...The 1020 os barely 5 months old.

i bought it for Rs. 16600 only, however the price have changed a lil now, i guess !
I bought it in August

Haha u can almost buy a nano car here

Why can't I get a yellow VZ version of this phone. Yellow is my favorite color and all the sell is white and black Nokia Windows phones. Weak.

all other flag ship mobiles cost around 60k to 66k and here u go with nokia 82k :o

82500 PKR is equivalent to 46500 INR(Indian rupees). So it is equivalent to the Indian market price.

Person will be insane to get it from these Advance Telecom losers, one should get from homeshopping at 74k + 2k for their own 1 year warranty. I think there is a reason why HSN is more popular now because these companies are rigging people.

2k for HSN own waranty ? 76k . why not 82k for official waranty ?

Official waranty?? What is this new kind of waranty???

yes , coz nokia care centres handle that for u :)

Are you sure? If this is the case then Yeah! official waranty has little benefit but I still thing, people rig each other in Pakistan too much and thinks every stuff is business.

yes i m sure , and don`t believe on HSN blindly, they just repair ur mobile like u get mobile repaired from a local guy , phir apka mobile khula huwa ho jaiga :D

hahahaha!!! no more virgin mobile...

Looking forward to buy it. Its the best gadget for a photographer

For those wondering, this is roughly $771 US when converted. The most expensive official launch in Pakistan yet. As much as I love the Lumia 1020, this price is a little hard to swallow to be honest.

A little hard to swallow.
. That's what she said

Kidding me? This phone is around 700$ in some local shops and other home shopping places with complete exchange warranty. I am just amazed about Nokia. Good thing I had it shipped from USA and it only cost me 750$ including shipping charges and it is unlocked(Yellow) as well. Man Nokia is going insane here. Even the Note 3 is priced around 76000-78000 Rs here. This is insane. Only iPhone prices are that much high in Pakistan. It's hard to swallow that Nokia is throwing its tech on that much price.

Agreed. Can't see anyone getting this over a Note 3 or an iPhone 5S.

But the Note 3 or the iPhone 5 don't have a 41 MP camera. Doesn't anyone complaining about the price actually understand that a 41 MP camera doesn't come cheap. Besides which this phone was being sold in the U.K. for approximately £550. The price being asked in Pakistan converts to £466 which is a lot cheaper than the UK price. So, I think that the asking price is right and fair.

And yet Verizon customers in the US get...the 8mp 928. Super. I hope Microkia does away with the exclusives here.

Now take high definition pics of 72 virgins
Windows Central Newsletter
Thank you for signing up to Windows Central. You will receive a verification email shortly.
There was a problem. Please refresh the page and try again.