Nokia's App Social comes to Windows 8 for your Nokia Lumia 2520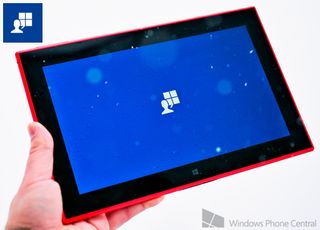 We've covered Nokia's App Social before, it's the great app on Lumia devices that makes app discovery a bit more social. It started out on Windows Phone as a product called App Highlights, but has morphed over time. It was only a matter of time, but App Social is now available on Windows 8. Let's check it out.
App Social is a fun way to find new apps. It's a pretty good mix between an app store and a social network. You can find app that's your friends are using and recommend, but you can also follow popular users to see what apps they're digging at a given moment. The Windows 8 version seems pretty similar to the one on Windows Phone. Here's what it features:
Browse & Download apps recommended by App Social most popular users
Sign up create your own profile and your own list of apps to share with your friends and the whole community
Get followers and climb up the leaderboard
Search for apps, app lists and even users to save time
All both for Windows Phone 8 and Windows 8 apps to enjoy an amazing companionship experience
App Social on Windows 8 is pretty great. On the Windows Phone version of App Social you're going to be discovering and adding Windows Phone apps. However, with App Social for Windows 8 you can add and browse for both Windows Phone and Windows 8 apps. Which is really great because it's a bit harder right now to find quality apps for Windows 8.
So right now App Social is a Lumia 2520 exclusive, but it might not always be. Would you use App Social if it was available on all Windows 8 machines? ;)
Want to try out the Windows 8 version of App Social? Grab it for your Lumia 2520 for free in the Windows Store (opens in new tab).
Windows Central Newsletter
Get the best of Windows Central in your inbox, every day!
Seems odd to make this limited to Nokia tablets. I'm not sure if I'll ever get a Lumia 2520, but I'd love to browse App Social with this app to find new apps for my Lumia phone.

Well, Microsoft bought Nokia and the division that makes the tablets, so presumably this will be "worked out" as the acquisition is put into place. Maybe it'll go to all Surface/Lumia tablets? At this time I can't fault Nokia for making an app exclusive. It's their hardware, their software...why give it to moochers like HP or Lenovo? I mean, I get it benefits the ecosystem, but Nokia is the minority party here, entering a competitive field, whereas HP, Samsung, Lenovo, etc. have the big bucks and clout.

Getting this on my Surface Pro would be great. Looking forward to seeing how things like this play out when the acquisition is finalized. Sidenote: Just went to http://appsocial.nokia.com/ to see if they had a web interface. The site is just a landing page to download the app though. But they have pictures of a Lumia phone where they've purposefully altered the image to hide the Windows Phone start button. Odd.

I think, that image is Lumia 720. Where's the start button gone? Weird is this.

Microsoft DIDN'T buy Nokia. Jesus, Daniel. It's these kinds of stuff that make people keep saying that. And you know that's a false statement.

You and everyone here knows what I meant. It's shorthand for "Microsoft bought Nokia's devices & services business". Quit being pedantic, it's annoying and unhelpful. Geeezus, DJCBS.

maybe "app social" is not the most important one. but i very much hope that nokia/microsoft will release all of the other nokia apps to all win8/rt users... i miss nokia music and storyteller ... :) ...here maps would be great too...

I wish my power keyboard would come to my 3 Nokia 2520's!

How many people in the US have the 2520? The only way is through a carrier, right? I would love to get one, but i would never need a tablet with LTE. Bad move Nokia.

"...i would never need a tablet with LTE. Bad move Nokia."

One of their key differentiators from other tablets (and the Surface) is LTE on board. Not sure if it'd be smart to give it up. Selling a version without LTE makes sense except that AT&T and Verizon would be much less likely to actually carry it, much less promote it: "Why should we advertise this when they can buy it

without our service

?" etc. It's a tricky gamble and not as clear as you make it to be.

I don't use the LTE all that often, but knowing I have the option was the whole reason I bought mine, especially since I have it for business use. :)

Both I and my wife have one (red and black). We love it. I bought both of them on ebay for much less then no contract price but basically brand new. I thought I wouldnt need the LTE but i travel alot, sometimes to rural areas. Honestly, i needed it today when i was in the middle of no where and needed to be in a class online. So im gonna get the LTE activated. Now if we can just get that powerkeyboard.

You don't have to pay for a data plan as far as I know. Also purchase it, then cancel the cellular because it has WiFi, you just have to go into the network settings via the charms bar.

Thats right. No need to get a data plan at all. Just like you can walk into AT&T or Verizon and pay the full non-contract price for a phone and walk out with no data plan if you wish.

Great way to keep my less experienced WP followers up to date with apps. We are responsible fo those whom we have recruited :)
Sure I'll be glad to use it on RT.

When is the WPCentral app for Windows 8 coming out.....please tell :(

We've been delayed by some issues in certificatfion, hold tight!

I think the 2520 may have been my worse investment in a Nokia product. Hope to be proven wrong.

the whole release of this product has been lack luster up to the extended delays of the power keyboard. Sometimes I wished I bought the S2 as I see better release of accessories, more promotion better support. I love the 2520. I just hope its not dead in the water before ever learning to swim. I was already concerned with this being Nokia first and probably last swing at tablets.

Who cares who likes it if you like it.

Yes I would use it on my surface pro which is made by the same company as the Lumia devices

That's is so far from the truth. For one, no, Microsoft did not make the Lumia 2520. And two, the coy notion in reference to the Microsoft acquisition is not finalized, so Nokia can't act like a part of Microsoft just yet. We've explained that numerous times.

Nokia will never act as part of Microsoft. Because they'll never be part of Microsoft. Their d&s division will and then it won't be Nokias d&s. It will be Microsofts d&s division. Which happens to be formed by by ex-Nokia employees. Like Jolla, basically.

Gosh your denial phase can make every grown psychologist cry.

I for one bought the 2520 for the fact LTE was included without the price of what it would cost me with Apple to have it included. Could not be happier with it.

It's App SOCIAL! Should be available to everyone with Windows 8 and a pulse.

I find no value in it. Wish I could give it to someone who would use it.

I would definitely like to have this on WIndows 8. There aren't really any good apps that help with pruning out the detrius in the store. Having both WP and Win8 apps available would be a bonus. I like the tablet, but not in the cards moneywise right now.

Don't forget to follow me on App Social. ;)

great to hear all the positive feedback about wanting to see AppSocial on all Windows 8 devices...that's definitely going to help in guiding our decisions thanks Vincenzo on behalf of the AppSocial team https://twitter.com/vincebelpiede

Can't find the app in the UK Windows 8 app store....

i am in the UK too and I checked other stores and it seems it is not available anywhere except the US! what is going on Nokia? You are a european company and the UK is one of your biggest markets so why isn't it available to us or India or France? weird!