Nokia Chat Beta now available worldwide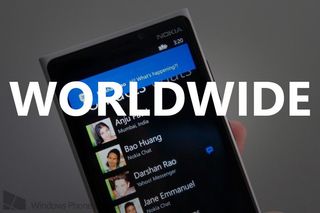 To be honest, we are losing track of the number of apps and services out there that allow you to communicate. Voxer officially hit the Store last week and Viber has been giving some Windows Phone love lately. Not to be forgotten, the beta version of Nokia Chat receives an update that should make a lot of you folks around the globe happy. It is now available worldwide.
Nokia Chat is a fun little app from the Nokia Beta Labs. The Beta Labs is where our friends in Finland test out apps they plan to make available to their users. We've been covering Nokia Chat since it first popped onto the radar back in the spring. The app is still version 1.1, which we covered last month. What's new in it?
Now available worldwide. You can try out the app in all countries where the Nokia Chat service is supported
Tap+Send (NFC) Between Lumia Phones
Share a Place
Performance and Visual Improvements
Enhanced Login
It's a fun chat app and integrates nicely with Yahoo Messenger. If you have a Windows Phone 8 device running on some Lumia hardware you should check it out. Grab it here in the Store, use the QR code below or swipe to the right in our app.
Source: Nokia Beta Labs (opens in new tab), Via: WindowsPhoneItaly
Thanks for the tip Diego!
Get the Windows Central Newsletter
All the latest news, reviews, and guides for Windows and Xbox diehards.
Nice and all but all my friends use whatsapp so I'm still waiting for an update
:(

My friends are on MessageMe. And freaking iMessage. Freaking iMessage......

Like what the article said, there are way too much methods to communicate with others..!

We're are? I sure hope you mean "we are" or "we're"

What no it's not available in China

mohanrajnk@nokiamail.com <----- my username

Needs a logon? No thanks. Now when can we get what's app update? I'm willing to pay to get an update!!

Ok. What is the matter with the Whatsapp update ?
And what about Skype? MSFT is so slow...where is that support for video call on WP Skype?

I think I'm not getting this vídeo call via skype, because this week I've spent around 30min video-chatting with my boyfriend via skype on my Windows Phone. Can you explain me what exactly is this vídeo call that's missing?

MS is waiting for someone else to gain the majority marketshare so they can struggle to make it up from being a year or two behind. It's their MO.

I was hoping a Facebook chat option to the built-in app that not works very well.

I think people prefer to use the messaging clients they already know. A new chat would be relevant if there were chat rooms to meet new people, but for simply chatting with your existing friends, there are probably channels you and your friends are already used to and comfortable with. I don't really get this thing where you chat with the few people you know who are Nokia users or Xbox users or whatnot. You need a client that can connect to the channels everyone uses.

errrr . . . am I the only person that still texts? . . .

Does anyone know if the Skype app will ever allow files to be attached? Until it can, I'll have to keep using Whatsapp. Seriously, why doesn't MS get this part of Skype fixed!?

That's the same on all platforms. I'm guessing because of the p2p nature of Skype, there is no central repository for files to be sent? Or they don't want to beef up the size of the servers to handle all the extra files they would need to hold.
Anyone have more info on the reason why?

I use Nokia Chat with my wife exclusively. Tried Nokia Pulse for a while but it didn't work out. Pulse is hopelessly buggy.. I've friends on whatsapp but I see myself usimg LINE more and more every day. Very soon I'll dump that useless Whatsapp app once friends switch over. Whatsapp is really terrible on WP, taking ages to update.

I used to have it on marketplace. Nor now.