Nokia, China Mobile to offer Lumia 920T for just 1 Yuan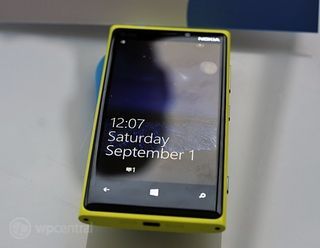 Nokia's plan to tackle the Chinese market by launching the Lumia 920T on China Mobile and tap into its 700 million customers was just the first step it seems, according to reports that both companies plan to offer the Windows Phone for just 1 Yuan. The fantastic deal for those who are looking to pick up the flagship smartphone on a 2-year contract will surely attract bargain hunters. Nokia surely plans to push hard.
The Lumia 920 has been plagued by out-of-stock notices in multiple markets, Nokia just can't produce enough of 'em to go around. We've previously covered photos that reveal high interest in China with the launch of the Lumia Windows Phone, which isn't surprising but is met with cautious thoughts due to the duration consumers are forced to wait until more units are shipped.
China Mobile will subsidise the price of the Windows Phone, much like what's available in the US and Europe on select carriers with supported smartphones. Win.cp managed to publish what these plans will cost the consumer when a Lumia 920T is taken out. The first is the up-front fee, while the second price is the monthly payment.
1 Yuan - 388 Yuan /month
800 Yuan ($130) - 288 Yuan /month
1200 Yuan ($190) - 228 Yuan /month
2000 Yuan ($320) - 188 Yuan /month
Not bad prices at all. This is the kind of release that Nokia needs to carry out - low prices and great software support.
We're still unaware as to just how well the new Lumia family of smartphones are performing, but it's looking like a strong fortification by both Microsoft and Nokia. HTC has also started to throw some marketing into the mix, while Samsung continues to leaves us all on the edge of seats to find out what the company has planned.
Source: Win.cp (translate); thanks, Claus, for the heads up!
Rich Edmonds is Senior Editor of PC hardware at Windows Central, covering everything related to PC components and NAS. He's been involved in technology for more than a decade and knows a thing or two about the magic inside a PC chassis. You can follow him over on Twitter at @RichEdmonds.
Go Nokia, it's your birthday!

Love my job, since I've been bringing in $5600… I sit at home, music playing while I work in front of my new iMac that I got now that I'm making it online(Click on menu Home) https://goo.gl/iKHa4

Will you fucking stop?!?!?

Hey google has funny thing in offer.... a Santa tracker....huh....crazy stuff,,,,,,, http://www.nokiatweet.in/news/google/google-santa-tracker-track-santa-wi...

The "official" Santa Tracker by NORAD is powered by Microsoft....http://www.noradsanta.org/


They are doing everything possible to build a new userbase. It makes sense if they can later sell those same customers expensive flagship phones. The scary part is what if they lower the expected base price for a flagship phone. Great for consumers but investors won't be happy. Interesting decisions here.

I don't think they'll lower the price of the 920 soon since it's still in great demand all over and there's still the 620 coming out in January. The 720 has not been even leaked yet. I'm sure there'll be more good news to come at MWC in February 2013!

Funny how all these technology news don't seem to make it to the Verge. You know, since they're neutral and unbiased about technology.

Lol I thought the verge is the most biased site of all..

Of course they're neutral and unbiased.... on anything besides Windows Phone that is. I'm hoping Nokia has a breakout WP quarter just so that The Verge can eat a mega salted crow.

I'm sure they'll post something. I mean, if a dildo turned into a USB drive is considered news, I'm sure there will be a spirit of jubilation in regards to this. I for one can't wait to read the article about this.

Lol i still read the Verge but I just keep it in mind how "neutral and unbiased" they are!

**update** I guess the verge is yet unaware of this tech news. I wonder if they had noticed if Apple had landed this deal while getting their phones subsidized by the carrier. Hmmm,

They really need to be able to keep up with demands. Its a must!

Yes, absolutely one thing they need to do!

The total price including contract over two years ranges from 1040$ - 1490$, I wonder how expensive/cheap that is in China

in the US how much in 2 years?


last time I checked, it was 24 months....but then, we had some budget cuts this year, so I'd say 22-ish around now =P

388 RMB( Currency symbol of Chinese Yuan) is pretty expensive for a casual user. I remember when I was in China, I only spend 80 RMB per month on my phone bill, that included 500 min talk, 250 text and 200Mb data plan per month.


I currently pay 66 yuan per month with 300Mb and don't know how much text or calls, but I never hit the limit....

Of course 388 yuan includes Also the cost of the phone. You wouldn't think that they really get it With 1 yuan would You. I don't know how to compare... In Finland it cost 0 euro to get it. Then for the Next two years every month i pay 23 euro for the phone, 13 euro for slow-ish 24mb/s but unlimited data plan and a very basic 3 euro voice/text plan which includes some minutes (don't Remember) talk time Within the carrier since i phone and text very little anyway. If i phone to outside the carrier or text, then it cost about 7 cents per min/text. I Wonder how This compares to the International Standard?

Great to hear thanks Nokia for the great years of awsome phones.

I'm checking with some chinese friend, and actually some companies reinvurse their phone bills, so some people will sign the highest contract even if useless and then their company pays their phone at the end, so they get it for free.

Free? Sounds to me like a "Rent-to-own" type deal: Pay multiple times its worth in monthly fees and we'll give it to you free at the end! (You could be a real nerd and graph the plans as linear equations to figure out the best one... 7th grade Algebra right there.)

You didn't get my point. Seems in China companies usually pay employees phone bills, so employees use the subsidisez phones even they don't need a higher contract to get the phone for free because bills are paid by company.
Windows Central Newsletter
Thank you for signing up to Windows Central. You will receive a verification email shortly.
There was a problem. Please refresh the page and try again.