Nokia "EOS" PureView rumored for July, also working on a "phablet"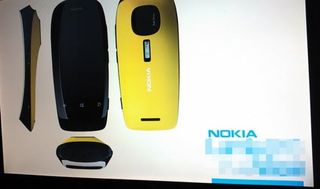 A little over a week ago we told you folks about Windows Phone supporting 1080p displays later this year. Windows Phone 8 added supported for both 720p and 768p displays, both of which were present on handsets like the Lumia 920 and HTC 8X at launch. The 1080p support will be available for handsets over 5 inches, allowing Windows Phone devices to compete against the surprisingly popular 'phablet' category. And it looks like Nokia may be one of the first to produce such a phablet, as early as July. But wait, there's more.
The Financial Times reports that Nokia is in the process of making a large screen smartphone to take on the Galaxy Note and other phablets. It should come with a crisp 1080p display as well. However, the proverbial cherry on top should come in the imaging department.
Back at CES we told learned about Nokia's strategy for the upcoming year. Having a variety of devices was a pillar of that strategy. Another theme the company is focused heavily on innovation and imaging. Here's Chris Weber, US President of Nokia, at the time:
Nokia is doing just that. We can add this large screen smartphone to our expected lineup of EOS, Catwalk, and the Lumia 928 for Verizon. EOS is expected to pack an 808 PureView type sensor, Catwalk is an aluminum unibody device, and the Lumia 928 is basically a 920 variant for Big Red.
What's exciting is this devices will nearly come out right after each other. May is when we should get the 928 on Verizon, Catwalk on T-Mobile and international carriers in June, all followed by EOS sometime in July for AT&T here in the States and elsewhere internationally. EOS should one of the more exciting devices, especially among photography enthusiasts with its camera around the 40 megapixel mark.
Later today Nokia will share their Q1 results. It looks like the next couple of months are going to be crazy around here at Windows Phone Central. Between the four devices above, which are you most stoked above?
Source: Financial Times (free or paid subscription required), Via: The Verge
Get the Windows Central Newsletter
All the latest news, reviews, and guides for Windows and Xbox diehards.