Nokia launches the colourful, inexpensive Lumia 620 in Thailand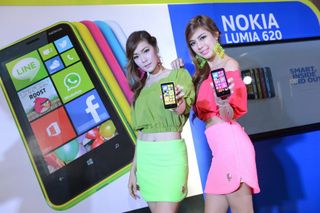 Nokia launched the Lumia 620 yesterday in Thailand. The inexpensive Windows Phone is making its way across emerging markets where the cheaper smartphone generally performs well. The handset will be available for 8250 Baht ($275). Unveiled last year, the Lumia 620 runs Windows Phone 8 and sports a dual-core chip.
The pricing is an effective price point for those who are seeking a smartphone that will deliver performance for a low cost. To remind us of the specifications:
1 GHz dual-core Snapdragon processor
3.8 inch LCD display (800 x 480) with ClearBlack technology
8GB internal memory expandable with microSD
512 MB of RAM
5 megapixel camera
1300 mAh Battery
We'll expect this Windows Phone to perform well in the markets its targeting.
Source: Facebook, via: Nokiapoweruser; thanks, Sunny, for the tip!
Rich Edmonds is Senior Editor of PC hardware at Windows Central, covering everything related to PC components and NAS. He's been involved in technology for more than a decade and knows a thing or two about the magic inside a PC chassis. You can follow him over on Twitter at @RichEdmonds.
Its a great price. I hope Nokia releases this phone for rs 14999 in India. They said $249 plus taxes which is 12% in India which is $280 approx. $280 = rs15300. For 610 also nokia said $249 plus taxes but launched in India at rs 12999. So hopefully they launch 620 for rs15000. This is the phone which can bring market share for Nokia and windows phone in India.

Lets hope for a lower price.

I m pretty sure this will sell well in India, especially when finally there's bluetooth sharing...lol those were the days..and off course apps like whatsapp work well with WP8

Cant wait for feb !!! Exciting days in India!!

Bringing sexy to Bangkok...and cheap. I'll take those two ;)

The models look pretty nice, don't they...?

Yup, Mr. Nat Thi Le, head of Nokia Thailand never look better in a dress! :P On a serious note, nice indeed!

I was just thinking that for Thai models, they look.... white.

Yer i had them bleeched to show off the rich colours of the phones :/

Hope it comes to India soon. I know a lot people who are upgrading from feature phone to smartphone (mostly college students). They would love to get a cheap smartphone from their trusted brand.

How about the Philippines? Still no sign of any new lumia? :(

it's annoying that all other asian countries are getting their lumias and here we are, still waiting for a "late Q1" release. As if our market has not been a strong Nokia supporter ever since.

Lets face the fact that we are not as big as US or China when it comes to smartphone market share. But we are still lucky to get these devices earlier than any other countries in the world. Lets just be happy that it is coming not later than March.

www.nokiarevolution.com

Lumia 920/820 launch in the Philippines supposedly this month but was pushed back due to stock availability. Nokia PH wants to ensure that we will have enough stocks before it launches here. As you know 920/820 popularity has lead to stocks shortage. But Nokia PH is certain that we will have it not later than March.

Since there isn't any stock in 1st release countries and the new 2nd release countries also have major problems getting stock, i wouldn't expect them any time soon. The official releasedate was 14/1 here in The Netherlands, but there wasn't near enough stock. Most of them have delayed by 4 or 8 (sometimes 10) weeks. So even if it should've ben available, its really not.

There are signs... I have already saw the price in Kimstore. It's just 29, 000. All colors are available. I have already seen the retailers on Sulit.com.ph, they sell Nokia Lumia 920 for just 27, 000+.. Too cheap, right?

I'll take the green one thank you very much. Girl that is :)

It is Thailand - You sure it's a woman?

Even if she wasn't I would still..

...buy the phone!

Nokia launched it in Malaysia last Friday, for price RM799, around USD265.
However, most of the retailer seling less than RM750, around USD250

Asus vivotab smart 64 gb windows 8 tablet announced at CES is available now from best buy and amzon.
I tipped you guys already but using the comments to make sure that you post an article on that.

It's easily available at retailers in Austria for about a week now. I already got one and love it so far. Full Win8 (not RT) and relatively cheap compared to other Win8 tablets.

Really hope Nokia manages to keep up with production for this device and it does well. It has all the potential to do so. Good specs for a great price.

Is the surface glass or plastic?

Gorilla glass protecting the screen.

Actually it's not Gorilla glass. Nokia themselves have said they'll be using some kind of hardened glass.. But not Gorilla glass.

Not really true. It is something like gorilla glass, but seeing gorilla glass is propriatary you can't use that term.

That pushes up the price by a couple of thousand rupees. They should have gone with plastic

New blackberry is iphone clone. Iphone5 and new blackberry the same.

Are you in the right place? Blackberry and iPhone aren't mentioned in this article.

Is there a thorough review of this phone anywhere? Not just a specs review.

Releasing in the UAE on Jan 20th with a price tag of 245$

Any chance of this phone working us USA? My Dad wants a smart phone, but I know that he will drop,break it somehow so I would like to get him a cheaper one like this.

Yes it will, wont get LTE though, and 4G on T-Mobile unless its pentaband

The girl in pink looks awkward. Lol.

That's because her nuts are cramped in that skirt.

Any chance they will release this in the US?

i will buy it too when it comes in Indian market if it is around Rs. 15000.

It's like... they took THE MOST UGLIEST she-boys in thailand, and gave them phones to advertise... Unbelievable!

As Thais, I can see that these 2 ladies are real girls. :)

Ha, then they look pretty awesome. Both of them. But gonna go for a lass closer to home myself!

love the colors :) I really hoped that the 920 had a pink one when it was released

Only black and white so far in Malaysia, and the white one is horrible in terms of looks. My friend got one on launch day for USD $265, and even received a Nokia glass mug and a USD $33 voucher for purchasing accessories (which are not yet stocked in). At least that voucher can be used for buying back covers. It felt lke asha-grade plastic and too light, but given the specs this phone have, very good value for money.

I hope so too. A price range between 10k -15k in India, and some good television ads should work wonders for Nokia in india

Hope those aren't Thai boy's.

When I went to CES last week I saw quite handful people now carrying nokia 920, htc 8x windows phone. That shows you windows phone is finally getting noticed. Yes still saw iphony and buggy androids but at least it's great see people with windows phone

How about launching it in countries were people can actually afford to buy it, were smartphones are a part of life etc... I pre-ordered mine and still not recieved it. Nokia need to stop announcing handsets months before they launch, they give the competition a chance to respond, and in this handsets case, they missed the entire Xmas market, where it would have sold well. Apple launch a handset, and its on sale soon afterwards, Nokia need to up their game IMHO.

Now that the 620's are rolling out. We can finally expect the 7.8 update. Like early Feb atleast. If not then MS is really pissing the 7x owners..

I'm Asian, frankly, they look like transgenders.

O la la...what a chicks :P

Amazing phone but will it be able to run all WP8 apps? I'm asking coz it has 512mb of Ram.

It's alright, they are just two pretty girls, I'm thai, I confirm that
If a boy, he or she should has a big palm. If her palm look normal, that is girl 5555++

I'm Thai and want to let you guys know that not every girls you see in media are male. Just only some places that have a lot of ladyboy and , exactly, these places are focus for tourists.
I can say that in real life, they are a lot, but not that too many to let you guys think it is a symbol of country.
Anyways, 620 can beat 8S for sure !

I hope they bring this to the US. I'd pick one up to replace my Zune HD.

You can buy one from Negrielectronics.com for $288 usd.

Still don't know why this phones dosen't arrive to Mexico
Windows Central Newsletter
Thank you for signing up to Windows Central. You will receive a verification email shortly.
There was a problem. Please refresh the page and try again.