Nokia launches Music app and service in Canada, ahead of May announcement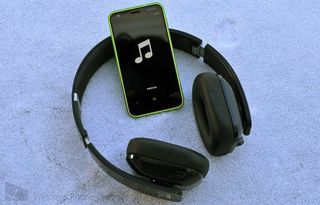 Nokia has seemingly launched its Nokia Music service and app in Canada, ahead of the set announcement on May 15th in Toronto. A Windows Phone Central reader has been able to confirm on an unlocked Lumia 920 that Nokia Music is now available with the optional commercial upgrade. Good news if you're in Canada and had to go through workarounds to tune into the available mixes.
So what will be announced on the 15th? We bet Nokia will go official on the day, but will enable consumers to check out the upgraded service prior to the event. We could be seeing more features on the horizon, which may be unveiled or teased in Toronto. Asha in New Delhi, Lumia in London and Music in Toronto. Nokia is really pushing this month and we're excited to see what the company has next for consumers.
You can download Nokia Music from the Nokia Collection on the Windows Phone Store. Thanks, Benjamin, for the heads up!
Rich Edmonds is Senior Editor of PC hardware at Windows Central, covering everything related to PC components and NAS. He's been involved in technology for more than a decade and knows a thing or two about the magic inside a PC chassis. You can follow him over on Twitter at @RichEdmonds.
hahaha I was thinking the same thing!

Yes! I have been waiting for this!

Did you guys miss the 928 announcement? :D

Im surprised it hasn't been mentioned on here yet as well

Think they did. I really wonder what Nokia is going to announce on the 14th besides the 928.

What's happening at 9:28?

Nokia 928 officially announced! http://conversations.nokia.com/2013/05/10/introducing-nokia-lumia-928-br...

Finally. The gods of mobile phones DO listen to our prayers. Were not worthy.

There's still the Windows 8 Nokia Music app that needs to be released to us Canadian users.
But I hope there's more to the 15th May announcement than just Nokia Music, like perhaps retail availability of Monster Purity headsets and ear buds, JBL gear, etc.

All that JBL gear would be great, no retailer in Canada (that I can find) sells them and Amazon won't ship that stuff to Canada.

It still doesn't work for me. I'm in Toronto using an unlocked phone on Fido.
Is it WP8 only or should I just wait?
EDIT: Nevermind. Now I got it.

Cant get it on my Lumia 800 :(

Go to Nokia Collection in the Marketplace and you'll probably find it there. That's what worked for me.

If you listen to ROCK / METAL you're gonna be disappointed.

Make your own channel and you'll be surprised.

Loving it so far. Thanks for the tip.

So is the WP7 version live as well? Just wondering

cool, I saw all these new options when I installed the app but the minute I logged in with my Nokia account, I only have My Music and Settings.
I can't logged out my user even after uninstall reinstall. When I do uninstall reinstall, I see all the other menu options appear but they disappear shortly after I get logged in.

When i got the US version a while back, same thing happened, but the next day everythign just apeared on its own. Not sure what's causing this, but I'd give it some time.

Thanks for the feedback, the US version never showed anything for me except My Music and Settings either.

Hurry up and launch in Australia.

Works fine (e.g. plays radio mixes - I don't have a Music+ subscription) on my Lumia 920 from Toronto, signed in with my Nokia account. The app also gives me the option of starting a 7-day free trial of Music+.
I think the upshot here is twofold: Nokia Music has been added to the Canadian WP8 app store, and Canadian IP addresses are no longer blocked from the service.
So if you really want Nokia Music on your Windows 8 PC, having a Canadian IP address will no longer be a barrier to the app working - just that the PC app is still restricted by app store. Step by step on your Win8 PC:
1. Go to Control Panel, Regional Setttings, and set your home location to United States.
2. Restart the computer.
3. Go into Store, search Nokia, and install Nokia Music.
4. Launch Nokia Music and sign in with your Nokia account. Test it out.
See how you can play radio mixes, and you're offered a 7 day Music+ trial? It doesn't care that you have a Canadian IP address.
5. Go to Control Panel, Regional Settings, and set your home location back to Canada.
6. Restart the computer.
7. Launch Nokia Music and test it out.
It should still work. Note: without a Music+ subscription, the Win8 Metro app appears limited to playing 30-second clips from the radio mixes. On my Lumia 920 with no subscription, I can play the radio mixes with full songs, and the only limitation is a max of 6 skips per hour. This is basically similar to 8tracks and Slacker Radio.

You don't have to restart the computer when changing region to access the U.S store, it's not like Windows Phone. I jump back and forth all the time without restarting.

thanks for the detailed info on what to expect.
Unfortunately, I only see My Music and Settings. I briefly saw the other stuff like gigs and some audio quality setting in settings but ever since signing in with my nokia account, it's all gone.

@anthonyng where are you based? Is nokia music available in your country? I think for mix radio to appear, three requirements shall be met:
i) phone bought in country where Nokia Music is available
ii) sim card is from same country where Nokia Music is available
iii) Nokia account should be the same as country in (i) & (ii) above.
Only then Mix Radio will be available. Try taking out your sim card and see if Mix Radio disappears? Can you play mixes while no sim is loaded?

I got it on my phone yesterday. Been sharing it with all my buddies

Nokia may bring this to the broader WP ecosystem as it has with a couple things in the past, but this may take longer if it happens at all.

Nokia, launches its own music app......Why would they support HTC right away?

downloaded it since all you guys are raving about it, never heard or used this before. Loaded it, i dont see the big difference from other stock music player. Not knocking it, just dont see the difference personally...maybe i will over time?

you can stream content from nokia's library and download some tracks to listen to offline

if i have a xbox music subscription does this add any value to me? any new content or functions?

I am subscribed to NM+ and I like the service but sometimes it does a poor job of mixing artists to your original choice of three.

I'm not able to upgrade as the app doesn't accept either carrier billing (Rogers) or credit card with non-US address. Maybe that's what gets opened up next week. Hope so.

I don't know if I like this better then Xbox Music. It's okay I guess. Maybe I need yo give the full version a test trial

Do you guys think the 928 will come to Canada. After all isn't Telus the Verizon equivalent? Aren't they the CDMA carrier for Canada or did they drop CDMA? I swear koodo still uses CDMA.

The 928 will definitely work in Canada. All the specs below except for CDMA are on my Rogers 920. It will also work on Mobilicity and Wind. Please announce the 928 for Canada. Data Network CDMA network bands: 2, 5
CDMA max data speed DL: Rev 0 /A 2.4 Mbps /3.1 Mbps
CDMA max data speed UL: Rev 0 /A 153.2 kbps /1.8 Mbps
GSM network: 1800 MHz, 850 MHz, 900 MHz, 1900 MHz
GSM max data speed DL: EGPRS 236.8 kbps
GSM max data speed UL: EGPRS 236.8 kbps
LTE max data speed DL: 100 Mbps
LTE max data speed UL: 50 Mbps
WCDMA network: 900 MHz, 1700 - 2100 MHz, 2100 MHz, 1900 MHz, 850 MHz
WCDMA max data speed DL: HSDPA - 42.2 Mbps
WCDMA max data speed UL: HSUPA - 5.76 Mbps

I still can't download this... :( L900 on Rogers Ontario canada:(
Windows Central Newsletter
Get the best of Windows Central in in your inbox, every day!
Thank you for signing up to Windows Central. You will receive a verification email shortly.
There was a problem. Please refresh the page and try again.