Nokia Lumia 1020 and Lumia 925 make their way to Brazil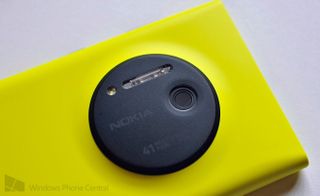 Brazilian Windows Phone fans got a treat yesterday when Nokia's top two smartphones, the Lumia 1020 and the Lumia 925, were released. The Lumia 1020, Nokia's flagship Windows Phone device, is available in black and white, with yellow on its way. It will run you a cool R$2,399 ($1101 USD). The lightweight aluminum Lumia 925, also available in black and white, comes in slightly less at R$1799 ($824 USD).
And if you are looking for accessories, look no further. Both phones have Qi-compatible wireless charging covers, for use with the Nokia DT-900 charging pad, available for R$89 ($41 USD). For the Lumia 1020, you can also get the professional-grade camera grip case, complete with ergonomic handle, tripod mount and extra battery for R$199 ($91 USD).
Head on over to the source link to order.
Source: Nokia Brazil; Via: Nokiatividade (Bing translator); Thanks for the tip, Guilherme!
Just a little bit expensive... :P

Damn taxes That's why everybody buys iPhones and anothers cellphones in the USA.
Thankfully not need. Already have a 920 :)

Both are for sale in Chile too on Movistar.

The question is how well is Nokia doing on the Lumia family in these countries... They seem priced high but not compared to other high end smart phones...

after 4 months, price will drop significantly

Probably the most expensive smartphone market in the world!!!

With sure! I'm brazilian, so, sorry about my english. Here in my country, the taxes are too high. I dont understant why Brazil's government make things so expensive in our lands. I bought a L920 less than 6 months ago, and, its not good the way prices go down in here.
I spend R$ 2.000,00 (U$1.500) when the phone was released.
Today it costs 1000,00 and my money has no way back! =(
I'm just in love with 1020, but 2.500,00 it's a lot of money to spend in a cellphone...
PS: The iPhone 5 (latest model in here) are expensive too (2.600,00)
Its not a Nokia problem. Our taxes is the problem!


No. Itsn't just because of taxes

Iphone 5S in USA = 649 USD * 2,2 (exchange rate) * 1,6 (60% taxes) = 2.300 BRL
Iphone 5 in Brazil = 2.700 BRL

you're right! there's also the store taxes, afterall, they need to make a profit...and then we get to those absurd prices :/ 400 BRL in those 2700 is charged by the store prolly!

They are available in all middle east countries also for 10 days now..

Yeah the currency basically doubles (im half Brazilian) its been that way for a long time. Seems expensive but it actually sounds about right considering the 1020 is still relatively new. Its about time they got it though. I can't wait to visit again!

Now everyone can see how expensive things really are around here. Thankfully I won't need those since I have my 925 already. And in grey =)
I bought mine for a lot more, though... That's the price you pay for exclusivity.

I just saw the 1020 in a Nokia Store earlier today. Very nice but it is priced about the same as the iPhone in Brazil and, at that price point, I am pretty sure it will not sell. Nokia have an excellent relationship with the operators, perhaps they will offer a good discount with a plan, which will be necessary if they want to move some units.

Damn, that is expensive. Comes out at roughly £688 which is £100 more than it costs in the UK. And we thought we were being ripped off over here in England

Well, it is really expensive but I´ll buy a 925 anyway, to replace my heroic Nokia Lumia 800, WP 7.8 ;-) My expectations couldn't be higher with WP8 and this lighter, thinner, aluminum, better version of 920!! I myself convinced at least 10 friends to move to WP. None of them ever regretted ;-)

It's also available in Bulgaria for 600-700 EUR ($810 - $950) off contract or ~475 EUR ($640) on contract.

Brazil expensive way of techlife. That rule everything here, so sad.

Available from CHF 700.00 (USD 740.00) off contract here in Switzerland.
Windows Central Newsletter
Thank you for signing up to Windows Central. You will receive a verification email shortly.
There was a problem. Please refresh the page and try again.