Nokia Lumia 1020 headed to Denmark, Norway and Malaysia too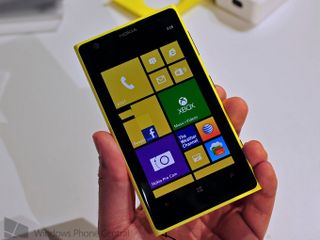 If today is good for one thing, it's learning just how far the Nokia Lumia 1020 will spread across the world in the next few weeks. With Canada, Australia, Poland and Sweden out of the way, we figured we would add a few more regions as tips rolled in.
Denmark and Norway are both scheduled to receive the Lumia 1020 on October 10th as announced on their respective Facebook pages today. Like in Sweden, Denmark will have it available at various locations including Onfone, Telmore (opens in new tab), Elgiganten (opens in new tab) and Proshop (opens in new tab). While Norway will see it land on Telenor and Elkjøp (opens in new tab).
Pricing will vary according to the store or carrier, so check the links above for more information.
Nokia Malaysia announcement coming soon for the 1020
Meanwhile on the other side of the world, Malaysia is starting preorders for the Lumia 1020 in the next few hours. The preorders will be handled through Nokia partner Storekini (storekini.com) and you can learn more from their Facebook page as soon as the announcement is made. Preorders will only run one week, so we're probably looking at an actual launch there soon.
Malaysia in this case is beating out Singapore as far as official announcements go, though Singapore is expected to get the 41 MP Windows Phone too in the coming weeks as well.
Source: Nokia Facebook: Denmark, Norway, Malaysia; Thanks, munchcreature, Mikkel A., and Tor A., for the tips!
Daniel Rubino is the Executive Editor of Windows Central, head reviewer, podcast co-host, and analyst. He has been covering Microsoft here since 2007, back when this site was called WMExperts (and later Windows Phone Central). His interests include Windows, Microsoft Surface, laptops, next-gen computing, and arguing with people on the internet.
Still a better first comment than 'First!'.

Wpcentral: Nokia Lumia 1020 headed to Denmark, Norway and Malaysia too
Me: Ok

Yes, very OK!
And I hope it will also be OK to MSFT not to share the PureView technology to their OEMs once they get hold of the Nokia Devices & Services division.

If MSFT wants to share Pro Cam to their OEM partners who are first and foremost Android OEMs, it should be limited for use only in WP devices, and strictly prohibit its use in their OEMs' Android devices.

Who knows what they'll do with the camera software, but I seriously doubt that any of the OEMs could use it on anything but Android. They can't use anything else from Windows.

Nokia didn't sell PureView. They only licensed it. :)

I wish I could win one of these so I could use it strictly for photos :( sad me.

Wohoo! Denmark! Can't wait for the 1020 to arrive. Hope it won't be too expensive :(

The 920 is currently 2500 kr. and the 1020 will problably be about 4000 kr. so it will be hard to justify. I'm personally waiting for the 1520

closer to 5k if you ask me, might even be over 5k.

On ElGiganten costs 5.399 kr for preorder.
But I'm sure the price will go down afther they get the device in stock, they say it will be on stock on 10.10.2013
http://www.elgiganten.dk/cms/s-s8isGQVwizQAAAFBECQODQwu/nokia-lumia-1020-den-overste-klasse-af-smartphone-kameraer

This was the least helpful or interesting comment on our site today.

All these 1020 availabilty new should be under one post I think. There are 4 posts just for this today.

That's a brilliant idea. But here's the problem, it's not like we had a giant list of country announcements and decided to split them off. We write a post...then hours later we accumulate more tips/news. Then we do another post. In this case, we were able to put a few into one article--so when we can, we certainly do. (Trust me, it's not fun for me writing multiple posts either...) Fact is, we don't surf random Facebook pages for Nokia nor do we have a master list of 1020 announcements. It just turns out we have a global readership and news comes in as it happens. Regardless, it's not like you're paying us to read this site or article. So if there are too many announcements for your taste, sorry, but you'll just have to not click a link ;) But I assure you, for people in these countries, it's a big story for them--so let them have their moment, lol

Thanks Daniel. It was nice to have an NZ-only post the other day. I know people were whinging that it didn't really matter, we're a small country (smaller population than many American cities); but it meant a lot to have it up there!

Not that I am complaining. Just thought it would be a streamlined. Was just a suggestion.

Does it seem funny that since word went out that MS will be purchasing Nokia, shipments seem to have ramped up?

Hmmmm this is a good thought process

1020 is everywhere. Common device now. Old technology. Come on Nokia, new stuff please lol ;););)

Actually, 41MP cameras on smartphones are rare (only 2 in existence). Quad core, 1080p, 2GB phones on the other hand are becoming the norm and nothing out of the ordinary. And I bet telling someone your phone has a 41MP camera still gets a bigger reaction 6 months from now than saying it has quad cores. :)

He was just trying to be funny.
I don't understand his humour, all I know is that he wasn't being serious

Only trolls don't understand my humor

In Denmark the 1020 is priced 5300 kr. at Elgiganten.

My white 1020 is coming tomorrow, I've never ever been this excited about a phone.

Wow it's all over the place now. Hope it does well. Go Nokiasoft!

This time nokia Malaysia has done a very great job in bringing 1020 as early as possible..hope that it'll be the same too for 1520...

Indeed, a surpise actually since Singapore normally get the latest models first!

Yep, didn't think we get to beat singapore on this..lol
On the other hand, I was also quite surprised at the speed the 625 becomes available at Nokia Malaysia too. It felt like i was just reading about the phone being released in the UK when in the same week, I found it being displayed at a random Nokia store.

Now that the pre-order price has been revieled at RM2.5k, what is your view on it? Is it worth the buy? I have searched prices of Lumia 1020 in other countries, they are all higher (!). I wonder how much is it selling in Thailand as pre-order has already begun.

Haha, earlier 920 was like rm1999...that time it was sooo horrible considering wp8 was sooo new and yet Nokia Malaysia was sooo slow in releasing updates..ughh, but i think yes it is quite worthy to buy 1020 since Nokia Malaysia is throwing up free cam stand and a power bank as well..how bout free wireless charger??? ;)

no, wireless charging covers are not included in the bundle, same for charger as well. That would gonna cost me another rm400 i gues!

Thailand had pre orders up a few weeks ago i ordered mine 8 days ago. pick up is the 26th Sept.

For Asia Southeast region, usually Singapore is treated as the main market due to it's status in international ranking, but somehow Malaysia is actually a fast pace market for mobile phones cause people here is all crazy about gadgets. The culture here in changing phone phones r so rapid that often most changes within less than a year (even we do not have much of trade-in options). Hence this is not a small news. There must be reason why some phones are released here in Malaysia faster than Singapore, n not to mentioned even the retail price for iPhones and iPads (n some other gadgets) we r almost the top in the list for cheapest smartphones in Asia region too.
Thumbs up to WPCentral for covering this.

The Lumia 1020 is MYR2499 (direct conversion is USD790) in Malaysia, too expensive in my opinion, it comes with a free camera grip and Silvertec Sanyo Cell 5200mAh Powerbank. When Lumia 920 was launched, it was MYR1999 (direct conversion is USD632).

Its $800 US here in Thailand that makes it $100 US dollars more expensive then the 920 was on launch day. Most Thai people upgrade a few times a year here, I struggle to keep up with who is using what in the office as they always seem to be changing phones.

Indeed, i felt that it is quite expansive compared to Lumia 920 but after checking the price in UK (RM2.8k) and Finland (RM2.6k) & Australia (RM2.7k), i think the price in malaysia is still the lowest with the bundled camera grip. But the question remains, would you buy it? Should I wait for Lumia 1520 announcement?

Yeahh!!!i am right now satisfied with my 920 and i am gonna wait for 1520 yeahhh XD

I would like to buy it, I like the camera so much and I always take photos using my camera on my 920. But looking at the price, I am not going to get it, at least for now, until the price goes down. I am still using my 920 and it is only 9 months old. If only Nokia Malaysia has a trade-in policy.

I am currently using SGS2 which is approaching 2 years already. Ripe time for upgrade but the price, as you mention, really does put me off. Not sure if any carrier is offering this instead?
Windows Central Newsletter
Get the best of Windows Central in in your inbox, every day!
Thank you for signing up to Windows Central. You will receive a verification email shortly.
There was a problem. Please refresh the page and try again.