Nokia Lumia 1020 now available through Expansys-Australia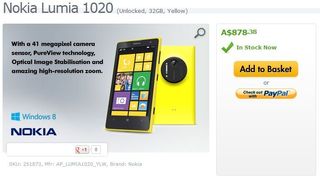 While Telstra is due to launch the Nokia Lumia 1020 in Australia any day now (still not showing up on their website), Expansys-Australia is offering the 41MP Windows Phone now.
Expansys-Australia is offering the unlocked version of the Lumia 1020 for $878.38 Australian (about $821 US). Expansys is offering the unlocked Lumia 1020 in white, black and yellow with all three showing "in stock now".
The Lumia 1020 is an impressive Windows Phone that sports the 41MP Pureview camera with optical image stabilization, a 4.5" AMOLED screen, and 32GB of storage. You can catch our full review of the Lumia 1020 here and all the ordering details from Expansys-Australia here (the 1020's are listed at the bottom of the screen).
Thanks, Neil, for the tip!
George is the Reviews Editor at Windows Central, concentrating on Windows 10 PC and Mobile apps. He's been a supporter of the platform since the days of Windows CE and uses his current Windows 10 Mobile phone daily to keep up with life and enjoy a game during down time.
It's still cheaper than the iPhone 5s 32gb, which is $999. Even the iPhone 5c 32gb is $869...

maybe it is cheaper but that does not make it any less expensive than it is
I mean seriously who in their right mind would pay $1000 for an iPhone, or any other phone for that matter? You can get an ultrabook, or a Surface Pro for that!


I agree completely. The high buying price is a big reason why so many Australians sign up for 2 year contracts, which have no upfront costs.

Thankfully while iPhones don't normally drop much in price, Nokias do. The 1020 should be a few hundred dollars cheaper by the end of the year.

u'll be surprised, my father inlaw bough a 64gb... my eyes popped when i heard that, he's not going to use more than 16gb.... =..= (and i was right :P)

You should see the price an a C63AMG down under. Over double the cost in the US

It's around $100 more than the 920 when that launched. 920 is now around $470. I think $600-700 is okay for a top-end phone. You'll pay 2-3 times more on contract

No worries, George! :) Keen on grabbing it but might wait for the price to go down a bit.

I have mixed feelings about the 1020. Mainly because of the Hump (which feels really weird to hold in the hand, IMO). I would have much prefered it if they would have made it thicker, just so that damned hump wouldn't be there (and hey, while there at it, why not build in Wireless charging and a slightly bigger battery?). It's really annoying when compaired to the 928 (yes, I think the 928 is better to hold and feels better in the hand. The size and weight distribution is much better than that on the 1020).

How does it feel with a wireless charging case attached? From the pictures I've seen it removes most of the camera bump.

I don't know. I haven't gotten mine delivered yet (ordered it a few days ago).

This is first generation 1020, I expect the second generation to be better, even somehow minimizing the hump. As the phone is already so expensive some sacrifices had to be made, including wireless charging, no SD card and larger battery.

True. The camera can't be cheap to make, and really, it's the main reason I got it. But it's a real annoyance atm, when I don't need the camera (which, is a lot of the time). Hopefully, the Wireless charging case I ordered can help make it feel better in the hand.

From what I have seen the wireless charging plate definitely smoothes out the back.

I could live without SD if it had 64 GB... 32 isn't enough for a camera phone.

We can blame ATT here in the USA for 32 GB, every where else there is an option for 64 GB.

No, there isn't. Only Telefonica carriers like O2 in the UK and and Germany will exclusively be getting the 64GB version, everywhere else in the works has the 32GB version. Nothing to blame att for, even though that is the fashionable thing to do nowadays....

You can blame ATT for not taking the 64gb version, as Nokia premier partner in the US I am pretty sure Nokia would give them the option if they wanted it, just as Nokia removed wireless charging because cariers like ATT wanted slimmer phones after the 920.
So yes I blame ATT as well for not having a 64gb option.


Looks like the Australian 1020 runs Windows 8 instead of Windows Phone 8<g>. Maybe that's why its so expensive??

Harvey Norman has it listed for $40 cheaper and a free camera grip if you pre-ordered the yellow model.. I would like this for the camera but the price combined with the hump is making me reconsider keep the 920.

Apart from the camera i don't think the 1020 is any better than the 920!

and the extra 1gb of ram; but yeah its pretty much the same device, but a lot slimmer even with the bump which btw makes it easier to hold, not harder.

Got mine yesterday as a product care replacement for my 920 at Harvey Norman and i got to say, i prefer the 920. The gloss yellow is so much more vibrant than the matte finish and the same can be said about the screen. There was just that much more wow. Unfortunately, they don't stock the 920 because its been replaced with 925. The camera is impressive though, but i can't shake the feeling that its a downgrade of the overall experience

FYI telstras isn't coming any day now. They have a software bug in their custom firmware and don't know how long it will take to fix. They called me yesterday and cancelled my preorder and are sending me a free 520 for the trouble. Its going to be a little while before Telstra sorts this out I think.

Way too expensive. Also, I'll never use Expansys again. They were impossible to deal with when I discovered my 820 was faulty. And the phone didn't have warranty in Australia so beware.
Windows Central Newsletter
Thank you for signing up to Windows Central. You will receive a verification email shortly.
There was a problem. Please refresh the page and try again.