Nokia Lumia 1320 arrives on Cricket for $280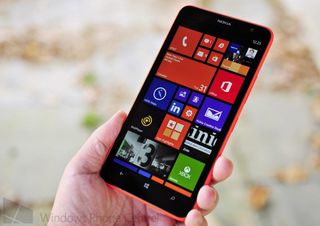 If you've been waiting for the Nokia Lumia 1320 to arrive on Cricket since we told you of its inevitable arrival, the wait is over. Appearing on the Cricket website right now, you can grab your own Lumia 1320 for only $280 with no contract.
You will however have to really be in love with the orange version as that's the only color currently being sold. You do get a $50 Mail-in Rebate Cricket Visa promo card so there's that. Anyone going to be picking this beauty up?
Source: Cricket (opens in new tab) via: WMPU
The 1320 is really a very nice phone. That's an awesome price!

Good price, but 6 in screen is just to big for everyday use. The color is distracting, but just put it in a case and no more Orange! Of course that makes it even bulkier!

6 in is not big, there are bigger stuffs.

C'mon, now. He didn't claim that it was literally the biggest phone ever made. Just because there are bigger phones doesn't mean this phone is not big. 6" is much larger than many deem comfortable for daily use.

You would think they'd only offer it in green. ( :

The green color is far better than the orange!

It is your thought. noone cares.

Does it have Windows phone 8.1 or 8.0?

it has 8.0 but it will get the 8.1 update.. i have the dev preview and it works like a charm :)

Don't bother with Dev Preview.Unless you want the Android experience;)

why don't you go to nokia.com/us-en and check yourself. http://www.nokia.com/us-en/phones/cricket/

You can change the back shell to any color at a later date.
1520 His and 1320 Hers. Nice

why would you stick her with an oversized 620 while he has a top of the line?

Really. My wife always has the better phone around here. :)

Sound about right. I have the 1020 and she has the 920. You pay the bills you make the rules... Plus she can careless

Is it unlocked? Unbranded?....

It'll be locked to aio/cricket. 4 months of continued service will get it unlocked.

so it doesn't work with att? I know att phones work with straight talk and aio even if they were locked to att. Posted via Windows Phone Central App

I haven't checked yet to see if it's locked but it's branded (start-up splash screen and "Cricket" on the back cover). EDIT: Actually, I just realized I can't try my T-Mobile SIM. The 1320 take a micro SIM.

I would imagine 8.0 since 8.1 isn't fully released

Without Cortana... So is it truly fully released?

$280 off contract? Why is it so underpriced? I paid $560 for my 928

because it is trying to be a budget phone,but do not underestimate it ! it works great and i am happy with it :) do not hesitate to buy it if u like big screens..

The 928 is a higher end phone.

Actually the 1320 has better specs then the 928 I believe the 928 is an older phone anyways here are the specs for the 1320 you can decide for yourself
The Nokia Lumia 1320 smartphone features:
•6" Clearblack HD display with better outdoor viewing
•Added protection with Corning® Gorilla® Glass 3.0
•1.7 GHz dual-core processor
•5 MP camera and HD video recording with Nokia Lenses to create perfect photos & videos
•Windows Phone 8 with live tiles to customize what's important to you
•3,400 mAh all-day battery*
•4G LTE enabled
•8 GB internal mass memory •microSD support for up to 64 GB

Nice the phone is nice. I red the specs and it sounds awesome. Here's the killer question though.... 512 MB or 1GB RAM? If is 1GB RAM then this is the phone of my dreams!!
.............
Update: Nevermind I just searched on WPCentral and found out that it does actually has 1GB I'm in LOVE!!! This is so much better than the phone I was gonna get (920). The it has a bigger screen then the 920, same RAM, it has SD CARD SUPPORT!! something the 920 doesn't have! All and all the only thing I see getting backed a bit is the camera which is 5 MP, while the 920 has 8 MP. Just gotta check of there is a work around for getting it to work with T-Mobile (which I doubt it does anyways) or just hopefully wait a 1325/1 or something like that, that works on T-Mobile's network. Can't wait!!!

Just use it on cricket. The coverage is better, the prices are lower...

So you saying I can get 2.5 GB of data for $45? If yes then I'm in. I pay $45 instead of $50 because I'm added in my brother's phone l line.

It's not overpriced, it's a midrange phone with awesome specifications. Only camera is the negative part but at that price point, every phone has same crappy camera. Otherwise it even faster than my nexus 4, leave alone any samdung crap like Galaxy Grand. It's really super fast with that 1.7GHz dual core processor.

Orange is the perfect color, did any body see the Dutch team play today???? :-)

This is the 1320, not the 521...

i see what you did there ;)

haha nice! I don't even like futball but that was the greatest game ever

"did any body see the Dutch team play today???? " Yes awesome game. Right result. Great quiote from commentator in UK: "Holland look a lot more assured this half. they're knocking the ball around is if they're Spanish. Meanwhile the actual Spanish are defending in numbers as if they are the Dutch." Meanwhile, back on topic, I also bought a 1320 here in China for my wife - a yellow one. She loves it. Me? I still have an original 920 and still looking for a reason to upgrade. I like the 930 but can't find it here yet.

I'm happy cricket is getting another windows phone but I tried the 1520 and it was just too big for me. I hope the 635 comes to cricket sometime soon.

If it only had the 8.7 PureView camera the 925 also has :( The camera is the dealbreaker for me. Gonna wait for the 1030 or 935 (or a 930 with Glance).

Just wanted to say that I love ❤ the Doctor Who quote.
Also, there are only two things I can't stand. People who are intolerant of other people's cultures, and the Dutch.

Hahahahahahahahahahahaha
Revenge for the Dutch

Shouldn't it be love ❤ ❤ Doctor Who? Also, I believe your quote is from Austin Powers.

What country is Cricket on?

Cricket is owned and operated by AT&T in the USA.

Cricket is pretty big in India, Australia, UK, South Africa ;)

lol, you are totally out of context, Cortana is better than you.

So what bands does this variant support?

The box says it's the RM-995 (the Latin American version). Phonearena.com shows the following bands: UMTS:
850, 1700/2100, 1900, 2100 MHz FDD LTE:
700 (band 17), 850 (band 5), 1700/2100 (band 4), 1900 (band 2) MHz

Sounds cool but its still only 5 megapixels

So. Since it runs in Cricket, and Cricket is ATT... Would it run on ATT microchip?

Doubt it unless they programmed both mnc's into it

Yes, it will work with an at&t SIM. Same network. Same bands. SIM doesn't care what phone it's on, as long as the frequencies are supported, that it needs, by the phone. Cricket now runs on AT&T vanilla bands. Only diff is far more limited phone selection on Cricket.

My concern is not the bands as any unlocked phone will receive SIM from any company although in the worst case it will run on GSM frequencies. I am wondering If given this phones are Lock and would require unlock code to run on tmobile,... Would it also need unlock to receive an att chip? I hope not. I will order on sunday

Was going to get it but I hate orange.. Why can't they have all the available colors like the 520

Because entry level phone dont matter especially on prepaid

Plus the back is removable and interchangeable so you never have to worry about the colour, you just buy a new back from Nokia or eBay!

They usually have two covers, one that is advertised and another one usually black! If only it was around 180 grams.

Why can't T-Mobile get these phones?

...and where is TM/Mpcs???

Sitting on the sidelines watching their arch enemy AT&T offer better phones, better coverage, and lower prices through cricket. And hopefully they are beginning to get worried enough to do something about it.

So it'll run with an ATT sim, 100%? If so, I have to get this phone.

Microsoft realy needs to improve pricing amd specs. Motorola g is $200, huawei is selling a phone bigger than 1320 for $300, oneplus one is $300 for 16gb. So really no reason to choose this over competition unless you have to have windows. Posted via Windows Phone Central App

Are your seriously suggesting that this phone is the equivalent of a Motorola G or any Huawei? Sheesh! I guess some people will buy anything.

The Oneplus One has higher specs than the 1520.

A legit point, but we should not forget that when we buy a device, we are paying for the engineering too, not just specs... And this goes from the materials used to the ergonomics.

Reviews say it has good ergonomics and the back is as soft as a baby's bottom.

The only thing that was bad in engadget's review is that you can't buy one yet. Hopefully they will have invites by end of june. How come when I comment through web I receive notifications if someone comments me back but not through the app? Posted via Windows Phone Central App

Its in the app settings under preferences on the Windows Phone version. On the Android version I don't see the option.

I have one L1320 os big in beginning, now is perfect I had L925 I'd too small now is very good phone this only main camera Is average but take good pictures and very good film at 1080p. And screen for movies web browser is amazing. Is very good phone recomend a lot.

Oh badass :):) go cricket phans who want windows phone

Yep, nice phone but today I hate anything even remotely orange

HM... This might make a good set for my mother-in-law. Trying to get her switched to Cricket anyway; she and her husband are getting screwed in terms of pricing with their featurephones on ATT. She also has poor vision so a 6" screen might be just what the Dr. ordered.

You can order different color backs online sheesh guys Posted via Windows Phone Central App
Windows Central Newsletter
Get the best of Windows Central in in your inbox, every day!
Thank you for signing up to Windows Central. You will receive a verification email shortly.
There was a problem. Please refresh the page and try again.