Nokia Lumia 1520 and Asha series already showing as 'coming soon' in India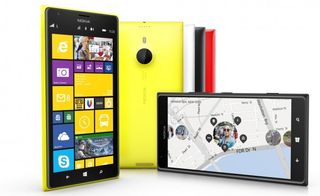 With Nokia World only just finishing in Abu Dhabi - The Nokia India website already has the Lumia 1520 and the Asha series listed as coming soon. No dates are given, although by selecting the device you will be able to register your interest by submitting your email address for further updates.
Whether you are after the all singing and dancing whopper of the Lumia 1520, or just the dual SIM Asha devices, it's great to see Nokia getting the handsets up on the website at the earliest oppourtunity. I suspect the Lumia 1520 is going to kick some butt!
Thanks for the tip Jose.
Register with Nokia India here for updates.
When will the pre-order page for at&t begin

Can one of the editors confirm if AT&T version has lower specs than shown off yesterday?

Dont worry This is not the Samsung galaxy 3 Nokia has same specs for everyone

they say its "coming soon".. probably will take 5-6 months to reach the markets... by then 1575 might be laucnhed.

+1575 exactly my thoughts...they launched L900 in india when they had already announced L920... dont get their marketing strategy or do they feel we dont have any communication to find out that they launched L920 worldwide..

Comanche! my Great Great Great Grandads sister in laws cousins class mate fought against John Wayne at Iwo Jima in 1867! Its cool having an interesting family tree

You sound like an ad for Ancestry.com

Probably getting delayed here in Holland as with EVERYTHING else (lumia 920 got delayed and xbox one is also getting delayed)

1st World Problems, lol. You're not alone, I'm here in the US just watching and rewatching YouTube videos about the 1520 & 1320 and hoping to GOD T-Mobile at least gets the 1520 within 3-6 mths.

Lol you probably have it worse than me (except for the xbox one part)

It still means it will hit India 2-3 months after first launch.

Why is India first to receive? Is it because they have the most registered WP users?

relax :-) its not coming here for another 5-6 months..

Bcos in India, there are more wp users than apple users.
Wp holds second place
Still now the nokia dominates the overall phone sales
asha phones are hit here (even the asha name is an Indian word)
basically we love the nokia brand name

We love the name nokia in india

We, Indians, love Nokia very much. Nokia lost their grip in Indian market only at the last moment( so is orkut ;)). Actually, they never lost it, only loosen it. Even now, Nokia is in the second spot in India. That's why Nokia brought the name 'Asha' from Sanskrit - means hopes, desire etc

Nothing to see here. They put "coming soon" everytime they announce something.
But actual release takes time. 1020 available only now though its announced in July. Coming soon was put immediately for 1020 also.
Ashas might be released in India first though. At the same time India needs 1320 earlier than 1520.

Pre-order has already start in Greece

It says coming soon on the Nokia UK site as well, didn't check about pre-order/info registration but they prob do.

1520 is so demm tempting... Funding funding funding...

Want to know the price ..hopefully they don't over price it like 1020

The announced price was US$749. So it should be around 650€/700€.

Carphone Warehouse lists for this month already. Looks like Europe is getting this one early. Finland got pre-order for 1-2 weeks as well.
http://wpsailors.com/2013/10/22/carphone-warehouse-lists-lumia-1520-for-october/

Nokia Care Greece says on Facebook that the Lumia 1520 will be available to BUY in every store here in just a few days

I talked with them and they told me that Nokia lumia 1520 will be at the stores at October 10th

I hear att version is watered down version vs unlocked version is thus true?

Anyone wants to buy my Lumia720? I am giving it up for Lumia 925....:)
1520 will take too mch tym and its little huge for me :P

Huge? it's enormous!
I think this trend of phablet phones is silly -.-

Your entire post is silly...i kid. Seriously though, I currently use the ATIV S because it is the largest WP8 device out now, and I've been secretly 'lusting' at the Samsung Note (2 & 3). So I'm giddy with excitement at both the 1520 & 1320, and since I'm mainly using it as a consumption device I really don't need a stylus. Plus Flipboard & Instagram are gonna look good.

Silly needs you have over there :)

I agree with Sumedh. NOKIA INDIA is really good in posting any device or accessories as coming soon. But they don't get the device. CR-200 is showing as Coming soon for the last 5 months, but still the accessory is not available here in India.

Yeah! I couldn't find the CR-200 when I was looking for it, had to make do with a CAPDASE model for my L800

I just pray to God, that Nokia gets its pricing right, atleast this time. They are way too expensive initially and later after a poor response, reduce the price drastically, showing desperation.
This undermines its true value in Indian Market.
I hope they learn there lessons right !
:)

They say coming soon but i know it takes some time!

I am from India. My 920 has showing an update is ready to be downloaded. I already updated to amber two months ago. Does anyone have any information regarding this update...

My OS version is 8.0.10328
Firmware version 3047.0000.1326.2001

Updated to amber in August.
My OS version is 8.0.10328
Firmware version 3047.0000.1326.2001

Its a minor update post amber. I got it around September End so I guess you are kind of late to the party. The new firmware version is 3047.0000.1326.0009 and the only visible change I managed to notice was that now we can select Google as default search engine in Internet Explorer. A previous bug had locked it to bing. I am a bing user so it did not mean much to me but nevertheless, its healthy to be updated and running the latest software available :)

Same with the uk site no sign of pre orders yet

Nokia India forgot to put "not" infront of "coming soon"..

Hahahah..indian site showed lumia 1020 coming soon in july and was launched in sep and retail in oct, so u can guess when we indian people will get it ;)

Already pre-ordered 1520 in Russia for nearly $1000. will be in my hands by November 21.

Yaahh cant wait to get it

Got my Lumia 1020 only weeks back and I am loving it :) .. so satisfied that I am not going to think of upgrading any soon... though the 1520 is drool worthy...

Its also stated as coming soon in US and UK. Wierdly 1320 and 2520 are absent from the indian site. All 3 are present as coming soon in UK

I been waiting for this moment all my life, please pay for your purchases and get out... Come again

hi all nokia provide best cellphomes but there is some things lagings thats why nokia is not gaining markets in the world , i reserch it for 1 year. if nokia want to discuss it contact me on my cell no. 09871229163. definatly nokia will gain its market in the world again, trust or regret its upto u.
Windows Central Newsletter
Get the best of Windows Central in in your inbox, every day!
Thank you for signing up to Windows Central. You will receive a verification email shortly.
There was a problem. Please refresh the page and try again.