Nokia Lumia 1520 now showing as $99 on two-year contract at AT&T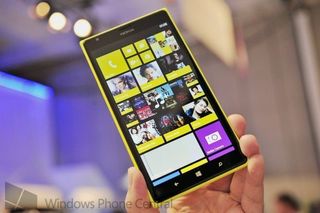 AT&T announced the Nokia Lumia 1520 pre-order a little over a week ago. Its set to arrive next Friday, the 22nd, and cost you $199 on-contract. You can also pre-order from the Microsoft Store for $199 and get $70 worth of app vouchers and a free copy of Halo: Spartan Assault. AT&T on the other hand is giving out a $20 app voucher, Spartan Assault, and 50GB of cloud storage on AT&T Locker. But that was then. Now it looks like you can get the Lumia 1520 for just $99 on AT&T's website.
That's right. Head to the pre-order page for the Lumia 1520 and you'll see it available for just $99 on a two-year contract. Which is considerably better than the $199 price they were asking just a few days ago. You've got red, black, yellow, and white as your color options, although if you're wanting yellow you better act fast. The off-contract price is still set at $584.99.
So if you haven't pre-ordered yet, which route are you going? Microsoft Store or AT&T?
Source: AT&T (opens in new tab)
Thanks for the tip Jarrod J!
Thats great price for 1520 with great specs. If Verizon also prices 929 at $99 we can see good sales for the next 2 quarters.

Just ordered it yesterday for 199 XD think I can get 100 back? :P

Cancel your order and then reorder :)

I just tried to cancel my preorder and received an email that read "The recent request to cancel preorder xxxxxxxxxxxxxxxxx for Nokia Lumia 1520 (Matte Black) was unsuccessful." What a bunch of BS!

Called in and got my order cancelled. Reordered at $99. Saved myself $100. Yay!!!

Call att and tell them you want the same price I got my 920 around thanksgiving last year and they did a $49 deal right after I bought it. I called them and they credited it toward my bill and marked my wife's 820 down to 0.

Yup. I did the exact same thing with my 920.

So for $299, you can get both L1520 and L2520 at the same time. What a deal. May be the 32GB version of L1520 is on the way. It might sells for $199. I hope that Verizon will offer similar deals as AT&T did. For $299, you get a L929 and a L2520 (or L2020). Happy Holiday!

Noticed Carphone Warehouse "coming soon" is now saying December. :'( http://www.carphonewarehouse.com/news/coming-soon/nokia-lumia-1520

WP Central should edit this article stating that AT&T is running a 50% sale on smartphones including the iPhone 5s and the Galaxy S4 which just launched as well. Else your readers may think it has something to do with lack of pre-order activity for the 1520. That's what I thought until I visited the AT&T site. Just a suggestion.

I didn't think that at all. I thought: "hey, I need to go check this out" as I'm sure probably every one else did.

There ain't no way in hell you're going to get Apple to cut anything 50% unless it's 10 years old.

Not sure what the normal price is but the 5S 16GB model is 99 at ATT right now. Obviously you should pick the 1520 over the 5S!

Wow that makes things a lot more interesting. Especially considering they are giving at least $100 for trade-ins, making this phone free. Reconsidering my pre-order with Microsoft Store. Think this is enough to cancel it.

Whoa whoa whoa, what 2520 deal?

It's the special bundle. The one where if you get the Lumia 925, 1020, or 1520 on contract, the price of the 2520 comes down to $199 on contract. I suppose if you throw in some phones you're not using anymore, the price could drop down even further.

Want. But, im not in US lulz

What exactly does lulz mean?

It's kind of like lulzapalooza.

I don't even know what lulzapalooza means lol.
Lulz is lol. But, i don't know, it's better to pronounce it as lulz;)

http://lmgtfy.com/?q=lulz

Why cut the price soon???

Pretty sure it had to do with feedback on forums and such about AT&T messing up wireless charging and memory capacity. Who knows, maybe other carries are jumping into the action, therefore ending or shortening exclusivity rights with AT&T.

Yeah... Never a good sign of success to cut the price of your product before the first batch even ships.... That's a bit troubling...

Could be sign of zero demand? Pretty strange being it hasn't been released yet.. Online only deal-anybody call a store?

It isn't a cut it is a sale. All their smartphones are 50% off right now.

32gb version around the corner!

It's a promotion. All AT&T smartphones are at 50% off. Not just the 1520 but all of them! Lumia 1020, 920,925 Galaxy S4, S3, Mega, iPhone 5c, 5s and blah blah blah :P

The way att crippled the device I still won't get it even if its free. I'm boycotting this device. The sad part is Nokia loses out to. But I still have my 920.

Why do you wanna do that?? O.o

Its att fault. Sucks Nokia is in the middle of it.

Sucks that Nokia isn't smart enough to drop the exclusive only label with AT&T and get on board the open to all carriers like Apple did for the IPhone. They are losing millions and a lot market share not including T-Mobile, Sprint and the other smaller carriers.

Waiting so eagerly for 1520 to show up here!

HOLY $#%@. That's a pretty nice discount out the door. I wonder if I can sell my 920 for enough to cover the ETF fee of breaking contract :P

Thought it would be more than that. You can't beat Windows phones prices, that's for sure! To bad I don't want this one. I'll wait for the 920 replacement. I think out of all these Windows phones the 920 is still the best. Their all pretty much the same except for some hardware difference's.

I'd argue the 1020 is the best one available now, but I'll admit I'm a bit biased :D

the 1020 is really the 920's replacement the only differance between the 2 is the hudge camera on the 1020 i just switched from my 920 to the 1020. I love the pics it takes they're awesome! i'm giving my 920 away on my facebbok page to some lucky winner! in a couple of days. It's a red 920 about 2-3 months old.

Yep, and the camera hump I thought I would hate and the lanyard make this the only phone I haven't even come close to dropping. The feel of it is unexpectedly good in the hand and makes typing easier somehow (tactile reference likely, your hand is always in the same position).

The replacement to the 920 won't be a xx20 device.

my wife wants the 1520 to replace her yellow 920 and it's also gonna replace her kindel fire which died.

How did she like the kindle fire?

Call Amazon. Likely the charging port had come loose. My daughter's on her 5th replacement. Amazon is aware of the defect. Having said that, the $199 Surface RT may be perfect for her. Maybe be selling her Kindle Fire in a week or so so maybe get your replacement and do the same. ;-)

Friends don't let friends buy a Tegra 3 tablet in late 2013.

Sure they do, for kiddos at least. $199 Best Buy price versus a $449 Price and Office Software included, app store decent for kids, firmware updates continuing to improve the device, no cellular contract-- what's not to like? It's a "better" kindle fire all the way around and without that clunky "kind-of-Android" bastard stepchild OS-- not that RT isn't ALSO the bastard stepchild of Windows 8... just that this bastard stepchild is much prettier and much more capable. ;-P

Att sucks my unbranded 1520.

$99 is still too much to for a genetically-modified from AT&T phone, under a two-year contract. I would buy it if it goes for zero down with contract, before Christmas.

For a general consumer and not a wp/nokia geeks like us 100 is fine, even myself I wipe my ass with 100 bucks. Its a good phone even att striped version packs a lot. Personally I just prefer unbranded phones.

Bullshit. I paid $199 for my 1020 a month ago. I should've waited.

Should never impulse buy, you'll always regret it. I do it all the time.

Believe him, I bought the 900 on a impulse, and I regret it to this day and until may :/

Yeah. I would have never bought a phone in October. Everyone knows there will be lots of deals in November, and especially towards the end. You should have expected this deal.

I know, but I was forced to. Dropped my 920, shattered the screen, broke the microphone, and damaged the battery. This was right before going on an important business trip to where I needed a working phone. And the day after buying it from AT&T for $199, the Microsoft store has a special for a free upgrade to the 1020.

Must not be selling. No qi no deal at any price.

It hasn't even come out yet, lol.

AT&T is evidently having a sale. Everything is marked down.

For how long. Will this last til Friday?

I wonder if that means the preorders are going well, and they want to prolong the momentum???

All website is on sale, all phones

Could be sign of zero demand? Pretty strange being it hasn't been released yet.. Online only deal-anybody call a store? If demand was sky high I don't think they would drop the price.

I guess I was thinking that sales might have started out good enough for such a niche product, but once the niche buyers were committed to buy, something else needed to be done.

Yeah. I dropped by the local AT&T store today and heard the same thing. They actually had the 1520 in store for sale...but only in black.

Hope that means the 32GB will be $199

It will be difficult sell of they price $199 for 32GB. But 64GB for $199 may push more people to get that instead of 16GB.

They only announced a 32GB and 16GB model. And I know that the 5S 16GB model is $199, but still, the 32GB should be $199. I would love $150 though.

You can't compare prices of things to Apple products. People will pay whatever Apple asks them to pay.

32GB or go home. And yes I know it has SDCard support.

Yeah, my next phone must have more than 32 for me to consider it an upgrade. I've already burned through the 32 without even trying.

Not surprised since they cripled it at ATT.

I'll be in the AT&T store as usual drooling over a device I can't have or will have to wait for. *T-Mobile customer*

So to be clear. For $300 dollars I can have the 1520 and the 2520? Is that right?

Yup, it's a pretty sweet deal. I just wish the 2520 came in red too.

Sorry, I was referring to having a red option on ATT.

No. I believe the 2520 needs it's own separate contract to be $199

With Mobile Share, you can add a tablet for $10.

Interesting. Is that a required $10/mo 'on contract' then?

Yes it does require a two year for $10/month. Starting the 25th, you won't be able to upgrade every year when you get at&t next program. You'll have to wait the full 20 months to upgrade instead of the current 12 months for tablets. So if you're thinking about buying it on the Next program, do it before the 25th.

True, but it still comes out to $300. $99 (w/2yr contract) for a 925, 1020, or 1520 and $199 (w/2yr contract) for the 2520.

You can't compare prices of things to Apple products. People will pay whatever Apple asks them to pay. Plus the contract.

Just visited ATt.com. looks like it isnt just the 1520. AT&T has a limited time 50% sale they have started. Almost all phones are 50% off

I'm confused... So everyone who preordered is paying a nice premium? Or does the new price not include the items that were in the preorder deal? And if it does, why in the world wouldn't one cancel the preorder altogether?

I didn't notice any perks like apps, games, etc with the $99 price.

Thanks for clarifying... Doing the math, the preorder deal is not bad after all, especially the MS store one.

For thanks giving all flagship phones are 0 or 99, ATT took a while to realize that... they don't want any returns.

Something keeps telling me to wait for WP 8.1. I feel like this Lumia 1520 is the Lumia 900 to another 920 that will be out within 6 months....hope that made sense.

Doubt it this time cuz this has the latest chipset in the industry

i know what you mean i got the 900 at launch and was very upset that i was EOL so early and didn't get windows phone 8.. i'm a bit leary on buying the latest

Pretty sure the 1520 will run 8.1..

Pretty sure even the 920 will run 8.1

AT&T will have the tested WP8.1 update by Q4 2015.

I never get credit for a tip :(

I'm assuming they get dozens of emails with "tips" and simply credit wherever it comes from first. They probably knew before you mentioned it...? Only saying this bcoz I noticed alot of ppl complaining about it. I think that if they truly only got the info from a particular person they'd credit. 2 cents

Thanks for the tip! There, credit given. :-)

Lol thanks I can feel special now :)

No problem. Happy to help!

Can i buy this phone on an MS Store or an AT&T for the off-contract price and ask to buy, wheter immediately or later, an unlock code? I'm don't care if I have to pay more than the 585$ or wait a while, I want this phone, and NOW.


I preordered one at the MS store in Austin for $549 off-contract. I also got a $200 gift card for an iPad 2 and another one for an iPhone 4s. So, I'll be picking it up for $150 off-co