Nokia Lumia 2520 takes photos of half-naked men in JLo's latest music video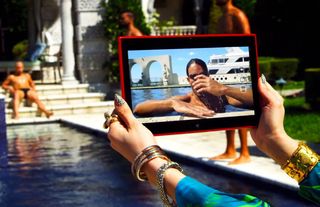 We love it whenever we spot our favorite gadgets on TV shows, movies, or even music videos. Jenny from the block, or otherwise known as Jennifer Lopez or JLo, shows off the Nokia Lumia 2520 in her latest music video, "I Luh You Papi." Head past the break to watch the video and pay closer attention after the second minute.
Jennifer Lopez's music video shows off the camera on the Nokia Lumia 2520. If you didn't know, this Windows tablet features a 6.7 MP ZEISS rear camera with an f/1.9 aperture to help out with those low light shots. Here are some of the specifications:
Windows RT 8.1
10.1-inch full 1080p HD AH-IPS, High Brightness with Low Reflectance, Gorilla Glass 2
6.7MP Auto Focus ZEISS optics, Secondary: 2MP HD wide-angle
Video 1080p@60fps
4G LTE
Nokia MixRadio
Free global HERE Maps
Microsoft Office built-in
Qualcomm Snapdragon 800 (2.2GHz Quad Core)
8000 mAh (integrated) battery
The Nokia Lumia 2520, on its own, is a quality device. It has great battery life, top notch performance, looks great, and it has a beautiful display. With LTE connectivity, it's a great device that you can take everywhere, anytime. Make sure to read our Nokia Lumia 2520 review for more details. You can grab one at Amazon for Verizon (opens in new tab) or AT&T (opens in new tab) here in the U.S. for $379.99 with contract or $499.99 without contract.
Lopez clearly wanted to spice things up a bit and have men's bodies exposed for once instead of women's. "Why do men always objectify the women in every single video?" one of her friends said in the video. "Why can't we for once objectify the men?"
Did you watch the whole video? What did you think of the Lumia 2520's cameo in the video? Let us know in the comments!
Thanks for the tip, Marco P.!
Windows Central Newsletter
Get the best of Windows Central in your inbox, every day!
The comments on this post should be interesting :p

Interesting is how Microkia thinks this is going to sell tablets...

They could do nothing, that is also a great tactic

Interesting is that people use the term Microkia even though it doesn't exists.

I prefer nokisoft over microkia!

They've got them at £299.95 at John Lewis until Friday 21st March 2014! Just bought one last night!!! Also...seen a few wp8 devices in House of Cards - random I know, lol!!!

Damn thanks for the heads up!

Taco flavored kisses papi!

LOVED how they treated men the same way midia and industry always treated women: as a sexual objet. Even though it's sexist too, it's a good answer to show how ridiculous this is in both cases.

+1020,
While I think that objectifying men or women is absurd, it's nice to see the tables turned for once. Then, when people get disgusted by this: just ask how it's any different from any other music video or ad campaign that features women.
Granted, a lot of people will act irrational and like to somehow justify why it's ok with women, but an abomination with men. But hey, might help a soul or two to see the light, so that's always a good thing. (Even though she's kinda nullifying here own point, due to how the women are still in some pretty revealing clothing. Progress is progress, I suppose...)

I think you're reading into this too much.

The women were still objectified in this video. J.Lo dance moves were very sexualised and explicit. I mean seriously, how many times can you squat down low and shake your a$$ like you're sitting on a c**k and grinding on it in one video. Turns out you can do that countless times if you're J.Lo then complain about sexualisation of women. The hypocrisy! What about the girls in leopard print catsuits shaking their booty up against the rapper? I remember when J.Lo first came onto the music scene. She was called Jennifer Lopez and had heck of a lot more class than this. Especially for someone who is already well established (ten albums!) this sort of thing is completely unnecessary.

+1
This just looks so darn cheap! Looks like a Beyoncé sl*t wannabe clip.

Virgin america music video, all the device in that video were Nokia phone.. And Purity Pro

Bullshit "music" for a dumb audience.

That's what every past generation says about the next one

....and a self righteous, moronic, "critic" makes an appearance, because the story is about whether we care what the pompous, self-proclaimed experts think of the music.
Psst...no one cares what "real music" vinyl is playing on your turntable. The story is about someone relevant in pop culture, giving exposure to a device. I'd suggest getting to a hipster music site if your ego really needs to let the world know what music you do and don't approve of.

Calm your tits, belieber! LOL

Me, calm down? You started this thread with cursing and non-topical judgement, then your only retort is to "accuse" someone of liking someone that you don't like, as if that is some kind of insult. I don't have to like the artist you mentioned, but again...not the point of the article. If Beiber used the phone, I **guarantee* that it would help sales. You obviously think a lot of yourself and your own opinion, so I'll leave you to confer with yourself.

Can she send me the pictures?

Are you THE Satya Nadella or a troll?

Any exposure is good I suppose.


Loved the tablet, loved the men ;)

Great tablet stupid song...

No one wants to see half naked men but women. Men watch jlo videos to see jlo

Lol and quite a few men ;) lol

Oh I forgot it was 2014 now

I'm actually intrigued by both. Muy intrigado.

And that's exactly the point JLo trying to make... How women have to always see their scantily clad fellows act seductive and such in music videos. Hell, it's become /expected/ at this point
Don't like what you see, when your fellow man (assuming you're male) is doing the same? Think about how many women feel every time they watch a pop music video.
I barely have a clue of who JLo is, and I don't have any of her music in my collection. But I do support the point she's trying to make here. (even though she kinda nullifies it, seeing as she and her friends are all still in some pretty revealing clothing... But progress is progress, I guess....)

A beautiful lady with a beautiful tablet, but unfortunately cannot sing a beautiful song, sad.

I thought the whole video was shot using the 2520. I was like damb jlo! That camera better than my 1520.

Another nice exposure for Nokia.

Just got the 1520+2520 @att for 199. Love the tablet!

Loved JLo, the men and the tablet but hated the song

Her new songs suck tbh. But she's pretty decent.. On the Floor was the last song I could actually listen from her the others are rehashes of On the Floor

Wow so nokia now has mind controlling software. Who else can u control other than J Lo?

posted this the other day..wheres my Thanks?? http://forums.wpcentral.com/nokia-lumia-2520/269258-5D-nokia-lum... Go Lopez!.

The only thing I liked about the video was the 2520 #SelenaVive

2nd time J-Lo used Lumia on her music video

Love everything on that video :P

As far as the "specification list" goes in this article, Nokia Music has been changed to Nokia Mix Radio for some time now... and is available on all Windows 8 PCs/Tablets. Same goes for HERE maps... not a 2520 exclusive and neither is Microsoft Office built in. (All RT tablets have it) Now as far as the song goes... yeah, I'm with the Elton John and Iron Maiden fans...

I was already loving the video, and then that sexy 2520 appeared. Kudos for more videos like this, with a lot of half- naked men and Lumias!

She is a money whore. And it seems faster

I hate this song, it's not the JLo style.

I love that the tablet says Daniel Rubino on it xD

Well it's a far distance from the type of music I listen to, which is a lot of prog rock and such, but I liked seeing the 2520.

This isn't the first time she is using a Lumia...she has used Lumia 920 too in Live it Up ft Pitbull!!

Is she encouraging folks to take shots with their tablets? lol

Please released this Nokia tablet and Surface to the rest of the world.

Who else saw wp8 devices in 'the tomorrow people'

Lumia 2520? Naked men? That thing is homo!

I was like "JLo... man... man... yet another man... LOOK AT THAT LUMIA 2520!!"

All I read was Lumia 2520 takes half naked pics, JLo.. and I was a bit disappointed. :P

LOL Amen! Although JLo doesn't really do it for me. Face is pretty but the rest.... meh

Watching it without the sound on, it has a strange retro 80s feel to it. A couple of times I thought I watching a new song by TLC and a reincarnated "Left Eye" Lopes. As far as the male objectification theme, it doesn't really work that way in real life. Most men would probably love to be physically objectified like that! Haha. Most men resent being treated like ATMs, not sex objects. :)

Why is this video being credited to Microsoft? Did their marketing team produce and direct it?

My ears, my eyes were bleeding

I got to the "I Luh You Papi" chorus and I couldn't listen anymore. I think my ear drums blew out. What a horrible song. Nobody should take credit for that crap.

The tablet looked fabulous... and yes I thought she was saying "puppy".

That was a complete trash of a song.

2520 in depth review : https://www.youtube.com/watch?v=QpNSoo7L-MA

My Nokia 2520 is immune to viruses (so far). I like modern interface. I don't want a 3rd party browser, iTunes is useless to me since I have a Nokia 1520 Windows phone with Pandora and Nokia music. I certainly don't want any open source on my tablet. and I don't want the desktop! I have that at home, on the i7 PC with Windows 8.1. I bring my tablet to work and the IT dept loves it because they can integrate it with Exchange and other Microsoft Servers. They are even building a custom modern interface CRM app for our sales team. with "mouse without borders" I can share my mouse and ergo keyboard across the desktop and the tablet. (not that I really use a mouse much on the tablet) I have 10 hour battery life, and it gets to 80% charge in less than an hour. With NFC, USB, LTE, Bluetooth, WIFI, HDMI and SD I'm all set! It was just announced that the
SanDisk Ultra 128 GB microSDXC UHS-I Card works in the 2520!

I wonder if the photos got auto uploaded to OneDrive and flagged as being inapropriate?

Nokia has a strong testing program on Facebook and Twitter. I hope it includes testing the men on this video, too. [Marginally: I really love how big is the WPCentral LGBT community. Thumbs up to everyone!]

The only people that are going to realize that shes holding a nokia tab are techies and fan boys/girls. I couldnt even watch this video all the way through.Nice try though lol all in good taste right :-S

Also, If your a "House of Cards" fan, you may have noticed the Nokia 920 used in more than one episode of season 2.