Nokia Lumia 526 comes to China Mobile; now available from online retailer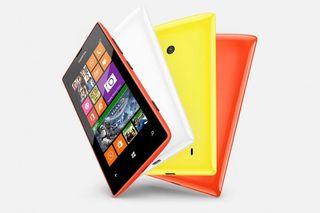 Nokia has seen its Lumia 525 take off with great success around the world as a quality handset at a budget-friendly price. With that in mind, Chinese carrier China Mobile has decided to offer a TD-SCDMA variant of the phone, dubbed the Lumia 526, which is available now from online retailer JD.com (opens in new tab). They have the new Lumia 526 for ¥899.00 ($149.00), available in black, white, yellow and orange.
The Lumia 526 is modeled after the Lumia 520 and has similar specs, though it sports double the RAM of its predecessor, at a full 1GB. Other specs on this Windows Phone 8 device include a 4-inch IPS LCD WVGA (800 x 480 pixels) display, 8GB storage (upgradable via MicroSD), 5 mega-pixel camera and 1430 mAh battery.
According to the source article, the Lumia 526 also comes with 7GB of free SkyDrive storage and a Nokia BH-121 Bluetooth Stereo Headphone.
China is a huge emerging smartphone market and the Lumia 526 make both Microsoft and China Mobile strong contenders in that market.
Source: TechieRevive; Thanks for the tip, MDIP!
Windows Central Newsletter
Get the best of Windows Central in in your inbox, every day!
Can someone from china tell us how competitive that price is in their market? For instance, Moto G is now $100 in the US, but I know prices can be vastly different elsewhere.

That is subsidized price .. Don't compare it with Free to Use anywhere phone

That's the off contract price. At least best buy was offering it last time I checked. Now whether its locked to a carrier, I don't know.

Romania: L520: ~200 $ off contract, 90 $ on contract. Moto X ? Nowhere to be seen. And pretty much no one buys phones from other countries.

Im talking about Moto G. Its their off contract budget phone. It can be had for as little as $100 at the moment. Given that it has quad core CPU, it can give Lumia 520 a hard time. Luckily the 520 can be as cheap as $50 if you keep your eye out for deals.

It doesn't even compete with Moto G. HD display, bigger screen, quadcore, flash, Gorilla Glass 3, kind of water resistant, bigger battery, front facing camera, more apps, more games and Kitkat. Honestly, if you choose L520 over the Moto G is because you are into WP. At the same price (At least here) 399.000 pesos

That's the entire point of my question. How much is Moto G or other budget android phones in china? In my opinion, 520 needs to be around 50% cheaper to compete.

There is a little more to it than that. The G is a better phone, but the 525/520 has a Sd slot, a removable battery, the 520 has a SIM card and can be used on prepaid or regular plan. The 99$ G can only be used on prepaid plan for at least six months, and it has several restrictions added by Verizon. It looks like the 99$ G is a special phone an is made not to be used anywhere else. The 520 can be unlocked an used on any GSM carrier. I just ordered a 520 as a backup for my 820, and passed on the G as my backup. G is a good phone but the 520 fits the world better.

Verizon isn't the only one carrying the G. You could get one for $180 no contract. $200 if you want 16GB instead of 8GB.

A sudden price Boost? Now that Prepaid-locked, operator-locked, CDMA, no-SIM deal looks more like: "Gee"..I dunno. ..

Exactly! Lumia 520 did great at offering at good smartphone at a crazy price but the Moto g is making waves. Nokia and Microsoft need to respond FAST.

I think if you see a $100 Moto G that is because of the type of Carrier...CDMA it will be on. Boost and Verizon use CDMA. I am sure the GSM version of the Moto G will be slightly more expensive. It's why CDMA phones usually have a lower resale value even if the same model is available on GSM carriers.

Mioto G is not released in China, as far as I know :-)

So, basically, the 526 is the 525 in China. I hate when OEMs change their device's names depending on the region...

just a guess, different wireless chipset may have been required to work with their cdma standard.

The Moto G is subsidized for prepay, on vzw anyway

This could be the game changer Microkia needs in moving wp8 a couple of % point in terms of market share. I'd like to see a similar effort in winning hearts and minds in the US. Specifically in the high end market. What will it take to move the needle in the US? A surface phone? An Xbox phone? Sound off after the break :)

Might want to check that title again. I believe it's 525, not 526. ;)

You might want to check again. Its a 526

Oh, haha, tickle me pink then! Guess I now fall into the meme-like group of people who post before reading, but I was on the run and acted with haste. Interesting though, didn't really see this device coming. Makes sense, but still caught me off guard.

Sorry for the off Few days ago wpcentral posted about 521 deal, would somebody so kind and telll me if I get the tmobile version the 521 and bring home to the EU is it going work with the EU tmobile sim card? Thank you!

Dunno why but people come here to show off phones like Moto G and other Android stuff.Just one word for u above Moto G fans-BITCH PLEASE!With 1 gb ram 525 can work more smoothly even better than a crappy Droid 2gb Ram phone.
Windows Central Newsletter
Thank you for signing up to Windows Central. You will receive a verification email shortly.
There was a problem. Please refresh the page and try again.