Nokia Lumia 610 finds its way onto Canada's Koodo Mobile for $50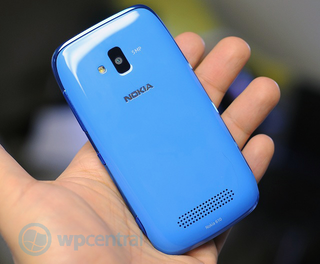 The Nokia Lumia 610 is now available on Canada's Koodo Mobile for $50 with free shipping when you activate a new line of service. To make the deal even sweeter, customers ordering online will receive a $25 Visa gift card 4-6 weeks after activation.
Koodo works a bit differently than other carriers when it comes to pricing their phones. Starting at the retail price of a device ($200 in the case of the Lumia 610), customers can knock money off of the cost by opening their account with a "tab" or pre-paid minutes. The bigger the tab you start with, the less money the actual phone costs you. So by maxing out the new line of service with a tab of $150, the final price of the Lumia 610 becomes $50. Throw in the $25 gift card, and now you're down to $25. Not too shabby for a solid budget-friendly Windows Phone device.
The Lumia 610 is the cheapest of the Nokia line. It features a 3.7" non-ClearBlack LCD display, 256MB of RAM and a 800Mhz CPU with 8GB of storage and runs Windows Phone 7.5 Tango. If you are looking for an entry-level Windows Phone 7.5 handset, this might be the right deal for you.
Source: Koodo Mobile; Thanks for the tip, Daniel!
The 610 is seriously threatened by the 710. I mean, the 710 is only 220 off contract at rogers.

this is true, but the more exposure windows phone can get, the better. a big carrier like rogers would likely never pick up the lumia 610, so it's perfect for smaller carriers like koodo.

speaking of the 710, though, the white one recently arrived in rogers and my sister's getting it! lit looks REALLY good

for the 710 (not sure about the white one) I can say we classed it as a budgeted smart phone along with 3 older phones (that being the newer of the 3) and it surpassed all sales expections for it sense msot people getting there first smart phone but didn't wanna spend 200 dollars on a phone with a 3 year plan.
on the downside I don't see alot of lumia 900s being sold (or being called in about)

It doesn't help when you walk into a Rogers store and there are no 900's on display. Went to two stores and both times the rep went to the back to grab one of their demos when I asked.

exactly. every store i went to around my area, including places like futureshop and bestbuy, had NO demos. it was pathetic.

also, having only the black model available at launch made things worse. however, even though the blue one has arrived, the lumia's time to shine is over (one x and gs3 have been released).

i actually really wanted the blue one, and was ready to buy on launch, but we never had it. by the time it was released, i found out that it won't receive the wp8 upgrade.

don't get me wrong, i dont' mind that wp7 devices aren't getting the upgrade as long as they get 7.8, but im a guy that needs to have the latest and greatest. wp8 is a huuuuge jump from wp7 so i'm saving my money for that

I saw one today when I was in the mall and I have to say for a low end budget smart phone it is very well built. Does not feel cheap unlike the android phones in the same class.

This would make a great pre-paid phone on a service like straight talk or boost mobile in the US. It would get both Windows Phone and Nokia in the hands of a lot of people. I'm just surprised it's not being done.

I just checked out this device at Telus yesterday and its a nice little phone. Great budget device for teens and other first timers. It feels real nice in the hand too.

I am always the guy to have the next best superphone..... But the 710 is my daily driver. I can run a custom rom, I can use any network and as small as it is it is good in the hand.

love the phone especially through Koodo - only quibble i got is the lack of the colours available for it. are those custom back plates that you can buy or do they come straight out the box with the colour schemes?
Windows Central Newsletter
Thank you for signing up to Windows Central. You will receive a verification email shortly.
There was a problem. Please refresh the page and try again.