Nokia Lumia 620 now available in the U.S.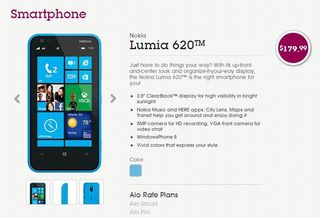 The Nokia Lumia 620 is an affordable, impressive entry level Windows Phones. We were impressed with the 3.8" device (here's our review) and it is now coming to the U.S. market.
The not-so-good news of it all is that while the Lumia 620 is making an appearance in the U.S. market, it's not with a major carrier. The Lumia 620 is being offered by the relatively new wireless carrier Aio Wireless.
Unfortunately, for the time being, the Aio Wireless service is limited to the Tampa, Orlando, and Houston areas. The company does have hopes to expand nationwide within the next year. This may not be good news for those of us on other carriers or that live outside these limited markets. But it's a start.
If you happen to be in one of the three Aio Wireless markets and are looking to make a switch, the Lumia 620 is running $179.99 (no annual contracts) with rate plans starting at $55.00 a month. The Lumia 620 is being offered with the cyan shell but customers can exchange the cyan shell for violet, yellow or green shells at no cost at Aio Wireless retail stores.
You can find all the fine print on the Aio Wireless Nokia Lumia 620 here at the Aio Wireless website (opens in new tab).
Source: Conversations Nokia
Windows Central Newsletter
Get the best of Windows Central in your inbox, every day!
George is the Reviews Editor at Windows Central, concentrating on Windows 10 PC and Mobile apps. He's been a supporter of the platform since the days of Windows CE and uses his current Windows 10 Mobile phone daily to keep up with life and enjoy a game during down time.
Hmm not bad at all. Gotta start somewhere.

We have been saying that we want to see WP on more prepaid and regional carriers so this type of news is a good thing!

Yup, attacking the high-end with the Lumia 928 and Catwalk, and getting the low-end with the 521 and 620.

I wonder if it's unlocked as a prepaid phone.

Never heard of Aio Wireless, they also have a "bring your own phone" plan too. Another small carrier using big carriers networks...

Nothing wrong with it, there is a lot of them tho

It's a new At&t no contract carrier http://www.pcmag.com/article2/0,2817,2418755,00.asp

So it can go there, but not US Cellular?

so by 'no annual contract' price, can I just walk in and buy it cash, no involvement with the company whatsoever..?

Yeah .. The way how the people in Rest of the world buys

Aio Wireless is a new pre paid Bring your own device brand launched by AT&T today. Fully owned subsidiary of AT&T

Edit: Link to news release, read the Disclaimers http://www.bloomberg.com/article/2013-05-09/adA_j7l7A5K0.html

Ah. This probably means that the Lumia 620 is now in AT&T's IMEI database and will be detected as a smartphone should you try using it without a smartphone data plan.

Who cares it's not on a major player? The more WP devices out there the better. Go Nokia!

They need to fix their pricing before I would consider switching to them. They have a $40 plan but only for non smartphones? If you have a smartphone you must use the $55 or $70 plans? Tsk tsk.

Yeah that makes no sense considering the other MVNO options for ATT network.

It's owned by AT&T. AT&T's bullshit rules forcing smartphone users into "smartphone plans" apply. The FCC should put an end to this madness. The type of device being used is none of AT&T's business. Just sell me a line with a certain number of minuts, messages, and data, and fuck off AT&T.

Agreed. Verizon is the same way. Also, they only carry a few regular phones (all of which are pieces of crap), which means they will force elderly/semi-elderly people to get smartphones that they can't use.

Lol:D I feel the exact same way! Thx for spelling it out, badass!

LOL @ the ad... "Vivid colorS to express your style"... Available in blue only.

Bought this on expansys usa and using on ATT. I liek the phone, but no visual voicemail or internet sharing, anybody using this on ATT have same problem? If i activate visual voicemal on my sim, it will just stay syncing and wont stop so i had to factory reset my phone and turn of visual voicemail.

Anybody else can resolve these issues?

Trying to buy it outright right now but it won't let me use my Zip code to access the site. Anyone successful?

Got in using a houston Zip Code but it's forcing me to pick a plan. Boooooooo!

The L620 is available in Canada on a major carrier (Telus). As far as I'm concerned it is the best bang for your buck for any smartphone in the 4" market. It needs more attention from all carriers in US and Canada and Nokia should be pushing them harder ...

The only way that happens is that Microsoft and Nokia get out of the catering to GSM carriers and Verizon and get more devices on the CDMA side (and that includes Nokia make a major plead to all CDMA carriers not carrying either Nokia or Wp8 devices, especially carriers like Sprint and US Cellular just to name a few).

I want to pick one of these up for T-Mob. I'll have to deal with the data speeds although I live in a refarmed metro area. Anyone else in metro Boston with a 620?

Mate at work picked up a 620 last weekend, i'd never seen a real one. I was very impressed by the quality of the thing, all the pictures make it look like a slighlty cheap looking device but he has the black one and it looks very nice and feels great.
Just wish it had a slightly bigger screen, im cosidering swaping my l800 for one, until I get a 920 or which ever flagship comes next.

I'd buy this in a second if I could use it with 4g on tmobile. Perfect phone for me

Dammit, Nokia, I just bought a 521. Now there's this?
Lol, I might end up buying Nokia's entire lineup of phones...

This phone is great, its relatively cheap but its very impressive... Got it a month ago and using it over my iPhone and Samsung GS3. Bought it off expansys and using prepaid :)

What network you using it with? I'm interested in using it with at&t...

Wait wait wait, there's ONLY 2GB of storage on this device? The OS is 1.9 GB, can't put NOTHING on this phone except pics and music to the SD card... =/