The massive, 4G-ready Nokia Lumia 625 is now available at Expansys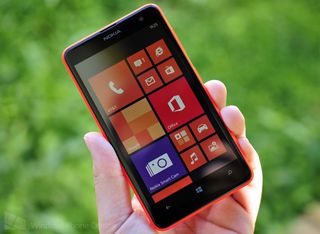 The Lumia 625 was recently launched by Nokia, sporting the largest display ever installed on a Lumia Windows Phone. The massive 4.7-inch screen enables owners to enjoy the familiar, yet unique experience with everything looking incredibly large.
Expansys currently stocks the handset and it's listed in the UK and US for £239.99 and $320 respectively.
While the display may be huge, it's unfortunately not HD. That said, for the price tag you'd not expect a high-end specification sheet. If the Lumia 520 just doesn't cut it for you, or you're a huge fan of the old HTC TITAN, the Lumia 625 may well just be the perfect companion for your journeys. The best part about purchasing a Nokia Windows Phone is the array of services and apps exclusively available.
For the UK the handset is available in black, while US residents can take advantage of white, black and yellow straight out of the box. It's worth noting that shells can be purchased separately to mix up the colour, just in case you get bored of the one that comes with the product.
Source: Expansys (US, UK)
Windows Central Newsletter
Get the best of Windows Central in in your inbox, every day!
Rich Edmonds was formerly a Senior Editor of PC hardware at Windows Central, covering everything related to PC components and NAS. He's been involved in technology for more than a decade and knows a thing or two about the magic inside a PC chassis. You can follow him on Twitter at @RichEdmonds.
But 512mb of ram is hurting...

Yep, that is a really dumb thing to limit it to 512.

Same shop are selling ATIV S with even bigger screen for £199! Yep, exactly. Why spend more on this cheap semi-cook device when you can buy perhaps the best WP phone. Just compare the specs.

Because Nokia has a ton of incredible exclusive apps and they are devoted to WP.

You could use the proxy hack to download nokia apps. I did. Most of them actually do not worth it, because there are so much better 3rd party apps in the store, mostly for free. Selling expensive crap is not what Nokia should do. While 520 is a good choice, apparently 625 looks like a robbery. Either go for 925/1020 or 520.

First of all most of them don't work with the "hack", second No there isn't a better 3rd party apps for Nokia apps "Here Drive is amazing, Nokia Smart Cam is unbeliebabley great, Nokia Cinmagraph is amazing, Nokia Photobeamer is fantastic, Nokia Creative studio is also great, Nokia Glam Me, Nokia Music, Nokia Panorama, Nokia Play to ...!
all of those are great and most of them have no alternative at all, most of the alternatives are PAID and certainly AREN'T free.
Second of all: you get GDR2 + Amber which means always on standby clock and double tap to wake the phone (the best way to unlock a phone ever.) and lots to come as Nokia expands its influence on WP.
Buy the Lumia 920 if you've got a little extra cash it dwarfs the Ativs in every possible way.



Recommend brickish 920 to ATIV? You are either brainwashed Nokia fanboy or have not used ATIV. Please weak up and start looking around.

They come in awesome colors, and can be run over by 3 cars and be absolutely fine.
sources:WPC, phonedog. I want a sturdy phone that stands out, and doesn't disintegrate if dropped. Plus, Nokia is devoted to windowsphone.
I have not tried the ativ, (I don't think it was in the att store,) but I'm sure its a great phone, and I RESPECT others opinions.

First of all: Did you read my post? If don't go back and read it.
Second of all: Most of the Nokia apps DO WORK with the hack. Those that don't, actually have alternative apps (free) or one could happily live without them.
Furthermore some of these you mention are officially available for non-Nokia phones. Here Drive is country locked though.
Yeah, having Nokia phone is good, but that simply does not excuse the 625 price

I didn't want to confuse my self and my phone !!

Hasn't that phone been around for at least 8 months? Never mind ATIV S. I can even find new Nokia Lumia 920 starting from mid-$300 on eBay. Just wait a little, and I am pretty sure Lumia 625's price will drop below $300 pretty soon.

This device with a 720p screen and a gig of RAM would have made me drop my 928 so fast.

You only just got your 928 and the 625s screen is only 0.2" bigger. Talk about getting antsy!

I've had my 928 since it launched on Verizon. All in all it has been a bit of a let down. I am on my third one thanks to manufacturer defects. As for the size, if you are familiar with phones at all, you'll know that even 0.1" makes a significant difference.

In UK, USA it does not have a chance against Nexus 4 especially with yesterdays price cuts to $199 and $249.
In India, China they priced it higher than Lumia 720 and even 820. Its a disaster in India :(

That Nexus 4 price is google subsidised, nobody can compete with Google's Ad-Dollars.

But, sri_tech is still right. $199 it's a steal. I'm considering getting one of those Nexus as primary device until my next celular plan.

Nexus 4 costs $400-$500 in most of the countries around the world sold by LG, you get the Google subsidised pricing in only few countries( just 7 or 8 countries in the entire world)

What carrier(s) will this work with in the US?

AT&T. Review coming up this week for it. No LTE though.

No LTE in Tmobile either. Hspa+ maximum . I did my research. Picking up mine tomorrow in Manhattan. I found a place where they sell international unlock phones.Just waiting fotr it to arrive.

Telus is supposed to be releasing the 625 sometime in the near future, it's bands will be much more compatible with AT&T.

Why any one would buy this phone when the Ativ S is even cheaper on the same site is beyond me.

So you are saying Nokia brand is stronger than Samsung? That's almost laughable in current market. I hope one day they will be able to get back to where used to be. For now Nokia is playing catch up. And yes, ATIV S is stunning device. NL 925 is getting closer, but not quite there yet.

Nokia is better on wp8 due to its exclusives which definitely add to the experience... Having said that, ativ s is certainly v competitively priced now

I prefer Nokia's features, Nokia Music, data sense, Dolby equalizer, sensitive screen,smart cam and I'm sure you can install pro cam with fiddler or the proxy hack. I've seen many reviews and the pictures and video taken with its cam are not bad at all. People tend to think that more is better and is not like that. The screen has sun readability, so even if is slow res it still good. As long as I can read the web pages is fine to me even if you can see a little pixelated but isn't that much. Windows phone 8 doesn't need a lot of hardware to run smooth on a device like that.

I have an Ativ S and I would prefer if this device was a Nokia device so I could get the Nokia apps and in particular their customisations (amber etc) which are way better than the Sammy ones. But it just comes down to the fact that you are getting flagship quality from Samsung for a lower price than the mid-range phones from nokia. If Nokia want to make a serious dent in the market then they must must get their mid-range phones right, just like they have with the 520 at the lower end.

Introductory prices are always higher, it will fall soon. But I still think it's too pricy. Entry level devices need to be under $250. $225 and I'll bet this thing would fly off shelves.

Really wouldn't consider a 4.7-inch screen massive. The 1020 should have at least had this size screen. If this is massive, what's the upcoming phablet going to be called? Titanic?

If i'm not mistaken the phone itself is like the 925 in size. What is bigger is the screen . I saw a review when the guy compare it with a 925 and is the same size.

http://youtu.be/45Vd5Prw1KQ

4.7 is "massive"? Really? I'm currently using a Galaxy Mega 6.3, so my perspective may be skeweed, but I'd hardly consider 4.7 to be massive.

Well, maybe with Nokia's thicker than average bezels.

In non-HD resolutions things actually look bigger (in WP). You see less information in a large screen. All fonts and tiles look massive.

Hmm.. L620 small but better than L625

Was ready to buy this till i saw the 512mb ram. Why have the ram not be good enough to techies who are the only ones (generally) to give much of a damn about the bigger screen? It's like adding pork sauce to a kosher vegetarian meal.

The only people I've seen with these phablet devices are my dad and a couple other friend's parents. I assumed it was non techies buying these giant devices. And while this screen is bigger, if you fancy yourself a techie and care about your screen the resolution on this one will kill you.
This is simply a large, entry level device that got mispriced.
Windows Central Newsletter
Thank you for signing up to Windows Central. You will receive a verification email shortly.
There was a problem. Please refresh the page and try again.