Nokia Lumia 710 now available on Mobilicity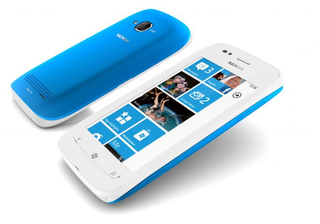 Canada has sort of been slow on getting into Windows Phone not due of course to the consumers but rather carrier reluctance. While the Lumia 900 is available on Rogers there hasn't been too much love for Nokia on Mobilicity until today.
The Lumia 710 (also on WIND), one of our favorite Windows Phones, is now available for $249.99 which seems to be a fairly good deal to us (though we'll let you weigh in in comments).
The Lumia 710 (see our review) features a 3.7" ClearBlack LCD screen, 5MP camera and physical front keys making it quite the unique bird amongst Windows Phones these days. It also features 8GB of storage, a zippy 1.4GHz CPU and a moderate 1300mAh battery.
While many think the 710 is not as fancy as the 800 or 900 (a fair point) it still has amazing ergonomics, great audio and is quite stylish with swappable back covers. In short, we often use it over the just as solid HTC Radar.
Read the full presser after the break or head to Mobilicity to check it out.
Mobilicity launches Nokia Lumia 710 smartphone
Windows phone users now able to take advantage of unlimited wireless carrier's unbeatable value
Toronto, ON – May 16, 2012 – Mobilicity today introduced the Nokia Lumia 710 smartphone to its line-up of popular name-brand devices, enabling Windows phone users, for the first time, to lower their wireless costs through Mobilicity's unlimited talk, text and data service.
The Nokia Lumia 710 is built on the Windows Phone 7.5 Mango operating system, combining a 3.5" touch screen and 5MP camera featuring HD video recording with powerful social connectivity and access to thousands of cool apps. It is available at Mobilicity for the no-contract price of $249.99.
Today's announcement is poised to be welcome news to Canadian Windows Phone enthusiasts looking to take advantage of the unlimited carrier's affordable service plans.
Mobilicity recently added 35% more value into its ultra-affordable, unlimited talk, text and data service plans, including free minutes of voice roaming onto several of the new offerings. The new features were added into the plans without price increases. In comparison, other new entrants increased their wireless rates as of late; while the nation's Big 3 carriers have long been known for charging amongst the highest rates in the developed world.
About Mobilicity (DAVE Wireless)
Mobilicity, Canada's smart mobile carrier, was created to bring down the cost of wireless with unlimited talk, text and data plans, affordable North American coverage, plus popular handsets and smartphones – without locking customers into contracts or charging extra or hidden fees. Everything Mobilicity does adds up to a better wireless experience, not an expensive one. NOW THAT'S SMART.
Formerly known as Data & Audio-Visual Enterprises Wireless Inc. (DAVE Wireless), the company is led by Obelysk, a diversified Canadian holding company, and Quadrangle Capital Partners, a global investor in the telecommunications and media sectors. Mobilicity was named one of Canada's Top 25 Up and Coming Information & Communication Technology start-ups in 2010 by the Branham Group Inc. Further information about Mobilicity can be found at www.mobilicity.ca.
Daniel Rubino is the Executive Editor of Windows Central, head reviewer, podcast co-host, and analyst. He has been covering Microsoft here since 2007, back when this site was called WMExperts (and later Windows Phone Central). His interests include Windows, Microsoft Surface, laptops, next-gen computing, and arguing with people on the internet.
Should be 8GB for storage.

Not in Canada, they're only getting 8MB. You can add two apps and 10 contacts that's it.

8MB? What were they thinking?

It has to do with the weak peso in Canada due to their president's policies. They had to cut costs somewhere.

wait, dude, we have prime ministers ;)

Hey Daniel I know it's late in the East coast right now but it's 8GB of storage not MB also I think you meant 'amongst Windows phones...'

If you go to the website of Mobilicity and look up the specs of Lumia 710, it says 8GB not 8MB!

Actually it's only like 6MB after you load the OS.

You always post a picture of the white version with a blue back cover but all I ever see is the black one, over and over and over

Not sure why they don't sell it that way. I have a blue cover (and yellow, terrible plus magenta, not bad but girly). The blue certainly looks the best.

There is no love for windows phone in Canada. The reps in the stores are very hostile to it. It pissed me off.

Lolz. Now it just needs construction grade case before my tool of a bro somehow destroys his

The reps at Rogers Plus stores are generally good with Lumia, they're not going out of their way to push it, but if you ask for it they'll support you. Now Lumia 710 on Mobilicity, that's interesting, I've yet to see some real big stores by these guys. For the most part, Mobilicity sales are through franchisers run from small uncle/aunty shops, booths, etc - meaning the bureaucracy is thin. Convince the uncle in charge of his Mobilicity gig that Lumia 710 is it, and he'll push it like no tomorrow.
Windows Central Newsletter
Get the best of Windows Central in in your inbox, every day!
Thank you for signing up to Windows Central. You will receive a verification email shortly.
There was a problem. Please refresh the page and try again.