Nokia Lumia 735 – Unboxing and first impressions of the affordable selfie phone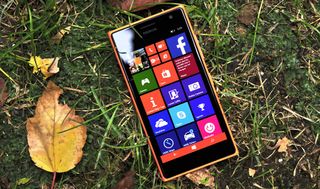 Back at the beginning of September, Microsoft pulled the curtain back on three new Lumia phones: the Lumia 730/ Lumia 735 and the Lumia 830. Just four weeks later and those devices can be found at various retailers and carriers around the world.
Today I am taking a closer look at the Lumia 735 including an unboxing video, sample camera images, high-resolution photos of the phone, and my first thoughts on the successor to the Lumia 720.
Lumia 735 Specifications
Windows Phone 8.1 Update (build 14157) with Lumia Denim
Memory: 1GB RAM, 8 GB internal user memory; 15 GB OneDrive cloud storage , micro SD expandable up to 128 GB
Display: 4.7" HD OLED (1280 x 720, 16:9), 316 PPI, Curved glass (2.25D), ClearBlack, SuperSensitive Touch, High Brightness Mode, Sunlight readability enhancements
Processor: Qualcomm Snapdragon 400 (MSM8926) 1.2 GHz quad-core processor
Primary camera: 6.7 MP FF ZEISS, f/1.9, Full HD video (1920 x 1080 @ 30fps), LED Flash.
Secondary camera: Full HD 5 MP wide angle (2596x1948) f/2.4, Nokia Camera, Nokia Storyteller, Nokia Creative Studio, Lumia Selfie
Size: 134.7 x 68.5 x 8.7 (volumetric) mm
Weight: 133g
Connectivity: NFC, A-GPS/GLONASS, BeiDou, WIFI 802.11 b/g/n, microUSB, BT 4.0 LE, Micro SIM
Battery: Removable 2220 mAh battery, exchangeable shell, Qi wireless charging
Audio: 3.5 mm AV connector (AHJ), Dual microphone, FM Radio, Internet radio
Overall, the Lumia 735, which is the single-SIM LTE variant of the dual-SIM 3G Lumia 730, is a solid upgrade for Lumia 720 users. Improvements include more RAM with 1 GB, faster processor, better GPU, 5 MP front facing camera, thinner profile, and built in Qi-Wireless charging with replaceable back covers.
Quality and feel
The Lumia 735 feels very much like the sibling of the Lumia 720. The phone is light, thin, and it has curved edges. The 4.7-inch display looks great at 316 PPI and with the Corning Gorilla Glass 3 it is smooth to the touch. The ClearBlack polarizer keeps the colors bright and the contrast high.
Later in the hands-on video, I compare it to the new iPhone 6. Both phones seem very similar in size and weight, in fact, I would lump them together. Granted, the iPhone 6 naked is thinner (6.8 mm versus 8.9 mm of the Lumia 735) than the Lumia 735, but iPhones always need a case since they are so delicate. As a result, both devices feel closer in size even with just a thin shell case on the iPhone 6.
Camera
The Lumia 720 had one of my favorite cameras ever due to its sharpness and its low f/1.9 aperture. I am happy to report that this carries over to the Lumia 735. Pictures are sharp as a tack. Likewise, for the front-facing camera, which almost provides too much detail at 5 MP. Color balance on the front-facing camera was redder than I would have liked, although more testing under different conditions is needed.
The Lumia 735 ships with Lumia Denim and Windows Phone 8.1 Update 1, but it does not yet have the Lumia Camera update, due later this year. It is not clear how Lumia Camera, versus the current Nokia Camera app, will or will not improve the speed of photo capturing. Images are relatively fast for a Lumia for taking photos, though the iPhone is still much quicker.
Quick conclusion
I was always a big fan of the Lumia 720 and the Lumia 735 on first blush is carrying the torch well in its memory. Overall, the Lumia 735 improves in nearly every category of its predecessor, and it makes using Windows Phone 8.1 that much more enjoyable.
The one downside is there is no Glance support nor a camera button, as these features are reserved for the higher-end PureView range of Lumias, like the Lumia 830 and up.
For imaging, the Lumia 735 is so far looking to be the best non-PureView camera around, though more testing is needed. Performance of the phone is great with no initial complaints from basic usage.
I plan to spend a few more days with the Lumia 735 to do a camera shootout and more in-depth analysis of the selfie phone.
Do you have a question not answered in the video or this article? Ask below, and I will try to answer.
Windows Central Newsletter
Get the best of Windows Central in your inbox, every day!
Daniel Rubino is the Editor-in-chief of Windows Central, head reviewer, podcast co-host, and analyst. He has been covering Microsoft since 2007 when this site was called WMExperts (and later Windows Phone Central). His interests include Windows, laptops, next-gen computing, and for some reason, watches. Before all this tech stuff, he worked on a Ph.D. in linguistics, watched people sleep (for medical purposes!), and ran the projectors at movie theaters because it was fun.
For those wondering about the Lumia 830: Still waiting on Microsoft to send us over a review unit. Should be due any day now, even though it already overdue. Sit tight.

Okay. Excellent analysis as always!

Looking forward to the 830 review due to that is the phone I'm keen on swapping out my 1020 with.... duh, duh, duuuuuuh

Anyword on when the 830 may be hitting the shelves at AT&T?

We reported on or around Nov 7, unofficially.

I was wondering this as well

I'm interested to know if the Denim update now has a data connection button available in quick actions? This is one thing that many feel was missing in the Cyan 8.1 update.

Nope. Perhaps in Update 2 due later this year?

"Hey Cortana" come with denim by chance?

No. Rumored only for Snapdragon 8xx series devices like the Lumia 930 and Lumia 1520.

So the answer is "Yes" will come with Denim, BUT no love for 730/735, only for Snapdragon 8xx series devices like the Lumia 930 and Lumia 1520

While I think the 830 looks very very nice, I slightly prefer the looks on the 730/735. That's probably because it reminds me of the 920 and 1020, which me and my wife have (respectively). I still think the 920 is the best all around phone in the lineup. Wireless charging that survived the AT&T neuter axe, fast camera with OIS and great low-light performance... and all the other great features we now take for granted or gripe endlessly if they are left out (glance, sunlight readability, camera button, etc). While I think the Icon/930 is a great upgrade spec-wise, having it lack glance is a BIG drawback. That, and carrier exclusivity to Verizon in the US is a huge bummer. I won't be the first to point out that us 920 users are growing long in the tooth for a worthy successor. I'd jump at a 935 with glance restored, or a 1030 with faster internals to speed up the otherwise excellent camera (and throw in wireless charging while your at it).

I actually agree with this. The 730 looks quite a bit better than the 830. I've never really cared for metal phones, plastic ones are much better in my opinion. The design of the Lumia 800, 900, 920 & 1020 is something that needs to come back, and I think the 730 & 735 did it well. Of course, they're the wrong colors (I miss cyan, yellow & red). That being said, the lack of a camera button and use of on-screen nav keys instead of capacitive keys kind of kill it for me. Those were some of the niceties that made me like Nokia's hardware, and for a phone based around a it's FF camera, the lack of a camera button is really weird.

nah, not really, when you decide to take a selfie, chances are you have some time, where as with a rear shooter, your more than likely trying to capture a moment very quickly!

I suppose you're right. Still, I'd still like to have a camera button.

everyone would, but you gotta draw the line between high and mid range somewhere!

The line between mid and high range should'nt be the removal of the camera button.

what else can they remove that would make a noticeable impact without ruining what makes a WP great? its perfectly acceptable.. especially in an era where most manufactuers already abandoned the camera button completely

It's not acceptable, it's cheap and dumb. The physical camera button was one of the things that made WP unique and losing it is just watering down the brand even more. To cut down costs they can make the entire device smaller and easier to use with one hand. There's no reason for the 730 to be another oversized phone other than to jump on the big is better bandwagon. The 720 was a sleek sexy phone that was easy to use. It also had a camera button and capacitive buttons. Go figure.

Losing that button, however, is one of the reasons why now everybody and their mother is releasing different WP models all around the world in all sorts of markets.

I take it you are unfamiliar with the popular TURBOselfie?

Thing that stands out most is how bad an iphone6 looks in comparison, this Lumia 735 is 25% of the price yet pretty much better in every way besides the cpu/gpu. Just crazy. Especially in markets where mobile plans are more transparent this is painfully obvious.

There many other things that the iPhone can do better than lumia 73x. Sent from somewhere. Don't worry I ain't illegal.

Yeah, bending is one of them.

You are holding it wrong -_-

...and you end up paying double or even triple in some markets to get an iPhone. With that money I'd rather get the Lumia 735 plus the new Qi charging pad, a couple of extra Qi shells of different colours, the Miracast HD-10 thing and nicer headphones.

There is one good reason to buy an iPhone, and only one... If you like using gadgets that hook up to your phone, the iPhone will allways have an app. This is a problem for me, on my lumia 1020. No apps for the services I use, like Polar training computers, smugmug etc. and I hope this is fixed with win 10 and its universal apps.

That's why they are flying off the shelves. And Microsoft is making cheap selfie phones.

Only perhaps in the US. Outside of the US people have more common sense. In China there's even a guy believing the same thing as you do and spent lost of money hoping to score...lost...and jumped of a building. You won't? Promise?

I have the cyan 920... It's quite gorgeous even after nearly 2 years of ownership. My wife has the yellow 1020, which is quite fetching as well. I think it's quite funny with the metal versus plastic discussion. Nokia (now MS) uses high quality polycarbonate. Yes it's fancy "plastic", but it's very durable. And it comes in bright colors, which is surprisingly practical once you get used to how much easier it is to find your phone around the house or in a cluttered hand-bag (both scenarious have played out numerous times with my wife).

I HAD a 620 that i loved because i got all the imaging and audio features i needed at an extremely budget price, $80 flat. It's been a great phone, but 8.1 made the battery a real piece. I also doubt it will ever get Cyan, as black was skipped. Looking towards the 830, wishing for a 930 (but no love for AT&T), i finallly bit the bullet on a new used 920. So far I am very happy. Even being old, it doesn't feel like it at all. It is a big upgrade from the 620, and I also got it on Ebay for less than $80 shipped. Now i can wait for the phone i REALLY want, which i feel probably hasn't been released yet, for a while before new new phone eny kicks in.

Yeah totally agree. I wonder why MS ditched red and yellow colors for Lumias. They were much better color option than these green and orange. They should have kept red and yellow along with these new color options. Hope MS will give us red and yellow 730s soon.

Maybe in 2015 we may get new colors. I'm hoping to see cyan return since that was my favroite, especially on the 920.

Brilliant Blue is coming. Don't know if that's the same as the color Cyan.

I heard the screen of the 830 is much better than the 730 in person but you will have to pay a bit more for that. For the price point and specs the 735 is a sweet buy.

One is AMOLED, the other one is IPS. It really just depends on what each person prefers. I've had IPS displays for a few years and I can't wait to get back to an AMOLED.

I'd agree with you on the AMOLED. But doesn't AMOLED means no Glance on the Lumia range?

Mingu7 you read my mind!!! My thoughts exactly.

That's the one I'm looking forward to. I miss unibody flagship phones. Hope the next batch have more of a mix. I think the metal band kills the colours a bit. Unless it's with black, white, grey etc. Bright colours need full on polycarbonate.

Daniel I can't wait to se the Lumia 830 video. I'm planing on upgrading from my Lumia 520 to the 830 early next year and there aren't any decent videos on YouTube about it. I'd really like to see a nice in-depth "Rubino style" video of the 830. I hope you can deliver.

Don't forget to include front cam in the review of 830, it is the only thing in which 830 is somewhat behind for an 'affordable flagship'

I don't think it's too much different from 930 (830: 1 MegaPixels x 930: 1,2 MegaPixels) and (1280 x 720 pixels x 1280 x 960 pixels)

hmm waiting for the complete review of both Lumia 730/735 and lumia 830. Eventhough it is released here in India(lumia 730) not yet available in nokia priority stores will check out today for sure if it is available offline.

Daniel thanks for letting us know a 830 review is on the way. I've been asking on almost every post but been ignored. Shame Microsoft haven't given you priority. Considering the 830 is arguably their most important release for the end of 2014 you should have been given a test device weeks ago. Another Epic fail Microsoft.

Hey, Dan, please if possible, try testing the phone under "load" - like several apps with background tasks (e.g. lockscreen app, newsreader, weather, whatsapp or similar etc) and also switching between various memory demanding apps. I have a Lumia 620 with 512MB RAM and I am not convinced 8.1 runs fine on that. Too much loading and resuming sometimes even when returning to homescreen. So I'd like to see if there is any difference with the newer processor and Denim firmware.

If you will have to pick the better one, which one would you pick? Lumia 730 or Lumia 720?

Also did you post a review for HTC One (M8) for Windows?

Also..did u post a review for HTC One M8 for Windows?

Thanks for the heads up Daniel, as always, waiting for your review before making the purchase. It'll be between 830/930, as both of them are within £80 of each others it seems!

I amazed cuz that awesome thing is not unibody!

Removable unibody, as strange as that seems.

Well, Sprint is rumored to get the Lumia 735 or possibly another Lumia. Verizon I would consider confirmed as I have seen it.

Good thing about Verizon is that they announce and sell devices same day or few days later.

Any ETA or approximate timeline on when Verizon is going to get this? Would love to replace my 822 with it mid Nov when my contract is up.

Any ETA or approximate timeline on when Verizon is going to get this? Would love to replace my 822 with it mid Nov when my contract is up.

Is this coming to other US carriers besides Verizon?

The 830 seems a better upgrade than the 730 IMO. It carries over the good looking body with an upgraded camera. I don't mind shelling a few extra pennies for that. The lack of dedicated camera button and glance is a deal breaker for me. Not too much bothered about front camera so the almost 1mp in 830 is ok in favour of the 5mp in the 730.

Yeah... It's all about taste and preference...

830 is 150$ more than 730$ , but IMO the 730 is a better upgrade than the 630.
I mean , for 50$ more than the 630 price , you get 1 GB ram , a huge 2200mah battery , 720p res , a 5 MP FFC , a flash for the main cam, 4 GB more storage , I mean there's no point at all buying a 635 now ...
for 100$ , you have the 530
for 200$ , you have the 730
for 350$ , you have the 830
for 500$ , you have the 930/icon/1520/1020
each one of these phones is a beast in his price range , except the 630/635 ...

The T-Mobile 530 is $69 off the MS Store, while the AT&T 635 is $99. I would hope the 730 comes in at no more than $200 given the modest upgrades: RAM, display, cameras, and Qi. Moreover, I would hope the 830 comes in at $300 which is in line with the Nexus 5, boasting a much stronger RAM and processor configuration. At $350, the 830 becomes very expensive compared to the 635 for what's basically five or so upgrades: twice the RAM, bigger and better display, certainly an excellent camera with flash but a weak FFC, and Qi. While these are very nice upgrades, they do not warrant more than 3x the cost. Absolutely not.

Good ol Verizon and AT&T of course. They get all the good ones.

Hopefully sprint gets this

I'd be all over this phone for Sprint. I can't say the same about the 635 which is the other phone they're rumored to get.

from to 720 to 735 , seems legit

The one downside is there is no Glance support nor a camera button, as these features are reserved for the higher-end PureView range of Lumias, like the Lumia 830 and up. Is the Glance reserved for higher end PureVIews or just not available due to display limitation or other unmentioned reason? Could not be sure from the way it was worded.

No reason why a 735 could not do Glance. They just leave some features off to reduce costs/differentiate from their other products.

Well the 1020 is OLED and it has glance.

I think it has to do with whether the OLED screen has on-screen memory attached or not. Glance needs such memory to display the info, so if they took a cheaper OLED that has greate IQ but doesn't have said memory attached, then they can't do OLED. This is unrelated to the 1080p IPS screens which can't do glance, but there's some other problem with those preventing glance and I can't remember what it was...

OLED is actually the best screen type for glance, its not only really power effecient, but just plain looks better, with its sharper and brighter glance display, then with the deep deep blacks of an oled screen.. it just looks amazing. +925 (OLED screen)

That's a dumb way to differentiate (does not reduce costs)...It already has the same low-end camera from the 720 and a snapdragon 400. But I guess considering the only difference between this and the twice as expensive 830 is just the camera, makes sense that they need to leave something else off to differentiate.

Yeah :P but i don't use glance anyway.

Hmmm I used to consider those as downsides as well
Glance to me I don't find useful but to others it is and should be optional
Physical Camera Button idk but I will miss it
But I will definitely consider getting a 735

Not all high end lumias have glance, It has to do with the amoled display memory. Only lcds have it, no sure.

The 810 is amoled.
And has glance.
So...

1020 has Glance and OLED. I'm not sure why some don't.

Yes but now there saying that it has something to do with some kind of display memory on oled screens, or they just don't want to say that they are using cheap oled screens.

820/925/928/1020 all have glance and OLED. The 930 did not because of some weird display memory issue. (Aka they used a low quality part I'm guessing). But yea...the whole point of glance is to have an AMOLED so it doesn't use any battery haha. Ironic that lately Nokia has been removing the feature from OLED phones and keeping it on the LCD phones

I have glance on my 620 so low end isn't the issue. Not sure what it is..

low end is the issue, your 620 was given glance by nokia, microsoft later went on to make glance a more premium feature, so.. there not gonna be dicks and take it away from those who already got it, but in the future, it wont be in cheaper phones.

Glance isn't an OLED or LCD thing, it's all about the existence of display memory. Nokia puts the glance data into display memory. If there is no display memory to shove it into, there is no glance capability. Some displays have it, some don't.

CORRECT. To clarify even further on what you said, future devices that are low end will NOT have glance BECAUSE of the costs of said memory display. So there ya go people the two reasons go hand in hand. Older low end devices just got lucky Nokia went and implemented the memory display, but Microsoft will now only do that for high end devices it seems.

Lumia 930 isn't a high-end?

The 930 was a huge mistake. According to sources they opted for a display that did not support display memory. Like i said i think moving forward Microsoft will draw that line and include glance only on high end. Im sure they learned from nokia that display memory is a must when buying screens for a pricier phone.

Display limitations as glance required lcd.
While pureview is reserved for high end phones. Sent from somewhere. Don't worry I ain't illegal.

Glance support is mostly dependent on the processor. The 735 has the Qualcom 400 series, I believe Glance requires the 800 series.

Not at all, its all about the screen type and the manufacturer's decision to implement it.

Good grief, so many people spreading so much misinformation about Glance! As has been correctly noted several times, it is dependent on display memory. Glance does not require an advanced CPU, or only support OLED or LCD. It does appear, however, that MS is now using Glance as a differentiator for higher end handsets, just like the camera button and capacitive screen buttons. Personally I think this really stinks... these were all things that made Windows Phone standout, which is not something they should be giving up right now. And then to not even include flash and ffc on lower end phones... truly a deal breaker for most people.

I've had one in green for days now love it

Daniel, you are real geek of windows! I love it..not missing any of your articles!

I wonder why they didn't play up the selfie aspect in the design. Since its kind of the device for girls and the self picture taking obsessed, I'm surprised it doesn't have an aesthetic that makes it jump out is some special way. It should be thinner also. They could have easily made it thinner; 925 thin.

What? Have a camera pump like the 1020s on the screen?

I like the skinny boxy squared look on that phone not the round look like on 630 that I have.

And t-mobile chooses the 530!

Selfie phone? Htc is announcing a phone tomorrow with 13mp front camera and flash. A phone with two flashes! That puts the lumia and my oneplus one's 5mp front camera too shame.

True. Even the HTC One for Windows has a 5 MP front-facing camera. Two important points you leave out though: (1) Price (2) Nokia's camera work. Both the HTC One and the new HTC phone are certainly going to be much more expensive than the Lumia 735. Likewise, Nokia arguably is still much better at imaging. The Lumia 735 is geared for those on a budget, young people, etc. While have a 13 MP front-facing camera is great for flagships, the rest of the world cannot afford it.

I've been waiting on a 735/730 review as I'm looking for a budget phone to complement my flagships.

HTC is probably gonna use the same camera has the HTC one mini 2, and I've seen alot of reviews of that device and all say the thing the 4 ultra pixel camera is miles better then the 13mp the mini has. Anyways I really don't know why so many mp for a ffc, most people still use it just to video chat.

How much is this expected to cost US$?

That's what I'm dying to knowwwwwww!

T-Mobile should get one of these phones moving and I would throw them my money. 735 and 830 both look great to me. I wish they'd update the 925 really but I'd be willing to hand it down to someone else in the family (or sell it) and upgrade to one these new guys.

Daniel...update pls on when it is avail on ATT or Tmo. tnx

It looks like a Lumia 920! The 920 is still superior!

Feels like a 720? I'd imagine more like a 920.

920 is much heavier and thicker.

Hi Daniel, how does the orange glossy feel in the hand, is it slippery? I got a galaxy s2 in white and it has the glossy back and sometimes it's so slippery that have to keep cleaning it with my shirt. Posted via the Windows Phone Central App for Android

I just wanna know why Nokia made Lumia 920 so heavy and thick?

I also see the similarities to the 920. This seems like the "cost management" evolution of the slot that the 920 fills. Like the Lumia 920c or something. Looks like a great phone, I want to get one for my mother-in-law to replace her aging 920.

Does anyone by chance have a suggestion about where to purchase a dual sim 730 and have it shipped to the US? Better enough than the win HD to make me willing to jump through a hoop or two to get my hands on one.

how about the battery ? it is better than 720 ?

Hey Daniel, will like to know about Denim??

Search in Wpcentral.
Type out "Lumia denim" and you will find the article. Sent from somewhere. Don't worry I ain't illegal.

Lol Posted via the Windows Phone Central App for Android

A bit of warm bias for front facing camera is probably by design. People are okay with warm skin tones. Green or bluish skin tones are a big no no.

What carrier is this for?

No glance and no camera button. There is always something missing with these phones. No go.

Then get the 830 Posted via Windows Phone Central App

But the 830 uses the same snapdragon 400 as the $79 630 and twice as expensive as the 735. No go ;) Like he said...always something missing...And before you suggest 930, that also lacks glance haha.


There's nothing perfect. LOL

Lol foreal Posted via Windows Phone Central App

Nokia used to be able to make perfect Windows phones. The 620 was a perfect budget phone that retained all features including ffc, flash, nfc, great screen, etc. Only missing wireless charging. Even the 520 had most of that except the screen quality. The 920 was a perfect flagship... had everything. It's only now that they have artificially decided to limit the lower end phones that we can't get complete experiences. Flash, rudimentary ffc, and glance should be mandatory.

I really appreciate the shot composition of WPCentral's images (and videos). Daniel, are you responsible for this?

Most of the time on my own articles, yup, it's all me ;) This article too. Thanks!

So, the 735 is only going to Verizon then? No AT&T?

They shouldn't let Verizon have it until they release the update for the 928 and Icon.

@JamesDax3 All I can say with confidence is who is getting it, but it does not rule out other carriers. It's to quote Rumsfeld, a known unknown ;)

Hi, Daniel, Is the polarization oriented vertically or horizontally? what I mean by that is when I wear my sunglasses, on say my 920 I can't see the screen in portrait mode and see it well in landscape. On my 635, it's reversed: with sunglasses on, I can see the screen in portrait but it is black in landscape. Apropos of nothing, I prefer the 635 orientation as it makes it more usable. Thanks - Decimus

I'll take a look tomorrow

Hi, I tested it right now. The angle is oriented 45 degrees clockwise from vertical axis. So the result is the same for vertical and horizontal orientation. I would prefer a circular filter, which is visible with polarized sunglasses regardless of orientation (although it little corrupts displayed colors).

This would have done well on tmobile

Should do a iPhone 6 vs 735 video because of the same size screen. Posted via Windows Phone Central App

Yup, was planning that for either tomorrow or the day after ;)

Hi am using L625 now. Will this phone be a good upgrade for me? Or should I wait and go for L830? One thing I do not like is no inbuilt capacitive keys. Me no liki virtual keys....

Both are excellent and both have advantages, but yeah, the Lumia 830 is technically "better". Then again, if you do a lot of selfies, lol...

Looks good, will be getting Lumia 730 as its the best dual sim option for a windows phone.

Can you please open a few more apps like xbox music and facebook and flick around them + multitask yo see how snappy the phones are? Thanks

I really want to pop over from a 925 to this. Then again, does it have 1gb of RAM? Dat design tho.

It has 1 GB of RAM. Ironically, it would be a similar device to the Lumia 925 in some ways.

830 is generally a slight upgrade from the 925 in just about everyway, but do keep in mind slight, imho, the only reason to jump from a 925 to the 830 is if you want an sd card slot, as its essentially a 925 with an sd card lol

This phone isn't comming to Sprint.. correct? The 636 is... correct?

All rumor at this point, so don't bet on anything.

Technically 636 is a rumored phone. I read it somewhere. Lol. Sent from somewhere. Don't worry I ain't illegal.

I heard that Denim update will give us a chance to take pictures instantly. You says there is no camera button at all....! Then how come we will take pictures instantly???

On screen buttons. It's also only partially Denim, the other half is the unreleased Lumia Camera software. Too early to say what effect, if any, it will have on the Lumia 735.

Nice looking! I'm surprised that I'm actually liking that orange color.

Still not sure about Lumia 730/735. Besides the processor/RAM and front facing camera, it's almost a downgrade from Lumia 720. Can't stand losing camera button, capacitive buttons and some software options that I have in my Lumia 720 for about the same price I paid in it the last year. I'm even considering Blu Win HD as a "cheaper but equal" replacement for my 720.

Any word on off-contract (expansys / B&H) pricing for the US?

Yay! Can't wait to watch the video once I'm done grading essays :/ Hey Daniel, can you confirm if the 735 supports sensorcore just like the 635 to track steps, etc? Hopefully we'll get some info on price soon... I'm praying for something around $200, otherwise I'll have to get the 635.

SensorCore is there, you'll see in the video towards the end. Good luck on the essays ;)

That's fantastic, thanks man! (still grading...)

Is this a Microphone near the flash?

Yes, it has a mic near the flash for video.

Looks great. ALMOST a home run. No camera button kinda sucks. One of the features that lured me to WP in the first place.

Maybe t mobile will get the 735

2 questions:
Is it possible to change the Start layout to 2 columns of tiles? And is it possible despite the fact that it doesn't have Glance to set up a clock app when it's on a wireless charger? Would be great to know. Thanks and keep up the very professional work!

Thanks! Nope on the 2 columns :/ Regarding the clock app, I'm sure there is something on the Store, but I haven't check in awhile.

Is 530,525,630 eligible for denim???

Sure, everyone should get Denim at some point.

"some point" Sent from somewhere. Don't worry I ain't illegal.

I have a 822, but would really like the larger screen and better resolution. If this is around $200-250 off contract I may get this and wait until the spring and use my upgrade for a flagship Windows 10 phone. I will just have to live without glance.

I love it this lumia 730.in indonesia not have a 4G LTE so im choice 730 with dual sim cards.wide screen in front its very awesome!!

Sorry can i get earphone if i buying this?

Still waiting to see what price and when it will be available at AT&T, Amazon, and the Microsoft Store. Usually AT&T has a good price on the phones that they have locked to AT&T. AS I am a Consumer Cellular customer I can use AT&T phones on Consumer Cellular with no lost of any features. Best move I ever made switching to CC as I get all of AT&T benifits for half the price. Don't understand why more people have not switched.


Well update number 12 for Xbox music.
What about the Xbox gaming hub, runs awful and has got a total of zero updates.
Why does WPC not cover this?

Nice article, Daniel. I have a few questions: 1. why didn't they upgrade the camera? 2. How's the dynamic range of the front camera? 3. Is HDR available on board? 4. I want to upgrade to this from my new 630 solely based on the camera. Is it justifiable? Thanks.

I think the camera is upgraded slightly in design/software, but overall, it's a great camera for this price range. Dynamic range seems solid with the FF camera. HDR is not available, yet. The Lumia Camera software, due in Q4, is supposed to bring this to some Lumia phones and hopefully the Lumia 735. Re: 630, yeah, it's a significantly better camera.

But the sensor size has increased from 1/3.4 in L720 to 1/3.2 in L730. Which means it should click better photographs. Daniel can you confirm ?? (btw I already have L720, and find this as a worthy upgrade)

Lumia 730 have the same sensor size. 1/3.4. :]

Once again no word from TMOBILE. I want this phone or the 830. Why only 530 and 635? TMOBILE is king of low end windows phones. Would switch but can't due to great international roaming plan. Come on TMOBILE, is one mid range windows phone too much to ask for? I know HTC M8 is coming "soon", but I am a Nokia guy since 1999!!

The main camera did not have wide angle lense?

Too big, no glance, no camera shutter button, on screen instead of capacitive buttons, and comes in goofy colors. Other than that it looks nice.

Unless you have small hands, it's really not big at all, in fact, it is one of the smallest, thinnest and lightest Lumias around. White or black are available too, so you have your, ahem, boring colors ;)

Thinnest and lightest but it's almost as tall as the 930. I guess in today's world where every phone has to be huge it's not too bad but it's a far cry from the sleek and sexy 720 which had a camera button and came in colors other than orange and green.

Was this an unlocked version? If I remember correctly you're mainly on T-Mobile and I wanted to know if you got LTE on the phone (I believe it needs bands 2, 4, 17?)

Can anybody tell me what is "BeiDou"?

I think it has to do with chineese version of gps

I will replace my Nokia Lumia 1320 with this 735 if it comes to Philippines. I don't bother not having Glance and Camera button. I don't even use the camera button on NL 1320 but I will miss Glance and the tiger background :(

I was eagerly waiting for this phone to upgrade from my L620. But the lack of Glance is a bummer. I'm so used to glance on my phone that I can't use a phone without glance anymore.

Agreed! No Glance = No Sale!!

I did that upgrade on Friday and I am satisfied. I had 620 for more than year. The lack of Glance is little bit bitter but I can live without it. If I compare everything else with 620, the 735 is much better in every aspect - display resolution, responsiveness of system, battery life, camera, display surface (Gorilla 3 is very smooth), etc. More than glance I miss camera button, but you can pin camera app to start screen and you are fine. Try it for yourself and you will not go back to 620.

Trying disabling glance on your phone for one week and see if you can ween off it, don't expect glance on low to mid range now and 730 is the best bang for buck windows phone along with the best dual sim option.

Daniel, any idea does it have the same screen type of L720. What I mean, does it come LCD+digitizer together. I really don't want to spend half the price of phone for replacing a screen, if in case the screen shattered after it falls from the hand. I'm still using a broken screen on my L720 because of the cost to replace the screen. For the same price I will get L530, so I was waiting for L730 and as I see in the video all the weight is on the front panel, so if it falls, the screen is going to face the ground first.

It definitely will be LCD + digitizer, how else do you expect phones to get thinner and thinner or thin phone like this with big battery, you have to let it go as all mid-range and high-end come with this arrangement and soon even low-end will adopt this technology.

What's the difference between a low aperture value versus a high one?

More light Vs less light.
I mean more light goes in a low aperture and less goes in a high aperture. Or its vice versa. I don't exactly remember but it is related to amount of light that enters into the lens. Sent from somewhere. Don't worry I ain't illegal.

Do this mobile support HD video recording..? I came across a site which says these DON'T support.. Please confirm this..

It supports full HD video recording, relax and read the specs on Nokia website and gsmarena.

Hi, when can I buy it in my country Indonesia ?

It has already available at stores now. I'm in Indonesia too, love the white matte one

Are u serious? Lumia 735 ?

i am new to windows phone , my querry might be foolish , but can the 735 shell be interchanged with 730 to get qi wireless charging enabled because they are launching 730 in INDIA and i really want a wireless charging.

No, the 735 shell will not help as 730 does not have wireless charging contacts and circuits found in 735, this can be checked by comparing the backsides of 730 and 735, there is extra contacts in 735 at bottom near battery.

primary camera: 6.7mp FF Zeiss, what's mean by FF?

Its a slippery Phone like 925?

My sisters 720 has glance. Why cant the 730/735 have it. Don't mess this up.

What app is used for motion data? the only one i found is for 1520 only.

Looks like the 920 a little

Three Questions Daniel. 1. How is the battery flaring? 2. Does it take as long as the 920 to open whatsapp and other apps or is it faster? 3. Is the loudspeaker and ringtone volume better than 920?

How do you expect 730 to be faster than 930, same ram, similar CPU performance of dual core krait and quad core A7 and gpu adreno 305 of 730 much less powerful than adreno 225 of 930.

Typo: Meant 920 instead of 930

My girlfriend is thinking about getting her first (I know right?) smartphone. She loves selfies and the bright colors of my Lumia. She also does not want to get a particularily expensive phone. I recommended the 735 because she is on Verizon and it seems to suit her needs. Anyway, my question is: should she still get the 735 if she uses a Mac? I I have a Windows 8.1 ultrabook so I don't know whether there are any syncing issues with OS X or whether a lot of the benefits come (or will come) because of the synergy with a Windows 8.1/10 computer. Any advice? The other option would be to get an iPhone 4s or something but I don't wish iOS on anyone...

Am I the only one excited about on screen buttons? I constantly hit my back and search buttons while holding the phone. This is something that realm is annoying in some games, apps, etc... With virtual you can hide them when necessary and devs can also like when full screen video is playing. This seems much more optimal unless a physical button and no other buttons can accidently get hit. I am also curious about how performance compares to the HTC One M8 and 830. Tmobile would be nice option also. Windows growth is primed to grow with these type of devices. Looking forward to next year and a real new flagship!

I would love on screen buttons if Microsoft would just decrease the bezels at the bottom. Man they removed the capacitive buttons but didn't decrease the bezels. :(

You can only hide the on screen buttons on phone that have a standard resolution. On phones like the Lumia 635 that have slightly longer screens, the buttons are everpresent.

Nice review .. hope lumia 830 tooo!! :)

Hey Daniel ur looking quite good in dis selfie....

Oh my god what a beauty! Pls some one give me a 730 free.. Still in 5x family..

The author has written that 735 has better GPU than 720. But according to specs both have the same GPU : Adreno 305.

Both 73x have same GPU as 720 (Adreno 305) so how come this has better GPU as saw in the post?

+100, he was mistaken, all snapdragon 400 have crap adreno 305 gpu.

How's the phone call quality? And how's the audio sound loudspeaker now that L735/L730 doesn't come with Dolby?

Interested in this also - read a review indicating it's not that strong.

Form what I read call quality is great as always. Sound level is a little less loud, but check youtube. There's a video demonstrating the max volume level.

Okay I'll check it out. By the way, it would be great if the loudspeakers were placed on the front with the screen in lumia phones.

is there any chances of getting the glance support in future updates in the 730 and 735

The phone shape reminds me of Lumia 800. Microsoft needs to provide entry level Windows Phones with these configurations. 730/735 should be priced at the level of 525 and 830 should be priced at the level of what the current price of 730/735 is. Microsoft needs to redefine the base level for Windows Phone.

Agreed a thousand times! Given the Moto G, albeit on another platform, msft need to be far more aggressive on pricing.

Hi Daniel, could you confirm whether Denim brings a smart dialer to wp? Additionally, does the 735 support openvpn? That would make it an awesome Enterprise proposition! And what is the battery like? The 5" 830 having a similar battery sounds like it's going to be an issue...

plastic back looks little cheap. How does it feels?

Shiney plastic looks a bit cheap to me too. Therefore I will get a blackgrey, white and green cover. Those are matt.

I'd really like lumia 830 to be compared to a phone such as huawei p7. They are in the same price range (lumia possibly being a bit more expensive), but p7 has more ram (2gb), and a faster quad-core cpu...
Had I not been a wp fan, I'd seriuosly consider that android

BUT FIRST LET ME TAKE A SELFIE....

Nice first look, thanks for that. I'm not sure but for me the best selfie - Windows Phone is still the HTX 8X. The front facing camera has 2 megapixels, a f2.0 lense and a crazy wide angle for realy cool shots. I know that it has no cool nokia applications, poor battery life and limited onboard storage. But if you are ok with all this I think that the 8X would work better (for me). Just my two cents :-)

This 6.7MP backshooter with F1.9 lens is indeed probably the most underestimated phone-cam around :) The Lumia 720 also impressed me a lot with this cam back then!

Is anybody having issues with his Lumia 735? Mine reboots by itself. I just bought it yesterday and it rebooted during the day like 6 times when I was chating, surfing web, etc...
Any idea?

How do you change the colors of the windows buttons at the bottom????

You go to the same place you change the tile colors in the settings c:

Images are relatively fast for a Lumia for taking photos, though the iPhone is still much quicker.

Is it faster at taking pictures, then lets say 1020 ? I guess its a software thing to fix, since all iPhones are quicker at taking pictures from the WindowsPhone 7 onwards.

That is literally the one thing about the iPhone I admire. Their camera is amazingly fast.

Just watched the video review. Looks like a great phone. I like the iphone comparison at the end. haha

Does it have a compass ??

glance and the camera button are my only qualms bout this..........

Cool Phone!!!!. Planning to buy 730 (735 not available in India). It would be my first smartphone.

Nice review> But the charger is NOT international, it's European. outstanding the UK.

i prefer 730/735 over 830

Hey Daniel please compare pictures quality of 735 with the 720. Is it true that 735 contain updated version of Zeiss lens or just the same as 720?

Just got the 730 in white. Feels amazing, had to wait for the white version, it's matte finish. The 830 priced double which doesn't make sense considering the display is 720p

Wear gloves when your lifting Daniel. I can se your corns hahaha. Just kidding! I love your review for 730!

I'm into high end, but I really want this phone, it's so simply nice :)

Love the look of this phone. At the right price it's a better choice than both the 635 and 830...

Nice review, daniel Posted via the Windows Phone Central App for Android

730 vs 830? Which one? This screen looks better

Any chance of Lumia 730 getting Lumia Camera app with rich moment capture and HDR and Best Shot / Action Shot? If not I will buy Lumia 830

My wife got the 735 yesterday for £129.95 from carphone warehouse and I've got to say that on first impressions in the short time I've spent setting it up and downloading apps etc. It is a brilliant device, very sleek and great build quality, great camera & the screen is really sharp. I'm a huge android fan but I'm really itching to get a 735 for myself and see how it suits me as a main device. Overall brilliant phone and would highly recommend it to all :) Posted via the Windows Phone Central App for Android

Forgot to mention, its really fast too Posted via the Windows Phone Central App for Android

Where can you buy the 735 online that has T-Mobile U.S. specs? What is the model number? Thanks.

Nokia is getting so close, but there always seems to be something that means I'm not quite ready to buy. I have a Lumia 620, and a Moto G at the moment, after leaving iPhone 2 years ago. I was ready to buy the 930, but then the lack of SD Card (or 64GB option) and the lack of Glance put me off. I like the look of the 830 BUT the processor is a bit low end (I'd love to be able to say Hey Cortana when that happens) I love the look of the 730 BUT again, lack of Glance, lack of camera button and again low end processor is enough to put me off, plus I'm not keen on the onscreen buttons. I think I'll go for the L830, unless something else comes up in the meantime, due for a new phone in January.

Brilliant phone. Would be better if it has glance.

Did MS exclude glance to reduce cost?

I had a L710, I have now a 720 and I hope some day I'll get this one. Or maybe if I can I'll jump straight to the 830.

Hi daniel .
how the front camera capabilities lumia 830 in low light , is very good as a front camera lumia 920 ? that's what I want to know . please answer

Has the Lumia 735 glance screen option?Can i add any application for glance screen?Lumia 835 has glance screen option!

When lumia 735 will release in india.....??

Is there a way to setup the Wireless charger or something like that? Maybe I'm missing something, but while plugged in, and with NFC on, phone doesn't charge up. :/

Just bought 730, love it so much. Migrate from my dated iPhone 4S. Thanks Nokia.
Anyway, is there a difference between Carl Zeiss and Zeiss lens?

I thought the 735 has a Nano-Sim slot and in the specs is listed a Micro-Sim. Whats right now?