Nokia Lumia 735 – Unboxing and first impressions of the affordable selfie phone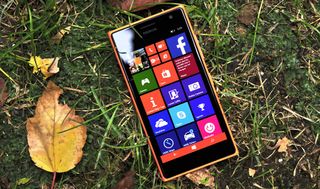 Back at the beginning of September, Microsoft pulled the curtain back on three new Lumia phones: the Lumia 730/ Lumia 735 and the Lumia 830. Just four weeks later and those devices can be found at various retailers and carriers around the world.
Today I am taking a closer look at the Lumia 735 including an unboxing video, sample camera images, high-resolution photos of the phone, and my first thoughts on the successor to the Lumia 720.
Lumia 735 Specifications
Windows Phone 8.1 Update (build 14157) with Lumia Denim
Memory: 1GB RAM, 8 GB internal user memory; 15 GB OneDrive cloud storage , micro SD expandable up to 128 GB
Display: 4.7" HD OLED (1280 x 720, 16:9), 316 PPI, Curved glass (2.25D), ClearBlack, SuperSensitive Touch, High Brightness Mode, Sunlight readability enhancements
Processor: Qualcomm Snapdragon 400 (MSM8926) 1.2 GHz quad-core processor
Primary camera: 6.7 MP FF ZEISS, f/1.9, Full HD video (1920 x 1080 @ 30fps), LED Flash.
Secondary camera: Full HD 5 MP wide angle (2596x1948) f/2.4, Nokia Camera, Nokia Storyteller, Nokia Creative Studio, Lumia Selfie
Size: 134.7 x 68.5 x 8.7 (volumetric) mm
Weight: 133g
Connectivity: NFC, A-GPS/GLONASS, BeiDou, WIFI 802.11 b/g/n, microUSB, BT 4.0 LE, Micro SIM
Battery: Removable 2220 mAh battery, exchangeable shell, Qi wireless charging
Audio: 3.5 mm AV connector (AHJ), Dual microphone, FM Radio, Internet radio
Overall, the Lumia 735, which is the single-SIM LTE variant of the dual-SIM 3G Lumia 730, is a solid upgrade for Lumia 720 users. Improvements include more RAM with 1 GB, faster processor, better GPU, 5 MP front facing camera, thinner profile, and built in Qi-Wireless charging with replaceable back covers.
Quality and feel
The Lumia 735 feels very much like the sibling of the Lumia 720. The phone is light, thin, and it has curved edges. The 4.7-inch display looks great at 316 PPI and with the Corning Gorilla Glass 3 it is smooth to the touch. The ClearBlack polarizer keeps the colors bright and the contrast high.
Later in the hands-on video, I compare it to the new iPhone 6. Both phones seem very similar in size and weight, in fact, I would lump them together. Granted, the iPhone 6 naked is thinner (6.8 mm versus 8.9 mm of the Lumia 735) than the Lumia 735, but iPhones always need a case since they are so delicate. As a result, both devices feel closer in size even with just a thin shell case on the iPhone 6.
Camera
The Lumia 720 had one of my favorite cameras ever due to its sharpness and its low f/1.9 aperture. I am happy to report that this carries over to the Lumia 735. Pictures are sharp as a tack. Likewise, for the front-facing camera, which almost provides too much detail at 5 MP. Color balance on the front-facing camera was redder than I would have liked, although more testing under different conditions is needed.
The Lumia 735 ships with Lumia Denim and Windows Phone 8.1 Update 1, but it does not yet have the Lumia Camera update, due later this year. It is not clear how Lumia Camera, versus the current Nokia Camera app, will or will not improve the speed of photo capturing. Images are relatively fast for a Lumia for taking photos, though the iPhone is still much quicker.
Quick conclusion
I was always a big fan of the Lumia 720 and the Lumia 735 on first blush is carrying the torch well in its memory. Overall, the Lumia 735 improves in nearly every category of its predecessor, and it makes using Windows Phone 8.1 that much more enjoyable.
The one downside is there is no Glance support nor a camera button, as these features are reserved for the higher-end PureView range of Lumias, like the Lumia 830 and up.
For imaging, the Lumia 735 is so far looking to be the best non-PureView camera around, though more testing is needed. Performance of the phone is great with no initial complaints from basic usage.
I plan to spend a few more days with the Lumia 735 to do a camera shootout and more in-depth analysis of the selfie phone.
Do you have a question not answered in the video or this article? Ask below, and I will try to answer.
Daniel Rubino is the Executive Editor of Windows Central, head reviewer, podcast co-host, and analyst. He has been covering Microsoft here since 2007, back when this site was called WMExperts (and later Windows Phone Central). His interests include Windows, Microsoft Surface, laptops, next-gen computing, and arguing with people on the internet.
For those wondering about the Lumia 830: Still waiting on Microsoft to send us over a review unit. Should be due any day now, even though it already overdue. Sit tight.

Okay. Excellent analysis as always!

Looking forward to the 830 review due to that is the phone I'm keen on swapping out my 1020 with.... duh, duh, duuuuuuh

Anyword on when the 830 may be hitting the shelves at AT&T?

We reported on or around Nov 7, unofficially.

I was wondering this as well

I'm interested to know if the Denim update now has a data connection button available in quick actions? This is one thing that many feel was missing in the Cyan 8.1 update.

Nope. Perhaps in Update 2 due later this year?

"Hey Cortana" come with denim by chance?

No. Rumored only for Snapdragon 8xx series devices like the Lumia 930 and Lumia 1520.

So the answer is "Yes" will come with Denim, BUT no love for 730/735, only for Snapdragon 8xx series devices like the Lumia 930 and Lumia 1520

While I think the 830 looks very very nice, I slightly prefer the looks on the 730/735. That's probably because it reminds me of the 920 and 1020, which me and my wife have (respectively). I still think the 920 is the best all around phone in the lineup. Wireless charging that survived the AT&T neuter axe, fast camera with OIS and great low-light performance... and all the other great features we now take for granted or gripe endlessly if they are left out (glance, sunlight readability, camera button, etc). While I think the Icon/930 is a great upgrade spec-wise, having it lack glance is a BIG drawback. That, and carrier exclusivity to Verizon in the US is a huge bummer. I won't be the first to point out that us 920 users are growing long in the tooth for a worthy successor. I'd jump at a 935 with glance restored, or a 1030 with faster internals to speed up the otherwise excellent camera (and throw in wireless charging while your at it).

I actually agree with this. The 730 looks quite a bit better than the 830. I've never really cared for metal phones, plastic ones are much better in my opinion. The design of the Lumia 800, 900, 920 & 1020 is something that needs to come back, and I think the 730 & 735 did it well. Of course, they're the wrong colors (I miss cyan, yellow & red). That being said, the lack of a camera button and use of on-screen nav keys instead of capacitive keys kind of kill it for me. Those were some of the niceties that made me like Nokia's hardware, and for a phone based around a it's FF camera, the lack of a camera button is really weird.

nah, not really, when you decide to take a selfie, chances are you have some time, where as with a rear shooter, your more than likely trying to capture a moment very quickly!

I suppose you're right. Still, I'd still like to have a camera button.

everyone would, but you gotta draw the line between high and mid range somewhere!

The line between mid and high range should'nt be the removal of the camera button.

what else can they remove that would make a noticeable impact without ruining what makes a WP great? its perfectly acceptable.. especially in an era where most manufactuers already abandoned the camera button completely

It's not acceptable, it's cheap and dumb. The physical camera button was one of the things that made WP unique and losing it is just watering down the brand even more. To cut down costs they can make the entire device smaller and easier to use with one hand. There's no reason for the 730 to be another oversized phone other than to jump on the big is better bandwagon. The 720 was a sleek sexy phone that was easy to use. It also had a camera button and capacitive buttons. Go figure.

Losing that button, however, is one of the reasons why now everybody and their mother is releasing different WP models all around the world in all sorts of markets.

I take it you are unfamiliar with the popular TURBOselfie?

Thing that stands out most is how bad an iphone6 looks in comparison, this Lumia 735 is 25% of the price yet pretty much better in every way besides the cpu/gpu. Just crazy. Especially in markets where mobile plans are more transparent this is painfully obvious.

There many other things that the iPhone can do better than lumia 73x. Sent from somewhere. Don't worry I ain't illegal.

Yeah, bending is one of them.

You are holding it wrong -_-

...and you end up paying double or even triple in some markets to get an iPhone. With that money I'd rather get the Lumia 735 plus the new Qi charging pad, a couple of extra Qi shells of different colours, the Miracast HD-10 thing and nicer headphones.

There is one good reason to buy an iPhone, and only one... If you like using gadgets that hook up to your phone, the iPhone will allways have an app. This is a problem for me, on my lumia 1020. No apps for the services I use, like Polar training computers, smugmug etc. and I hope this is fixed with win 10 and its universal apps.

That's why they are flying off the shelves. And Microsoft is making cheap selfie phones.

Only perhaps in the US. Outside of the US people have more common sense. In China there's even a guy believing the same thing as you do and spent lost of money hoping to score...lost...and jumped of a building. You won't? Promise?

I have the cyan 920... It's quite gorgeous even after nearly 2 years of ownership. My wife has the yellow 1020, which is quite fetching as well. I think it's quite funny with the metal versus plastic discussion. Nokia (now MS) uses high quality polycarbonate. Yes it's fancy "plastic", but it's very durable. And it comes in bright colors, which is surprisingly practical once you get used to how much easier it is to find your phone around the house or in a cluttered hand-bag (both scenarious have played out numerous times with my wife).

I HAD a 620 that i loved because i got all the imaging and audio features i needed at an extremely budget price, $80 flat. It's been a great phone, but 8.1 made the battery a real piece. I also doubt it will ever get Cyan, as black was skipped. Looking towards the 830, wishing for a 930 (but no love for AT&T), i finallly bit the bullet on a new used 920. So far I am very happy. Even being old, it doesn't feel like it at all. It is a big upgrade from the 620, and I also got it on Ebay for less than $80 shipped. Now i can wait for the phone i REALLY want, which i feel probably hasn't been released yet, for a while before new new phone eny kicks in.

Yeah totally agree. I wonder why MS ditched red and yellow colors for Lumias. They were much better color option than these green and orange. They should have kept red and yellow along with these new color options. Hope MS will give us red and yellow 730s soon.

Maybe in 2015 we may get new colors. I'm hoping to see cyan return since that was my favroite, especially on the 920.

Brilliant Blue is coming. Don't know if that's the same as the color Cyan.

I heard the screen of the 830 is much better than the 730 in person but you will have to pay a bit more for that. For the price point and specs the 735 is a sweet buy.

One is AMOLED, the other one is IPS. It really just depends on what each person prefers. I've had IPS displays for a few years and I can't wait to get back to an AMOLED.

I'd agree with you on the AMOLED. But doesn't AMOLED means no Glance on the Lumia range?

Mingu7 you read my mind!!! My thoughts exactly.

That's the one I'm looking forward to. I miss unibody flagship phones. Hope the next batch have more of a mix. I think the metal band kills the colours a bit. Unless it's with black, white, grey etc. Bright colours need full on polycarbonate.

Daniel I can't wait to se the Lumia 830 video. I'm planing on upgrading from my Lumia 520 to the 830 early next year and there aren't any decent videos on YouTube about it. I'd really like to see a nice in-depth "Rubino style" video of the 830. I hope you can deliver.

Don't forget to include front cam in the review of 830, it is the only thing in which 830 is somewhat behind for an 'affordable flagship'

I don't think it's too much different from 930 (830: 1 MegaPixels x 930: 1,2 MegaPixels) and (1280 x 720 pixels x 1280 x 960 pixels)

hmm waiting for the complete review of both Lumia 730/735 and lumia 830. Eventhough it is released here in India(lumia 730) not yet available in nokia priority stores will check out today for sure if it is available offline.

Daniel thanks for letting us know a 830 review is on the way. I've been asking on almost every post but been ignored. Shame Microsoft haven't given you priority. Considering the 830 is arguably their most important release for the end of 2014 you should have been given a test device weeks ago. Another Epic fail Microsoft.

Hey, Dan, please if possible, try testing the phone under "load" - like several apps with background tasks (e.g. lockscreen app, newsreader, weather, whatsapp or similar etc) and also switching between various memory demanding apps. I have a Lumia 620 with 512MB RAM and I am not convinced 8.1 runs fine on that. Too much loading and resuming sometimes even when returning to homescreen. So I'd like to see if there is any difference with the newer processor and Denim firmware.

If you will have to pick the better one, which one would you pick? Lumia 730 or Lumia 720?

Also did you post a review for HTC One (M8) for Windows?

Also..did u post a review for HTC One M8 for Windows?

Thanks for the heads up Daniel, as always, waiting for your review before making the purchase. It'll be between 830/930, as both of them are within £80 of each others it seems!

I amazed cuz that awesome thing is not unibody!

Removable unibody, as strange as that seems.

Well, Sprint is rumored to get the Lumia 735 or possibly another Lumia. Verizon I would consider confirmed as I have seen it.

Good thing about Verizon is that they announce and sell devices same day or few days later.

Any ETA or approximate timeline on when Verizon is going to get this? Would love to replace my 822 with it mid Nov when my contract is up.

Any ETA or approximate timeline on when Verizon is going to get this? Would love to replace my 822 with it mid Nov when my contract is up.

Is this coming to other US carriers besides Verizon?

The 830 seems a better upgrade than the 730 IMO. It carries over the good looking body with an upgraded camera. I don't mind shelling a few extra pennies for that. The lack of dedicated camera button and glance is a deal breaker for me. Not too much bothered about front camera so the almost 1mp in 830 is ok in favour of the 5mp in the 730.

Yeah... It's all about taste and preference...

830 is 150$ more than 730$ , but IMO the 730 is a better upgrade than the 630.
I mean , for 50$ more than the 630 price , you get 1 GB ram , a huge 2200mah battery , 720p res , a 5 MP FFC , a flash for the main cam, 4 GB more storage , I mean there's no point at all buying a 635 now ...
for 100$ , you have the 530
for 200$ , you have the 730
for 350$ , you have the 830
for 500$ , you have the 930/icon/1520/1020
each one of these phones is a beast in his price range , except the 630/635 ...