Nokia Lumia 820 SIM free will be 4G enabled in the UK at certain retailers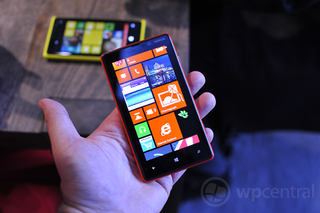 We received an interesting email today from unlocked-mobiles.com (opens in new tab) who have informed me that there will in fact be two variants of the Nokia Lumia 820 on sale in the UK. Most retailers will be selling the 3G version but the stock coming into unlocked-mobiles.com are 4G enabled.
So what does this mean for us consumers? Currently if you are looking to jump on the UK 4G LTE bandwagon you only have one carrier option at the moment and that is with EE. All the other UK carriers will have 4G in the near future but many of us smartphone geeks want the fastest connection as soon as possible. We have tested out the EE 4G speeds as you have seen and getting the new service in the UK is like a breath of fresh air, but it also comes at a cost.
So what if you buy the Nokia Lumia 820 SIM free and wait for the carrier of your choice to roll out their own LTE service. One clear benefit here is that you will not be tied to a expensive 24 month contract and you have the choice to go either SIM free or PAYG. And with the Lumia 820 only costing £394.98 Inc VAT this could well be the best value option if you are either joining the Windows Phone gang or just looking for an upgrade. Worth considering, don't you think?
The Nokia Lumia 820 will be in stock on 12th November. Pre-order here if you're tempted. I kind of am.
Windows Central Newsletter
Get the best of Windows Central in in your inbox, every day!
The Lumia 920 in the background looks delicious, like something you can eat.

Sooo still no word on U.S 920 for atnt?

To be honest, I think no retailer knows exactly what is going on with the Lumia situation from EE to Nokia themselves!.


EE online sales called me today to confirm that the Nokia Lumia 920 will be dispatched when it arrives on the 17th November.

Carphone Warehouse lists the 820 as being 4G ready. But in the small print it states ' in order for the Lumia to access a 4g network it will need to receive an over the air software update....'
I actually think they all will be, doesn't make sense to make variants. All 820's should get this update if this is true.
I never spotted this small print before.

my country don't have yet any of those 920 & 820

Well if ur from India...they might be coming in December as the Chinese too are getting them in December

http://www.carphonewarehouse.com/mobiles/mobile-phones/NOKIA-LUMIA-820
Link to Carphone warehouse 820 page.... Scroll down to the bottom for the small print on 4G

http://www.carphonewarehouse.com/mobiles/mobile-phones/NOKIA-LUMIA-820
Link to Carphone warehouse 820 page.... Scroll down to the bottom for the small print on 4G

Just went down and viewed the Nokia 920 at phones 4 u, they have it in white, but none in stock. They also have the HTC 8 s in purple. Not quite sure but i think the Nokia 920 was £450 off line.

norville2, just to point out that @nokia_uk on Twitter has confirmed that the NOKIA Lumia 920 will 'not' be Unlocked during the Exclusivity Period, the SIM Free handsets will be Locked to the EE/Orange/T-Mobile mob until NOKIA finally sees sense and ends this ridiculous Exclusivity Period :-/

I'm really hoping a completely sim-free unlocked Lumia 920 is going to be available by March as I am not switching from my carrier!

Buy it from an Italian online store, we use to buy unlocked phones not to be bound to carriers and to be free of change more than one phone every year ;)

Buy the Surface phone in March instead. ;)

Well that assumes a Surface phone exists and that, if it does, buying one of those those will be any easier than buying a 920 or a Surface for that matter. I am at a loss to understand why buying a phone or a tablet should be so difficult. Nokia and Microsoft are asvertising the Surface and 920 here in the UK but it is simply impossible to buy either of them (EE doesn't count - no-one in the Uk would consider them outside of the very few areas where they actually have reliable 3g coverage let alone 4g) - their reputation is awful). No stock of Surface, with or without the touch cover other than the overpriced 64 gb model. Even looked for another Windows 8/RT tablet but none of the numerous devices that have been announced are apparently available either - a huge selection of dull Windows 8 laptops but that's it. Actually, Amazon are offering the Ativ Tab but with up to 3 months wait for delivery!!Do they not want this to succeed? Why spend money advertising the heck out of products that no-one can actually buy?? Suddenly Android is looking attractive.

Agreed, Nokia have shot themselves in the foot with this stupid excluisvity deal.
HTC devices look nice, but have epic battery fail.
At this point, I am seriously considering either an iPhone 5, or the HTC 8s as a cheap interim until this mess untangles itself.

How to Opt for Mobile Phone Unlocking Switching to a different network provider using a locked phone isn't possible simply because the handset is tied to the network provider you purchase it from. Therefore, if at any point of time, you try inserting the SIM card of another service provider your phone will show signs such as "Invalid SIM", "No SIM", etc. Hence, if you wish to insert the SIM card of another service provider that offers a better call plan comparatively, then consider getting your phone unlocked with the help of a leading and authorized unlocking service provider. Mobile Unlocking - What is it? How we unlock a mobile? If this is one question that crosses your mind often, then you must know that there are various methods using which you can unlock your handset easily. Many people use hardware unlocking method to unlock their phones but that can have implications on the overall performance of the handset. There are others who still use software unlocking to insert different SIM cards offered by various network providers in their handsets. In such a scenario, the obvious question that occurs to your mind is: how we unlock a mobile? The safest and easiest way to get your phone unlocked is to opt for the IMEI code unlocking. The IMEI mobile phone unlocking procedure is both legal and permanent. Besides, it does not affect the performance of your cell phone either. As part of offering unlocking services, the unlocking provider will give you phone unlock codes that are generated on the basis of the fifteen digit IMEI serial number provided by you. Post unlocking your phone is ready for inserting the SIM card of any GSM provider of your choice. Also, you won't have to pay hefty roaming charges every time you travel to an international location. This is because you can easily insert a SIM card of a local service provider and pay the locally applicable messaging and call charges. However, mobile phones that are barred, blacklisted, or reported stolen cannot be unlocked by any unlocking provider. Therefore, it is always a good idea to approach a reputed and experienced unlocking provider that is capable of offering quick and convenient mobile unlocking services. An authorized unlocking provider will give you all the requisite instructions for unlocking, the moment you place an unlocking request with them. The company will send an email confirmation after receiving all your details. Once you have received the confirmation, you can use the unlocking code to unlock your phone instantly.
Windows Central Newsletter
Thank you for signing up to Windows Central. You will receive a verification email shortly.
There was a problem. Please refresh the page and try again.