Nokia Lumia 925 launching this Saturday in Singapore, Lumia 1020 in Q3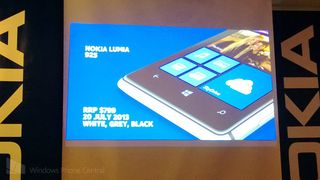 We first saw the Nokia Lumia 925 at an event in London back in mid-May. It marked the first time aluminum was used as the majority of material in a Lumia. I guess you could call it the Luminium 925. Lame jokes aside, the device hit folks in the UK and Europe a month later and then just today on T-Mobile in the United States. Now our pals in Singapore are three days away from being the first with the device in Asia.
Windows Phone Central reader LastBattle recently attended an event put on by Nokia Singapore at Tea Chapter in Singapore. There he and others had a chance to play with the Luminium beast and learn about the availability of the device in Singapore.
If you're in Singapore you'll be happy to know that starting this Saturday, July 20th, you'll be able to pick up the Lumia 925 on three carriers- Singtel, Starhub and M1 Limited. The device will retail for 799.00 Singapore Dollars (about $633 USD). And depending on the carrier you'll get some accessories bundled with the device (think JBL speakers, headsets, and wireless charging solutions). No word on which carrier is giving what out though.
At the event it was also announced that Singapore will be getting the Nokia Lumia 1020 and its 41 million pixels in Q3 of this year I meant to to say Q4.
The Nokia Lumia 925 that is launching in a few days will be accompanied by an advertising campaign centered on Ip Man that will target Southeast Asia and China. Go watch the film on Netflix that is loosely based on the true story, thank me later. Here's a video from the Nokia Singapore YouTube channel that gives you an idea of how they are tying in Ip Man with the Lumia 925.
Any of our readers over there in Southeast Asia thinking of picking up this phone? If you're not sure yet be sure to read our review (it might be the best Windows Phone you can buy right now).
Thanks for the story and images LastBattle!
Get the Windows Central Newsletter
All the latest news, reviews, and guides for Windows and Xbox diehards.
Are we not already in Q3 ?

The march towards worldwide domination continues.

Come to Indonesia Pleaseee

Yes please.. Especially that Monster 1020

Shame on Canadian carriers!

Ip man 1 & 2 are awesome. Bruce Lee pictures show up at the end of part 2 ;)

Nokia Thailand already start to sell Lumia 925!!!

Yes, I was over at Bangkok, Thailand last weekend and Nokia Thailand is selling the Lumia,925 for 18,500 THB. That works out to be around 750 SGD, or 595 USD...

Yeah, launched in Thailand 10th July, I picked mine up 11th. Beautiful phone!


Was tempted to get the phone when I saw it, but had to curb my urge due to warranty issues. What happens if the phone screws up and I have to send it in for servicing? I can't possibly fly all the way back to Thailand just to service to phone...

Sure, best to buy in your home country! I bought the black version, the phone is unbelievably thin, light & extremely stylish; although the aluminium is not totally black but rather a dark burgandy/purplish colour.
The camera is a big improvement in over the 920, images are a lot sharper.

You bet I will, with just 2 more days to go. Too bad we're getting only the 16GB version which is a letdown.

I believe it should have been Q4 for the Nokia Lumia 1020

sea, philippines.. no word yet... but good to hear our singapore brothers will get to enjoy lumia 925...

Just got the 820 since Philippine carriers are still with that exclusive crap.. Seriously, there's only 2 of you and you still play exclusive? -_- I'll be waiting for the 1020 instead so Nokia PH should step up.

Ill be in Singapore next week - just wondering buying the phone there will any cheaper than buying it in India, also will there be international warranty offered? Please advise!!

If you buy in retail nokia store they will give you an international warranty, that is standard here in SG for all device even TV. If you buy somewhere make sure to ask this question.

Lucky im here in Singapore, but my 920 just 5 months in my hand, im eagerly looking out 1020.

.please come to the philippines..and don't forget to take the 41mp beast with you.. ^_^

I hope it won't cost more than P30,000!

Please come to Malaysia, Lumia 1020...

Yes, please come to Malaysia in Q3


So glad that our Malaysian brothers have an eye on lumia devices

Hey Sam, LastBattle here. Just a little correction, the 1020 should be launching by Q4 2013 instead.


Here's the photos taken: https://skydrive.live.com/redir?resid=3163F1C4D2DDB4CE!4425&authkey=!AJHPPXPh7l6udwQ
If anyone is intereseted ;)

How to choose between Lumia 925 and 1020? They should launch both on the same time so consumer can make decision faster hence more sales!

i hope it will arrive in the Philippines within this year too (around Q4), so by late 2014 it'll be already available to local carriers.... just in time for my upgrade. yey!
i prolly would not change my smartphone anymore as long as i have that 41MP, not unless nokia will have something better than that!

Hope.. come to Indonesia, Lumia 1020

I thought Lumia 925 has already been selling in China for almost 1 MONTH and in some other Asian markets as well. Why are you saying that Singapore will be the first to be with the device in Asia?

I think you've said the answer, lol...

The Nokia Lumia 1020 arrives in Singapore in Q4, not Q3.

Alright. Not Hong Kong again. I'd better buy 925 in US, even if i don't like the T-Mobile LOGO!!

If it hits the Philippines, I will definitely get one! *1020 :)

ohhhhh maaa godddd,, when will the monster 1020 ship to malaysia, i really want it, im the first one will buy it when arrive in malaysia, haha