Nokia Lumia 930 available for pre-order in Belgium and Vietnam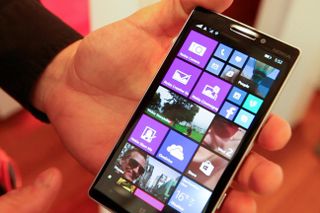 The Nokia Lumia 930 has yet to launch and become officially available for purchase, but that hasn't halted retailers from riding the hype train and firing up pre-orders. The latest markets to be included on this ride are Vietnam and Belgium, both retailers following suit with an expected release sometime early July. Microsoft formally unveiled the Lumia 930 at a media event in Vietnam today, noting that the smartphone will cost 12,999,000 VND ($610) off contract (starting July 1), while Cool Blue in Belgium has the device listed at €499,99 ($680).
To remind us all of what's included in the price, the phone has a 5-inch 1080p display, with a 2.2Ghz Snapdragon 800 processor inside, along with 2GB of RAM, and 32GB for storage. The rear PureView camera supports an impressive 20 megapixels, enabling owners to take some superb photographs. Think of the Lumia Icon, but internationally available. Microsoft will reportedly be running a discount offer in Vietnam.
Which color will you go for?
Source: Cool Blue, Techrum.vn, via: WMPU
Thanks to Arlen and Heru for the tips!
Windows Central Newsletter
Get the best of Windows Central in your inbox, every day!
Rich Edmonds was formerly a Senior Editor of PC hardware at Windows Central, covering everything related to PC components and NAS. He's been involved in technology for more than a decade and knows a thing or two about the magic inside a PC chassis. You can follow him on Twitter at @RichEdmonds.
It feels like nokia Lumia 930 is available all over the world except India!!

Trueeee... i hope they launch it soon for around 30k

If 30k I'm in a mode to buy it. But it definitely will cost 40k

Yeah! 40k is definitely on board!

Don`t worry, it`s not available anywhere yet. None of us can buy it. Don`t be fooled by these announcements, they just keep paper-launching this phone over and over again with no firm shipping date for actual units.

How about flippin' America? Verizon has a monopoly on the Icon and L920 users are left out in the cold.

I expect it would not be early than 15 july.. Waiting in india!

"available" Also, wanna try South Africa? Still nothing here... The 630 was only recently listed on their site and under the Coming Soon label of awesomeness.

India and Australia. I'm tempted to go to Vietnam to get one. :D

I wish this phone was available in the US. (and I don't mean verizon)

I know that feel being on Verizon. Still feel sick about the 920. lol

Yay for Belgium. Nothing too soon tbh.

When will it be available in CANADA?!??!?!!

Dude even the 1520 is not yet in canada :/

We have nothing up here in Canada. No love from Nokia.

I need 5" version of 1520 ;-; Is this too much too ask? ;-;

I want a Lumia 930 ; ; I wish there was a world version so I can get it for T-Mobile. I still have my 810 and I love it. But seeing how T-Mobile hates WP. I really would love a world version of he 930. It has everything I want in a WP minus the store but with 100 GB + one drive I can survive.

Fly to Vietnam in July to get it :). It's cheaper than other market

I bought a 1520 after waiting so long for 930....the wait was getting too much and we still don't have a date for it's release in India

When the F is it coming to Australia!!

@Jacob, according to WPDownUnder , Australia will be getting the Lumia 930 sometime in July this year.

By the way, the Belgiam store, not only offers it for 499€, it also throws in a free wireless charging plate. Now if only they'd fix the damn credit cards system I could pre-order there as it's a bargain.

I think Microsoft should sell there phones unlocked right from there stores, just like Google and the Nexus. The easier they make it for consumers to get there hands on there hardware the more they will sell.

the all new Lumia line where already for pro order in the benelux. still waiting for an renplacement of the lumia 1020.


There is no yellow! Hahaha!! Get it in green!!

Sorry. I checked official nokia site then i found green , red , white and black colour are available.

The coolblue preorder page is actually over a week old and has an expected delivery date of 25-07... At least the price is low(ish), considering that the S5 is still €699, the 1520 €549 and the S4 €499, but with a less powerfull processor than the 930.

also if you buy the cellphone this moth, they will give you a free wireless charger, white color, is not like the cool offer of vietnam, but is better than nothing.

Microsoft has a promotional program for customers who pre order Lumia 930 in vietnam :
- 238$ voucher to buy Tommy Hilfger , Diesel ,CK , Nike , Gap , Banana Republic
- a 1 year AIG's warranty package for free hardware replacement up to 1200$
- customers will have a Lumia VIP card which allows them to join premium events of Nokia - Microsoft and they have chance to make they devices more personal by carve whatever thing they want on it by laser
- 46$ to buy Nokia's accessories
- VIP Care service with exclusively hotline for 930 customers
- installment program is supported without interest rate

If this phone will not come in July 1st, I will never ever buy this and just wait for McLaren in November. Oh boy, I think I'm still gonna stick to my 920. It would be exactly 2years in November.

You're gonna stick with the 920. Which is a great phone. I'm not that eager to switch mine for the 930. I'm honestly just getting the 930 because it's Nokia's last Phone and potentially my last WP because of that.

So want it in green (in Denmark)

You know want would be awesome? A working LEGO smartphone that you could basically build the chassis. I'd buy it in a heartbeat.

Ok this time I'll buy Lumia 930 as is but next time would you please Microsoft give me micro SD card slot and replaceable battery?