Pushing into Southeast Asia, Nokia unveils availability for Lumia phones in Malaysia.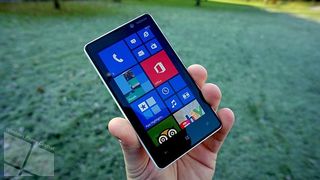 Nokia has announced on its Malaysian Facebook account that the Lumia 920 and Lumia 820 will be available for pre-order in the country from its main stores for RM1,999 (approx. $655) and RM1,599 (approx. $525) respectively. From tomorrow onwards, consumers will be able to contact / visit Nokia stores throughout the country and order their Lumia Windows Phone 8 handset.
It's reported that both Celcom and DiGi will be announcing plans soon for the new hardware. If you haven't done so already, be sure to check out our Lumia 920 review and Lumia 820 review for our thoughts on both devices. Here's hoping the manufacturer has enough stock to meet demands.
Source: Facebook (Nokia Malaysia), via: Lowyat; thanks, Captain Food, for the tip!
Rich Edmonds is Senior Editor of PC hardware at Windows Central, covering everything related to PC components and NAS. He's been involved in technology for more than a decade and knows a thing or two about the magic inside a PC chassis. You can follow him over on Twitter at @RichEdmonds.
All HAIL to the king!!!
Greeting from Malaysia.

AWWWWW YEAAAAH
Hope there's a free charging plate + monster headset for the first 100 customers

Yeah, I'm totally going to a Nokia Store in the morning.

Damn...nokia is all over the place...no wonder they can't produce enough for the USA market

It's the other way around pal, Nokia has always catered to us in Asia. Always first to launch products here. Frankly we feel a little let down that they are in America where people don't appreciate them.

Great! All neighboring countries except India. Sarcasm over

you are getting the amazingly cheap 620.. why complain.

I can see your prejudice. Not all here want cheap phones. There are some who are quite capable of getting high end phones so thank you but no thank you . I was an early adopter getting the HTC HD7 which at that time was a high end phone 2 years back for Rs 30000 Viz roughly 550$s adjusting for inlation current exchange rate etc...etc.... Do you get it now?

Damn, that's cheap! Retail in Aus was $768

I may be wrong but is it possible that they could have factored in the transportation cost coz well Australia is quite some distance away.

Dude.. $696 from Telstra directly.. stop looking at 3rd party retailers.

They said 620 is available in Asia and in January, no set date for that as well.
India is the biggest market for Nokia and for some reason they are excluding it from relelasing the phone earlier. The population of Malaysia (28,334,135) is less than that of our state (Karnataka - 61,130,704) itself! And there are lot of my friends who are looking forward to having the 920.
I recall that lumia 900 released earlier in Pakistan than in India.. I am still baffled by that decision of Nokia.

Over & above no subsidies for us. We have to pay the full cost right up front!

For a large market they need a lot of phones. When there is shortage, they cannot launch. India was in the list but was removed lated... i know it doesnt look fair but with all the statistics only very few will buy 920 and manu will by 620.. that is how we are.. BTW I am indian.. I dont buy expensive phones. My current phone is 710.:).. I was surprise that 620 is so low and launching next month. I will get a few for my folks at home.


yep ..nokia india is testing our patience :- beta they dnt forget "CUSTOMER IS THE KING" !!

In indonesia tooo. I got lumia 920 white via pre order. good cash back :D


Even i'm waiting for the 920 from the start, contacted customer care, this is what they had to say,
"This email is in reference to know the launching date of Nokia lumia 920. We appreciate you for contacting us in this regard and we are glad to take this opportunity to provide you with all relevant information. We are unable to provide the exact date of release or availability information for this phone. All current and upcoming models that Nokia plans to release in India are posted on our website. Each country has a specific time frame which is advised on an as-when-is basis. We also do not have any official information regarding the price and availability of NokiaLumia 920."

I think they are delaying the 920 release in India because service provider exclusivity doesn't work here and the release date is probably going to be around the same time when unlocked 920's hit worldwide, then again i may be wrong.

Remember the same excitement early this year when I bought two Nokia Lumia 800. I'm letting u guys to enjoy the 920 first, i can wait a bit more for the price to go down later. Meanwhile ... I'm enjoying my 11.6" Full HD Windows 8 Tablet ... He he

am gnna wait till nxt week , after that will click on buy now ;- HTC 8x -blue


If u can wait ... and u have long & good track records with ur mobile operator ... there is such thing called ... loyalty program ... u can get good deal on the data plan package with the device. Of course, it depends if ur mobile operator will offer 920 later.

Southeast Asia? When do you come to Cambodia? I've been waiting for Lumia 920 all along!

Waiting for Digi to announce their prices, please be cheap. :

DiGi have already annouced their prices for Lumia 920/820. Check it out: http://www.digi.com.my/PhonesDevices/Nokia_Lumia920.do

DiGi have already announced their prices for Lumia 920/820. Check it out: http://www.digi.com.my/PhonesDevices/Nokia_Lumia920.do

DiGi announced the price, good price I think, but only BLACK and WHITE.
This is very disappointed.

Contact Nokia Malaysia asked for the color choice, the support didn't have the information about the colors, and also do not have information whether the price (RM1999) come with any wireless charging pad or speaker. Sad.

In Indonesia, if you pre-order in the period of 30 November-16 December, you can buy Lumia 920 with special price, IDR 5,499,000 off-contract (equal to USD 575). You can take the lumia on 22-30 December. There are 4 colors available: red, yellow, white and black. I just made my pre-order for the black one.. :P

how about PHILIPPINES?????

Windows Central Newsletter
Thank you for signing up to Windows Central. You will receive a verification email shortly.
There was a problem. Please refresh the page and try again.