Nokia Music unveils free music streaming for U.S.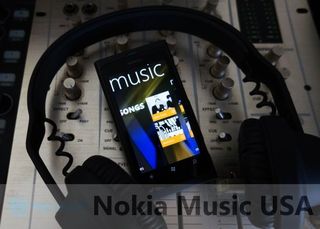 Nokia has announced that their music streaming service is to finally get launched in the U.S. Whilst many countries have seen the service up and running for a while the U.S. has, to date, been left out in the cold.
Not so anymore, Nokia brags about their service having over 150 playlists from Detroit house to Classical music. U.S. users will also be able to take advantage of creating custom playlists and even downloading the playlist for offline use.
Here's what Nokia had to say about the U.S. launch:
Know what? The good news keeps on coming, U.S. users will also be able to use the location based "gig finder" to help take the strain out of deciding where to go. I really like Nokia music, the automatic playlists and curated variant are really rather good. The free service is a real bonus for anyone that owns a Lumia handset. The press release goes on to say that it will be available to those that have Lumia 900 and 710 devices.
Interestingly Nokia also adds,
We wonder will this be something to do with tomorrow? Seems Nokia are getting their services and apps in alignment just in time for the big day.
The launch of Nokia Music in the U.S. is certainly good news. We'd love to know what you think. Oh and while we are at it, we would love to know how you use the Nokia Music services.
EDIT: Currently, you can try and download in the US but for us it is still yet working. Either Nokia will have a new version or the Marketplace needs to push to the US.
Source: Nokia
Windows Central Newsletter
Get the best of Windows Central in in your inbox, every day!
Finally!!!
Been waiting to get this since the launch of Lumia 900. Ad free music streaming is my thing certainly.

I was waiting for this as well!!

Hope not to hear "I hate this exclusive things" complaint again!! If you want them just get a Nokia phone. If you can't contain your fury just switch platform. Plain and simple!!

Hehe... But we may envy nokians? I considered leaving my titan at home only to steal my daughters 710 today on my trip to an European capital, to get city lens. Unfortunately the Sims aren't interchangeable...

This can't possibly be free fir other handsets as Nokia must have to pay for licences to allow the mixes.

Most exclusivity stuff does piss me off and in the end I will switch platform (when a decent android is sub $200) but in this instance, I'm not bothered...

Grooveshark has an html5 mobile version online now, so I just use that.

There are plenty of "decent" androids with that price unless your definition of "decent" is Dual core Snapdragon S4, 1GB of RAM, 32GB of storage, 8MP camera and HD resolution.. Also, why not change your device to a Lumia? A Lumia 900 can be found at $250 on eBay (I know WP 7.8, but still) or wait for the next gen Lumia.. (Hope that the Lumia 820 hits T-Mo)

I hate the exclusive things.

I use it a lot, even created my own mix. Play through my Bluetooth speaker.

Unfortunately the audio quality of the lumia phones is pretty bad to say the least. I still use my iPod as my primary audio device. Only 900 and 710? What about those american customers that bought an unlocked 800 for nearly a thousand dollars?...put your shit together Nokia.

I still think that it will work with the 800 as well, the service is just Nokia lumia dependent and not model dependent. I was able to use my 800 in south africa with a UK setup when the service wasnt in south africa yet

I disagree, the audio quality is rather good through a decent set of head phones. When I first got mine, it sounded terrible through a cheap set of earbuds, so I got a better set, and it sounds just as good as my ZuneHD, and my Itouch.

@miguel...The Lumia 800 was released in Europe first, and those users already have Nokia Music. This announcement was for the U.S. as only the Lumia 900 and 710 were released via carrier.
The Lumia 800 was available via Microsoft, but I'd wager that given that the service is now available in the U.S., that any Lumia in the U.S. can now access it. Give it a try, why don't ya!

Great. Now if MS could pull their thumb out their a** and give us europeans local scout etc. Maybe they should give that project to Nokia so something happens, looks like they are better at getting things like this going.

Yeah, Im a bit bitter, been waiting two years for Local Scout/Zune(Xbox Music) now.

Set your search location as Us, it usually does the trick ;)

Did that and it doesnt work here in Sweden, not on my Omnia anyways.
The point is we shouldnt have to deal with this kind of tinkering. If MS is inteding to compete with Apple then they need to follow through with their work.

I'm in UK, which is part of Europe and I've got Local Scout.

UK get special love from MS. Scandinavia and the rest of us, not so much.

There is an error in the title. North America is not the USA. There is a big part up north called Canada :)

You are right. I have corrected that. Was too ambiguous. Thanks RB

Would be nice to have Green Day at the event tomorrow, but the singer has been hospitalized yesterday amd they had to cancel a show, so I guess it won't happen...

Sweet!! That's a deal Maker! I love music so im totally sold on Nokia now!! =)

No word about Canada... ???

Love using Nokia music, they have some great playlists.

And you can save playlist for offline play, this is perfect, save on my data allotment.

Man, I love that ATIV S. That NOKIA 920 leaks aint doing it for me. That 820 looks better, but it's low end. Hope they have something better aesthetically, cause they sure have some nice add-ons

wonder how long will we wait

looked around on other sites engadget is reporting that it will be in the marketplace sometime todat 9/3/2012. So keep checking Iam sure WPC will update as soon as theyt know.

When will the app be available in marketplace?

Wondering about that myself. No date was announced.

I really know nothing about Nokia's music service but I do subscribe to Zune Pass (or whatever it's called now) on my Lumia 900. Is Nokia's service a viable replacement? I listen to a lot of not-so-mainstream artists and have been very surprised with all of their music on Zune. It would save me the $9.99/month for Zune Pass.

I had the same thought. With this app, is my Zune pass no longer needed?

I thought the same thing. But I use my Zune pass for steaming music at home home from my PC. If we can stream Nokia Music at home I'll drop Zune, but I'll keep it if I can't.

This service is for people that listen on phones, like me. XBox Music subs are for people that want their music everywhere: web, Windows 8, XBox, and their phone.
Plus the 10 MP3 files included every month are nice, too.

Remember that this is more like Spotify. I download albums and individual tracks. Nokia Music is more like customized streaming radio. I'd consider it a compliment, but not a replacement.

I'm happy to hear this!! Nokia Music was one of the main reasons I wanted the l900. :-)

Can't find Nokia Music app? Any help would be great
The QRC code listed is for AlphaJax please change

just checked it out and its Alpha Jax for me as well!

for me too... correct it please!

I suspect that the QR code they were trying to put up was for the original Nokia Music which wont load for us as we were excluded until this new release. Once its out they will post an update to the article hopefully with the correct QR code!

Reading this makes me so happy that I got rid of my Samsung Focus 2 and upgraded to a Nokia Lumia 900, but sad because I jumped the gun and will have to wait 2 years for another upgrade.

Robert could you would you please take down the QR code for Alpha Jax which is mislabeled Nokia Music from this thread? And then let us know when its actually available with the correct QR code. Thanks

Where is the link to the app? The one above comes up with an AlphaJax free game??

QR code takes me to Alpha Jacks as well. Odd...

It would be great if the person who posted this article could actually post the LINK to the software mentioned in the article. HELLO???

Come on Robert... Fix the app link...

I went to the link and it's not available for me to download. My guess is that is because the geographic restriction are still in place. It probably won't be available until tomorrow's event. Nokia's "Conversations" blog doesn't even mention Nokia Music today.

Nokias release says that they released and its available today.....

I don't know why people get sooo upset about the exclusive stuff. Nokia is trying to survive as a company and they are doing it by differentiating themselves. If they help a third party bring an app to the table, they deserve some limited time of exclusivity. If they DEVELOP the app/service like their OWN Nokia Drive or Map or City Lens or this Nokia Music, it's THEIRS. HTC didn't make their GPS app available to Samsung or LG or anyone else. Samsung is keeping "ChatOn" and their little multi-media diary thing all to themselves. Is Nokia exclusivity annoying because the apps are USEFUL??? It is frustrating, but those apps are all available to you, included with your Nokia purchase. Threatening to go to Android shouldn't scare Nokia. You weren't there customer to begin with. It should scare whomever you chose that is ignoring the Windows Phone side of their business.

GUYS SORRY FOR THE CAPS BUT ITS INTENTIONAL
Please at least remove the QR code for alphaJax Free. AT LEAST!

The correct qr code would be nice but at least remove the bogus QR code!

Scan the QR code at the following link
http://allaboutwindowsphone.com/software/content/Nokia-Music.php
It worked for me. Installed the APP and also able to play music.

Windows Central Newsletter
Thank you for signing up to Windows Central. You will receive a verification email shortly.
There was a problem. Please refresh the page and try again.