Nokia pushes out Play To app for Lumia 1520 owners, streams to Xbox One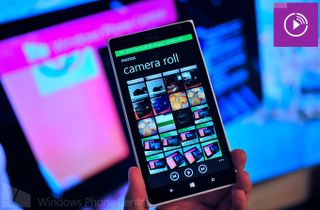 One app that was missing support on the 1080P Lumia 1520 was Nokia's DLNA-enabled Play To. The app was 'not available' to download, presumably due to no display resolution support. Now, Nokia is remedying that by releasing Play To version 3.0 beta.
We just installed the app on our Lumia 1520 and connected it to our Xbox One for a fantastic streaming experience. Photos, video and music were able to show up on our 55-inch TV right from our Lumia phone with ease. Compared to earlier experiences, streaming content was much faster and efficient. We're not sure if that's the new Snapdragon 800 processor or the improved Xbox One, but we like the results.
Version 3.0 also brings these new features over the current 2.x version in the Store:
Support for all WP8 resolutions
Slideshow support for images
Play To works with various DLNA-supported devices including Xbox 360, Xbox One, various TVs, Windows 8 PCs and laptops and more. It does not work with the PlayStation 3 (or we're guessing 4), though Nokia does have this to say:
Regardless, Lumia 1520 owners (and future Lumia 1320 ones too) can now enjoy Play To and DLNA support for their Lumia phone. Pick up Play To version 3.0.2.37 here in the Store.
Don't have a Lumia 1520? Just use the current Play To app found in the Store here.
Source: Nokia Beta Labs
Daniel Rubino is the Editor-in-chief of Windows Central, head reviewer, podcast co-host, and analyst. He has been here covering Microsoft since 2007 when this site was called WMExperts (and later Windows Phone Central). His interests include Windows, Microsoft Surface, laptops, next-gen computing, and for some reason, watches. Before all this tech stuff, he worked on a Ph.D. in linguistics and ran the projectors at movie theaters, which has done absolutely nothing for his career.
Two envious things i read in that article. You have the 1520 and an Xbox One. Aside from that, good work Nokia.

This is my first time hearing of "play to", it says its not available on my device? Using a Lumia 920.

Search for it in store rather than use link in article which is pointing to 1520 version of app.

http://www.windowsphone.com/en-us/store/app/play-to/8257b398-f4bf-4483-97c7-6fd6a1e60bbf

Hopefully this will be available after gdr3. Hopefully gdr3 comes for att sooner than 6months from now

This will be available for GDR3 once the so called Black release roll out starts (expected early 2014). All Lumia devices will be supported starting from 520 to 1520.

I'm assuming when Microsoft buys Nokia, they won't support the PS3 or PS4 (;

Don't get scroogled...we are talking about MS, not Google :)

The changes that would enable it for the PS3 would also enable many extra features for other similarly limited DLNA devices, so there is incentive to do it anyway. Also remember the PS4 doesn't have DLNA at all (maybe it will get it later, who knows -- Sony have kept quiet).

It's a Sony thing, not Msft. (I own a PS4.)

:D MS doesnt give a damn about stuff like that. If they think they can monetize that or profit from it somehow (no matter how small the profits), they'll do it

Any word on when the "share screen" app is coming?

It's here, you just need the Lumia Black firmware to use it. So Lumia 1520 for now and rest of the devices early 2014.

How well does it work for things like games and such?

Can you guys do a video showing us how it works? I realize you did it in Abu Dhabi, but that was on a congested network, and the app might not have been done. I'd be interested to see how it works normally.

Sure, will see about getting Mark to do it.

Daniel, based on this discussion, I thought both Windows 8.1 and Windows Phone don't have screen sharing API.. Nice to know its already cooked in GDR3!

It's called Screen Beamer and came preinstalled on my 1520.

Is there a streaming app wp to tv, for playing games, I know a cable is not supported on wp devices

And to see the WPCentral Windows 8 app on the tablet in the background .... ;) Stop teasing! Will you! :P

I'm reading your comment on it now... Can't reply from it yet though

Will it support "wpcentral:" links like the WP8 app?

Lumia 920 w/ Play To v.2.2.1.4 does not work with the Xbox One :'(

Nothing detects my Xbox one !

Hmm, Play to v 2.2 w Lumia 920 has been explicitly tested with Xbox One. Are those devices connected to same Wi-Fi and have you checked your Xbox One settings?

Sry for being offtopic but anyone noticed that doodle kingdom (sequel to doodledevil) is exclusive for windows phone? Just saying...
http://www.windowsphone.com/de-de/store/app/doodle-kingdom/7a90b2ac-7b49...

Yup. Released 2 days ago as far as i can tell... cant find it on android or ios. I Wonder why @wpscoops didnt tweet about that.

I''ll be pissed if this wasn't baked into the wp8.1 its crazy that you have to use a video for that

I WANT THE NEW VERSION ON MY 920! BAD NOKIA!

Its says in the description that you need the latest firmware for this.... sooo

So that means I can't be upset? I know it requires it...

Patience, it will come. Once Black release based on GDR3 will start rolling out (expected early 2014), all Lumia devices including your Lumia 920 will be supported.

And AT&T Lumia 1020, probably end of 2014, and 820 & 920, middle of 2015. :P

Will they make this for other Lumias and the Surface?

Has anyone tried the WiFi trick yet to see if they can download this to a non-Black device?
I downloaded the storyteller app on my 1020.

It won't work on a non-Black device - it will actually require new firmware to work. App itself is not enough.

This should be basic OS feature, not a Nokia exclusive add on..

Nokia cares (yes, still cares) more about windows phone that Microsoft themselves. They hate Nokia do all the work, and they do barely anything. I rather have black on a GDR1 device than Pre-Amber on a GDR3 device (this is just an example, please don't think logically about that sentence). The firmware is the awesome part.

Not that I needed any more reason to desire a 1520 but this is AWESOME. I hope they don't bother investing too much time into making it work for PS4.
Sorry if you own one, but it's all about the Xbox One!! Yeah!
(Too often there's Xbox related apps that are only available on iOS and Android phones)

I'd never heard of this till this article, but I just installed it on my 1020, and it works a treat streaming video, photos and music tracks to my Panasonic TV. That's a really great feature that is a big enhancement to the phone! Thanks for posting about it.

I says that it's not supported by my device. Anyone else has this problem?

Xbone seems to only support dlna, thought it would have native miracast. Can do play to for videos and music but not second screen. Any idea when miracast is coming to xbone

Its absolutely ridiculous how long its taking MS to release a solid Airplay/Chromecast competitor. As an ex-iOS/Android user, its one feature i miss THE MOST, second only to Wireless sync. The play to app is finicky, the Nokia Beamer app looks good, but seems limited in use. I want something that I can use on my Win 8.1 laptop/Lumia 1020 to beam to my home theater windows 8.1 desktop (mirroring AND media strwaming). Right now, its easier for me to use AIRPLAY to do it (i have installed the app Reflector on the HTPC and AirParrot on my laptop to do mirroring)

Does anyone knows if it supports streaming of drm music files content from Xbox Music (saved on the phone)?

"Play to" on L920 in tandem with samsung F5300 smart TV plays music from phone well, but video playback is very slow - video stops every 5 secs to load - useless in this aspect, images also loads pretty slow on TV screen
Windows Central Newsletter
Thank you for signing up to Windows Central. You will receive a verification email shortly.
There was a problem. Please refresh the page and try again.