Nokia not to hit US with Windows Phones until 2012?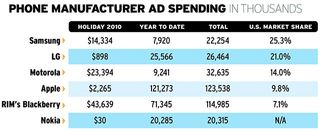 According to a report over at AdAge, Nokia is set to skip the U.S. and focus solely on Europe for the 2011 holiday season. We expect to see what the manufacturer has to offer consumers tomorrow with the unveiling of the Nokia 800 (opens in new tab) (Sea Ray), among possible other handsets. The above chart shows the amount of advertising investment manufacturers have made in the U.S.
We covered Nokia's plans a while ago where targeting Europe for 2011 (opens in new tab), early 2012, with their first handset is top priority. We suspect the U.S. will come soon after when volume rolls out (opens in new tab) with Russia being covered too (opens in new tab). This is a logical plan of action with Windows Phone being the last life line for the manufacturer. Time to get the device and marketing perfect for one audience before targeting another.
Source: AdAge (opens in new tab), via: DailyTech Thanks goes out to Lesley for the tip!
Windows Central Newsletter
Get the best of Windows Central in in your inbox, every day!
Rich Edmonds was formerly a Senior Editor of PC hardware at Windows Central, covering everything related to PC components and NAS. He's been involved in technology for more than a decade and knows a thing or two about the magic inside a PC chassis. You can follow him on Twitter at @RichEdmonds.
That was always the plan if the sea ray has the same penta band 3G radio as the Symbian handsets then those who really want it will import it. I believe the Nokia Ace is really aimed at the American market however.

So true. I really like the flexibility of an unlocked, penta band device, and given that Chris Weber stated that in the U.S. Nokia would be focusing on carrier devices (I read that to mean that unlocked Nokia WP devices wouldn't be available), I'm really considering importing.The leaked spec of the Ace/900 is fine, but if it has a physical QWERTY (as rumored), I'm not interested.

I personally would be surprised if Nokia release a slide sliding qwerty device before WP8. Nokia pride themselves on the fact that Symbian all rotates and we know WP doesnt currently.

T-Mobile will be getting a Nokia WP7.5 device in time for Xmas. Perhaps it will be this:http://thenokiablog.com/2011/10/25/nokia-900-leak/

Can you provide the source for T-Mobile getting a Nokia WP device in 2011? Thanks!

No source. Only my gut. :D

At this point in time, Tmo appears to be concentrating on Android phones with lots of advertisement for the GS2 and Amaze. As you can see, the Radar has little press from them. If anything Nokia probably will show up on ATT first. If Tmo fans of wp are lucky enough, maybe they'll have this for next year. though i doubt. Even so, az a Tmo customer I'll start praying that Tmo one day that Tmo will listen to all their customers and not cater just to the Android folks.

Sorry, but T-Mobile has always had a better relationship with Nokia then any other carrier in the states. No way AT&T gets an exclusive Nokia Mango device before T-Mobile imo.

But the relationship was for Nokia's OS (the other U.S. carriers were not interest in Symbian or S40/S60). Given that WP is now Nokia's primary OS, and that AT&T is the premier WP partner, it's reasonable to think that AT&T would be among the first to get a Nokia WP device.Besides, the tentative acquisition of T-Mobile doesn't really help matters.Frankly, I think that if Nokia steps in the U.S. with a device for the big two (AT&T and Verizon) it would be most beneficial for both Nokia and WP in terms of reach/marketshare.

I agree. The chat boards blew up with AT&T and Nokia planning on bringing the ACE to AT&T in Q1. If we can work out our problems and decide to stay with AT&T, I am really leaning to waiting to see when the ACE shows up before deciding on the Titan (which is my favorite right now) or the Focus S. T-Mobile is just overflowing with insecurity, and it would surprise me to see Nokia jump on T-Mobile first when AT&T reaches so many more markets in the US.

I have a source but I cannot reveal it; you will find out tomorrow though, so no matter :-)

duplicate.Why can't I delete?

If they can't get a US phone out soon will Nokia have a chance?

They will have more than a chance! Europe is huge, and where Nokia is strongest; the U.S. market will just be icing on the cake :)

Okay, WPCentral...Winrumors, WMPoweruser - they're getting some 'exclusive' pics and stories on Nokia WP. Time to ramp it up :)

This has been known for a while, why try and make this an issue now?

I would "+1" you, but thumbs up and down buttons no longer seem to work on here. Why are we making a big deal out of something that was plain to everyone months and months ago?

Two more leaked photos of Nokia wp are shown, Lumia 800 and Lumia 710. Couple months back they blogged asking suggestions for new Nokia names. Appears the "Lumia" is it. Sounds good to me.

Good luck to us Tmo customers if we will get a Nokia flagship wp!

let the euros have these 1st wave of nokia phones. they are average looking at best. nokia will have to do better design wise to make an impact here in the US.

They are releasing in November; the Ace and the Lumia. Both will be on AT&T and the Ace will also be on another carrier.

That would be really, really great if you were right, Mango.

that ok i will just buy nokia 900 unlocked phone :0)
Windows Central Newsletter
Thank you for signing up to Windows Central. You will receive a verification email shortly.
There was a problem. Please refresh the page and try again.