Nokia patents another Windows Phone design, looks vaguely familiar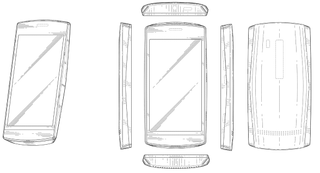 A new patent has been found for a Nokia Windows Phone. What's more is that the design looks familiar. In fact, we've seen this particular design before in a render. Filed back in December 2011, concept images of the device were leaked prior to that in August, which was before the Lumia 800 - Nokia's first Windows Phone was even announced.
A previous patent that came to fruition was the Nokia Phi, which patent turned out to be the Lumia 920, but we'll now be looking forward to see what Nokia brings to the tablet next. Here's the concept image to compare the design and above patent against one another:
They look pretty much identical, right? The curvatures, as well as the speaker and other features appear to line up perfectly, further proving that they are indeed the same design. It'll be interesting to see whether this device will be a high-end or budget offering for consumers, we'll hopefully have more information when Mobile World Congress kicks off later this month.
Source: LiveSide
Rich Edmonds is Senior Editor of PC hardware at Windows Central, covering everything related to PC components and NAS. He's been involved in technology for more than a decade and knows a thing or two about the magic inside a PC chassis. You can follow him over on Twitter at @RichEdmonds.
looks liek a phone that would be carried with verizon.

I'm not sure why, but I'd agree. For some reason it does look Verizony to me... is this a psycholigical thing?

Man its like Nokia X2 and it would be budget windows phone for sure.

Looks way bigger than the X2, more like the SG2 or the NOTE. If you think this size you could also see a substantially larger camera sensor built into this one. Not exactly 41Mpix, but 20 should fit nicely.

Think of Sensor/Pixel sizes instead of pixel count. You don't need 20 million small pixels.. 12 million bigger pixels will peform better than 20 mil. smaller ones.
The question of oversampling.. yes, that might make a difference.

I concur! Megapixels are usually used for marketing nowadays... Most consumers think "More megapixels = better", but that isn't nessecarily true in some cases. Larger sensors usually produce photos with better image quality. However, the PureView's megapixel count actually does matter because of the ability to oversample...

They will have made changes since this design, all new wp8 phones are required to have the charger port on the botton IIRC.

That's not a requirement - Huawei phone does have it.

Your Right bro
This is not a Recent Device design patent.
the all latest WP8s have USB port at bottom of the phone and this phone has above it.
clearly a spiced up leak...

Thats not a problem. Its a design made long back in 2011. So they might have changed it now.

The design reminds me of one of the Nokia Ashas, actually.

A 520 name and 720 name popped up in Indonsia: http://www.engadget.com/2013/02/08/nokia-520-720/ could be one of those.

Asha 205 to be precise ;)

I like this design as it stands out from other rectangles.

Also btw I think "tablet" was possible supposed to be "table" in your second to last paragraph.

Maybe Rich knows something that he can't tell anyone about yet, and that was just a Fruedian slip...

Am I the only one who has trouble holding the lumia 900 sometimes? Even my matte device slips from my hand sometimes.
Something like this might have something to grip on with that half-moon cutout on the sides, extending from the screen.

I've got a speck case and it may be a bit pricey but the plastic sticks to your fingers way better than the matte phone surface.

Phone design doesn't look that good... At least for now.

I like the design. Looks thiner on the top and thiker at the borom. Makes it for an easier Phone to handle.


Lol we'll see what nokia brings to the tablet

That's a design I'm definitely interested in! Different but not radically so. Come on Nokia Lumia 1000!

I don't see a micro-USB port at the bottom...infact I can't find it at all...
Though maybe that's just because it's a sketch.

Just found a strong reason proving this design could be real .
U might know that Nokia launched two new feature phones back in december. Nokia 206 had its design similar to Lumia800/900/920 and along with it asha 205 was also launched with totally new and cool looks. But looking at these renders, everyone can see that asha205 has same design. So it could be possible they made asha 205 inspired from this coming lumia. Maybe Lumia 720! :-]
anyway, it looks awesome.....

It kinda resembles a cowon s9 mp3 player

Definately looks like a 710 replacement.

hm 520 design or 720 design i say this going to be 520 design

That is one ugly phone. The design needs reworking to be at the level os the other Nokia Phones. Worse only those early designs of the Eos (I'm talking about the phone, not the Volkswagen)

It must be 720, looks like stretched 710

Reminds me of my LG Optimus 7.

Its to simple, I am not sure what material it will be made of, but they need like a metal frame that is lights unique colors would work, or mix metal wit graphite

Looks like the design was inspired by Sketchers shoe soles. I like it.

Looking at 920, if the width stays the same, this phone could be even thicker

This is definitely an Asha design, not Lumia.
Windows Central Newsletter
Thank you for signing up to Windows Central. You will receive a verification email shortly.
There was a problem. Please refresh the page and try again.