Nokia releases update for Access Point; includes operator settings and improvements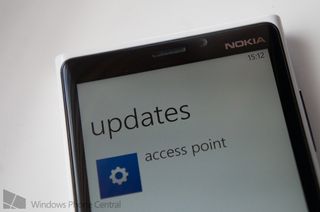 We've just received an update for Nokia's Access Point, a system app for consumers who utilise more than a single SIM. Access Point essentially makes it easy to manage multiple mobile operator settings for MMS, Internet and more. So what's new in the latest release?
Version 3.7.2.15 includes mobile operator settings updates and some robustness improvements. Not a massive update, but we'll take the new additions over nothing. You can download Access Point from the Windows Phone Store.
Get the Windows Central Newsletter
All the latest news, reviews, and guides for Windows and Xbox diehards.
Rich Edmonds was formerly a Senior Editor of PC hardware at Windows Central, covering everything related to PC components and NAS. He's been involved in technology for more than a decade and knows a thing or two about the magic inside a PC chassis. You can follow him on Twitter at @RichEdmonds.
Awweee wheb i read "Nokia updates" I thought it was gonna say "Nokia updates all lumias to gdr2 with amber" or something haha

Hahaha same here - thought it was the GDR2 updates. I'm totally jealous of the HTC 8X users now LOL

Nothing amazing in GDR2, so get your hopes down, so you won't get upset after it comes to you.

The Xbox Music metadata improvements alone should be worth it. I'm tired of the phone randomly changing half of "Almeria (Deluxe)" to "Almeria," and other Xbox Music Pass-matched metadata to "Unknown Artist"/"Unknown Album".

Waiting for the same heading update gdr2

Wish it would fix internet sharing :(

What's wrong with your internet sharing?

Been broken ever since 1308 firmware :(

Internet sharing is broken for Rogers 920 on other carriers

Got an unlocked Rogers but not using mobile.

I did unlocked my Rogers 920,mine is still working.Have you tried making up another apn,then select that one,then go back to your selected network.

My 928 came unlocked. No Access Point app. Simply put in a T-Mobile sim and it worked like a charm.

Updated this about 3 hours ago.. Just saying!

Nokia taken a back seat to a failing HTC. wheres my GDR2!


Again?
Did HTC had so much work on GDR2 as Nokia? No! So it's normal this schedule

Right, Amber will likely mean that Nokia's will have a longer wait.

What about L925? Why does it have Amber already..

Because the 925 was tested with Amber before it was released so they shipped it along while other devices are getting it as an UPDATE.

Oh wow... this time around I can actually VIEW the settings for AT&T profiles! Have only been able to Activate them previously.

So now I want to know... what's the difference between LTE1 being APN "PTA" and LTE2 being APN "PHONE"?

FWIW, I have mine toggled to LTE1 APN, and yes, Internet Sharing works great.

Still no WiFi sharing on my unlocked ATT 920 on t-mobile.

How is the 920 on T-Mobile? Besides the WiFi sharing obviously haha

It's been pretty good. 2-5 bars of LTE in Charlotte NC with speeds ranging 10-25 mbps. Everything else is working, MMS, phone, it's just the internet sharing that refuses to work. We drove to Michigan a few weeks ago and outside of the cities, it's definitely awful EDGE.

Internet Sharing fixed. Select another apn in accesspoint then set back to the right one. FIXED!

Doesnt work for rogers 920 on tmobile

This update helps the Lumia 822 on T-Mobile. The default "T-Mobile LTE" APN previously failed to configure MMS settings correctly and I would have to manually create a T-Mobile APN with the correct config for MMS to send/receive correctly. After this update, you can now view the APN settings for any profile (new feature) and they've updated the default "T-Mobile LTE" APN to the correct settings for the 822 to work automatically with Access Point. Now if only Nokia can rollout an update that fixes SMS from not sending when on T-Mobile's HSPA+ refarmed PCS spectrum for the 822 and I'll be set!

Is your 822 updated to Portico? I couldn't make mine work with any other carrier after updating and ended up flashing it to pre-Portico.

Please let this fix my mms problem...its making me go to another platform just because of that.

What mms problem? If you unlocked your phone, that's a common issue with most phones (even non-Windows phones). It all depends on the apn or whatever carrier settings you have set up.

Nope regular att L920. I can't receive mms. I have to turn off data or change access point or restart to receive them. Its horrible.

Having the SAME EXACT PROBLEM!!! Mine started acting up late June for the first time (Got the phone last November). I've been growing gray hair trying to figure this out!! Any luck on your end??

I lost the ability to connect to WIFI :S
keeps telling me incorrect password, so ideleted my password and now i have an open network, it changed the messege to cant reach network :S

WP8 is getting frustrating to me :S no wonder why nokia is losing :S

lol... WP8 is frustrating and nokia is 'failing' because you are having trouble with that? right...
That sounds like an odd issue though. Try deleting that Wi-Fi network and re-adding it.

First of all this isn't my only issue, and if you take a quick look at the forum you will se how people are suffering from the platform, and I tried everything, my wifi is gone, I even hard reset my phone with no luck :( lost all game progress for nothing. What kills me the most is how better wp7 was :S

Finger Cross, I have a problem with internet sharing on my NOKIA LUMIA 520,hope after this update it will fixed

Cannot receive MMS. I have an AT&T sim in my 822, but I think it's unlocked

i have NL920, i have an issue with how the Os choose the access point to connect to, here is the senario, at my workplace we have about 6 access points (to cover about three floors) if you move from one floor to another there is no automatic switch to a point which has a strong signal, it remains locked to the access point which it was previous connected to, you have to manually change,
Why doesn't the phone automatically switch to the access point which have the stronger signal if that point in known?
maybe there is something i have to do on the setting, help!

I was actually waiting for this.

Unlocked L920 on Tmobile here, when I first got the phone my texts did not work, I had to download Access Point and manually configure it to get it to work. Does this update break anything for Tmobile usesrs?

In india windows phones 2G networks very slow, compare with other. Nokia phones