Nokia RM-875 visits the FCC, proof of an international Lumia EOS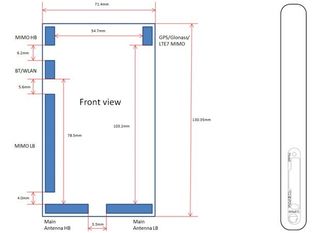 We're only three weeks away from Nokia's Zoom Reinvented event in New York City. It takes place July 11 and it's there we suspect the Fins to take the wraps off of the Nokia Lumia "EOS". Over the past few weeks we've seen the upcoming device in a variety of different states – smartphone housing, full images of the device, FCC filings and more. When it comes to the FCC filing the device was going under the name Nokia RM-877. Now there's another device hanging out with the FCC – the Nokia RM-875.
A few weeks back when we first saw RM-877 we just knew it had to be the upcoming EOS because it had dimensions that were nearly identical to the Lumia 920, but ever so slightly larger. And as you know, we've seen some images comparing the two devices side-by-side and the EOS does look a hair larger in both height and width.
So what is RM-875 that just visited the FCC? It looks to be an international variant of the EOS. The specs and schematics between RM-875 and RM-877 are identical except for a few things. RM-875 has support for LTE in the 850MHz, 1800MHz, 2100MHz, and 2500MHz frequencies. Stuff you're more likely to see internationally than on AT&T.
That means the EOS should be available to a number of our friends around the globe. An "Elvis" world tour perhaps...?
So, who is planning on picking one up?
Get the Windows Central Newsletter
All the latest news, reviews, and guides for Windows and Xbox diehards.