Nokia rolls out a worldwide update for HERE Maps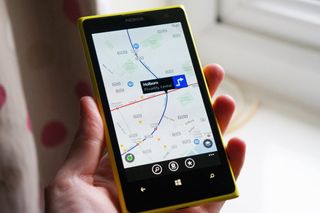 Nokia today announced an update for the HERE maps solution on both Windows Phone and Android, which should be hitting handsets from today. The update includes support for turn-by-turn navigation in new regions (and improvements to the feature itself in supported markets), as well as improved map coverage in others markets. But wait, there's more.
Other improvements affect inland water (lakes, rivers and ponds), and public transportation has been revamped in Kaohsiung, Taipei, Curitiba, Rio de Janeiro, São Paulo and Singapore for accurate tracking of subway, train and tram lines. It's essentially a well-rounded feature pack update, and one we recommend you download once it's available.
It may take a few days for the update to trickle through to your smartphone, but do let us know if you've received the update. You can check by heading into the HERE app and going into settings to check for map updates (settings > applications > maps > check for updates).
Source: HERE
Rich Edmonds is Senior Editor of PC hardware at Windows Central, covering everything related to PC components and NAS. He's been involved in technology for more than a decade and knows a thing or two about the magic inside a PC chassis. You can follow him over on Twitter at @RichEdmonds.
If only it can include the feature of placing a tag for your location and your friends can view that and come up with exact directions..i know there's an app for that but if only it was inbuilt...

You can share your location with Skype.

You can insert your location in a text by hitting the paperclip and inserting "my location". Been that way for years.

Glympse is the best for this. I don't see the need to have it built in since the recipient will use the Navigation app of their choice.

I second what TJWINS says. Glympse is awesome and truly the best solution.

You can so that via the buit in SMS function. Don't need an app.

I wait WP10... Don't care about updates of here maps. Since i bought this devices, here maps gps freezes randoomly, so until they don't fix that bug, I won't loose my time, and will stick to google maps android for gps...

Just got a 79MB update. Really happy with this as Here Drive + always finds the location I need. Location wise have found it the best on WP, wish they added alternative routes, speed cameras etc. I would pay for this!!

Me too. It keeps freezing up on my 925. Very frustrating.

I had no problems for 4 years... after the last HERE DRIVE+ update keeps crashing during navigation :( (lumia 930)

Omg this joke isn't old yet?

I get more tired of people asking about WP 10 than the faster joke

I hope you will grow up some day

I see no chance about that, to be frank..

You know Frank! Frank Enstein

ok Something about Mary....

Is there anyway to feedback to Nokia about errors in local maps? Or perhaps suggest businesses to add? Not got this update yet but sadly until now the map content has been below accuracy or detail of Google in London.

I think you can on here.com

Great update. :) Anyone else remember the senceless crying that went on when HERE went to android and how Nokia was abandoing Windows Phone?

And yet no route redirection on WP

And yet no waypoints on WP

here maps is licensed by Microsoft. now after 4 yrs the agreement will get over. Microsoft needs to make bing maps more reliable with windows 10. need more detailed info of residential apartments.

Yes! "Updates are available for your maps." 77.7 MB.

No it's not, it's an update for its map data

What ye smokin..?
Available for India..!!

Don't know what's wrong with location service on my L730....HERE map always shows searching for your location...making it completely useless when I'm out :/

Try reinstalling the app? Check if location is switched on...? Also the map finds you faster if you have good coverage..if nothing works you should tweet them or one of their leaders like Pino...they always get back to you!

Still no love for Japan in Nokia Here. BIng is better, but I hope in W 10 will improve.

You're using a Windows Phone in Japan? I thought they hadn't released a new Windows Phone since WP7, like four years ago.

We can buy SIM free phones in Hong Kong and use them here with Docomo or SoftBank.

True, but we are able to use sim-free phones on the Japanese carriers' network. I use a 925.

You know Bing maps are powered by Nokia HERE right? Posted via the Windows Central App for Android

I seem to remember reading that MS was dropping moucho $ on enhanced mapping & imaging. I would think it's a joint project with Nokia probably supplying the "service" and doing most of the imaging/mapping/data leg work for Europe & Asia while MS/Bing cover a lot of the back-end searching as well as covering the mapping & data duties for the Americas.

No, I think the Here maps were just for Windows Phone 8's Map app. If you go to Bing's map of Sendai cityand Here's map of Sendai you will see two different maps. The services are different. In many cases Here maps has cities and roads incorrectly named, roads where there are none, and no major roads and rails where there are on every other modern mapping service. The Map app for Windows 10 doesn't use Here. I think it uses Bing maps, so I imagine this problem might be elminated going into Windows 10. Prior to the release of Windows Phone 7.5 Mango in Japan, Bing maps for Japan were terrible and outdated, much like Here maps. After the release of Mango, Bing maps became very usable in Japan. In some cases in cities outside Tokyo, the maps were more accurate than Google maps or Apple's mapping service.

I would like to know how, if you are using a Windows Phone. I have family there who is desperate for a Windows Phone. On International Roaming?

Hey, remember how everyone thought Nokia was ditching Windows and wouldn't ever update it again and then they updated it multiple times?

Exactly two times. First time to add support for new Here account (old Nokia accounts were migrated under MS) and the second time to resolve bugs related to the support of new Here account.

Lol, exactly. No need for denial now ;)

I like Here map. Runtastic also updated few hours ago. Does Runtastic uses the Here Maps?

reading "Nokia rolls out" gave me some nostalgic tears.. :')

Yes.. My finger automatically hit the news immediately

Same here...:) I miss Nokia related news here on WC...i hope they come back to windows tablets at least after win 10 releases...

I think they haven't any plan like this. But it will be a great if they release tab with full Windows 10. I will definitely buy.

Now if only Japan and South Korea were a part of the "World"... Still no maps... :(

It was really needing an update for São Paulo's public transport. Glad it's here.

Does it include Japan? Because if it doesn't, then Here Maps is like horse shit for me since I live in Japan.

Agreed!! I would have thought their release on Android woud have motivated them to update Japan and Korea.

always problem in updating maps. when it pops up that new updates are available fpr download i tap on install now then keeps on loading and loading and stuck there for a long time. inspite of having a strong wifi connection.

This suggests an issue with the performance of your phone (lack of space) or you've moved the maps to a poor performing MicroSD card.

my sd card is working fine. i save pics and many of my mp3 files in it. and there's still enough space about 4.5 gb. how can sd card be the issue?

Sd card isn't as fast as internal memory. What class is the card? What's the read and write performance?

88.7MB here. Where is Denim for L620 in India??

Except windows 8.1.1. Lumia Denim doesn't add any new features to Lumia 620. Wait for Windows 10. That's of more worth.

This isn't helpful for two reasons. 1) Which region in India received the 88.7MB update? 2) How is Denim relevant to the thread?

1) UP,DELHI, UTTARAKHAND
2) I m just asking..

1) Cool
2) I know, but you're shouting into an empty hole.

Bing maps is pretty much blank in Bihar, India. So I use Here. I wonder if Here is the default in Windows 10 or is it simply bing.

u should use combination of both bing maps is pretty good in local scout.

Got it for the Philippines., 48MB.

What¿ NOKIA? I thought Nokia is no more a separate company.

Microsoft only bought the mobile division not all of Nokia. Nokia is still clinging to life and fighting back against the abyss that is puppies Posted via the Windows Central App for Android

If Microsoft bought the mobile division how the rumoured Nokia C1 come? Are they not the true ones?

The Nokia C1 is not real. It's a fan render. Nokia will return to the phone business but you won't see anything on that at least until 31st December because that's when the non-competition clause with Microsoft ends. As for the "how", the answer is very simple: the exact same way Apple, for example, does their phones. Nokia designs the hardware and the software, with their patents etc, and then Foxconn produces the phones. The major difference to what they had before is that, before, Nokia had some of their own factories and was responsible for the distribution of the phones. Nokia was a manufacturer.
Now - starting with the N1 - Foxconn takes over the manufacturing and distribution and Nokia becomes only a hardware and software designer. Just like Apple. (Of course, without the proprietary OS. Nokia will be using Android instead of their own OS).

There is still difference between Nokia now and apple. Apple owns the inventory and is responsible for the distribution and customer service. While Nokia is not. It makes huge difference. N1 is just Nokia in name and appearance. Effectively it's a Foxconn tablet (as manufactured, distributed and maintained by Foxconn).

You thought wrong but it's not entirely your fault. It's more the fault of "journalists" and "bloggers" that can't properly report. Microsoft bought the employees and facilities of Nokia's ex-Devices and Services division. However Nokia remained intact and independent with three profitable divisions: Nokia Networks (formerly NSN), HERE and Nokia Technologies (which holds all the patents Nokia has, including all the ones used in phones; is responsible for R&D of new tech - mobile included - And is responsible for the Nokia N1 Android tablet as well as the Nokia Z Launcher for Android and all other future Nokia devices and consumer products). Posted via the Windows Central App for Android

That was a vast kind of knowledge. Thanks for sharing. :)

I sense your pain, man. I got my Lumia 930 bought in Hong Kong and can't enjoy a good mapping exerience

Got updates for Brunei & Malaysia as well.

Yea got the update around 9.7mb here in Nigeria

This app actually drains my 1020 battery WITH it plugged in and the heat is crazy. My other GPS apps don't do this.

Need more and better public transport in India

knowing nokia isnt working hard on maps now they havs only maps snd telecom sector left with them. here and bing maps need more details of residential areas etc.

I did check, but it didn't turn up. I am here in US

I am disappointed with here maps and drive, they have no navigation in Caribbean countries. Grenada, Barbados , Trinidad etc, and I don't understand why. In these countries waze is our only option, but the interface in here maps and drive is so much cleaner and smoother. Nokia needs to focus on the smaller countries as well

I got my bavarian maps updated...

Yep, on Windows Phone and Windows in The Netherlands. About 54 MB.

Sygic map is better i think. #indonesian

11.2 MB
Region : Nangloi Jaat ,North Delhi, India.
Is this enough detail :P?

I'll have to check to see if it's they made it as good as it is on Android.

I'll let you know once I update it on my L920 and compare it to my Z3. The Android app, to me, is a lot better.

Are they merging "HERE Maps" with "HERE Drive +"? DRIVE + is the voice navigation app. Maybe the Map app "turn by turn navigation" being updated, is without voice? It sounds like the map data base is being updated too.

114Mo successfully updated in France on my Nokia Lumia 830 :)

Got them here (NL). Still no sight of Collections in Here+, my most wanted feature. Cannot be that hard, just add that list from Here Maps ;-)

So can we avoid traffic jams now with dynamic re-routing? Or you can still only "view" traffic and try to use pinch-to-zoom while driving to get around it? I think the lack of an app with dynamic rerouting is pathetic. The best app for that is Waze, which was last updated a year ago.

Something like waze is a godsend if you live in a major city that gets heavy traffic during rush hour. I wish other GPS companies tried to find ways for dynamic rerouting and live traffic reports for free, i.e. without a subscription, I'd happily pay for the app. I still use waze and will keep using it as long as it works.

Updated and disappointed. Singapore subway line is still outdated with no change atall

There is a new feature on here maps, you can now see the map for shopping complex, clicking on it allow you to change floors view! Even some shop lots have names!

It existed for Singapore for at least two years..

They need to fucking fix their shitty maps in Hong Kong, it thinks Hong Kong is in china, shows English instead of Traditional Chinese, translates place names into mandarin, this is cultural genocide and whoever is sponsoring this will pay.

14.8 MB Map update for Iran.

Hope someday they add my home village :)

Update live in Sri Lanka :)

This update has a snag. It strats normally but then after a while the screen saver comes on. When it is removed you discover that the update has also stopped and needs to be restarted from zero. I've tried it a couple of times, no change. Do I constatly have to touch the screen during this some odd hundred MB download to prevent disruption by the screen saver?

I had the same problem getting the update to start. Maybe it's due to web traffic from this article? I wish the download would continue in the background but I've always had to leave the map update screen open to complete the update or the process starts from scratch.

yes, you can't leave the map site, you get an explicit warning when you try to do that, but so far the screen saver has never interfered with the download. This is an error that should be corrected soon.

I wont enjoy this because since i bought my L1520, it already has problem with pinpointing my exact location. The compass is working but gps is not.
But this is good news, anyway.

Did the update fix the freezing issue that has been going on with the here app?

Updated. And now some places can found its real destination, for Turkey.

I don't care for them anymore, they have been lazy trying so hard IOS and Android while not caring for WP. Those already got Google maps and Apple maps.

Lane assist is the only feature I'm waiting for.

Acutally, I don't know who's with me but based on the Technical Preview, slightly off topic. Bing Maps Preview, should'nt Microsoft be working on it? As the main, default app? It's ridiculously beautiful even in beta.

Fuck! I was hoping they would make the font larger and add via points :'(

Did this fix the annoying issue where the navigation voice uses the bluetooth phone profile? http://forums.windowscentral.com/windows-phone-8-1-preview-developers/28... Edit: never mind, this is a maps update, not an app update.

No offline maps for Pakistan why nokia??

Thank you Rich, just updated my UK Here Drive + :)

Verbindung nicht möglich.

I think this is a long awaited significant update. Almost 100 mb even for the Netherlands! this is an important update. As far as I can tell this also updates the maps for here drive+. There is a new stretch of road in my province. It looks like its updated now as well. So also updates outside the mentioned areas in this article.

They really need to update the app so that it recognizes street intersections like Google Maps does. It's stupid and frustrating that HERE doesn't have it.

Australian map have an the update

I'm on AT&T in the US - just checked my phone and the updates are available. I'll download them tonight when I'm on my home wifi.

Sad to say I just did a comparison of Nokia Here Maps vs Google Maps and Google is much more current. Nokia still shows the car dealership from 2 years ago while Google show the new shopping center that has been here for 6 months. And I'm in South Florida - a pretty easy satellite target I would imagine. Just one more nail in my Windows Phone coffin. So sad. And I've been Windows Phone since my HTC Titan. Anyone else able to see if Nokia is falling behind in the satellite mapping world?

No maps for Armenia,, I guess I'm only Armenian here in Windows Central

Just received updates for Europe maps, I am located in Spain , Nokia Lumia 1520 with Lumia Denim

MS need to tweak the map update dialogue box lol. It said the total update was 69.8 Mb however when you press install... It downloads the whole map (for the UK) so 545.8 Mb.

Still no Kyrgyzstan. I suppose Microsoft/Nokia doesn't care about us. Jerks.

Got rid of my Lumia 1520 and now using iPhone 6. Man... do i miss HERE Maps. Probably the only thing i miss though since making the switch.

55mb andhra pradesh india :)

95Mb for Brazil Maps. Downloading.

Got the 17 MB update on lumia 920. Denmark :)
Windows Central Newsletter
Get the best of Windows Central in in your inbox, every day!
Thank you for signing up to Windows Central. You will receive a verification email shortly.
There was a problem. Please refresh the page and try again.