Nokia running Lumia 800 'battery fix' update [Updated]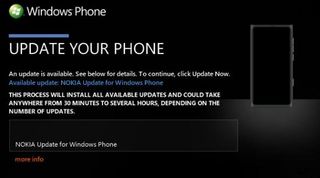 Nokia announced at the end of last year that two updates would be hitting the Lumia 800 to fix a number of issues that were present. We've already received the first firmware update, but it's time for those who suffer from 800s that aren't using the battery capacity in its entirety to receive some love.
Operators in France have started to push out the second update, so we should see some movement across the board soon. For reference, the firmware version changes are found below, including the first update.
Firmware version: 1600.2475.7720.11414 -> UPDATE 1: 1600.2479.7740.11451 -> UPDATE 2: 1600.2483.8106.11500
We haven't yet got the notification on any of our Lumia 800s. Let us know in the comments if you're also receiving this update for your handset.
EDIT: Nokia UK has confirmed the start of the rollout on their Facebook page, check out a video walkthrough after the break on updating should you be new to the platform.
UPDATE: We've received reports from readers who have updated to the latest version that the lighting of their soft keys are acting up should medium or high brightness be set. If you're also experiencing this issue after updating let us know in the comments.
Source: Professeur Thibault; thanks, James, for the tip!
Rich Edmonds is Senior Editor of PC hardware at Windows Central, covering everything related to PC components and NAS. He's been involved in technology for more than a decade and knows a thing or two about the magic inside a PC chassis. You can follow him over on Twitter at @RichEdmonds.
updated mine and now the soft keys don't light up unless its set to automatic or low brightness

Updated. Full battery capacity is actually lower than it was reporting before gone from 1510 - 1520 to 1483. (Though I think this is intended)
I too also have the key brightness issue though. Automatic brightness setting is really dim and if you turn off automatic brightness and select medium or high the bottom keys don't light up and go blank! Funky!
Another update on the way?!?

restored my phone till its sorted

AFAIK that the lighting of the soft keys being different is how Nokia intended it to be after the update.

So the bottom keys not lighting up at all in Medium or High Brightness modes is intended? Surely not.....

can't see that being the case or they're just plain stupid

Is the firmware update through Zune too? I only received the 8107 update through Zune.

Apparently, people are now reporting the update may have been pulled from Zune. Its going to be interesting to see if Nokia have a comment the situation.

Downloading the update right now for HTC Trophy on Verizon Wireless in NY.

did you get an OS update or HTC update, I mean is it the new build 8107 of the OS or just an update from HTC

It's not the 8107 update, appears to be; 7.10.7720.68

My Lumia 800 (1600.2483.8107.11501) problems include:- 1. Moving tiles long distances on the home screen does not flow properly. You need to drop the tile first before continuing.
2. Keyboard has intermittent delays causing the user to see the same character 2 or 3 times.
3. Critical alarm goes off too early and minutes later the OS battery is no longer critical.
4. Moving between songs there is a loud noise at zero volume and 1-30 levels. While playing a song, lock the phone and wait 5 seconds. Then unlock your phone and quickly move between songs, there is no noise for a few seconds and then it starts again.
5. Sound quality is poor from the loud speaker, Bluetooth and audio jack.
6. Nokia feedback within the settings tab has been limited to once only now. Nokia does not seem interested in customers providing ongoing feedback.
7. The Nokia drive direction voice occasionally stutters, taking about a minute to complete one command.
8. Video play back frames are missed on some videos. Audio keeps working.
9. Battery does not charge to manufactures specification.
10. Battery saver function is not working properly. On HTC HD7, Battery Saver (low) makes a big different.
11. Camera quality is poor for a Nokia phone.
12. Camera is set to macro by default.
13. Video auto focus still needs more improvements.
14. Low volume level is too high from audio jack. High volume level from the speaker is too low. Poor bass levels. OS UI now flows smoother on the new firmware.

How did you get 1600.2483.8106.11500? Nokia is acknowledging only the existence of 1600.2483.8106.11500.

The brightness issue is 100% a glitch. If you run the Nokia Diagnostics tool (dial ##634# to access it if you haven't before) and run the Lights test. Enable Manual Backlight Control and if you set the Backlight intensity to anything greater than 4 the soft buttons turn off completly.
Obviously they should get brighter as you cycle through each value.

Personally I think it could be a power saving feature.
if the ambient light sensor detects there is enough light to warrent high screen brightness, chances are you will be able to see the painted on capacative buttons on the front, why light them when they're reflective and dont need lighting?

I get your point, but I'm in total darkness right now and while yes the soft keys are reflective, I can barely see them on highest screen brightness, if this was a planned change, I really don't see the benefits of it from a visual perspective, from a power saving point of view, yes I could agree. But again, if this was planned, I think this should be a optional setting.

http://www.mobiletechworld.com/2012/01/12/upcoming-nokia-lumia-800-firmw...

Also getting the softkey problem here.
I noticed that when the brightness is set to Medium or Hight, the softkeys don't light up (as others have pointed out), but the softkeys light up for a brief second when pressing the power button to turn the screen off/set to standby. If this is a power saving feature, why have the softkeys light up when I go to put the 800 in standby?

Im also getting the softkey problem but my battery life has very much improved.To get a better battery life i think they should use the soft keys as notification lights this would stop you from having to check your phone for missed calls and messages


Most of the problems with Lumia 800 have been fixed with 1600.2487.8107.12070.
Most importantly - Headset audio is now better than most phones & battery drain problem is now fixed.
Only known problems I have are:-
1. Clicking noise between songs is still audible (OS problem. HTC Radar has it too).
2. Halogen down lights red/orange spot in the centre of all pictures (my hardware?).
3. Logging into routers, the keyboard is sometime partly hidden by the DONE/CANCEL buttons (OS problem).
Lumia 800 is now 9.5 out of 10. Amazing Everyday. Thanks Nokia

I've updated to the 12070 firmware. The battery on mine still drains really quickly. I unplugged it from the charger this morning around 8:30am. Went to lunch where I did some light browsing for about 30-40min and the battery went down to about 25%. That's not very good. At all.
I'm also experiencing the touchscreen issue some have reported. The phone will register random and rapid taps when scrolling. This causes the screen to zoom in/out randomly and rapidly when browsing a webpage, making web-surfing annoying at best and nigh impossible at worst. When on the home screen or in a picture album, apps will launch at random or a picture will go fullscreen because the phone think I'm tapping when I'm blatantly scrolling. I'm not sure if this is a firmware or hardware issue.
I spoke with Nokia tech support and they have instructed me to send the phone in for repair. Thankfully the phone is still under warranty and they'll pay for shipping both ways. I'm currently still awaiting their email with a shipping label. Hope this gets sorted because other than these two issues, I am quite digging this device.
Windows Central Newsletter
Get the best of Windows Central in in your inbox, every day!
Thank you for signing up to Windows Central. You will receive a verification email shortly.
There was a problem. Please refresh the page and try again.