Nokia Sun sporting 1.4GHz CPU, polycarbonate unibody headed to Orange in November?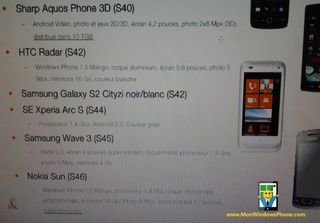 File this under interesting, but it looks like Orange may be one of the first confirmed carriers to be getting a Nokia Windows Phone. The phone is the unheard of Nokia "Sun" (S46) which in this case, we're thinking is a re-brand of the Nokia Sabre or SeaRay The information comes by way of MonWindowsPhone in what appears to be an internal-Orange release list.
The phone has the following specs:
Windows 7.5 Phone Mango
Availability for week 46: 7-13 November 2011
1.4Ghz Processor
Unibody shell polycarbonate
16GB Memory
Photo 8Mpx
3.7-inch AMOLED screen
Micro sim card
The one new feature appears to be confirmation of a 1.4GHz CPU, which should give the device some ample horsepower. The design, including the 3.7" screen and micro SIM card matches with what we've heard the Sabre's specs to be but could also be the SeaRay. But perhaps the most exciting news is the availability--the second week of November, just two weeks after Nokia World. It's at Nokia World where we expect the company to finally unveil its Windows Phone lineup in full detail--and of course WPCentral will be there to cover every aspect. Stay tuned...
Source: MonWindowsPhone
Windows Central Newsletter
Get the best of Windows Central in in your inbox, every day!
Daniel Rubino is the Editor-in-chief of Windows Central, head reviewer, podcast co-host, and analyst. He has been covering Microsoft since 2007 when this site was called WMExperts (and later Windows Phone Central). His interests include Windows, laptops, next-gen computing, and for some reason, watches. Before all this tech stuff, he worked on a Ph.D. in linguistics, watched people sleep (for medical purposes!), and ran the projectors at movie theaters because it was fun.
Those specs sound more like the SeaRay than the Sabre. Isn't the Sabre only 5MP?

This, it sounds very Searaish. Also it has the unibody plastic shell so it sounds like the N9.

Yes. This exactly match the description of SeaRay from the previous rumor.SeaRay = 3.7 in AMOLED screen + 16 GB storage + 8 MP cameraSabre = 3.7 in LCD screen + 8 GB storage + 5 MP camera

ffs, how about something with 32gb of memory or maybe even 64?

you never know there could be models with various Memory sizes like N9 they offer a 16GB and 64Gb versions.I hope they do same for Searay b/c 16GB is no good for me unless there is expansion slot

its 100% Nokia SeaRay not Sabre. reason its Searay is b/c its brother the N9 running MeeGo what searay design is based on as the polycarbonate Unibody design and Micro Sim.the Nokia N9 as a 3.9 screen, searay will only have 3.7 b/c they shrunk it to make way for the buttons

Sabre reminds me of the office haha

My next nokia must have at least 64 GB, so I want to hear some good news

Why the micro SIM? I have a corporate phone.....a Blackberry, which I simply take the SIM card out of and put into the phone I actually want to use. This means I cannot switch SIMs with a Nokia phone. I'm not sure what the benefits are of using a Micro card? I'm sure there are many people out there in a similar position who won't be buying Nokia because of this one simple reason. I'm not so sure it is such a great move to use the micro card when it then limits those that can use a device with one.Dave

DaveIf you have a work Blackberry, then that is the phone you are supposed to use - naughty boy :)If your company supplies you a WP7, then they will also supply a micro SIM.Having said that, you can convert your SIM to micro SIM with a knife. And use a SIM adaptor (about 3 bucks) to use it in your Blackberry.Very easily overcome.

From the previous rumor, NOKIA SeaRay will have a 3.7 inch AMOLED touch screen, a 1.4 Ghz processor, 16 GB of storage, and an eight megapixel camera while NOKIA Sabre will also have a 3.7 inch LCD display, a 1.4 Ghz processor, 8 GB of storage, and a five megapixel camera.If the rumor turns out to be true, this will be SeaRay and NOT Sabre.

illegaloperation you are here too cool im waiting for the ace

Waiting for the Ace here as well. I am so SICK of seeing specs that read "3.7 inch screen, 16GB of storage." Give me 4+ inches of SAMOLED (or SLCD or qHD) gorgeousness with 32GB of storage, if not more. If you insist on using internal microSD cards, at least offer models with various storage amounts (8GB, 16GB, 32GB, 64GB). In a prefect world, you could find a way that the storage could be upgraded by the carrier even. Just GET BUSY GIVING US SOME OPTIONS!!

wp7 does not need 1GB of RAM I don't think I've ever even used more than 32MB of RAM. apps like system view and winphoneinfo can reveal that info.

So Nokia's first WinPho device is going to have a 3.7" screen and 16 MBs of storage. Wow, what a grand start they will be off to. You would think they would have attempted to make a bit of splash.

I really hope Nokia surprises us with an Uber Phone. 1GB RAM, fast CPU/GPU, 64GB storage, 12MP camera with carl zeiss lens, 1800+ battery, CBD AMOLED, 4.Something large screen, NFC, gorilla glass, aluminum body (polycarbonate would do though). Something to compete with the best of Android and iPhone. I would pay a premium for such a device.

Don't forget a good FFC but i agree they have to make a very good phone to compete. If they do they will take alot of Blackberry and upset IPhone and droid users. Nokia i believe has something special for their event but i have been wrong before hahahahah.

Please be on Tmobile, 3.7 is a little small maybe but I am will to give it a shot if it looks really sleek!
Windows Central Newsletter
Thank you for signing up to Windows Central. You will receive a verification email shortly.
There was a problem. Please refresh the page and try again.