Nokia teases 'X' Android phone for Mobile World Congress, new branding render reveals more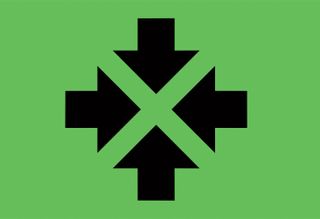 It should be no secret that next week in Barcelona, Nokia is going to announce the Nokia X, their low-cost Android phone, running a forked version of the open source OS. The phone will reportedly come with its own Nokia Store, and suite of Microsoft and HERE apps to round it out. While not a flagship Android device by any means, it will still get a lot of press attention due to sensational headline possibilities.
Last week, Nokia temporarily switched their social media outlets from Nokia Blue to Nokia Green. We told you that too was a tease for 'Normandy', though many still want to believe in some new Windows Phone magic. Today, Nokia has gone further with a new green banner on Conversations.
The banner itself shows four arrows point to the center, as in 'X' marks the spot. It doesn't take too long to see the green X in the center, all but confirming the planned announcement next week.
The Nokia X, previously known internally as 'Normandy', is a low cost, device running Android but with a Nokia facelift. Think Lumia 520, but less specs, combined with some Asha flavor. Twitter leaker Evleaks revealed the specs as well:
Nokia X specs (reported, not official)
Dual-core 1 GHz CPU
4-inch display
512MB of RAM
4GB of storage with micro SD expansion
1500 mAh battery
5 MP rear camera
Six-colors
As seen above from a render posted by Evleaks, we can see what may be the final branding of the Nokia X when announced.
For those pining for new Windows Phones from Nokia, we've stated a few times already that we're not expecting any news at Mobile World Congress. Indeed, it would be very odd to announce new hardware for Windows Phone 8.1 before the OS itself was officially announced. We're also getting word, unconfirmed at this point, that there may be very few 'launch devices' for 8.1.
Source: Conversations; Render and specs via Evleaks 1, 2; via Android Central
Windows Central Newsletter
Get the best of Windows Central in in your inbox, every day!
Daniel Rubino is the Editor-in-chief of Windows Central, head reviewer, podcast co-host, and analyst. He has been covering Microsoft since 2007 when this site was called WMExperts (and later Windows Phone Central). His interests include Windows, laptops, next-gen computing, and for some reason, watches. Before all this tech stuff, he worked on a Ph.D. in linguistics, watched people sleep (for medical purposes!), and ran the projectors at movie theaters because it was fun.
Another brand join d lag gang

For money money money money

Microsoft should kill it with all its might

It should kill it really!!

If it is android without google, better control over apps (no slow downs), but all high quality apps and games are there, thn why not?

still, it's about Nokia, dude, it always brings awesome features on the table. I'd like to know if it runs lagless Android or not :)

lagless Android? LOLLLLallhahahahaha EHRHHrhrhwehehwe AHAHAHAHAHHAH AHAHAHAHAHHAHA Oh man, you are a funny guy. Whats next, and Android phone that doesn't spy on your every click and email?!!! LOL jajahahahahaha

Lagless? Not likely?
Does not spy?
Microsoft gets its money differently compared to Sgroogle and the Android is forked - so why not?

This is obviously their solution to replace the ageing Asha line, which still makes up a considerable amount of units sold. Instead of trying to improve that OS and keep it stable and updated, theyre choosing to go with one that's already available, free and established. This isn't them conceding to Google or giving up on WP. This phone wont use any Google services, so Google doesn't benefit from this at all. Google doesn't like forked Android, they don't make any money off of it and they have no control. There's a lot of inexplicable hype surrounding this though, its totally disproportionate to what is being released; a low cost, low end device for emerging markets and smartphone virgins.

This has finally come to be my understanding. Ita actually a good thing that will keep Asha devices from losing ground to Android devices of the Google services variety. Smart move by Nokia.

By adding more Android devices to the market!?

Android devices (which make no money for Google) using a WP-like UI and Microsoft and Nokia services (which benefits MS and Nokia, not Google). I don't love it and I wish it used a streamlined WP instead, but they're doing this as a cheap way to hook users into MS/Nokia services so that when they DO get a smartphone, they'll hopefully buy Windows Phone.

I still don't get it. WP runs on very low end devices. I really don't get the point here...

WP license is not free, Android is. No license fee means cheaper phone, get it?

WP runs on low end devices, but not VERY low end devices. This is meant to replace Asha phones, which have much lower end (and cheaper) hardware that can't run WP smoothly. It's not about the WP license fee (or else Microsoft would just do it since they don't have a license fee). The Asha hardware sells in markets where current smartphones aren't affordable. That market is still much larger than the current smartphone market. Replacing those with WP-like devices that use Microsoft services is a potential path for getting them to WP in the future.

The choice of codename 'Normandy' is an interesting one. From a European perspective, Normandy was a turning point in WW2 where the allied forces advanced across the English Channel onto the beaches of Normandy, pushing the Germans back into eventual defeat. Could Nokia have really believed that a cheap Android device might be the start of a return to strength when the project began?

This device will cost roughly the same as the 520, like it or not there are too many people on the low end who would still pick an android phone over a 520 or Asha device in the very markets that make Nokia's bottom line. This is the reason for this device

Also forked version of android runs on AOSP not GMS thats why Google does not like forked version of Android. Furthermore Google has been migrating everything to GMS and has left AOSP bare. Basically Android is open source but not really as 'open'...people think it is. Hence why this has Nokia's own store and no access to Googles Services.

The "inexplicable hype" is just because it's a Nokia; that should speak volumes about the quality of the current manufacturers of Android hardware

yup this cheap little phone is getting way more press coverage than any other phone. this is just a new asha device with a forked version of android loaded with ms and here services with a windows like ui. I really dont see what the big deal this is.

Thank you for bringing some sense to this ridiculous media hype surrounding nokia and android. The annoying thing is that Android is automatically associated with google. Google should just drop the android buzz word and just use a more realisting name like "Google Phone" or "gphone". No more mistakes. That remembers about another buzz word. Linux. Linux is everywhere yet people love to use this stupid buzz word. They should just use the distribution they are using.

It would have been a cool name for a Windows Phone.
I guess they know what they're doing. Let's see how this crazy plan plays out.

Its not a windows phone...

I agree. But also think it's funny how I people thought I was nuts in the forums when I said this would happen this year. I've no insider info, just common sense. WP Fanboys were saying it was impossible or wouldn't happen. But business is business.

This is nokia, has nothing to do with windows phone or Microsoft, all we can think is once microsoft acquires Nokia this might be the end of it Posted not from Android!

What exactly did you say was going to happen and when?

Thank heavens this is the ONLY launch of a smartphone they can do till 2016. What a way to ruin it for Microsoft!

+1020, The other OS fanboys are going to have a field day with this....

I can hear them now; " YEAH U NOKIA WP FANBOIS, in your face for saying that there wouldn't be a an (realization hits here) awesome *hmm*....low end...forked... WP resembling...nokia android phone."

Why? For the glory of Satan, or course!

The real question is is the start of the future of the Nokia brand?

The question is, does one like Nokia more than one dislikes Android?

It's not about disliking Android. It's about loving Windows Phone. Android is not that bad but Nokia still shouldn't make Android phones.

Well they need Android to make them cheaper. We are all complaining without understating the value in other markets. The Lumia 520 being the cheapest of all WP devices costs over 300$ in some countries like Ecuador. Why? well taxes to get the phones inside the countries plus fees by Microsoft and other stuff. This phone will cost less and people are more prompt to get it because of the low cost. It is aimed to countries where technology costs are high

highly unlikely seeing as they sold the hardware/devices division to MS. for nokia (without the hardware division) to rebuild its self as a phone maker again is extremely costly (which they dont have the funds) & time consuming. this was planned before the MS buy out. i would be hard pressed to see ms let this product stay when they intigrate nokia devices with the rest of MS

Not really. They already funded a D&S division...Jolla. There's no guarantee that Nokia won't buy Jolla back into Nokia in 2015 aiming for a 2016 return by a really cheap price. Also, it's costly to rebuild a D&S division the size of their current D&S division. But they don't have to do it on the same scale anyway. They could perfectly well get a smaller D&S division to operate on more restricted markets (for example, to focus in Europe and ditch the US market)

Well i think they are going to do it similar to Apple. Do the design with Advanced devices team and allow FoxConn to build devices. Cheapest and efficient. Look at how apple is reaping rewards.

What a waste of time and a good name..

Ugh, bracing for rumors of Nokia switching to android.

They should hurry then, MS/Nokia deal will be finished in March/April.

Android and 512mb ram? Bitch pls

If it's forked, dumbed down version - why not?

Clearly someone hasn't used 4.4. Google's low-end optimizations worked.

You should Google "Android 4.4.2 KitKat" and do some reading and perhaps some testing on devices like the Moto G.

yes kitkat have some magic , it works on low end devices very well , so its a forked android , OK what's next

I guess this shows why MS needed to buy Nokia.

+1 feels like a betray with a bitch slap!

They shouldve bought ALL of Nokia

You can only buy what is for sale....

for publicly traded companies, this is decidedly untrue.

What on earth would Microsoft do with a communications infrastructure business? They'd get their brains beaten in from the likes Huawei and Ericsson, that's what.


My bet is this is for Asia/Africa. Never going to show up in the U.S.

Correct, most likely. This is a "Asha" Successor, after all

Why couldn't WP7.8 be that?

I'm surprised you're even asking that. The reason Asha is losing to android is their lack of apps and knowledge of the OS. Considering the fact Windows Phone 7.x is dead in the water, receiving little to no new apps and no longer receiving updates, a 7.8 handset would fare the same, if not worse, than Asha.

App for WP7 are 100k. No Asha or forked Android has 100k apps. If they cant use Google Play store, they wont even have 100 apps. What am I missing?

What you are missing:
• Ability to side load Apps from the play store
• Which apps are made available through the store
• Which apps are desired in developing markets
• How many of those 100k WP7 Apps (and that number seems off) are "crApps" and/or Web Wrappers
• Which apps are available on Android vs WP7 (There is no Vine or Instagram, for instance)
• How well modern WP7 apps perform compared to their Android versions
• WP7 is no longer being updated, so little support if things go wrong, and no new hardware.
• Less control over WP7 OS by Nokia (They can change much in Android, little in WP7)

But Asha sells at Best Buy as PAYG phone in US.
https://www.windowscentral.com/e?link=https2F2Flink...

• Only 2 of those are sold directly by Best Buy
• They're sold as unlocked, not P.A.Y.G
• There is a difference between sold and marketed. Expansys USA sells a number of handsets in the US that are not marketed here. Asha is designed for developing markets

Why people do you think that forked Android is worse than Asha.

Because there's a weirdly vitriolic anti-Google anti-Android sentiment here. Android is the evil, laggy, etc.

Yeah, tho forked Android has very little to do with the Google itself.

Don't tell the true believers. It's all an evil Google plot.

Because they will grab headlines like no other news and dumb followers wont buy any Lumia on shelves knowing how Nokia makes Android phones. They don't know what forked Android is!

If what you stated were true the real solution would be to make WP brand as appealing as Android; simple as that...

I really couldn't care less l, because its not using google services so no money for them and the OS in Asha was outdated. Also when Microsoft deal Is finalized they'll probably end further development.

If they intend to replace or strengthen Asha line with it, I don't see why MS would see fit to kill it?

Actually you might be surprised. Microsoft will most likely keep it. It's cheaper to produce phones using AOSP and having the apps already available. By going Android sans-Google, they're getting access to Android apps without having to answer to Google at all. And if Microsoft is indeed considering Android apps for Windows Phone, then having a AOSP OS in their feature phones will surely help that.

Cheaper than slapping WP7.8 on it?! Thought they don't get play store in forked.

Yup apps are there but doesn't mean you can use them, see the kindle Posted not from Android!

Unless they block that Google spy and ad engine that is present in most Android Apps Google will be laughing all the way to the bank.

Can someone explain the 'very few launch devices for wp8.1' part? Are you talking about "launch devices" at MWC or when WP8.1 gets announced in Build 2014?

Both. None at MWC and I'm not hearing good things about 'Goldfinger'.

They really need to release a new mainstream device on the global market.They had a poor last quarter because the only big device they had was a 6 inch monster. While I'm not saying its terrible (I'm considering getting one) the fact is, most people don't want a phone that large. I was hoping they'd release a WP8.1 device soon :(

"not hearing good things about Goldfinger"??!! Will it not be launched? Dafaq

Well so long as the focus for the next 6 months is to get absolutely every WP8 device up to date with 8.1 then that's OK. You still need an attention grabber to pair with your new OS however. At least once device from HTC, Samsung, and Nokia.

Yeah? What kinds of not good things?

Oh God! So we'll have the new amazing fresh 8.1 OS on our old scratched and chubby 920!? You mean only a few devices announed at BUILD? None? Any plans for later launches?

Dunno about you but my launch L920 is neither scratched or grubby. But then maybe it says more about the owner than it does about the phone...

Yeah it says i'm a loyal WP fan and want to buy a new device every 1-2 years.. Or that i wear tight jeans..

Have you heard anything at all about "Goldfinger"?

What do you mean? Nothing at all or bad things?

Oh boy...you shouldn't have mentioned that last part about Goldfinger...

Oh dear.... and there I was getting excited after reading TechRadar... http://www.techradar.com/news/phone-and-communications/mobile-phones/mwc...

This probably means come October this year, we will see Surface 3, Surface Pro 3 and Surface Phone all running W8.1 RT or WP8.1 RT update 2!

Microsoft own Nokia handsets soon, so Microsoft selling android. Why!

Green with an X ? X-Box phone.

Exactly what I was thinking.

Totally. It's finally happening...from Nokia. Runing Android. On low-cost hardware, lol

But, why are they making this phone,, Daniel.. What is the point❔

to replace their cheap Asha line. What easier way to do it than use the OS which Microsoft already has apps developed for. All while pissing google off that another forked version is getting released by a big competitor.

Android > Asha. Way I understand it, Asha is being beat in developing markets by Android handsets. By making a WP themed Android handset, they get the apps while drawing new users to the WP ecosystem with future upgrades.

I think I put my < symbol backwards.... But I'm not sure. Anyways, WP8 is better than Asha, but Android has less requirements for hardware and have apps that smartphone buyers in developing markets want.

520 is peanut priced. You think Nokia has higher margin with this spec sold at lower cost than 520?!

It may be peanut priced here, but it may not be in most markets Asha is sold. It also started out at $180 (the 521, that is), and even at $60+, that's still probably more than an Asha device, in the markets they're sold. Normandy/X is meant as a barebones, low end, "can't afford dirt" smartphone.

To piss you off Rodney. Its a conspiracy.

The aliens are coming to eat my brains.

Lol!!!!!!!!! The brains I get from your moms every nite NIST!!... Lol❕

It is all part of my evil masterplan...Muahahahahah!

If the Nokia brand goes Android, would WP become Surface Phone, hence no new Nokia running Windows os in pipeline? Especially with the possible closer integration of RT and WP.....

They just need to bundle it with a Kinect and it's like XBone.

I doubt that there's a connection, but when I saw the top image I thought it looked an awful lot like a digital representation of the original Xbox.

Lol ! I would like to see a Surface Phone :)

This is so pointless - why would they bother. If they were going to release an android phone, just go all in, and do it big. That being said, ive been an android user and somewhat fanboy for a long time (on my 3rd android device, so for the past 6 years). I started with OG Droid, then Droid X, then Galaxy Nexus - ive rooted, Rom'd, Kernal'd, AOSP'd, they all lag like crazy, now matter the hardware. Im done, getting Lumia Icon on thursday, and cannot wait to make "the switch" I cannot wait till 8.1, it will be like when i first got the Droid x, and they released android 2.1 a few weeks later - that brought a bunch of new features, notibly flash support, which google has since removed. Its been a lot of years of frustration, and im hoping that with 8.1 comes a phone os that just works. Heres to hope.

Those specs could run WP.

Obviously not, according to the geniuses at Nokia..../s

Its like a 520 with less storage :D

Why fork it? Just leave it alone. Android works great until hardware manufacturers start making bastardized software. Posted via the WPC App for Android!

Bastardized... Hahahaha lol! xD

It's just to don't piss off Microsoft. They're playing nice-guy-Nokia. The original plans when Nokia started to test Android on Lumia devices was to end up producing full-blown Google-approved Android devices. But because Eflop and a couple of others are MS-guys, they decided it would be better to just use AOSP as a base and get Google out of que picture.

Nokia would never have made a "Google approved" android device unless they decided to abandon their mapping services entirely. Google will not let vendors mix and match services with Google services.

Hmm...I wonder how Samsung does all those Samsung-Apps then. Or how on Earth is Sony allowed to have its own Music store. Yeah. Google does let vendors have other alternative services to their own. They just don't allow OEM's to replace their services.


You know this because...? Ah just read your username :P

Just because you don't know some things it doesn't mean others can't know them ;P

I would like Nokia to get into competition but a little too late when they are on the verge of being taken over my MS. Having said that, those specs are hideous!

going from the specs it looks like it will look like crap anyway. and it seems this is why Nokia went down hill for years and years, for making stupid decisions, and stupid phones that wont do anything good for their company. well... Microsoft practically bought Nokia, but it doesnt change Nokia making phones like this, are being smart. and why are your reporting on Nokia X?
is this Android Central now? Im sorry but if this is an android phone, why are your reporting on it? will you start reporting on HTC or samsung android phones as well? I know you wont, but I dont know why you do it, and other WP sites. Only because its nokia it dosnt mean you have to report everything they make, especially when their stupidity is shown when making and trying to sell a pointless android phone like this.

Lel! xD
But he's right, there was no reason for Nokia to do this. They're wasting whatever time they have left.

I'm sure it will blow over...

I like Nokia Central for a new name

_Emi_ "and why are your reporting on Nokia X? is this Android Central now?"

I'm reporting this because I feel like it. It's great to be the boss.

Good answer boss! (I turn and exit room with brown nose)

Its crossover news so of interest to some...

Well damn..we cant really help it if the only news about Windows Phone comes from Nokia and Microsoft. Nokia has been a LARGE piece of WP so I think its best to show awareness to their "other" plans too.

Coz it is NOKIA!!! nothin more to say!!

I really don't see the issue. a phone like this is designed to help them win back the low end markets. This will not be in the USA, europe, etc. If Nokia can win the low end market then they can stablize themsevles and help fight Samsung. There is a large market out there that needs a low end phone; if the start using Nokia then maybe one day they will move to WP. Right now, Nokia / WP is not winning the low end war. Also, from my understanding, this will not be branded as Android since it is forked. Like Kindle Fire is not called Android. So most consumers will think it is just as much a version of WP as it is a version of Android.

A dream come true. Now make a flagship phone so I can get rid of this WP POS. Europe powah!

There's nothing to stop you importing one and leaving Windows Phone to those of us who enjoy using it!!!

He's just trolling, he's a WP fanboi.

I'm sticking with Nokia no matter what (nord powah). But I would prefer if Nokia made androids, because Android is a superior OS imo.

I don't understand this choice from Nokia and Microsoft at this time. They should think to new WP hardware to push at MWC such as an European version of Lumia Icon and new devices with double sim like 630/635... And even more new hardware possibilities with WP, like wips screen or array camera...

I wish the sale to Microsoft had gone through faster.

I feel like I've been stabbed with a knife and that my eyeballs have been gouged with a spoon!

All this would serve to do is give Nokia a bad name. Android sucks a$$ on low end harware. Why in the world would they do this.

Who is gonna buy this Nokia ?? We don't want it, the Android people don't want it ?? Who's brilliant idea was it not to can this dream when you still could?? Fire that man/woman ASAP.

Maybe the people who do not spend time reading sites like this, who do not care for what OS their phones use etc. ? You know the segment that makes 90% of users....

Seems like BS. The fonts look screwy to me.

what if it turns out to be a new asha series ? how can android work with single home button ? umm have to wait and watch ;)

Makes sense for Microsoft I think. Why not get a piece of the android bandwagon? There's no money in the OS itself, only with the associated services such as outlook.com, bing, office, etc. It's better for Microsoft to focus on a phone that integrates those services than the OS itself, and as long as they can bake in all the services into android and cut google out, why not? Use android against google - I kind of like the strategy. Not to mention Microsoft won't need to pay itself royalties like other users of android, so they have a cost advantage. That said, it will be a cold day in hell before I buy an android over wp8 phone.

"It would be very odd to announce 8.1 devices before the OS itself was officially announced." Don't you remember all of the announcements from Nokia and HTC around WP8.0?? I guess the OS was officially announced, but there were no "official" details from MS. They kept hiding everything. Only show the start screen, not allowed to touch / move around, etc. Until the launch party where it all came out.

Can this phone really come in much/any cheaper than a 520?

Is there any concrete evidence that this is going to be an android phone? or is just because the branding is in green? Seems like a large leap if that's all people are going on, doesn't even seem like Android green to me. Looks more like Xbox green to me on their FB page,

Two things: 1 - very curious to see how Nokia optimized KitKat since it's AOSP - and so it doesn't come filled with Google's stuff - and how they integrated MS stuff in it. 2 - If this is the replacement for the S30 and S40 series, will Microsoft keep using the forked Android OS instead of the S30/S40 series. And if so, then it means that Microsoft forfeits the use of the Nokia branding on feature phones as per the terms of the deal with Nokia, since it is very clear that MS is only allowed to use it on S30 and S40 series phones and not on AOSP or any other phone produced. In which case it means that Nokia has decided with Microsoft that is was ok to just kill feature phones altogether.

I hope MS stomps the life out of this idea.

You'd be surprised at who would buy these phones, Heck I may even buy one just fir a laugh, I think its a way for MS to grab a piece of the robots pie.

I think this a good thing for WP. The big problem with getting people onto WP is that, in many ways, they are already entrenched with Google and all its services. Consider the Nokia X a platform bridge that does very little good for Google, and will get more people using Skydrive, Bing, Live, and HERE services...and loving Nokia. Amazon has done this exact same thing with their Kindle devices. It's not an Android device, it's a Kindle... The fact that underneath it all it runs on Android, is just a sidenote. It is a BUDGET handset, that will probably do very well in developing countries, just like the Lumia 520, but is a real "fox in the hen-house" as far as continuing to pick at Android's strangle-hold. Anyways...Nokia retired Asha...what's the big deal? There wasn't a ton of uproar everytime they announced a new Asha device was there? It will probably save them millions and millions of dollars just letting Google do 80% of the work for them on phones that they'll be pretty much giving away. As for launch devices for WP8.1...ummm...sexy new devices are always welcome, but 8.1 is, by all rights, an update, bringing us refinements and features that have either been promised, fix shortcoming, or that solidify the platform and bring us up to par with the other OS'. We already have premium hardware available...now is the time to catch the OS up to where it should be. And oh yeah... it's time to rebrand Internet Explorer. It's the Ford Pinto of browsers...(regardless of how semi-decent it has become)

I read the same complains when Nokia announced that they put Windows Phone into Nokia devices...

And those people were obviously morons ;-)

Still don't get the point of this one

Will get a dual sim 4" NOKIA. Nothing in the Lumia or Asha range. Two simcards a necessity because of the network coverage. Just hope its released soon. Missed on the N9, will not miss this one provided it haa FM tuner!?

This is far less interesting than everyone is making it out to be. Cheap, forked Android by Nokia running Here and MS service give easy upgrade path to Windows Phone in the future. I am much more concerned with the rumor that MS may allow Android apps to run on Windows Phone... That pretty much means they're waving the white flag.

Can't wait to run the WP Central app on this thing ;)

It is just like experimental phone.

So long Nokia, and thanks for the lenses.

I do not understand Microsoft. Lumia popular because its Nokia. They bought lumia, but Nokia not))))) im go where Nokia goes

If they want to replace Asha, they should leverage the strength of WP, in that it runs like butter regardless of hardware. So use hardware a generation or two behind running WP and sell them at ridiculous Asha prices.

I am kind of surprised to see coverage on this phone since it really has nothing to do with windows phone itself....but Daniel Rubino is boss as he said. The very thought of this device just skeeves me though. Forked android or not lol...shudder. Anyway it looks like the last bit of Nokia to be made before the deal goes through is a lame android phone.

Asha line using Android would make a lot of sense for MS. The android apps they have created and will develop in future will be compatible for this line of products unlike developing separately for the symbian40 platform.

Nokia calls it as Normandy oh waiter give me a half glass of Brandy..

Can Microsoft just finish the acquisition of Nokia already to abort this before it is born?

THIS is the part of the story we should be worried about: "We're also getting word, unconfirmed at this point, that there may be very few 'launch devices' for 8.1." WHAT? Except for the 1520 and Icon, the WP line up is getting very old and if there are no significant and rapid global launches of updated models for various prices points at/right after 8.1 launch... oh my...

This is the nightmare scenario of a Nokia only WP...there ends up being little to nothing to be excited about.

Complain all you want.The fact is this low end phone will still have more apps than the highest end lumia meaning the Lumia 620,625,720 can't run subway surfers but THIS can Posted via the WPC App for Android!

I wanted a new Windows Phone even though I already have the 1520 and won't be able to buy it. =( No idea why but I want PHONE ANOUNCEMENTS. At least I can watch the S5 streaming, right?

Cant blame it, every company looking for good sales, they want to try it, maybe it will click to masses. Then they can move.

This mean "Hi Google, I can use your OS the way I want It"

$10 says there will be only one WP 8.1 device from Microsoft. Probably called Surface Phone. Microsoft will likely take Apple approach and release only one device each year.

That'd be a really risky, almost suicidal, strategy. The main driver of growth for WP thus far has been the availability of devices at lower price points like the 620 and 520. Microsoft trying to imitate the iPhone, releasing one model per year, is the death knell for the platform. This is what all the naysayers regarding the Nokia phone business buyout by Microsoft were warning about. If true, the warnings were correct. Microsoft's obsession with chasing Apple may destroy them.

BIG BIG mistake. Just throw in the towel Nokia...

By selling the phone division to Microsoft, well, they pretty much *did* throw in the towel.

The fact that it this is being announced here suggest a bigger picture yet to be revealed. Daniel is easing us into living with this android tumor.

Its not even low...i would say super low specs of you compare it to 520 that u can get for around $69....wat this android device gonna cost $25 and running android on these specs....sorry my think meter failed here...

What if this android phone is simply to act as a bridge between windows and android after Nokia's devices switches to Microsoft... Possibly we could see some joint Android/Windows phones in the future... I'm most likely wrong but would be nice to get one of those Motorola phones running windows phone

Nokia"X-Box" phone? It is green. Lol

Motorola hasn't sued yet for trademark infringement on the Motorola X???

Hard to sue over a letter

Why is Nokia wasting their time and resources on this POS phone and why is wpcentral so excited about delivering this news which is irrelevant to Windows?

Nokia is WP biggest advocate. Making it relevant. If they announce an android phone that scares people.

When the right one is launched, I only need one Windows Phone 8.1 launch device.

That is why I personalluy respect apple, they are always on their own. They dont care about anything.

Nokia phones had a lot of issues recently with thier hardware, they already feel like an android phone.

Why not make cheaper 520 then? A low spec android will run like shit.

Remember the days when all the pro Microsoft journalist said Nokia would more than likely not make an Android device...ever??

My doubts get higher since we see every time again another style for the X, also, the render contains an "Nokia X" title, and this is the very first time that Nokia doesn't use their own font.

My doubts get higher since we see every time again another style for the X, also, the render contains an "Nokia X" title, and this is the very first time that Nokia doesn't use their own font.

WTF, has nokia laerned nothing, the lumia 520 is the best sellign WP device and now they are gonne kill the market for it, i really hope microsoft kils this with fire.

This just looks like a lame idea that has been a long time coming. A test phone of some sort that would help Nokia see what its chances would have been like with the OS that got away

Don't understand.... What's the point of this??

Way to screw a wonderful thing Nokia!!!!!!

This might steal some of 520's thunder.

IMO, i think this is an easy way to sell WP. You launch a device that has all the apps that people want currently (android). Give users the option to switch OS to 8.1 if they want to, make sure 8.1 works smoother than the android, brilliant!

It's clear that Nokia wants to make some quick money in the emerging markets whilst they are still called Nokia, this money is for the reiteration of itself in 2016

Sounds like specs that could fit the HTC HD2 profile.

I don't really understand it, an android phone with none of the features of android, instead they use all of Microsoft services. Why not just stick to windows phone, its like they've gone out their way to design something that's the same as what they've got!? Posted via the WPC App for Android!

All the time they wasted on Android. all the time they wasted porting their applications to android. all that wasted time.. could have been spend improving WP.

Fans of the platform should read the last paragraph of the post very carefully. Few if any new devices for the big 8.1 software update would be a worrying development. That makes the only true mainstream flagship running Windows Phone, the 920, two years old now. You could easily make the argument that both the 1020 and 1520 are both niche devices.

Very few launch devices for windows 8.1... Well that sucks. I'm holding out for new hardware before burning my upgrade from my 920. It doesn't sound very promising.

Well, I hope those "android fans" are happy.

Is it possible to create an Android device with Live Tiles? Then the X could be a good starter/transition phone before users want more and step up to a full blown Windows Phone.

I don't get it. Is this one of the last phones Nokia will make before it becomes part of MSFT, one of the first of Nokia phones that is not going to be part of MSFT or something else? Thanks for the clarity. -Scott

Has Microsoft completely lost its marbles? Is the Nokia purchase still on? What are they thinking?

Great idea make crappy Android Phones when the rest of the world would like a 5" high end WP grrr I don't want to be stuck with this Ativ S any longer its developed some oap problems

I'm confused did Microsoft buy part of Nokia (devices) or not?

Microsoft will make money off it like they do ever other Android sold

I must admit I did never believe that Nokia Normandy was something real.

Okay android fans, you don't belong here.

I still have a feeling that this thing isn't going to run Android, not even the forked version of that PoS laggy crap. I guess it might be some upgraded, improved version of the OS that powers the Asha series. I might be wrong, but honestly, I just don't want the gorgeous colorful Nokia devices to run that junk.

Android finally done right by Nokia? I want.

I was really hoping for Nokia to show something under the "pureview" branding - an update for the mighty 1020. Sure, it would probably be a 8.1 device, but it could be shown under the pureview moniker, rather than wp8 etc. Ok... I'm reaching. One can hope!!!!

Why would Microsoft kill it? They'll be getting money from Android customers and Windows Phone customers getting money from both. How's that for complicating the market share and how it benefits Microsoft?

What if the X is for X-box? Nokia X-box! Maybe that's the speculated $399 One... (don't take this seirously...)

It's all about the apps. Nokia needs a platform for it's base level hardware. WP8 has lots of apps, but soon the next generation will move to hardarew above this level, even the cheapest Lumia will be better specd (530?). Using Android means that Nokia can get all the popular apps currently avaliable in the Play Store ported over to thisr platform at little expense.

If this phone is cheaper than 520 than I will buy this for my dad and sell his Asha 501.
Windows Central Newsletter
Thank you for signing up to Windows Central. You will receive a verification email shortly.
There was a problem. Please refresh the page and try again.