Nokia Touch update allows you to disable button vibration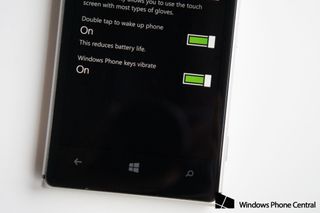 Nokia never fails to impress us with the little options and configurations the company adds with its system app updates. This latest release (version 2.2.0.1) for the Touch system app on Lumia Windows Phones enables a new setting for consumers to toggle, which affects the vibration feedback caused by hitting the capacitive buttons. You're now able to simply turn the vibration on and off.
We actually speculated that this would happen back in September, so we're glad to see it finally arrive.
This setting affects all three buttons – Back, Windows and Search. It's a small alteration with a massive impact on the user experience. Say you don't wish to have your hands massaged while holding your Windows Phone and hitting the capacitive keys, or perhaps you'd like to have the phone completely silent, including any motors running to provide haptic feedback. It's a minor update with a cool new feature.
You can check for updates on your Lumia Windows Phone or hit this link to manually grab the latest Touch release. It's worth noting that a prompt will appear for you to reboot your Windows Phone when changing this setting. Do you prefer to have the capacitive key vibration feedback on or off? Sound off in the comments.
Thanks to everyone who tipped us!
Windows Central Newsletter
Get the best of Windows Central in your inbox, every day!
Rich Edmonds was formerly a Senior Editor of PC hardware at Windows Central, covering everything related to PC components and NAS. He's been involved in technology for more than a decade and knows a thing or two about the magic inside a PC chassis. You can follow him on Twitter at @RichEdmonds.
Wp8.1 update cmin nd changes slowly started to take place ..!!

Who here is still annoyed by the silly screen brightness dimming bug that the 1520 has❔... We need a fix for that❕

I observe this on on the 720 as well, mostly seen when I open a SMS.

I wish you could increase it! ;)

M feeling weird usually on touching vibrate is,dere nw phone seems so silent :P

+1 on the 1020 you can barely feel the vibration, much better on the 520 and the old Samsung Focus.

Yea my cousins 900 has much stronger vibrations than my 1020

I like being able to restart the phone without holding down the power button, and sliding the screen down.. This is much less cumbersome..
............................
MS should let developers make apps that can do this..

An API that can shut your phone off? Available to ANYONE in any app? Not gonna lie, that sounds terrible! haha

Does this saves battery also?

Nice... Too bad you have to restart the phone to take changes

Because that's the worst thing in the world

Because that is what android can do. I am not saying it is the worst thing in the world, but it would be nice to have it without restarting. It just looks like it is another workaround from nokia.

Android phones are the phones who usually requires a restart now and then, if it doesn't restart or turn off by itself. Windows Phone is far more stable in the long run.

It probably will do that in wp8.1 calm your nuts

Calm your nuts ... Heh, I've never heard it in plural before :D

Is it really that big of a deal to wait for the couple of minutes it takes to restart? you'll end up with a fresh boot anyway which should increase battery life and make it more responsive.

Android has it built in to the OS, so yeah obviously this is most likely just a Nokia workaround. Restarting your phone takes no time at all either, unless you spend every second of the day on your phone. Just have it restart when you put it in your pocket, by the time you are out the door it'll be done.

Android doesn't require restart because they know it will crap out and need to be restarted anyway

Also treasure tag does this and that's also by Nokia

It's not a workaround, it just reveals that this is a BIOS setting that the hardware reads only on power up. Nothing wrong with that.

First world WP user problem: "I have to restart my phone..."

⬆⬆⬆⬆⬆⬆⬆... once every six months or more.

Everyday or couple days on Android.

No, Blackberry still wins.

Because waiting another 15 seconds for your phone to restart is such a problem...

Obviously not to any noticeable degree, no.

This was really needed...

Great feature.. Saves my battery

Function to turn the capacitive lights off too would be nice :D

Yeah I want this in 8.1 ! :D

My friend bought the 1320. It has no lights behind the capacitive buttons. He is sad.

Using WP for so long, I could hit the three buttons correctly without even looking. If mine stopped working I wouldn't mind. They're blinding XD. I want a toggle to turn them off or lower it's brightness.

Blinding? I like them on my 925. Now if they were notification lights, I would've loved them.

You obviously didnt use your phone in dark - these buttons are like freakin lighthouses! :P

@talk4lig, you got that right lol... They are pretty bright in the dark. Was hoping they would have added a setting to adjust the brightness but i can live without it. The haptic feed back on my L920 is negligible and prefer it on. Otherwise it feels odd...

Me too! I missed those on my Nokia Music! Really helpful!

It would be cool if there was an option to make them pulse to the beat in Nokia MixRadio.

This I would desire a lot more.

Takes too long to shut down so I manually restart for it to work.i wanted this option before but now I dunno why even after this option has arrived,I kind of feel incomplete without the vibration i had got accustomed to.turning vibration back on right now. :D

Hahaha the same goes with me. I'm so accustomed to the vibrations that now I haven't turned it off even though it would save battery. My Lumia 1320 battery life is very good so doesn't make that much of a difference to me.

Same here. Not used to dead silence.

same here. I can't live w/o the vibration now

I want the vibration back. Lol.

Oh no, you had to reboot twice.

Samsung did this awhile ago.

Nokia did it a while ago too, but just today with Lumia

Hah, what do I say! In the beginning the haptic feedback vibration used to drive me nuts! But over time, I have begun liking it! Yes, I like it now, since i have got used to it, and in any case. it gives me a confirmation that my touch command was registered, so I am more sure about my touch commands. However, I will still have the update for the options. :)

and i thought windows keys written under touch setting would enable the windows key to act as a notification light in the future but it was for this......sigh

That has been my "want" for so long, agree ^

+925 This and being able to close apps without spamming the back button were my top two wants since Windows Phone 7.5. Sadly I stil don't have either because stupid T-Mobile is taking forever. But seriously, Kid's Corner before the basic function of being able to close apps? Does anybody actually use Kid's Corner? Sometimes I wonder what goes on in the minds of the Windows Phone team.

Kids corner is awesome, gives me the peace of mind that i can give my phone to any niece or nephew without worrying that they will start sending random texts or emails to tenants and landlords thus getting me into whole heap of trouble. I don't mind that they have access to the camera roll as all i have is maintenance pictures and property pictures for marketing. When the accidently lock it, it gives me time to engage them in other activities like football (soccer), colouring, origami etc.

Of course, it is a nice feature to have if we are put into situations such as those you mentioned. I just don't understand the priorities the developers have. To me, that's like having a smartphone with all these neat features but no wifi or bluetooth (or some other basic function that every other OS has). A couple weeks ago I was playing a game on my phone, but for some reason I couldn't close out of it no matter how many times I spammed the back button. I could hold the back button and switch between apps, but there was no way of getting rid of it until I restarted my phone. Sure, maybe the "close app" feature may not have worked in that situation as well, but I won't find out until I get the update.

Nothing happens on my 620, still only have the screen sensitivity option, nothing else on screen.

Same wid me dude i think v need black update.aWe need to wait till 24tg feb for this small setting also :(

No i can confirm at this point that you don't require black ....have it on my phone, gdr3 is installed though... Lumia 620 is my phone fyi

There's the issue then. I have gdr2 installed. I guess it needs gdr3 to work.

I think dude Nokia is ignoring 620. Isnt it???

Will be there availability of black update on L620 till 24th Feb.How can u got confirmed about it.Plaese specify

Yeah mine too..nothing changed after the update ..it requires black update i think

GDR 3 and amber on my 620, option is available.

U don't need black.. I updated touch now.. It's working.. And now also I'm having amber

no... it doesnt require black update.. it z working on my l620 with GDR3 update(dev).. i had to restart twice to work it....

I think I don't have gdr3 on l620 ..how can I check wether I have gdr3 or gdr2??

What is your OS version? 8.0.10521.155 is GDR 3, anything below that is GDR 2.

Send your phone to Nokia Center if you don't want to wait getting Black update. They will flash Black firmware for you free.

it works for me! L620 gdr3 dev preview

I've noticed a bit more stuttering when scrolling, though.

I updated touch but didn't got that setting

Curious to see if this has real-world impact on battery life.

It would be extremely minimal imo.

Storage check has an update also, althought i don't see what's new.

Just big fixes according to the change log.

Cool. This was much more annoying on my old Trophy, but this is a welcome addition, none the less.

Ah the trophy. I fondly remember that phone. It served me well.

Mine just crashes and wont let me load touch on my settings

I restarted my phone, then when i loaded back up my keys still vibrated and wont let me open my touch settings

Updated the wives 520, now it doesn't allow the touch settings to be loaded. When I tap the touch settings it tries to load and then crashes. Works great on my 920 though. Hope they fix the problem with my wives as she hates the feedback.

Same here. Ok on my 1520 but somehow not ok on my 920. After restart, the capacitive keys still vibrate but now I can't access to the Touch app. The app will close immediately I launch it.

Same here, im using the 920

My 920 is registering taps without me touching it. It keeps clicking even on lock screen.

I got a issue with the Touch update, when i get into the setting its says " Touch can't be opened. An app update may be available in Store" any ideas to solve the problem?pls no factory setting!? NL 1020 THK

Finally! I really wish there's a toggle for the turning off the capacitive lights. They're extremely annoying!!!

The trick is to turn on Battery Saving mode, which turns off them off.

Along with your notifications :p lol.

About bloody time! This makes my day!

When will we get heptic feedback for dialer and texting

I can't install it on Lumia 1520, followed the link and there was no option to install

"Massive impact on user experience" seriously?

YEAAAAAH! UP UP THEY ARE GOING UP!!

But I love the button feedback. I always want some sort of feedback when I press something.....it gives notion that your command has been accepted. Nice update but no thank you.

About time, this has been bothering me since I switched to the 920 from my venue pro.

It was a "must". At last!

I waited for a long time.

Thanks Nokia, you are the awesome !

I used to want this for the keyboard back when I got my 920 right out the gate coming from android and swiftkey, but now doesn't seem like a necessarily option and also not included from what I have read here....still this is why I love Nokia! Yes they maybe behind on some aspects compared to android and ios but they continue to update their phones!

It feels weird pressing windows key without vibration..... Weird in a good way!!!

Will it stop the vibration in WhatsApp also?

i know others have said this before but.... FINALLY!! I love Windows all the more now.

No. Not switching it off. :)

Wow this really feels different but if it saves battery im cool with it.

It's a quote underrated feature the heptic feedback...you're gonna miss it when it's gone. I would love to have the option to auto-disable the vibration only when batteries are under a certain charge percentage or simply paired with energy saving options.

I restarted my phone and I found 9 updates from the store. Crazy!

Need that on my Ativ S, the touch button vibrations are crazy! I quite like them on my Lumia 1020, however

The Ativ S has always had the ability to disable haptic feedback, dig a bit more in the settings friend.

Am I the only one that likes button vibration?

Nothing changed after the update on my lumia 620 ...i think it requires the black update...fed up of waiting now..huh

Use dev preview my friend :)

Dev preview is for Update 3, not Lumia Black firmware.

I simply adore how everything Windows related has to restart in order to apply changes :D Anyway, vibration disabled, let's see if I'll be able to live with it, for experiment's sake :D

Restarting is usually a more secure way to make changes...

Updated and switched off. My 521 isn't as bad as my hd7 was, but I don't care for the vibration on the buttons. Also shut off vibration of Xbox controller (360, not One).

It feels so dead without vibration! Turning it back on.

Great! The vibration on my 520 is terrible and I never liked it.

Prefer with vibration.....

thats a greatt thing but after update in lumia 620 nothing changed lol same to same any body else?

Requires GDR3, use dev preview

Wait for gdr3 ..this wait is killing me..

Finally! So great now without the noise and vibration...

black update required for enabling this option

My 820 would love this. Already used to Samsung's capacitive button not vibrating so yey. :)

How very timely. I just sent my 920 to warranty repair (with only a few days left on my warranty!) because the vibration had almost completely died on my capacitive buttons!

my Lumia920 never vibrates when using such buttons
there any haptic feedback since i purchased it
i have a 620 and it's available
also same for a friend 920
same fot my brother's 925 dont know why

Hello; I also didn't ever have this vibration on my lumia 920. Don't know if I have to feel myself good or bad :S

Again , restarting the phone will make me angry and if i didn't like the feature and want to turn of it thn i hav to restart again

1st world problems.... :p lol

My 620 says no updates are available. If I go to the Apps page linked above and send it to the phone it gives me option to reinstall, but nothing ever changes. Have restarted phone too, no idea how to get ths update.

first dont install it bcos it wont work untill GDR3 update scondly you can simply tap the search botton on your phone the right botton along windws sign than bing will open then click on the eye shape at bottom than click on it it will open camera just scane that above given 2d bar and automaticly u will be n store after getting and clicking the link

Oh my...stop...just stop...

Nice feature to have, but hope that MS adds it into an OS update as this is a feature that everyone should enjoy.

They should use Windows led for notifications on lumia 925.

I wanted this option, but now I have it, Id miss the vibrate on press if I turned it off

This is good for me cause I dropped my L521 and it vibrates a little too much now when I tap those buttons to the point its a bit uncomfortable, so this is welcomed.

Restarting takes ages...still stuck in "restarting.."

They always find something to complain...

Not complaining.. I am just telling what it does.. DH

I was waiting for this option for a long time. And now im feeling so strng without tht vibration :D

Wtf, you have to restart the phone to disable vibrate? Lame MS, very lame

Yes yes
Let the hate flow through you

Mwahahahah!! Yes, yes, hate hate. We power through your hate!

I'm used to Nokia touch devices of the old days. After using WP, I'd even love to have the vibration feedback when typing!


this is so cool....now my phone giving more solid feel.... and hey mine restarted in just 4-5 seconds....

Nice. Still waiting for configuration for Search button. Don't know how many times I ahve pressed that one by mistake. 1 second delay should be enough.

Thank you Nokia developers for the constant updates and thank you wp central for the news you bring us everyday! You are the best! Chris

One of the few features I like disable and now I got it. Thanks Nokia. Well done.

Incredible, such a small thing, but how I glad I am to be finally able to turn it off. It feels great btw:)

Haptic Feedback OFF ! Yeah!

This should save battery too!

How much impact will it make on my battery life? Any idea to what extent will my battery be conserved with this update? Anyone, any idea?

I can't turn it on, Lumia 620!!! Because I don't have black???? Fuck you Nokia!!!

OMG how do I manually get this update!?!?!?!?!

Follow the link in article and next time read the whole article too. It helps.

It will be hard to get used to it cause it makes me think my phone is bugged,but it's great and makes it feel better.Nokia FTW

I rely on the capacitive button feedback. I definitely will NOT be turning this off.

Its not working on my 620.i couldn't get the option even aftr updating :(

i like the vib better even tho i will give it a try..

Why is this such a big deal? Good grief.

I couldn't find the option to disable button vibrations ,maybe the update screwed.

Yes I always thought vibration on touch buttons is soooo unnecessary. on HTC WP when other party answers the call it vibrates. Loved that feature. NOKIA can we have that too?

Now only if freaking whatsapp will remove their annoying vibration before introducing those wallpapers. My battery will last so much longer!!

Update available, but no new settings on my GDR3-less T-Mobile 925. Restarted a couple times already.

Updated it and the option didnt show up, I even restarted it a couple of times. Using Lumia 520...

This but no Glance on the Icon?!?!?

All well and good but when are they going to fix the Touch Sensitivity issues on teh Lumia 1520 :(

Nice. Now when will they fix the awful touch response on the 1520?

For me it has been fixed with this update. Try it yourself?

Oh my god , feels like my whole world is muted after this.,,,,!

Updated the app, but the new options don't appear for me on my Lumia 620.

i think it requires lumia black update... caz i m on amber 520 ... i updated touch still showing option of sensitivity only... my all sys apps are up to date...

oh ... rich i think u should update ur article... either it requires black o 1 gb ram.. ram part sounds weird though

And suddenly it feels so weird hitting the back key and not to feel the vibration...

Dope. Just turned mine off.

Is there any option to turn off the lights of the three button or atleast dim itz really bright and irritating when you read articles at night :(

I don't care about the battery. I just like it better off.

WOW!I been waiting for this feature for long!

My phone is sooo silent....bwaaahh

I don't like to use the phone without the windows key getting vibrate

This is such a wonderful update. Not feeling that vibration really threw me for a loop at first, but now it makes it even more of a clean experience! Go Nokia!

Updated on my 521 but no option. Guess I need to wait for T-Mobile to push GDR3+Black. They sure are taking their sweet time. EDIT: Installed dev preview and it works great now. So nice to finally have no vibrations.

Finally. Why it take so long. (WP7, 7.5, 7.8, 8)

Can someone do this for htc? Hehehe I mean it...

Try using the proxy trick to install this one on HTC. The samsung app didn't work on nokia, tho.

it working sooooo nice, i've lumia 620 GDR3+AMBER great nokia, i love u :)

This finally solves this setting's description (windows keys)

I am so fond of wp , now finally updated in lumia 520, i love nokia since i started using my first phone, i always believe nokia is Best, pl let me how much battery is saved by this update

Is there RAM updation to 1gb or more in Lumia 520, option when to come,

Just got a storage check update too. Happy to get Nokia updates. But since im on L925 with TMO im missing one other little update. BLACK

Wait, I just updated it but the setting for the vibration is not there...

I just did, but nothing changed.

Not yet. I guess I will wait for the Black update and see if that will change anything.

Fuck! it needed a restart. Do I have to restart to enable vibration again?

Yes if it asks u to do so

Excellent feature. Love 920 more now:D:D

Finally. The only feature I missed since I moved from Ativ S to 1520 :)

Windows phone 7 have this feature with homebrew app http://forum.xda-developers.com/showthread.php?t=2367951

It feels strange after such a long time of feeling the buutons vibrate every time.

too many freagen "I WISH, I WANT, I NEED" here.. just be thankful for all the mothaeffin updates we've been getting so far...

I just get it, and right before, the Lumia Black update hits my 625

OMG!! Nokia hear our voice!! thanks Nokia update: it works perfectly with my L720 it feels different after no vibrate,hahha

Updated the Touch app now it wont open at all, Nokia help says to reset phone and restore :\ don't fancy that much

This is a pretty cool feature and all, but my haptic feedback hasn't worked since updating to Amber on my 920. In my case, if you listen very closely (ear to phone) when pushing the home button, you can just barely hear the motor turning post-Amber. Well, at least that's turned off now so it won't waste any additional juice.

I could have sworn this option was present before. Unless it was my old Samsung Focus Flash I'm thinking about....I could almost swear I remember seeing a haptic feedback toggle ages before this update in the settings. I may be mistaken though.

Wow. I like this. My device feels idk...stealthy?

This is what they spend their time on???

Its nice to get a new feature in between major updates.

I now feel some huge difference when I am using the phone but i like it without the vibration. ;D

Great update. I hated that vibration when I hit the back button. It felt horrible on the Lumia 520.

honestly, it seems quite faster. thumbs up Nokia :)) However, I also miss the vibration...-_-

But I like the vibration. I was hoping that the screen keypads would vibrate too.

After turning off the viberation, battery draining more. May be some app bug which needs to be fixed

Hey Author, Storage Check is also updated to 1.3.0.23

I got a issue with the Touch update, when i get into the setting its says " Touch can't be opened. An app update may be available in Store" any ideas to solve the problem?pls no factory setting!? NL 1020 THK

perfect. much love to nokia

Not working... Lumia 620 with amber update :(

I've always wanted this feature!! Feels kinda weird without the vibrations at first though lol! Now bring on the WP 8.1 update!! I need some WP announcements at MWC as well!! Do it for me Nokia... Please.

Nice , I was watching a long time for this update, tanks guys

Not available for Lumia 620?

hated it at first,but now can't use the phone without it and for those who worry about battery life -HA!- http://blog.immersion.com/2012/07/batterylife/

hated it at first,but now can't use the phone without it and fot those who worry about battery life -HA!- http://blog.immersion.com/2012/07/batterylife/

i have updated touch but still no option to turn on/off vibrate wp button..!!!

Thats funny, the update doesn't give me the option to dissable the vib even after restart. Rogers L920

same here..i have lumia1020 gdr3 but still no option after update.!

I thought can double tap the Windows key can wake-up the phone...

Now I have a way to restart my phone without going through the physical buttons turning off and on.

I've had vibration turned off on my 928 since I got it back in August. Don't see how this is a new feature.

Thank god for that. The haptic feedback on my 720 got on my tits.

Thanks, was waiting this. Now, can duplicate / triplicate listing be fixed for media files?

Wow! I've been waiting for it for so long. Finally I can get rid of all this annoyance. Nokia listened to the users.

I got a issue with the Touch update, when i get into the setting its says " Touch can't be opened. An app update may be available in Store" any ideas to solve the problem?pls no factory setting!? NL 1020 THx

Guess this only works if you have the Lumia Black update. Hurry up T-Mobile... Posted via the WPC App for Android!

i have updated but no windows phone keys vibrate options..why.?

it won't work on my L720..

And what about htc 8x users?:(

Somehow disabling the haptic feedback felt awkward.

nokia used to have a "breather" light for notifications. i loved it

It's not working on my 925. I'm not even able to see the Windows Keys disabling in the touch update. Please help. My fully charged also lasts 5 hours.

Thanks so much ! had nothing showing either, then followed your link & it updated. Now switched off & its great.

Hi ... I am using Lumia 1520 I have updated the current version to DENIM still setting->Touch option is not working can any one guide me how to disable Touch vibration