Nokia unlocks Pro Cam app for Lumia 920, 925 and 928 users with Amber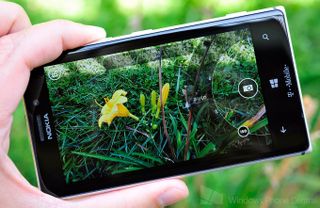 Good news if you're looking to ramp up your photography skills on the Lumia 925, as Nokia is now allowing the Pro Cam app on that phone. Previously, the advanced photography suite was only available for the Nokia Lumia 1020 but it was also known that it would trickle down to the 92x series later.
Today, we can confirm that on our Lumia 925 we can install and indeed use the app. We also suspect that Lumia 928 users may be also be able to use it as well as those on the Lumia 920 who have received the combo GDR2 + Amber updates. In order for the app to work, it requires some OS modifications and the Amber firmware that those new updates bring.
Pro Cam is Nokia's advanced suite of photography tools that enables users to control their camera's white balance, focus, ISO and more all with an intuitive and easy to use interface. Other tools include bracketing (multiple exposures) and a timer. While the app is a necessity with the Lumia 1020 due to its advanced camera, it's obvious that those with a Lumia 92x device could also benefit due to their PureView cameras.
Lumia 925 users can head to the Nokia Collection to pick up Pro Cam right now by following this link.
Update: As confirmed in comments, if you have Amber on your Lumia 920 or Lumia 928, you can indeed install Pro Cam. Thanks, jgbstetson, for the tip!
Windows Central Newsletter
Get the best of Windows Central in in your inbox, every day!
Daniel Rubino is the Editor-in-chief of Windows Central, head reviewer, podcast co-host, and analyst. He has been covering Microsoft since 2007 when this site was called WMExperts (and later Windows Phone Central). His interests include Windows, laptops, next-gen computing, and for some reason, watches. Before all this tech stuff, he worked on a Ph.D. in linguistics, watched people sleep (for medical purposes!), and ran the projectors at movie theaters because it was fun.
Got it on my 920, booooyeahhhh

Haha same here! Oh the joy of flashing your phone!

You don't need to flash to download, but the app wont run w/o Amber. Gives you an error message saying you need the updated version of WP to use app.

Bang got it on my 925 , fuck youtube i got pro cam and metrotube .

youtube is also available now, as MS as publisher.

My phone is just now updating something! Nokia Lumia 920 from the Netherlands. Provider is Telfort.
Yeeeeeeehaaaaaaaaaaaaaa!

While Pro Cam is pretty feature rich, the ONE thing it's lacking is touch to focus and take picture. I was playing around with it on the 1020, and it's interface is really awesome, tapping the screen only focused the shot, but you still needed to touch the Camera icon.

I am actually happy it is this way. I can focus on different objects and see how the shot will look before actually taking the shot.

Please do share, how is the update enhancing the 920? Cant wait to get the update here is South Africa.
Radio?
Tap to Wake up?
Anything esle worthy noting?

Me too. UK 920 with French GDR2 rom.

Works on the 928. Yay, nee default camera when holding the shutter button.

How do you change the default camera app on the shutter button?

Go to Settings > Applications Tab > photos+camera

Go to setting. Swipe over to application. Choose photos+camera. All apps that use the API to allow them to be set as default will appear there.

Settings -> photos + camera -> Pressing the camera button opens

It won't let me get it for my 928 and I have the Amber update.

Same here - I have AMBER cant download any of the Nokia APPs and Verizon REMOVED the Radio from Amber update. I AM SO SICK OF THIS COMPANY - NEVER VERIZON AGAIN -

Same here. I just got the update in my 920 from BUILD 2012 but it still says the app is not available for my device. My 920 is now running 8.0.10328.78. I even got the radio and data sense. There is something very wrong with this update.

Got it on my 928. Really nice.

Will this app really help to shoot better pictures on the 9x Lumia phones? Still limited by their smaller sensor size, aren't they?

Well, the manual focus alone is pretty sensational on a mobile phone.

Amber also brings new jpg and processing algorithms, along with enhancements to the camera (tweaks). Combined with ISO selection (down to 100, up to 3200 now) and more control, yes, you could take a lot better photos. But it's more up to the man behind the camera than the camera itself.

Thanks, this man will need a few more lessons then!

I still want to buy the lumia 1020:)

Got it on my 928, VzW, US.

Got it on my 925! Very nice app!

Downloaded on my 920 Pre Amber.

Just kidding guys, it doesnt work until you update

Not funy
May you burn in hell :) !!!

Hey we are disappointed, too. I was all excited when it let me finally download it, but then when I tried to run, it shook a finger at me and said nuh uh uh!!!

I downloaded it on my L920 (has no Amber), just can't use it :(

Yeah!! Here in Venezuela, Amber it's insane!! Greetings

I don't have Amber installed but Pro Cam is installed just now

I want it for my Lumia 820 :c

Damn, I want this on my 920! No GDR2/Amber for it yet, though. Waiting on Rogers since I have an unlocked one. :-/

same... but oh well.. i downloaded it anyways lmao

So is it safe to say this is a lot better than the stock camera native app on the Lumia devices?

Installed Pro Cam and Video Uploader on my 928, but Smart Cam and Video Trimmer are a no-go. Hmmm...

Still need the gdr2 shizz to run it

Are u serious? Amber flashed? Cause i can't even download it on my 820 w/o Amber.

Yes I am serious I got all the 3 apps video trimmer, uploaded and pro cam.... After the amber update... And it really makes some difference in photos... :)

Awesome... Its working on my 920!

Nokia Video Trimer and Nokia Video Upload are also now available for download on the L920, even those without GDR2. They won't work, but now you can download them (until a few days ago, you couldn't even do that).

He's just letting people know.

Off topic
South Africa for once be first !!
Wate poes !!!

Uk has nothing, another app to download when gdr2 arrives on EE eventually

There any resolution downsizing or any quality drop? Compared to native camera app? Thx if answered

AWESOME! Getting and testing now! NOKIA IS ON A ROLL

ATT was the first to release Lumias in the US but why are they the last to get updates???

"AT&T is actually a dreadful partner"

Question - I DLed for my 928, but I'm not seeing the multiple dials (tree ring-like) as I've seen previously (1020 articles). Is this handset dependant or am I missing a setting?


Swipe the camera icon from right to left.

Sweet! I knew I was being stupid - thanks!

Been looking forward to this one!

Just done updating my red Lumia 920 to GDR2+Amber! Dang I just love my phone more!

Stuff like this, while perhaps minor in the grand scheme of things, really makes a difference in customer satisfaction. It's almost like getting a new phone again. And it's FREE!

I don't have amber update but I was able to install those apps, and does not work, says I need update my Phone.
Why is that? Do I have amber? What's just happening?

You need the amber update in order to make the apps run.. Nothng is wrong

925+Nokia pro cam=100% awesomeness

Up and running on my Lumia 925 sim free from the small and beautiful island of Barbados.

Just upgraded my 928 to Amber and installed the ProCam app. Love the fact that you can zoom in or out while recording video. This was lacking on the original camera app.

Insane video quality while usig this software(1080p/24fps).

can it be pushed to 1080p/30fps?

Actually that is the default setting.

Downloading a phone update on 928 on Verizon right now!!! Could it be GDR2?!?!?

Its working on my manually updated 920. The app seems to have a bit of a learning curve, but it seems that you can achieve better results than with the default app.

Awesome, after I installed this app, I went to check the phone update for amber, and it started downloading :) ... Now my battery is very low and I'm waiting for recharge to start install :) boo yeaaah!!!! 920 no brand no lock btw

Hi WP users, who among you are really good at cameras and photography.? I would like to know how I would use all those settings on my 920, as I still have them as Default. What's adjusting the ISO and exposure for..?

Just got it on my 925 and it does help out in enhancing pictures by a long shot!!! Love this app and just replaced the main camera app for this on my shutter button!!!!


same here, dude! I was just waiting for this day to come. My 925 will shine bright like a diamond in the sky now

So excited to get to play with this application some.girls I know are gonna play the models in my sample photos ;P

FINALLY! I can't believe this day arrived. My 925 is jumping for joy!!

Will this app eventually filter down to other Lumias such as the 720.

Downloaded by using proxy weeks ago, this camera app really make my purchased of proshot wasted...

Feeling bad for google blocking youtube for our phone, but nokia gave me a big smile! Oh yeah!!! Nokia pro cam! 920 here from the Philippines!!

Between Pro Cam, One Shot, Smart Cam and the various lenses I am getting a little confused on when to use what.

After played for an hour with all new camera lenses I have to say I don't like the new ones! Why because they went Android and iPhone style! For making a photo you have to push the little camera icon!!! Why not just the whole screen???
When I give my phone to someone to make a picture of us they ask where to push, I tell them anywhere on the screen and they go WOW what nice!!! And now Nokia goes the same stupid little icon way of life!!!

So the default lens keeps my default for quick picture taking.
But when there is more time to get a nice picture I sugest the ProCam. When there is a chance you will miss the best picture because things go fast like in sports you should chose the Smart Cam :-) Disadvantage you get lower quality photos 5mpx instead of 7 or 8. But you have a bigger chance for a good picture. Hope this helps.

Finally got it on my Lumia 920 (Vodafone UK). I am loving the Pro Cam and Smart Cam applications!

Hmmm. I'm wondering now what phone to get. Either the 925, which is lighter and looks better imho, but has a lesser camera and is cheaper, or the 1020, which is quite a bit heavier (but less than the 920) and looks lesser due to the "thickness", but has a way better camera and is way more expensive. The 1020 will be available in Germany (I am from the Netherlands b.t.w.) in september. In the Netherlands it will take a bit longer. The 925 is around 425/430 euro's in the Netherlands and Germany (and might get cheaper). The 1020 will be 700 or 800 euro's, depending on the model (either with 32 or 64 Gb - I think O2 is getting the 64 Gb version, as it's a sister company of Telefonica). I wonder if the higher price is worth it (the 64 Gb is almost twice as expensive). Even more now the pro cam app is available.
Choices, choices :).

Now all I need is amber. Im sure att will be the very last to update the 920 if at all. Might have to wait until GDR3.

'Nokia Video Trimmer' and 'Nokia Video Upload' are also available on GDR2+Amber updated 92x series phones! Thanks Nokia!

Is it a bit laggy or is just me?

Yeah, its a bit laggy on Lumia920. So, I thought to reinstall on my 920. But couldnot download it anymore. "App not available - This might be because your phone software needs to be updated, the app is exclusive to a different mobile provide, or the app is not available in your country/region"
WTF :(

Just checked and It's been pulled off from the peruvian store too...
that's really weird, try changing your region to United States :)
But if you're already in the united states we're fucked up then :P

Im in Budapest, Hungary. Found a solution. Check this thread:
http://forums.wpcentral.com/nokia-lumia-920/240846-unable-download-nokia-pro-cam-app-lumia920.html#post2121073

Could I put GDR2 on the 8X and use fiddler? Or do I need amber to run it?

This is beautiful, glad I have a Lumia 920 WP8 :)

Are they going to create a Nokia HUB so that I can store all their apps on the start screen for a one stop shop type of deal? My start screen is getting overcrowded.

You can make procam your default camera app that launches when you press the camera button on your phone. Since so many of the photo apps have lense capability, I took several off my start screen (Oggl, Smart Shot, Cinemagraph, etc).

What about for Lumia 720?

920 not work this camera I check my phone up to date update

Downloaded on my Lumia 925, soon for Lumia 920!

ISO and Focus on Pro Cam resets itself all the time, is that a bug? I hope so.

Thanks, Nokia! The 925 is easily TMoUS's best phone, and they would sell tons of them if only they gave it a chance. This week isn't over, and I've had three people ooh and ahh over the photos taken with my phone. I daresay I've done more to sell this phone than TMo.

Yo..camera pro is amazing..i am currently rocking a Lumia 920 running amber and till now, the grass seems greener than before..and camera pro is just what i was waiting for. Though, i feel that the images are more grainy now. Could be my an apparition though. Does anybody have any views on this..???

i see happy people on their phone updates (im not talking to android phones)

Updated to GDR2 + Amber on my Verizon Lumia 928 this morning and downloaded Pro Cam but having a weird problem that I think is a bug.
In Pro Cam, when I use the hardware button on the side of the camera to take a picture, as long as I hold the phone still, it will just keep snapping shots (stopped it at 20!) until I move the phone, then it will stop. However, if I use the little camera icon button on the screen to take a picture, it properly only snaps one shot. Not using bracketing or anything, all other settings are default. Did try toggling the tap screen setting to take a picture but that didn't have any effect.
Checked with my brother who has the 928 and also updated this morning and he doesn't have the issue, hardware button only snaps one shot as it should.
Curious if anyone else has seen this issue?

I have been able to download this app on my Lumia 920 but cannot open it as it says the current version of the phone does not support it and suggests I check for updates!

I don't understand why they won't unlock it for Lumia 820

yeah i too got 820 but not this app :(

I downloaded before but reset my phone and now it's saying it isn't available for my phone unbranded unlocked lumia 920 from italy.. Someone please help me get it back!!!!


The same happened to me on my Lumia920 (GDR2/Amber). Just wanted to reinstall the app. Now couldnot download it :(

which version do you have @ pacific16? And where are you located I'm in Chicago.

Im in Budapest, Hungary. Found a solution. Check this thread:
http://forums.wpcentral.com/nokia-lumia-920/240846-unable-download-nokia-pro-cam-app-lumia920.html#post2121073

Cannot get for my 920 market is telling me not available for my version? Anyone having this problem.
Windows Central Newsletter
Thank you for signing up to Windows Central. You will receive a verification email shortly.
There was a problem. Please refresh the page and try again.