Nokia updates HERE Maps for Windows Phone and the web with broader coverage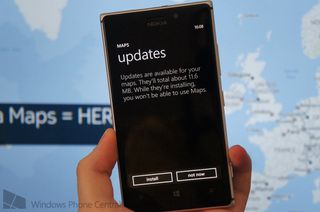 Nokia has updated both the Windows Phone app and web version of HERE Maps. The company has published a new article on the official blog that details multiple challenges when it comes to cartography. That said, we're more interested in what the team has added in this maps update. Today's update for both Windows Phone 8 and here.com is painted as a significant milestone.
We previously looked at the suite with the new LiveSight feature, but today it's more about the detail and coverage of the mapping service itself. It's worth noting that this isn't an actual app update, so you'll not receive a Store notification that a new version is available. This is an internal update, handled by the HERE Maps app. To see about getting the latest update to the maps, head over to Settings > Applications > Maps and hit "Check for updates".
It's really neat if you're using the new Nokia Amber update with GDR2 (Lumia 925 anyone? Our review is coming soon, I promise) as only specific roads and other map features that have been updated will be downloaded - this saves bags of time and data as it's not required to install whole countries anew.
So what's new in this update? We've got better maps for Tunisia, Senegal and Cyprus. Good news if you reside in those locations. The team has added roads and broadened overall coverage in said countries. Buildings have been added in Croatia, including 1.86 million building outlines across the country. Lastly, we have expanded public transit data in Hong Kong, Macau and Taiwan, making it easier to navigate systems when out and about.
What's more is if you're a corporate customer who utilises HERE mapping. Nokia is providing more information on how trucks and fleets can navigate the world. They'll be able to see which roads have weight and / or height restrictions that will have to be avoided. To close off, the company notes that more is on the way for mapping with updates for other platforms, including Symbian.
You can download HERE Maps from the Windows Phone Store on supported hardware and check out the web version at HERE.com. Thanks, Sourabh , for the tip!
Rich Edmonds is a word conjurer at Windows Central, covering everything related to Windows, gaming, and hardware. He's been involved in technology for more than a decade and knows a thing or two about the magic inside a device chassis. You can follow him over on Twitter at @RichEdmonds.
Good maybe now it can find the streets I was looking for last week and had to resort to google maps...

Latitude feature please....

That would be a great feature to add.

I can't update, info in marketplace says last updated 5/30/2013.

Mine too we have to wait probably

wha you two need to do is read the whole article. :D

I finished reading the article and understand now but the first sentence is very misleading.

as stated in the article it is not the here maps app that got updated but the map data. You can check that in application settings when in here maps or when in settings of your phone

It's not a update for the app itself. Is for the map data. Go to settings and update maps.

Its all coming relax people dont blame nok blame Microsoft :D LOLZ xD

Maps for Tunisia please.....

Did you read the article? This udpate includes maps for Tunisia.

1.553 MB - not bad edit: they should merge the effort on maps with MS just like on music

Mine was 0MB and still gave me the option to install even though I don't have any offline maps.

They dont mention updates for other regions but both my DC and MD maps updated.

My Illinois, Wisconsin and Indiana maps all had available updates as well.

Update for India too, 700+ MB :-|

What's the difference between this and the regular 'Nokia Maps'?

'Nokia Maps' is now 'HERE Maps'.

Can we get maps for Japan? It's not exactly a tiny country.

Haven't updated my phone's app yet but just tried HERE on the web and it's not very impressive. Swtich to 3D map mode - everything goes black, wherever in the world I'm looking, until I switch back to regular maps or satellite. Try to drop the little man onto the map to get the equivalent of StreetView and nothing happens - the man 'sticks' to my cursor and never drops, even though the roads are highlighted blue to indiciate, presumably, where I could drop him.

MARS MAP UPDATE PLEASE!!!!!

7.8 users feeling left out to see these all updates on wp8!! oh nokia why! :(

probably because based on the latest stats, 7.8 users are becoming a minority.
Since this is map data update, it might still make it to 7.8, but it makes sense for that to be a lower priority

Everytime I read comments like this, I am oh so thankful AT&T allowed me to early upgrade from the L900 to the L920 only 7 months in. So worth it.

Austria and Slovakia are updated too.

Map updates for the Philippines.., though haven't notice anything yet...

The problem with loading all the maps for canada/us and not updating since getting the phone...3,003.4MB.
despite my "unlimited" data, i'm not gonna consider pulling that down right now.

Trinidad and Tobago in the Caribbean updated too.
Quite a surprise that.

My lumia 920 keeps giving me an error each time I try to install Here Maps. Guess I won't see that updated Trinidad and Tobago maps. What exactly has been updated on the Map though, because on Here.com the maps looks the same. Hasn't changed since I had my N97 with Nokia Maps.


It's cool that Nokia updated their maps for Symbian! Shows they have great support :)

Funny you mention that because they're not only much more up-to-date than the WP 7.8 maps but the application is also a lot more capable there. I was really lucky to have both my C7-00 and my Lumia 710 last month in California. WP 7.8 didn't know streets that existed for many years and had a nasty tendency to always route me many miles over highways instead of using the regular streets where the distance would only have been a couple hundreds of yards.

The update fixed Singapore's missing block numbers in the map too.

216 mb update.. I m frm north india..

Traffic would be great for Here Drive...

Anyone noticed WAZE is available in the store?
http://www.windowsphone.com/s?appId=b5d1bd9d-7d67-4b2f-9249-c6db20b861b9

NO Way!! WPC is sleeping. Thank you very much for that link! Edit: Never mind. It's still in BETA and doesn't allow me to download.

it's a private beta, has been there for a few weeks

Got updates for India, Singapore and UAE.

Please don't make confusion. This maps's update has less to do with Here/Nokia Map
This is not ad update of Here Map, but is an update of the maps of Windows Phone and the map of Windows Phone is not the map of Here Map.
Yes Here Map use the Map of Windows Phone (that is provided by Nokia/Navteq) like any othe apps of any other devs, but becouse this map are part of the OS and comes with Windows Phone platform like the maps of Garmin (also provided by Nokia/Navteq) are part of their navigator

Great, I am going to Cyprus next week on holiday. Talk about perfect timing.

Wow! The Maps update for Mexico is a hefty 333 MB. My 620 feels heavier already.

stupid, visitor bait article title, eric richmond you are a true journalist.. (dont be proud of that)

feel let down at the moment, i had corrected many errors thru HERE maps Creator and i thought they would be included on the next update but nothing has been included, Zimbabwe, 5 months down the line.
there are roads which ends in the middle, some roads had old/wrong names.
Windows Central Newsletter
Get the best of Windows Central in in your inbox, every day!
Thank you for signing up to Windows Central. You will receive a verification email shortly.
There was a problem. Please refresh the page and try again.