Nokia updates HERE Maps for Windows 8.1 with new features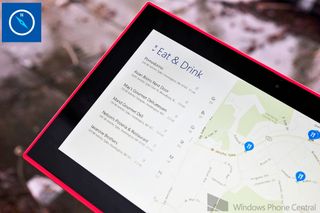 Nokia has released a new and big update for its HERE Maps app for Windows 8.1, adding a number of new features and improvements and also making the app available worldwide for the first time.
One of the new features allows users to manually set their current position in the HERE Maps app. The city pages have also been revamped in the new version, which Nokia says should help make it easier for users when they wish to explore new locations Finally, the route options now allow users to change the ones that are brought up automatically by the app, just in case you wish to avoid certain roads or paths. Up to eight waypoints can now be added to each route.
Do you use HERE Maps for Windows 8.1 and if so what do you think of this new update?
Download - HERE Maps for Windows 8.1 for free: Store Link (opens in new tab)
Source: Nokia
Windows Central Newsletter
Get the best of Windows Central in your inbox, every day!
Nice gonna check it out now.

So how do you get the update? Mine says last updated 4/26/14 and there is no update button.

Settings charm, App updates :)

Ohhhh I see now... from the Store app, not HERE Maps...(!)

Is it exclusive to the 2520?

Nope, I have it on my SP2.

Does it plot quickest route for a chain of locations?

I was wondering that too!

Nope. Runs just fine on my Venue 8 Pro.

Runs great on my Surface 2

I want the change in route option on Windows Phone!!!

Yeah we need that in here drive.

Its really frustrating what HERE drive forces you to take a route that you know isnt the best route.

Yup, should give 3 options at least. That's one nice thing about waze.

I want to sync my routes I made on here.com!!!!
That is to me the most annoying thing when it comes to the app!

No navigation in my country yet, waze works and has tons of current data, with here you may see the most important hotel the most important restaurant etc, waze got them all, what I don't understand is why it worked with voice nav with street names and all on my Symbian Nokia maps and not on this "new" thing, but anyway official apps are so smooth and polished... I wish ms bough waze and not google, maybe they can get foursquare...

This is for Windows 8.1, not windows phone. Waze doesn't have a Windows app released yet

i know, just refering to the service in general

Microsoft has been rumored to be interested in buying foursquare. It hasn't happened yet but they do have a close relationship.

Same here No navigation, maps not being updated, Creator deleting corrected map data, Yet on Google it doesn't take a day for the updated map data by approved updaters to appear for everyone to use. i am now pissed off, i have been re-updating roads for my area where i stay (i have a house there) but on many occusions, their A1 keeps on deleting and making double roads on some of the roads

My application of here drive doesn't speak... Has anybody have the same problem?

No issues here, do you have the sound/language pack installed?

Funny, the first thing I do is turn OFF voice navigation. I hate the voice interrupting my audio books or podcasts.

Its really cool to hear the name "NOKIA"

Because HERE suite is not a part of the acquisition.

I didn't know this existed. Will download when I get home(I need a Surface Pro 3...(WPCentral Will you sponsor me?)

SP3 doesn't have GPS chip in it though :(

really? What a fail by MS!

Actually, none of the surface models have that extermely costly $1 GPS chip inside.. Its a shame of MS or not, let customers decide. It seems majority of people are fine with that, according to sales numbers.

I would use it more but it doesn't support portrait mode! (Neither does Xbox One Smartglass, strangely.) Whenever I am on WiFi I prefer to use the awesome Bing Maps Preview. If I'm not on WiFi, I just use Here Maps on my phone.

I'd like it to be able to use GPS by COM ports like Streets and Trips or Garmin Mobile PC does, but I don't think that's allowed in the Metro API.
Edit: I found a tool that lets you bind it to a Location Driver for Windows 7 or 8, but I don't think that it likes it anyways.

I swear MS loves to pull the plug on products and replace them with crap not as fully developed. First Zune to Xbox Music now Streets & Trips is being discontinued after this year.

They certainly do. Microsoft just hates to improve on a good thing;Media Center( Which I thought is a killer feature that just need to be continually supported), Zune just needed to be continually supported but scraped. Media Center for tv shows and movies including those you record, Zune for music and concerts, Xbox for games and sports, Office and One Note for business, school and home, Outlook for email, Onedrive for cloud all these great programs would have made a windows tablet a must have and would have made any OEM a serious partner.

Can here maps be universal app?

Please improve the performance of smartphone version of here maps . It's really laggy !!

Damn I though it was an update for the windows phone version!

+928 even force checked for update :)

Two things I need with this, 1- tell me my destination is on the left or right. And 2 make it easy to go from map driving to reading them.

By world wide, likely means everywhere except Japan. I'll take a look but have installed and uninstalled with each previous update,

Because you're not in Bestest Korea. Only five roads to keep updated in Bestest Korea.

When I opened here on my 1520, I got a notice of an update.

I dont see any changes on my surface pro.... does it get updated automatically?

Speaking of updates... This should be the week of that huge XBM update... And, I just thought of a cool feature they could add that a lot of you guys would like...... You know when you have to reboot your phone and loose your spot in your music mix, or restart the album you were playing?.... That's so annoying, and MS needs to make XBM remember what it was playing, even after a soft reboot... Heck, if XBM could store that data on the storage card it should be able to remember it after a hard reboot as well....
............
And, if it stored your mix, or spot, in the cloud you would be able to continue with your music on any other device like we've been asking for for decades.... Cool!!!!

i think that would have to be done on the OS end, xbm is really just a front end for the music player I think, it seems like the actual playing and handling is done by the OS, not the app

But, the app is what manages the app info.. This is where things like your current spot in a game is stored.. It's definitely the app.. And the app is what would initiate syncing to the cloud... No question about it!

It depends on how system is set up, might be possible with just the app.. Might not

I'd already be happy when it would display any of my album art. Strangely OneMusic has no problem at all with it ... MICROSOOOOOOOOOFFFFT!!!!!

Are you running the DP?.. Because I noticed that with the official update album art appears more frequently.. IDK how, or why, but it does.

Yes, I am. At first I thought it would be my fault, but then I bought OneMusic and there all of my album art got displayed :/

No, it's definitely XBM that acts up..

Needs street view. (unless I'm ignorant and it does have it.)

I was just thinking about this ability to choose other routes, if one wants to. Hope it comes to WP soon!

I just want to be able to sync my saved routes from here.com!

This is totally of topic but is anyone else having problems downloading fitbit? Is there a certain amount of ram the phone has to have?

Here maps needs to add junction/interchange/exit view and exit numbers to the app.

Lumia 1020 users (on att), does Here+ work on your phones? For me it never "follows" where I am, or even locates me correctly in the first place.

Works for me perfectly. Finds my location in less then 5 seconds.

Works great on my 1020 (on Rogers in Canada). Are you inside your vehicle with the phone too far from the windows? A lead case on the phone? Strange that it's not working well for you. How does the built-in "Maps" app compare to the Nokia HERE+ app in terms of finding your location and keeping it up-to-date? Wondering if it's environment/placement, hardware, or software...

not for Windows phone.... waiting

THE VIDEO APP IS ALSO UPDATED!! :D :D :D

There's already an article about that...

Here maps are always useful in my case

This app has been huge for me and looking forward to checking out the update! I'm using a Surface 2 w/LTE, it has been a lot better than the microsoft maps app which needs to get updated as well.

If I'm reading the text and assume that the statement: " ... and also making the app available worldwide for the first time." is correct, then I'm very happy to announce that Republic Of Macedonia is out of this world!!!! The app is not present in the app store :(

Wish they would add features to here drive on WP 8.1.. Traffic rerouting would be good..

Of course I use it; update sounds good!

Whoa!!
"Seems Faster". Guys

Still one obvious feature missing. Sharing collections. I'd like to share my New York collection with others who might want to visit and see all the places I tagged.

Great idea! Please send this feedback to the Nokia HERE team.

Do "collected" routes get synced on the tablet version?

I sort of always preferred Bing maps to here maps. Not sure why.

Still not possible to download map for Japan.

I'm pretty sure we'll get this update on the phone as well.

Cool! Gonna update it right away...

Use it. Love it. Like the waypoints update.

Waypoints at last brilliant.

Does anyone else get.pissed about it not saying north or south when speaking of an exit.? If u k ow of a way to fix this please tell me.

News regarding Windows in WPcentral keeps confusing me. Couldn't find this update in the WP Store, just like XBox Video the other day, until once again I figured this wasn't about WP. Would love to see those features on WP app, along with better default routes. As much as I hate to say it, Google Maps is better in this respect (better then Tomtom as well).

Here is more accurate specially I love here explore which is in beta now

I've always loved here maps

When we are getting update for phones?

I only hope the app will now finally fix the issue that collections are not synched.

maps.google.com still works WAAAAAAY better. When I need to drive to a company, in google maps I don't need to lookup the address, I just type in the company name and it finds it's location immediately. In HERE maps it doesn't find the company and I need to know (lookup) the address before I can start. Furthermore, HERE maps doesn't recognize the locations I have stored in my Favorites. That's after playing for 10 minutes with this app. It's not going to make it. Please Nokia, step up and do better! I really want to use HERE maps for route planning (on my desktop) and HERE drive for navigation (with my Nokia 920). regards, Rob

Plz update the same for windows phone.

Hi guys plz make sure for next update,this Here should work for bicycle also because it helps a lot for use as everyone knows that's when we go by cycle it will be less kilometres then bus are car so most of time when we go long ride we need this opposition so it helps use more & for walk their is no voice control so Pl updated that's as guys

You know... That almost made sense to me /s

Nice features, but Nokia Maps on my S60 device have this years before :D!

No Venue Maps? It's in the original Bing Maps (for Win 8), or am I just not seeing it.

Avast blocks it as: Object: C:\Program Files\...\MapsW8.exe
Infection: Win32:Evo-gen [Susp] I sent a report to Avast of possible false positive, will see...

Have you received an answer from Avast ? My Here Maps apps on Windows 8.1 was also blocked by Avast.

I think here maps is great, especially on windows phone. Here maps on windows 8 is also good. It is espcially a rich experience when it comes to local search results with a nice design of the sliding results menu. Compared to the native bing maps, the search experience is still poor and below average when it comes to results. It is the simple things where the differences between here maps and bing maps stand out. For example a search query in my city of Groningen. "MacDonalds Groningen" actually shows all the Macdonalds in the city. Here maps only shows two locations! Same goes for another city in Europe. For example the supermarket migros in Switserland. "migros Geneva" shows but a handfull of supermarkets iin here maps while bing maps shows ALL sites in Geneva. Famous landmarks such as the "Matterhorn" in Switerland. Bing maps actually shows satelite data, map location and altitude data of the mountain landmark. Here maps fails on this query. Another major difference I've noticed is how search works between bing and here maps. With bing maps you can search globally from any point on the map (very convenient and intuitive). I think Here maps has a different search algorhythm, where search results are at first limited to the area on the map you are on that point in time. The difference is search results are striking! I personally don't see much difference between the map styling between here maps and bing maps. Strangely enough though I tend to lean more towards here maps when it comes to user design and overal visual appeal. I think it would be nice if here maps could work together with bing maps to provide an overal powerful search experience, but enjoy the visual end user experience of what is here maps. I think that would be a nice blend. Would be happy to invest 1-2 euros if they wish it to be a paid app once fused and running bug free. Would be cool as well in a way because one could have the benefits of offline maps as well! That would be awesome and beat the hastle of the always online google maps.

Sorry, this app is no longer available...? What gives?