Nokia updates its HERE offline maps data with 'millions' of changes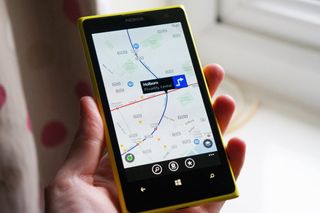 Even as Nokia is reportedly thinking about selling its HERE maps division, the company continues to offer updates to its HERE maps apps. Nokia has released a major new offline maps update for its Windows Phone, iOS and Android apps.
Nokia states:
In particular, a number of African countries now have "much more detailed maps" as part of this update. In addition, the depiction of public transit maps has been improved in a number of cities in the Americas, Europe, Australia and New Zealand.
Download HERE maps for Windows Phone (Free)
Source: Nokia
That's great news, I use it almost everyday.

when was this update released? I see last updated 9/4/2015.

I guess your set of maps don't have updates.

It's not the app. It's the maps.

that's a non-american date format so it's the 9th of April

Isn't this update for the offline maps and not the app itself?

Correct sir. Sorry i missed that. I thought it was the maps app instead of the region defined maps.

Me too, both HERE Drive+ and HERE Maps are free and that was the reason I moved from Android to Windows Phone.

That's great news, I almost use it everyday.

I love the PT map, any improvements will be greatly appreciated.

Ha duas ou três semanas vi um carro do here maps a atualizar os dados em Lisboa... Veremos as melhorias

I cannot see any update..

Open the app and it should say "fresh maps available". If it doesn't then there are no updates for the regions you downloaded for offline use.

Go to settings swipe right to applications then maps

open heremaps than go to download maps and click on update maps and you are done.

The update for England, is just about 96MB (according to the update prompt). It would be given that mapping still go ahead amid the sale talks. It would be surprising if all work was halted.
Edit: Size is 95.7 MB, looks like it downloads the whole region again. So going to take awhile to update if you have a few regions downloaded for offline use.

Mine for California stated 77mb. Then when it started installation it said 386mb lol. I think I hadn't downloaded my offline maps since I restored my phone last.

Mine said 42MB update for Ontairo, Canada update. Download is actually 437MB - but I'm not complaining! :-)

I'm not sure the larger number is correct. I think it might just be displaying the total size of the map file instead of the update. The reason I say that is because mine said I had 41 MB of updates and then showed several hundred MB on the download screen. However, it downloaded in just a few minutes on my crappy work Wifi. It is highly unlikely that my work Wifi would have allowed 700MB of downloads in just a few minutes (it would be a first) so I'm thinking the 41MB is most likely correct.

Yes, I think you are correct update for Croatia was just about 17.7 MB, and then showed downloading 264.8MB update, but it was over in under a min over 3G. It is an update of just 17.7MB and total size of a map on phone is 264.8MB.

Noticed similar thing here in India.. I had maps for 3 states and it showed 140 MB to download but when it starter it showed 220+ MB approx for each.. But when downloading was complete, I checked data sense and it only downloaded 140MB.. I guess it shows the existing size (of the maps) while downloading and not what it is downloading..

Good findings. Please write your above findings to HERE if you haven't already.

I know right? New maps are exciting

open the settings app and slide to maps under the navigation pivot. Hit check for updates

What about people with update 2 ? Posted via the Windows Central App for Android

Go to Storage sense app -> find and click on 'maps' -> click manage -> Check for updates.

Go to the app and update the maps.

I was about to download map data for my phone , which I resetted for some reasons..... Well now I am going to download fresh map data...

Did the same. Now it downloads all maps for Germany, Netherlands & Poland. At least I do not need the app till tomorrow. :P

I thought it was the app, but it's the map data. It prompted me as soon as I launched it that there is updates available.

Doesn't do me any good if I can't store them on the memory card anymore.

Does WP10 allow map storage on the SD card? Will be great to someday be able to do that, that is if WP10 ever becomes stable enough to upgrade to.

My thoughts exactly, I'd love to have maps stored on my phone for the states and countries I travel to but not being able to store them on my 1520's SD card prevents all of that.

Still doesn't matter store everything else on your card use phone storage for maps

Guys, now I got indoor maps for shopping malls with this update!! HERE maps rock! Hope Microsoft acquire them if Nokia do decide to sell them.

Indoor maps for where ? Posted via the Windows Central App for Android

Okay, had to check it. Looks like I got shopping malls as well. Small town in Mississippi, and the shopping mall is completely mapped, complete with names of every store and locations of all bathrooms, etc. Even bathrooms within the stores. That might come in handy since I've got a 2 year old. ;) Thanks for the heads up.

They've had that for a few years now...

In the mean time Here Maps still doenst allow manual adding of POI and you cant reroute properly(for example before choosing the route) and traffic data sucks too. - Background downloading sure doesnt work either - not even in win10m I guess

Damn I just thought of this update :) let me see the millions of changes. Sometimes I just hate this app so much. All I have to is drive straight, no left right turns in miles but it still says stay right in X meters and confuses me alot. Also I never passed Newark Airport area without loosing my way :)

Stay righ is just a kind reminder to not block the left lane! ;)

Exactly! Cloggin' up the left lane is a pet peeve in NJ!

The good thing i have seen is now our newly formed state telangana is shown instead of andhra pradesh while searching for address.....

Cannot access offline maps in 10080 build...

That's why I stopped using Windows 10 preview on my phone, I think phone previews should not be used as a critical device you use everyday as your phone. My Lumia 625 has just received Denim and works great, I'm probably not going to upgrade to any further version since it only has 512MB of RAM.

Yes, it says so in the article.

Does that mean Bing Maps is updated as well? In my location HERE Maps is really bad, location are wrong and missing road.. But if more Android phone using it, the maps accuracy should have gotten better, or at least I hope so..

They use the same map data Posted via the Windows Central App for Android

If only HERE drive worked a little more like waze, I'd drop waze in a heartbeat. Live traffic rerouting and user reports help me find the quickest route in NYC. That's why I still use waze to this day even though support has dropped for WP. HERE maps also has issues finding street addresses, especially in Queens. Never had this problem when Bing maps was the default.
P.s. I don't mind online GPS navigation as I'm in the city and have unlimited data.

I started using Waze back in WinMo days when it was just their beginning. Nobody cared about it at the time. I used to tell people about it. It has come a long way since then.

There is no such thing as online GPS. What you probably mean is online map data, right? As for problems with finding places: I have the same issue, though it works better on here maps than the bing maps for me. Often bing maps jumps to some distant country if i forget to specify the city of the street I am currently in. Annoying.

I think he meant active Navigation, which includes maps, traffic, accidents, speed traps, speed cameras, live messaging, etc.

Exactly, I tried to mean online navigation with active rerouting, traffic reports and police traps. These are the strongest suits of waze. I forgot to make it clear trying to type quickly. :)

hope my edits have been included for my country, the map data was old, i have tried my best to cover all areas, correcting errors and updating all places, new and old that i had visited or had physical maps.

Thanks for that. I try to submit info to Bing maps all the time. Didn't invite HERE allowed it.

I assume I meant "know" rather than "invite"

Where is the maps settings in update 2?

I have the same problem I had to open here maps to itself to go to the offline maps page Posted via the Windows Central App for Android

Yes that's the only way. No more maps menu in settings

It's also in storage sense -> maps -> manage

So bad. Internet settings are also gone!

No Seoul, no Tokyo. Here Maps sucks.

People in Pakistan are still forced to use Google and Naqsha maps on Windows Phone because of zero support from Here maps.

It's because the Pakistani government is (very) reluctant to let the country be mapped due to national security reasons.

I agree with you that Pakistan really care about security. But this is not a actual reason.

They let Google do it, so why not Nokia?

Yeah, it's pretty awful :/

My hometown now looks good.

Confirm map updates for both Taiwan and Texas.....

Still no maps for Pakistan.. Uhhhh

and they dont tell the reasons why there are no maps for pakistan :/ :/:/:/

Updating for Malaysia 45mb approx size!

I was a long time Here maps user, from my Nokia N96 days. But they never added the features i need and they stopped supporting Jamaica where i travel to regularly, for Jamaica I now use WAZE.
For the USA I actually paid for SYGIC, it is more accurate than here drive, gives real lane assistance before turns and prepares you to select the correct lane on a turn. It tells you if your destination is on the left or right, and leaving a compound it tells you if you are to turn left or right before forcing you to guess then correcting you once you are on a public road. Plus it lets you know if the turn is the next, or second or the third left or right. I have written Here Maps and have begged for these features literally for over four years, and nothing.

Just came back from the highlands of Scotland this morning with one major route error (it's normally the best satnav/gps suite) so I could have probably done with this...oh well.

There are a stadium that are exist since 6 years near my home and its still not Exist in here maps and its updated today also :/ Google maps its better in Middle east

Is there a way to submit changes?

Changes can be submitted at here.com

Saw a Here car for the first time yesterday, in Shaker Heights, Ohio.

Again no maps for Pakistan. I hate here maps. Hate hate hate hate

Still can't choose between drive and waze as my turn by turn app

Why not? My Lumia Icon lets me do it. Under Settings>Applications>Maps: Set Default Voice Navigation app. I have "HERE Drive+, Waze, VZ Navigator, Windows Phone Maps (no voice)" listed there.

Sorry, meant decide which one I prefer.

You really don't have to choose, both apps got their strengths. It's simple for me. If I'm driving somewhere with no data or expensive roaming data, I'll use Here drive. If I'm driving in an urban area with lots of traffic and no data problems, I'd prefer waze. I happen to spend more time in the latter camp so waze is my primary app.


Oh haha I get what you meant now.

Hazqeel I know the reason. Actually they are Indians and India always hate Pakistan.

Oh they better improve it greatly. The data they have is not much better than apple maps...

I'm seeing 4/9/2015 too. Plus it says that the app is not available for my phone? Since when ? HTC M8

for last 4 years, map of Nepal had been updated numerous times but I don't see any changes.... heck I live in capital I can't see even the most popular places here.... whereas Google maps is lot better in my area.... come on HERE maps please improve your map data....

Updated the maps, yet they remain at least two years out of date - for example, certain developments / new road layouts / and road renaming in coastal regions of South East England are not up to date. Disappointing, considering that Google is up to date in the same area.

It's unfortunate that most of the apps are not supported by Microsoft in Pakistan which includes BING MAPS, HERE MAPS and CORTANA. too..

Update map for indonesia is just about 60mb. How nice !. In my country here maps is more update than sygic. Especially for the roads. For example the ring road toll at west Jakarta is established than sygic.

I just deleted it from my phone cause the Microsoft one works better on Windows 10 preview.

Waiting for Nokia to be back and making phone's dont care which OS they choose , with the new WP10 phones still struggling with 20MP camera hopting they bring in something good back.. missing Damien and Nokia.

Here maps, and the sat nav are awesome.

Here map needs to update map faster to compete with google maps, especially when google maps on android will support offline maps soon. I had a road trip during Memorial Day holiday 2 weeks ago and Here map got confused on 2 occasions. One is the new stretch of US 271 near Mount Pleasant, TX. Another is the new stretch of I-49 between Texarkana and Shreveport, LA. Google maps had it all correct at the time.

Great app aside from not giving alternate routes when necessary.

i use it when i wanna go to the spot that i didnt know please visit to my blog too cyber-situation.blogspot.com

FFS, *still* no Maps for Pakistan? It's been years that people have been asking for them. What the hell, Nokia!?

Great, pity Microsoft removed tool to store offline maps on SD card. Maybe Here/Nokia will show them how to do it - again!

Still no maps for Pakistan :(

This is my main navigation app since 2008!.

updated my maps today. Let's see what's new!

Can anyone please help, i have a 920 for some reason i cannot open now here drive, here maps or bing maps
Windows Central Newsletter
Thank you for signing up to Windows Central. You will receive a verification email shortly.
There was a problem. Please refresh the page and try again.