Nokia posts video to highlight unique camera grip for the Lumia 1020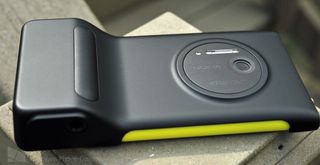 It seems Nokia is always making some videos when they aren't busy making new devices, adding exclusive apps to their Nokia Collection, or other general Finnish stuff. But usually those videos they make to promote their handsets and accessories are fun to watch, so we'll keep sharing them. Here's another one to pimp the Camera Grip for the Lumia 1020.
The video clocks in at around 30 seconds, which makes it the perfect candidate for television placements. Although the ad by itself might not really make sense with your average consumer. For you and me it's a fun thing to check out.
Have a camera grip for your Lumia 1020? Don't forget to make sure you're taking it off the right way.
Source: YouTube
Windows Central Newsletter
Get the best of Windows Central in in your inbox, every day!
Dear Nokia, I'd love to buy a yellow one.... Would you be willing to sell me the one in the video?

If you were on the fence about buying this let me assure you it's really great and I must recommend it. It's well made and fits like a glove. It charges the phone to full and keeps it full until battery is depleted in the case. When plugged in with case on phone charges to 100% then case charges to 100%, it's very cool;);)

I want ALL the Nokia accessories!

I shot video of my buddy's band this last weekend. Right at the stage in front of the mains and monitors. Perfect sound. The vid is up on YouTube. Just an awesome camera. I'm definitely getting this grip.

Heehee sorry about that. They were doing a benefit concert for a local children's park. This was 720p @24fps. The source looks about 30% better than what YouTube does to it when you upload it. I've got a couple other clips that will be up this week. I believe this clip was about 450mb. http://youtu.be/4d4ClGMmRL4
They be funky.

That was super funky man. I loved listening to it!

Thanks. Cool guys. Their regular guitar player also plays with Sheila E, and he's on tour with her right now, so they've had a few guest guitar players showing up at shows. They have some club dates coming up and I want to shoot some video in that venue since the sound is more compressed inside a club. But the phone is amazing.

Looks great, Nokia needs to make the 1020 and accessories also available with carriers outside the US soon!

If only the grip had microSD! (to make up for Nokia dropping the ball, again, on the main device)

I wanna know who selects music for Nokia commercials. Great music everytime.

I insist on a Red just like my 920. Lots of competition this year and beginning of 2014, with Apple and google mobile plans hitting soon, I hope MS pushes hard and takes advantage from the fact that Iphone sales are being crushed by Droid, one of the gents in one of the threads in one of the posts here said that W8 WRT WP8 XBOX should receive updates all at once, that's the road to success and high customer satisfaction and loyalty increases.

only thing missing is an sd card slot

Love the grip. I got mine free from the Microsoft store when I bought my 1020. Picture quality is great and the grip makes it so much easier to take great pictures and keep your phone charged. Perfect fit for my hand.

VER........FU<KIN........RIZON.................my $hitty Galaxy Nexus is so laggy, and slow, and has trouble turning on.....all i want to do is buy this damn phone, but stupid ATT exclusivity wont let me. FU Nokia for doing this to me.
Windows Central Newsletter
Thank you for signing up to Windows Central. You will receive a verification email shortly.
There was a problem. Please refresh the page and try again.