Nokia means business, becomes more aggressive at courting enterprise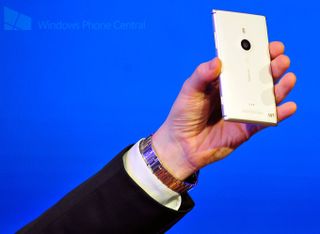 Nokia has been delving in both the consumer and enterprise market, but has never really tackled the business sector with full force. The company then chose to back Microsoft and build hardware running Windows Phone. This gave Nokia numerous possibilities, one being stronger foundations for heading into the enterprise market and snapping up businesses.
What better way to get in bed with companies than partnering with the software giant that provides backend solutions?
ZDNet has ran a rather interesting report that looks into the enthusiasm displayed by Nokia since the company made the switch to Windows Phone. We've covered multiple companies working with Nokia and its Lumia family of Windows Phones, including UK estate agents Foxtons, Coca Cola and KONE. Nikio Mykkänen, global head of B2B sales at Nokia, had the following to comment on Nokia's venture with Microsoft:
It has been reported that Nokia is also looking at partnering up with companies like SAP and IBM to further help get its products into the business market - the Finnish manufacturer doesn't simply wish to rely on consumers. It's almost alien-like to talk about Windows Phone and Nokia taking on the enterprise market as this has been an area of strength for BlackBerry.
Analyst firm IDC also suggests the mobile enterprise app market will grow at a staggering rate of 25 percent per year over the next handful of years.
There's another change taking place in the workplace too, BYOD (or bring your own device). This enables employees to essentially bring their own hardware, which could be seen as a negative for Microsoft and partners since mindshare is still locked onto Android and iOS. That said, again looking at the partnership Nokia has formed with Microsoft, the latter company has its own tools and services that enterprise already utilise - this gives the manufacturer a slight edge in negotiations.
Be sure to check out the full report over on ZDNet, it's well worth the read.
Source: ZDNet
Windows Central Newsletter
Get the best of Windows Central in your inbox, every day!
Rich Edmonds was formerly a Senior Editor of PC hardware at Windows Central, covering everything related to PC components and NAS. He's been involved in technology for more than a decade and knows a thing or two about the magic inside a PC chassis. You can follow him on Twitter at @RichEdmonds.
Go for it! Go hard or go bankrupt! Nokia is the best thing to happen to Windows Phone to date. I want HTC to wake up as for Sammy they can stick to iOS I mean Android

I see what you did there. But seriously not much different from Android and iOS other than an app drawer and widgets...

Sweet. Nokias got some balls. Crackberry....just stay out of our way!

Active Directory integration: Windows phone needs to focus on this (and maybe already has and I don't know it). If the phone could be managed by the same tools used to manage desktops and servers then Microsoft should have little issue with the Enterprise. I would certainly think that the US Government would be interested in that as they move from Blackberry.

It does. You can set policies for Windows Phone 8 (WP8) as if it were a desktop or laptop connecting to the network. The problem seems to be in the PKI, at least that is the excuse our mobile team is giving. Our mobile team is claiming the PKI on WP8 is not compatible with the Enterprise. I call BS, but that is what they say; and this company is a Microsoft partner and a huge international company.

In before someone ignorantly claims "Nokia is doing everything, MS isn't doing anything to back their own OS. Nokia should just take windows phone from MS!"

Because some ignorant jack a$$ is going to say it sooner or later.

Nokia is doing everything, MS isn't doing anything to back their own OS. Nokia should just take windows phone from MS!
What you gonna do? Beat me?

Lol was just being an asshole, but im glad if it made you laugh

The fact of the matter is that there isn't anything Nokia can do here. The WP8 OS is not ready for the enterprise. The so-called Enterprise Pack is coming 1H 2014 from what was reported here. Until then there won't be much enterprise adoption of WP8.

Does this mean they'll have a VPN client available soon?

No. VPN is planned to release with the WP8 enterprise feature pack. No official date is set, but many think it will release together with WP8.1 in early 2014

I think WP as a whole needs to make a big push towards business.
With enough support & effort, they could put Blackberry out of their misery once and for and eventually cut into the big boys.

Wish someone would come talk some sense into the company I work for. Heavy leveraged in iOS/Android, and won't even consider any other options at this point, despite being a large user/partner of Microsoft technologies. Hoping the upcoming updates in 2014 that will have enterprise features will help, but not so sure.

From what I've read at other sources the BYOD trend will be short lived. Administrators are not comfortable with the lack of control over the devices accessing their networks.
This area is where MSFT needs to go after AAPL very hard. APPL has made substantial inroads into the enterprise market. They are the ones who are really putting the hurt to BB.

BYOD is not a decision made by IT staff. It is made by the CFO.

i think with BOYD IT managers and the software that they create would have to accomodate all those diff OS's, if a comapny can manage one type and easily install their software then its a plus on both ends. WIth MS having Office software and other enterprise solution plus that particular comapnies own appp/software with Nokia suppling Great/beautifle hardwareto compliment it thens its definately a win win.

"Get in bed" I really don't like this expression. It sounds rude.

Don't forget to end every fortune cookie expression with"in bed".

ZDNet has been banging out at least one article a day explaining how Microsoft is flailing and iPad is so awesome and the bestest thing evar!!1!!!11one111111!!!

Actually, Nokia was all about business as far back as 1996 with the introduction of their Communicator line. I've owned most of them, US models. The 9000il "brick", the 9290, the 9300 (not marketed as a Communcator, but it was obviously a newer version of the 9290) and the E90. Like the 9300 it wasn't sold as a Communicator, but it had the same horizontal clamshell and many high tech features useful to business men. The 9290 even had faxing capability!
These were the first smart phones, combining many functions into one device. No touch screens.
These phones were developed and sold by Nokia's Enterprise division. You know how all the phone and carrier ads feature young people HAPPY! HAPPY! HAPPY!, right? The manual for the 9290 - and it was FAT! - shows very serious (handsome) middle aged business men using their 9290's, making all kinds of money.
Brought to you by someone with too much trivia taking up space in his brain.