Nokia working with Zound Industries on more affordable headsets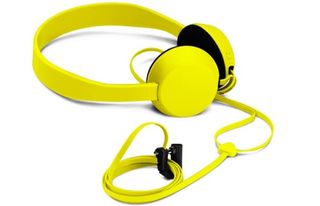 Zound Industries, the company behind Marshall Headphones, Molami and Urbanears, is working with Nokia to bring consumers a range of affordable headsets, under the "Coloud" brand. Three new headsets have been customised for Nokia, including Boom, Knock and Pop, each with a unique design for those who wish to have a more personalised accessory for their Windows Phone.
Boom - As one can see from the image, the Boom (opens in new tab) is for those who wish to enjoy some banging tunes without background noise. There's nothing worse than having to turn up the volume to uncomfortable levels just to hear what you're attempting to listen to. Sporting large ear pads and a padded frame, it's set to become your best friend with Nokia or Xbox Music. Priced at €27.
Knock - Pictured above as the article lead (the yellow one), the Knock (opens in new tab) is the lighter version of Boom. It's a more minimalistic approach to design. Priced at €22.
Pop - If you're not into headphones, there's the Pop (opens in new tab). As an in-ear alternative, these earphones will cater for those who prefer a solution that doesn't include wrapping an accessory over the head and ears. Priced at €18.
All of the headsets come in cyan, red and yellow variants. Did you notice that all three sport flat cables, as well as a cool way of keeping them tangle-free? That's not all as you will be able to control music playback and answer calls with a microphone, no matter which option you go through. And yes, those prices are correct - we triple checked.
Source: Nokia Conversation; thanks, Jonathan, for the tip!
Windows Central Newsletter
Get the best of Windows Central in in your inbox, every day!
Rich Edmonds was formerly a Senior Editor of PC hardware at Windows Central, covering everything related to PC components and NAS. He's been involved in technology for more than a decade and knows a thing or two about the magic inside a PC chassis. You can follow him on Twitter at @RichEdmonds.
Will it come to Nokia Care Stores?

The colors alone scream Nokia WP

While I'm really enjoying my white Purity Pro headphones, I'm glad Nokia is working to bring in a more modest price and quality third party accessory maker. Hopefully we will see more third party products.

Do you feel the sound is louder on the left making the sound seem slightly off center? Also, my forward/rewind buttons don't work when wired - no problem with Bluetooth! On my 2nd pair!!!

I like it simply because spending 2- or 3 hundred dollars for a set of cans for my phone is just extreme for my liking,

Yeah, I shelled out a fortune for my speaker. Which is why I haven't bought much else

Get rid of the wires! Wireless is the way to go. The single most convenient headphones to wear are wireless, "behind the neck" headphones (see the old Rocketfish RF-MAB2, which I still use). Very convenient for active use, jogging, playing golf, working out, etc., and you don't look like a fool with a giant headset on top of your head and wires hanging off your body.

Personally, I agree. Wireless behind the head headphones are the best for an active lifestyle. The don't fall off even in the most active of situations unless you are upside down. I I would love it if my Purity Pro headset came in a behind the head style. I might even buy a set even if I had to pay another $350 to get them. Most people wouldn't be able to afford them though.

I agree with your wanting more wireless options. My LG tone+ are arguably my most used. That said when iwant great sound Bluetooth devices don't hold a candle to my beyerdynamics and audiotechnicas. So wireless albeit more convenient are not even close to the quality of my wired. Also your look like a fool comment was a foolish comment.

When I said look like a fool I was simply referring to the fact that while engaging in "some" activities the large wired headphone look is less than desireable and a bit awkward to use as well. Yes, currently wired headsets offer higher quality but that's mostly because there aren't many people making really high quality wireless solutions...unless you are willing to pay a premium. 50 Cent's "Sync by 50" wireless headsets are super high quality and they don't use basic bluetooth. There needs to be more headsets like these in smaller more versatile designs.

Wireless is a nice idea but wired allows for radio listening and saves a person from filing up there phone with music. Also It just ads to your need to charge things.

Purity pro wireless headphone costs the same as nokia Lumia 720 wtf lol..... I am glad that now we can by cheaper quality headphones. Thanks Nokia once again

It was a headache to find Purity headsets in Toronto, I think I saw them in the Microsoft Store (when I searched and bought my wireless charging pad). I hope Nokia just makes a universal accessories store.

every time i was at the MS store in Yorkdale they were there, both the cans and the earbuds

Should be included with each phone I tired of buying new ear buds every month.

What happened to the ones you got with your phone?

U.S. At&t.
Lumia 920.
Earbuds NOT included.

Its ok though, I still rock an original set of Zune earbuds (the good ones, not the cheap ones they switched to later)... I will cry they day they die.

Is there an ETA for these in the UK?

Available from September apparently

What stores will be selling them? I wonder if they would ever turn up in new Zealand...

I hope they would also release one in white. :)

Long live Ultimate ears !
I have UE900 , it's expensive at 399 $ but I swear that it's worth every penny and it's the best investment I ever did.

Still waiting for the Jays-4 to be released

Wow I was holding out on the Wireless Purity's because of the price. But these seems promising for multiple purposes. Was also looking for something I can use for Skype and the integrated mic is just perfect. Won't beat my Shure SE535's but sometimes I just feel like wearing cans, and this is the perfect alternative. For those of you wondering about the quality, these cans already exist and have reviews all over the web. Apparently they are just giving it a remake for a Nokia version. So you can check those out first. EDIT: Wait, will the mic work with a PC? Anyone?

To the best of my knowledge the mic can't work with a PC because PCs have a separate plug for the mic. Unless you have some kind of converter It won't work.

Will it be available in India? I like the Pop in-ear headset.

I'd still love to get my hands on some yellow Purity Pro ear buds to match my Lumia 920

I have the Pop for 2 months now..sound is good..but...it's not ergonomically designed for my ears..it keeps falling off as I move around.

Really? Where do you live? I want a pair of these.

I'm from the Philippines..the store where I got mine have the complete set of coloud. This rather are the old ones since they have a different color scheme..
Can WPcentral team confirm if this new sets have NOKIA branding on them?

I wonder what would happen if Nokia was one of the OEM that supported Windows Phone from the get go. I mean, Nokia is doind so much from the time they annouced the partnership with MIcrosoft. Nokia, is a company to go to war with when everything is on the line. I would lke to support other OEM but it is getting really hard to ingore Nokia for their accessoires, phone quality and service. Long live the King, Long live Nokia.

Wonder what the sound quality is like. Need a replacement for these sound leaking Sony jobbies. Sony MDRXB300 to be exact, cheap and good sound, but starting to fall to bits.

This are good one's I can bet on it..

I already have nice headphones but I would like to have official Nokia stuff

I see a Microsoft commercial brewing, with the title "What can you get for $500?"

With a prepaid Lumia 520 ($100), a Coloud Boom headset ($50), and a Surface ($350). Heck, they could even bundle these things into a special $500 package!

Looks nice, seems no where you can buy.........

There at bestbuy https://www.windowscentral.com/e?link=https2F2Flink...

I have a pair of Beats Solo HD's and they are amazing but the inline mic doesn't work with my Lumia 920, maybe I will get a yellow pair of knocks to go with my yellow 920.

does anyone know where i can purchase tangle free headphone that are compatible with windows phone. it has to have biult in mic, track fwd, rev and volume control. i was looking a Sol republic and emailed them to find out if there compatible and their not. i cant understand headphones are headphones and theirs only wokr on apple products, they are not the onyl comapny with mobile products. almost every company has something for apple and no one else, i thought it make sense if you make a common product u'll try to reach as much ppl as you can but i guess i have no business sense.

lol..this sets have one button..It can launch Tell me with long press, 2ble press for next song, 3ple for repeat..of course you can use it for play/pause/answer button

Aaaarrrrggghhhh!!!!!

Dag nab it!!! I want 3 button control to work with the Lumia. Vol up, control, Vol down. And I want BIG buttons that can be worked with gloves on.

any headphone i can pick up locally and not pay $15 shipping?

sorry i asked, they have them at bestbuy and im getting a bestbuy $25 from my points, all i have to do is pay tax

I'd wait until September when the Lumia headphones are released, namely b/c of compatibility, special features and Nokia/Lumia branding.

I can't think of any special features with this nokia branded..it only have a single button..play/pause/answer, next song and repeat are working on mine

need MS to make some heaphones

curious about " a cool way keeping them tangle-free" , it looks like the jack can be bend into something to hold onto the cable, but it's look like imposible to plug it into you phone when you do that... (kinda hard explaining it... hahahaa )

Is it right that the lumia 820 isn't supported? I love the pop once i ain't the guy who is wearing big once around the neck :)

can the boom or the knock please come to a US retailer?! or at least amazon usa...these headphones look awesome

Not liking the design of these.


I'm using Razer Mooray now and love their sound. I hope those Pop have atleast the same sound quality as my razer because I'm buying one.
Windows Central Newsletter
Thank you for signing up to Windows Central. You will receive a verification email shortly.
There was a problem. Please refresh the page and try again.